OSWEGO – Makenzie Sweeney stopped halfway between first and second base as her fly ball soared toward the right field fence, unsure if she should break into a home run trot.
Did she think it was gone? Well, yes and no.
"I knew that I half swung," Sweeney said. "I was also thinking yeah, it looked good, like it was going over."
Sweeney, Yorkville's junior second baseman, settled for a double instead of her first home run of the season. But she gave the Foxes plenty to celebrate.
Sweeney singled in the Foxes' first two runs in a six-run third inning. She doubled and scored a run in a four-run fourth.
[ Photos: Yorkville vs. Wheaton Warrenville South, Class 4A Oswego Sectional final ]
Yorkville rode that two-inning offensive outburst, and Madi Reeves' eight-strikeout one-hitter, to a 10-0, five-inning win over Wheaton Warrenville South in Friday's Class 4A Oswego Sectional final.
The Foxes (34-2), with their second sectional title in three years, advance to face Bradley-Bourbonnais in a 4:30 p.m. Monday supersectional at Illinois Wesleyan. Yorkville, which seeks its first state appearance, beat Bradley 5-4 in April.
"I think we know what to expect now going back there since so much of this team is seniors," said Reeves, who posted her 900th career strikeout in the win. "We know what to expect. We know what is coming. We know how to approach it."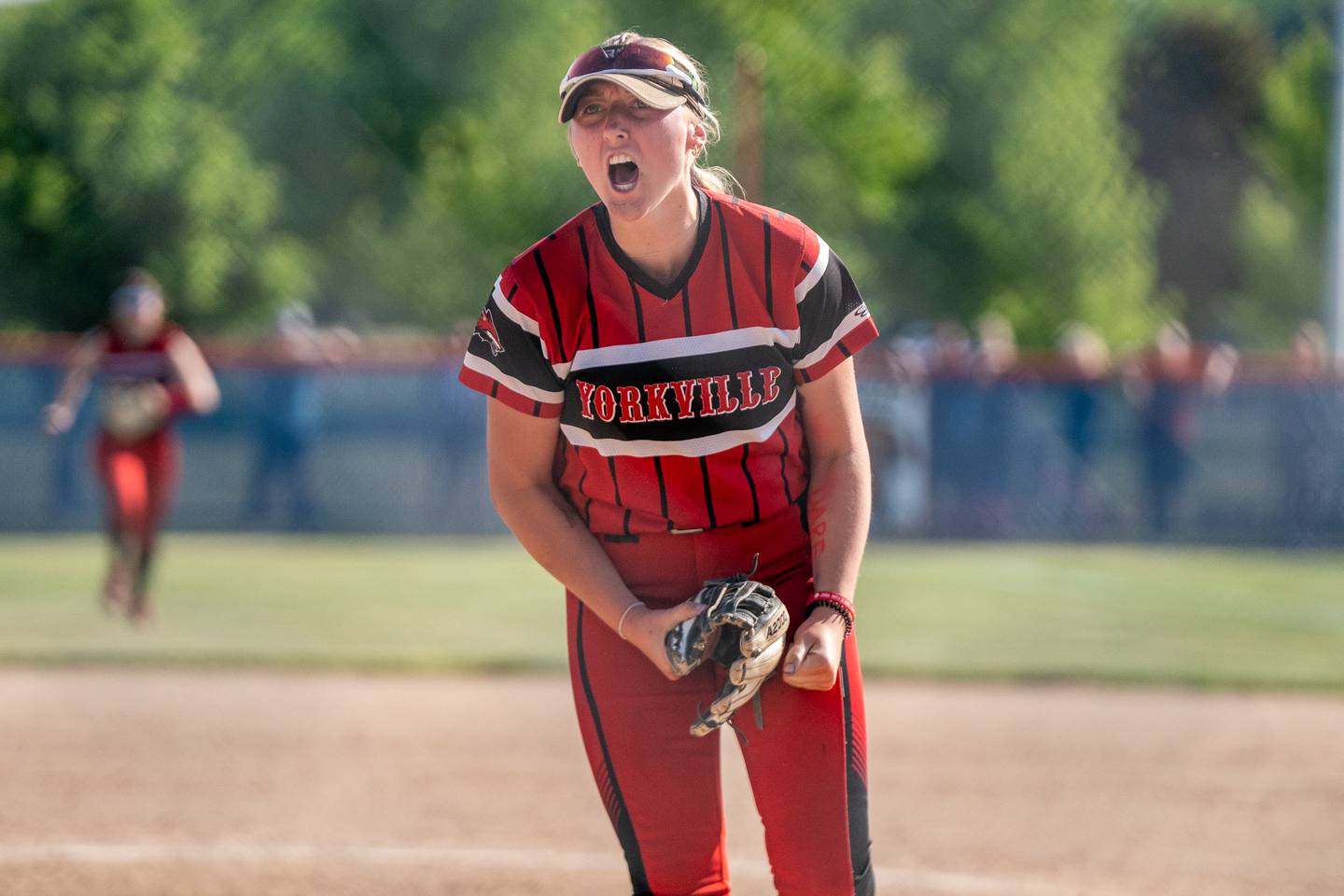 Sweeney is one of the few Yorkville girls who was not on that 2021 team that won the school's first sectional and lost to Minooka in a supersectional.
She's made quite an impact on this group, though.
Sweeney was moved from the bottom of the order to leadoff early in the season, with UW-Stevens Point recruit Kaitlyn Roberts going from leadoff to third. Sweeney is fast, provides a quality at-bat and is dynamic once on base.
By the looks of her near-homer, Sweeney also apparently has thunder in that bat.
"She can hit doubles all day because of her speed but she does have home run power," Yorkville coach Jory Regnier said. "That's our whole lineup. Our girls work so hard in the weight room, they're strong, that's what they do. They just need their pitch."
Abby Pool started Yorkville's big third with a leadoff walk, and took third when Regan Bishop shot a base hit just inside the third base bag.
Sweeney took a close two-strike pitch for a ball, then lined a single to center to score the game's first two runs.
"I just kind of went up there knowing that I needed to hit the ball," Sweeney said, "drive in those runs for my team."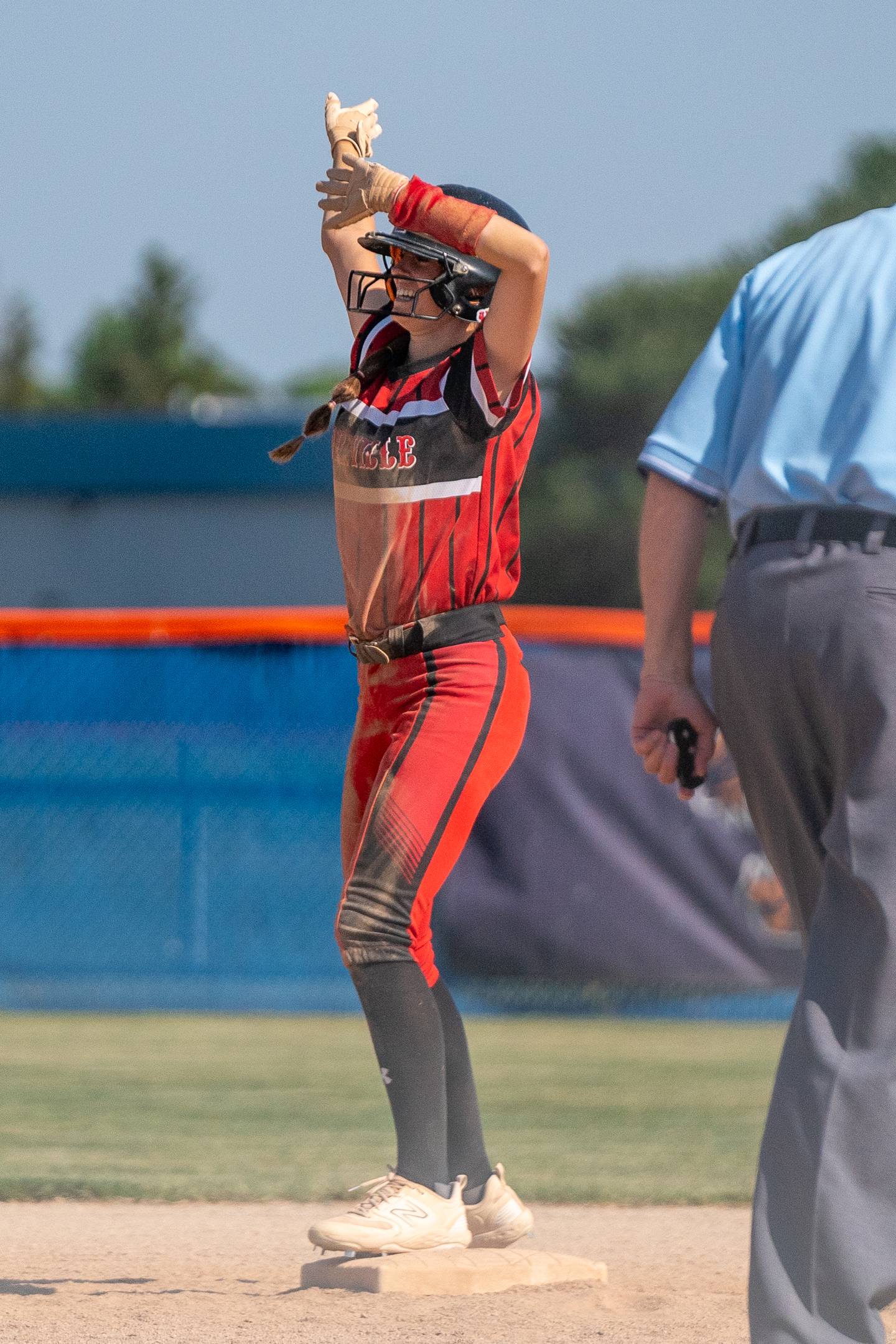 The Foxes were just getting started.
Kayla Kersting singled in Sweeney, Katlyn Schraeder's two-out single scored Roberts and Jensen Krantz's two-run double made it 6-0.
"Our energy in the dugout was just phenomenal," said Roberts, who reached base three times and scored twice. "I think that is what helps our lineup relax at the plate."
Krantz's double knocked out WW South starting pitcher Maddie Pool. The junior ace had allowed just one unearned run for the Tigers (18-13) over her first three postseason starts. But she ran into a buzzsaw Friday.
"They're just damn good," WW South coach Jeff Pawlak said. "We'll go as far as Maddie takes us, got in trouble in the third, put runners on base, had a couple nice shots, and it spiraled. They're just a really good team. When they put runners on base they put pressure on you. We got overpowered."
Roberts added a two-run single and Sara Ebner a two-run double in the fourth, which set the stage for Reeves (24-1) to strike out the side in the fifth to end it.
The Miami of Ohio recruit only allowed two baserunners – a Presley Wright walk in the second and Brooke Struebing single in the fourth.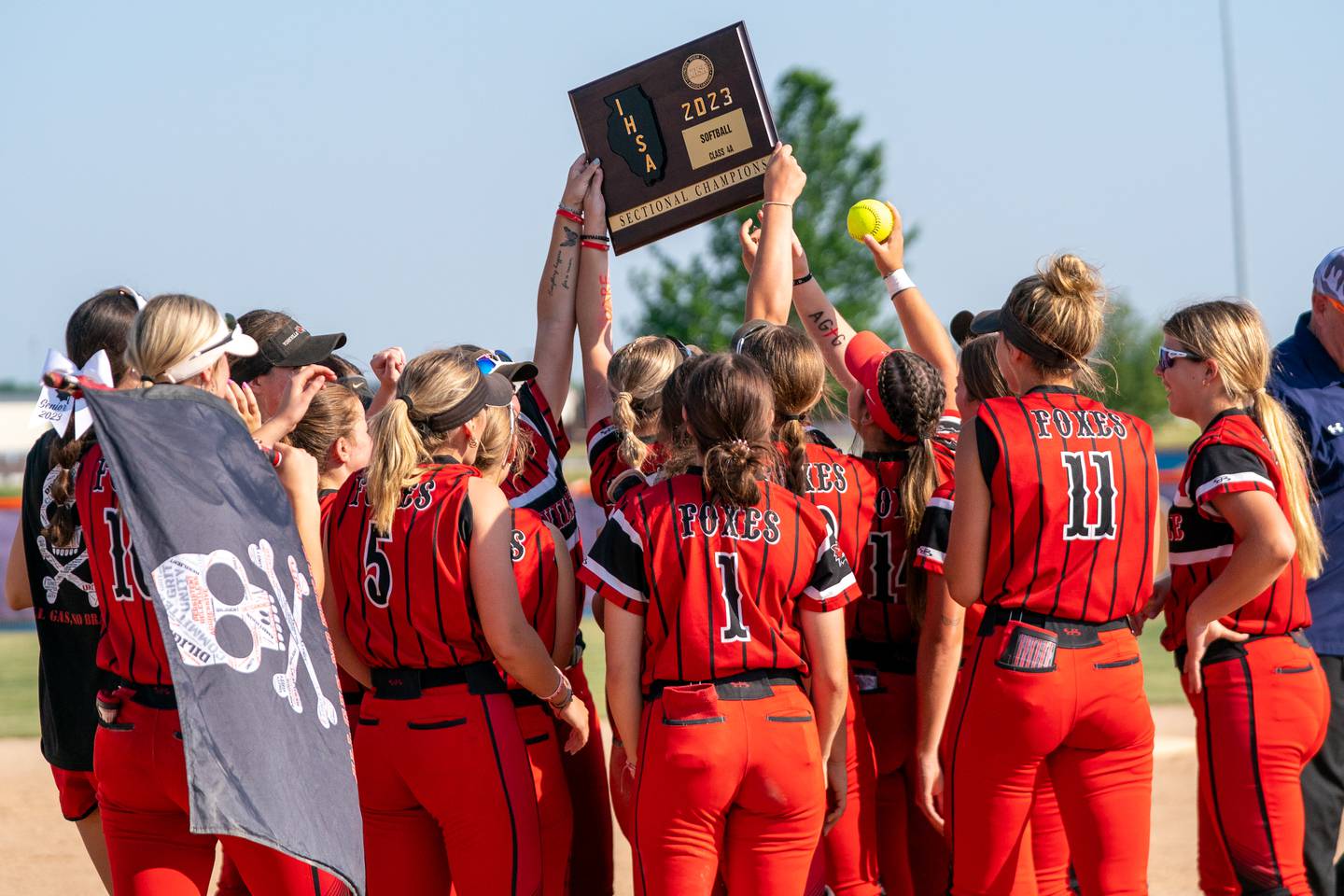 Now Reeves and the Foxes are back in the same position as two years ago. And while nothing is guaranteed, they are there with a different mindset. As the Yorkville girls posed for pictures with the sectional plaque, a fan yelled "second goal down, more to go."
"I think we just have a lot more confidence this time, whereas last time we were there we felt a little scared," Roberts said. "I feel like we're ready and prepared this time. Before we had a lot of young girls, and it was a big stage. This is where we want to get back to, and we want to aim higher."
Yorkville, meanwhile, provided a bar for Pawlak's Tigers to aspire to after reaching the program's first sectional final since 2004.
"Super proud of my girls," Pawlak said. "Made a great run, up and down season, young girls learning, it's something to build on and look forward to. We made the final 16, that's something to be proud of, but as I told them you can see the distance you have to go facing a team like that."