OSWEGO – Patrick Hilby had never run both the open 800-meter run and 400 in the same meet before Friday.
It makes sense. The two races, separated by just one event, allow for almost zero rest. Hilby, an Aurora Central Catholic sophomore, ran sprints in the infield almost immediately after his 800 run Friday.
He won't soon forget his first time doing the double.
Hilby first broke a nine-year-old Roger Wilcox Invite meet record in the 800. Then he broke 50 seconds in the 400 for the first time ever, winning the race by one-hundredth of a second in a photo finish on Friday night at Oswego.
"I definitely did not know I was going to break 50 this year, let alone after running the 800," said Hilby, mobbed at the finish line by his Chargers' teammates. "I knew going into the meet that I was confident that I would run the 400. After the 800 I felt fine, so I ran it."
Hilby's was one of six varsity meet records to fall on a breezy but mild Friday evening with brief pockets of rain.
[ Photos: Oswego's Roger Wilcox Invitational ]
Batavia, a late entry to the field, won three of four relays and six individual events to take the team title with 228 points. Oswego (93) was second, West Aurora (79) third and Geneva (72) fourth.
Hilby, second in the Class 2A 800 at the Top Times indoor state championships in March, came in with the fourth-fastest outdoor 800 time in 2A of 1:56.51 that he ran at Palatine last weekend.
In a strong field at Oswego, Hilby turned in a 1:58.01. He beat out Oswego's Balin Doud (1:58.62), Batavia's Quintin Lowe (1:59.65) and Oswego's Braden Cardamone (2:00.60), all of whom broke the previous meet record time.
"I used the same strategy that I did at Palatine," Hilby said. "I got out really fast first lap and took it from there."
He was just getting started. Hilby came back to win the 400 in 49.80, the second-fastest time in Class 2A this spring, just beating out Batavia's Jonah Fallon (49.81).
"Got out fast, felt tired over there with 250 to go, I knew the kid in lane four [Fallon] was really good," Hilby said. "Just had to out-kick him at the end."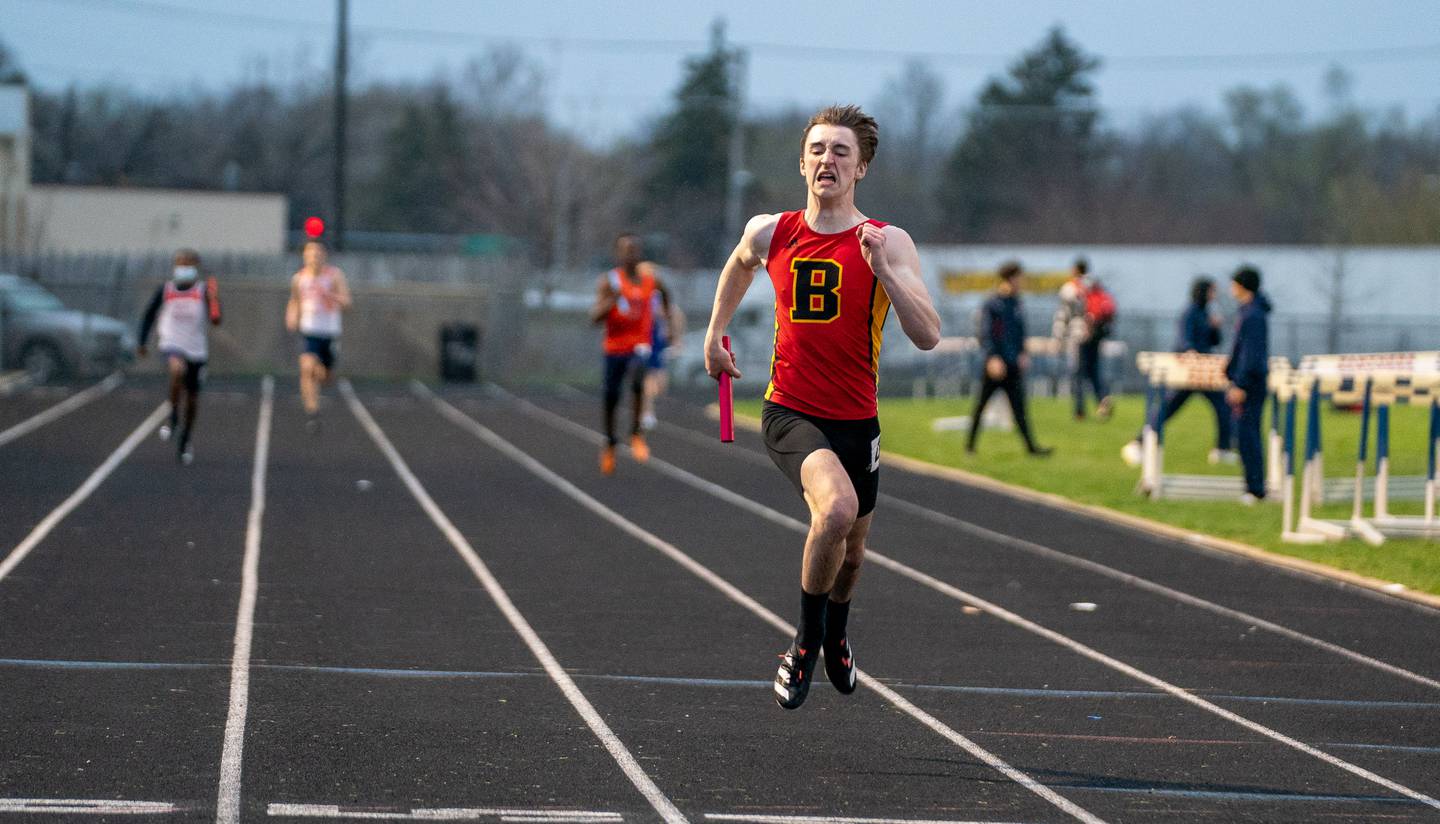 Batavia, a Class 3A title contender next month, was scheduled to go to the Jim Arnold Invitational at Glenbard West Saturday.
But with rain in the forecast, the Bulldogs' opted to get into Oswego at the last minute.
"Coach pulled the upper varsity guys aside, asked if we would rather run on Friday or Saturday, and we said you know what, if we run on Friday, it would be perfect, exactly one week from county," Batavia's Scot Parker said. "That's what we decided."
Parker had himself a busy, albeit successful night, part of four of Batavia's wins on the track.
He won the 100 (11.21) and 200 (22.55), and teamed with Jacob Hohmann, Vincie Selano and Jalen Buckley to win the 4x100 relay (43.14) and Solano, Drew Gerke and Weston White to win the 4x200 relay (1:30.70), both the relays meet records.
"Honestly, coming off pretty bad shin splints, I've been preparing myself through the week and felt pretty solid going into this," Parker said. "After the 100 I felt a little pain but after draining my legs and hydrating I felt much better."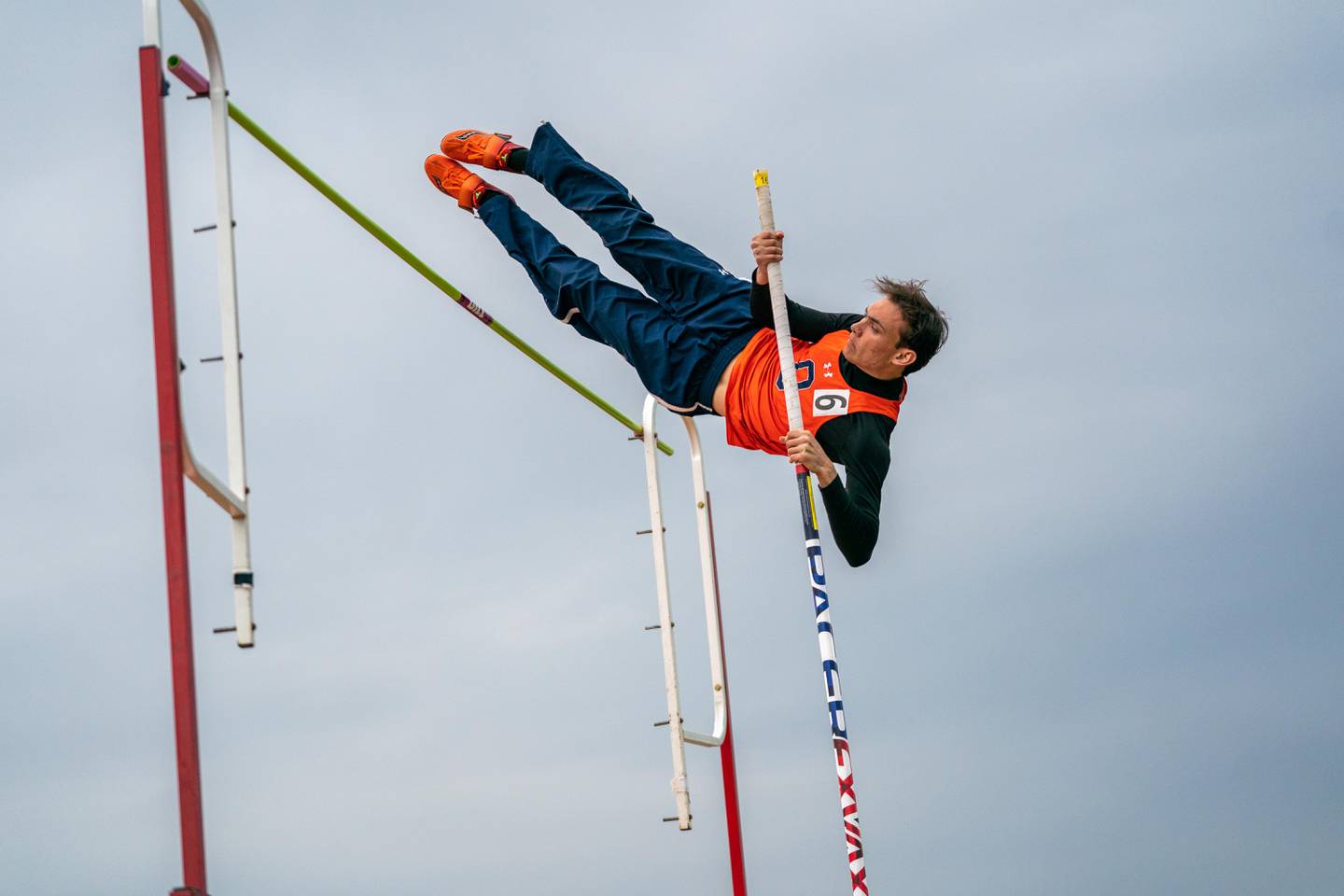 Oswego's Christian Sobecki had an unorthodox start to his night, running in the 4x100 relay with the Panthers down a few injured and sick athletes.
It paid off in Sobecki's specialty, the pole vault.
Sobecki cleared 14 feet, 2 inches, breaking a six-year-old meet record.
"I'm feeling great about it," Sobecki said. "I came into this meet with a not super outlook because I have not been vaulting very well. Running the 4x100 was kind of a one-off thing but I'm actually pretty happy with how it worked out that way. I was super warm and ready to vault."
Sobecki was one of two Oswego field standouts to break meet records. Oswego senior Caleb Wright went 6.83 meters in the long jump, breaking the previous record set by West Aurora's Cameron Donatlan, and went 13.90 meters to win the triple jump, breaking the previous record set by West Aurora's DaVion Cross.
"I just felt a lot more patient on the pole," Sobecki said. "I was trusting my steps a lot more which I felt I had not been doing recently with the wind."
Other winners included Batavia in the 4x400 relay (3:29.80), Oswego in the 4x800 relay (8:42.35), West Aurora's Kanii Allen in the 110 hurdles (16.21), Batavia's Manases Monarrez in the 300 hurdles (41.68), Oswego's Ethan Forsell in the 1,600 (4:28.84), Geneva's Andrew Warcup in the 3,200 (10:17.09), Batavia's Spencer Prats in the discus (44.45), Batavia's Alex Crum in the high jump (1.75 meters) and Batavia's Oluwafikayo Afolarin in the discus (14.52 meters).