CHAMPAIGN – K.J. Vasser dribbled the clock out, flexed as he let out a roar, and flung the basketball toward the rafters.
Mission accomplished.
Yorkville Christian opened its doors in 2014 with 13 students. Two years later, it became an IHSA member school.
It started to gain notoriety for its basketball when sweet-shooting Jaden Schutt, one of the state's best players, arrived four years ago. The Mustangs entered this season as a huge favorite to win the Class 1A title, and endured a gauntlet of a regular-season schedule. They may have become an even bigger favorite Saturday after winning their first seven postseason games by an average margin of 44 points.
[ Photos: Yorkville Christian vs. Liberty, Class 1A state championship game ]
A challenge finally came Saturday, and they met it.
Liberty, from a town of 489 people near Quincy, upset Scales Mound in Thursday's semifinal, and led Yorkville Christian by one at halftime Saturday.
But the Mustangs took the lead for good midway through the third quarter, and pulled away for a 54-41 win in the Class 1A final at State Farm Center to win the program's first state championship.
"This season was a long one, definitely a grind – and definitely mission accomplished," Yorkville Christian coach Aaron Sovern said. "As we said forever, this was our goal at the beginning of the year. I cannot say enough about these guys. They found a way. It was definitely not easy, which we told them it would not be. But we found a way."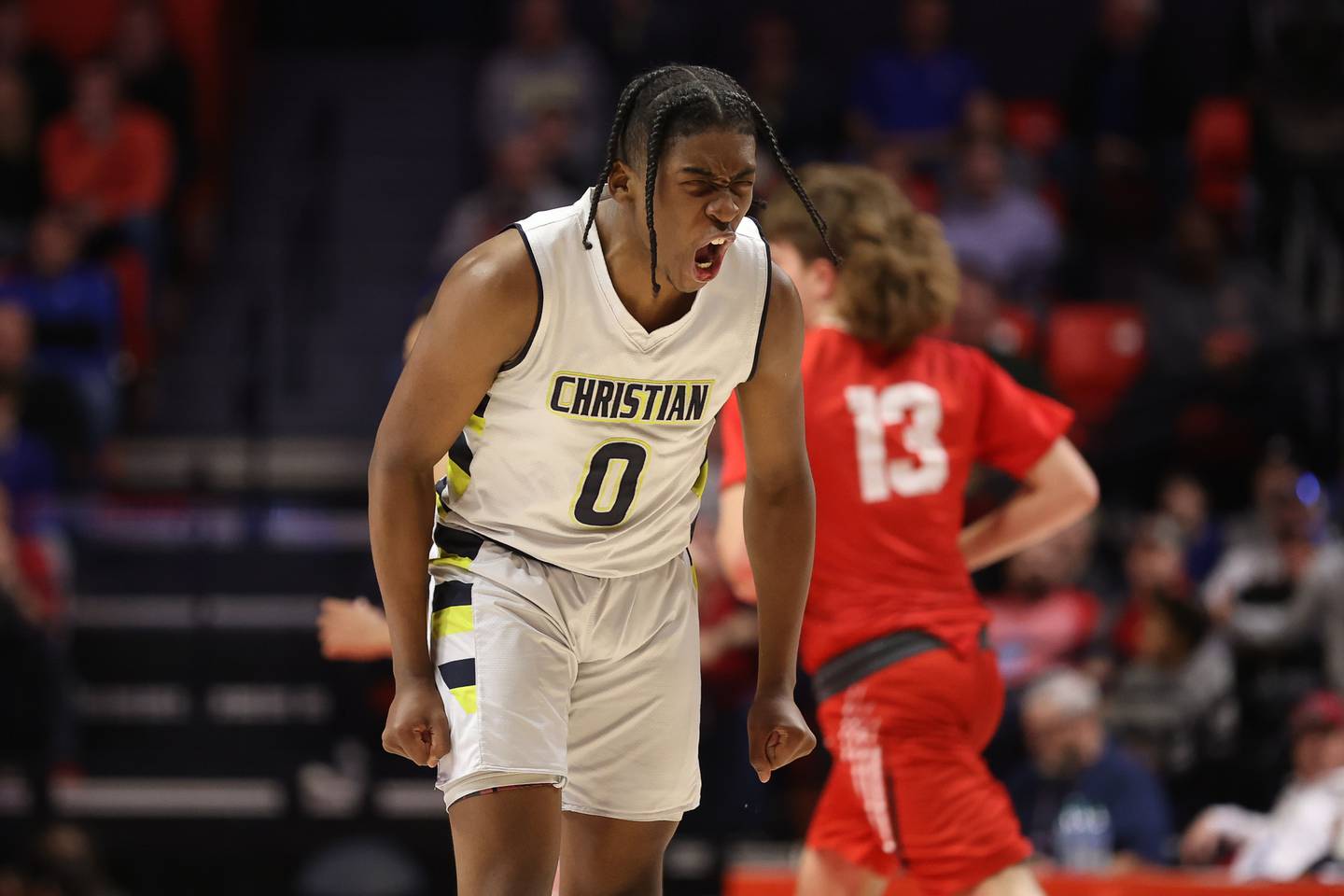 By its 39.9 point average margin of victory, Yorkville Christian (25-13) became the most dominant Class 1A champion in the four-class era.
But the Mustangs didn't take the lead for good Saturday until Vasser's free throws with 3:07 left in the third quarter made it 26-25. It was the start of a 12-2 run bridging the third and fourth quarters that allowed Yorkville Christian to finally gain breathing room.
"It hasn't really hit me yet, that we won it. I was doing a lot of yelling so I lost my voice," said Vasser, who scored 11 of his game-high 15 points in the second half. "Basketball is a game of runs. We understood that. We came out slow, weren't making our shots. I shot an airball but we had to stay with it. That's why we won."
Tyler Burrows added 13 points and five assists and Schutt, in his last game at Yorkville Christian before heading on to Duke, had 12 points and four steals. D.J. Douglas, the Class 1A three-point champion, scored 11.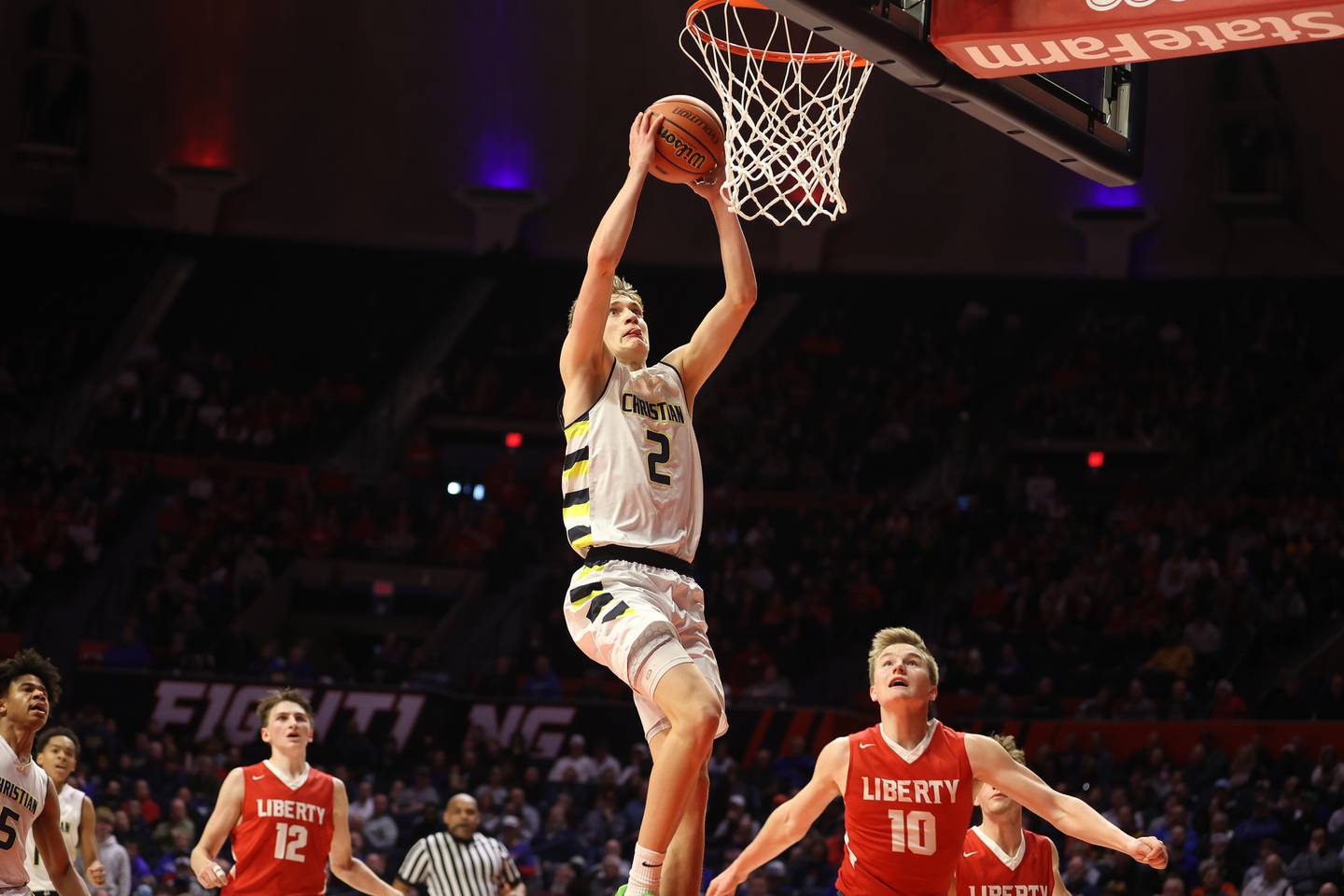 Schutt was a freshman when he teamed with his older brother Colton in 2019 to win Yorkville Christian's first sectional title. Now, he leaves a state champion.
"It's definitely been a process," Schutt said. "I remember in fourth grade hearing about this Christian school four minutes away from my house being built. Now, sitting here at a table with a bunch of wonderful guys being state champs, it's definitely been a process. There isn't a group of guys I'd rather win a state championship with."
It was a grind Saturday.
Yorkville Christian missed nine of its first 10 shots, and shot just 6-for-26 from the three-point line. Liberty led 10-8 after a quarter, and 21-20 at half.
Vasser and Schutt both made over 100 threes on the year, but they each shot just 1-for-6 from distance Saturday. Vasser airballed his first.
But Vasser twice scored on driving layups in the second half, and his corner three pushed the lead to 39-29 with 5:29 left in the game.
"During the playoffs, they've been hugging me and stuff so we had to figure it out," Vasser said. "I give credit to [assistant] coach [Rick] Carter. When the shots aren't happening, he keeps me level-headed, all of us. At the end of the day you have to figure out how to put the ball in the bucket. That's what we did."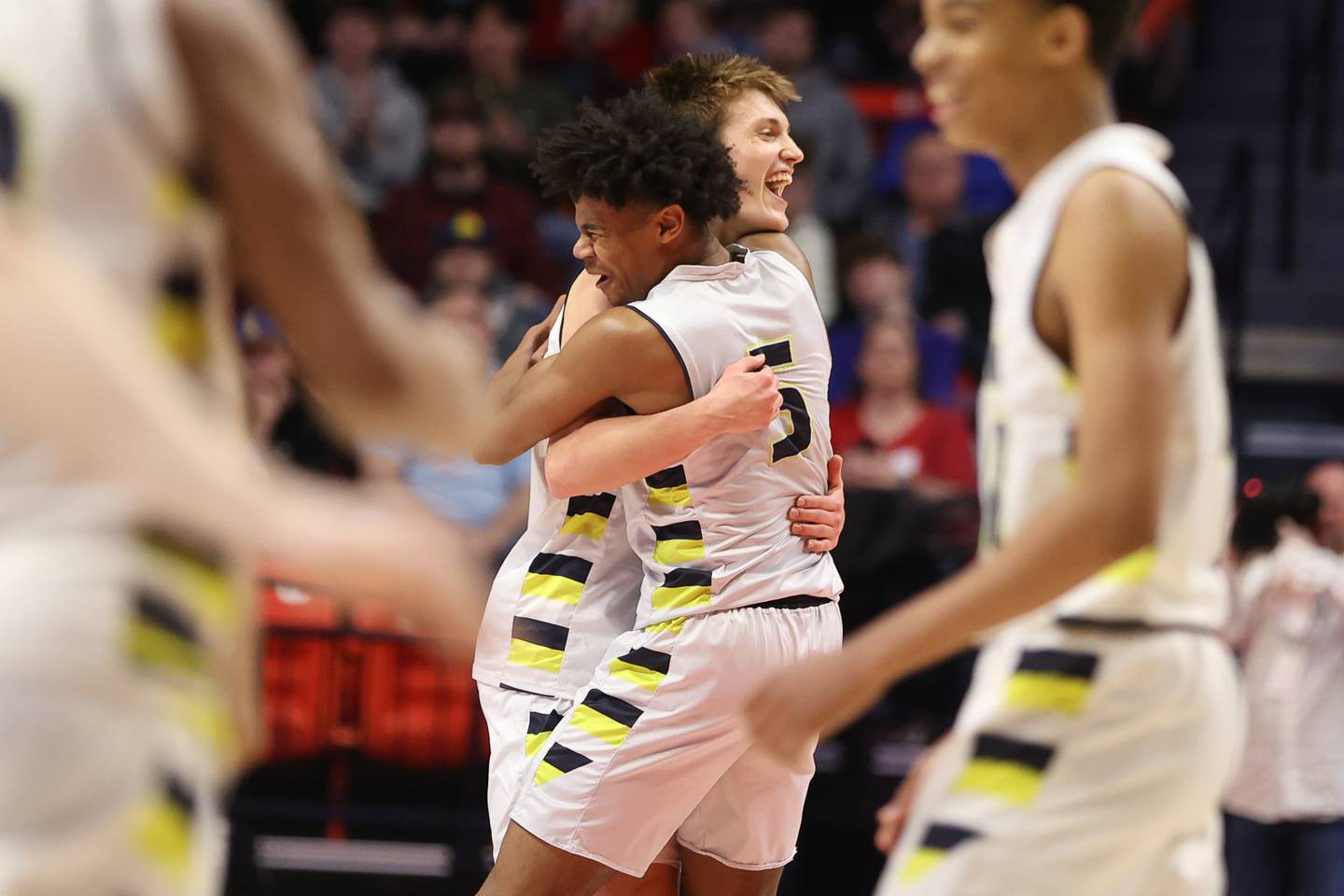 While the challenge was a novelty during Yorkville Christian's postseason run, it was nothing new for the season in its entirety. The Mustangs played 10 Class 3A or Class 4A schools that reached sectional finals, four of them sectional champions.
The Mustangs lost several of those games, but also had big wins over Kenwood, Orr and St. Ignatius, which took third in Class 3A, along the way.
Yorkville Christian won its last 11 games.
"It's definitely been a journey, a lot of rough patches in the journey," Schutt said. "There have been some highs, there have been some lows. That is how basketball is, that is how today's game was, a lot of highs and a lot of lows. We walked into halftime down one. We've been used to that, we've been used to being down. We played a lot of tough games. Shoutout to K.J. and Tyler for their leadership and intensity. They always had my back."
Cannen Wolf scored 15 points and Devin Klauser 13 for Liberty (30-6), which set a school record for wins with its best-ever finish at state. Liberty was third in 2016.
"We have nothing to be shamed of. That [Yorkville Christian] is a heck of a team there," Liberty coach Greg Altmix said. "We gave everything we had."