For Tara Ehrenberg, a multi-needs teacher at Marklund Day School in Geneva, the best part of her job is seeing daily improvements in her students who are wheelchair-bound and nonverbal.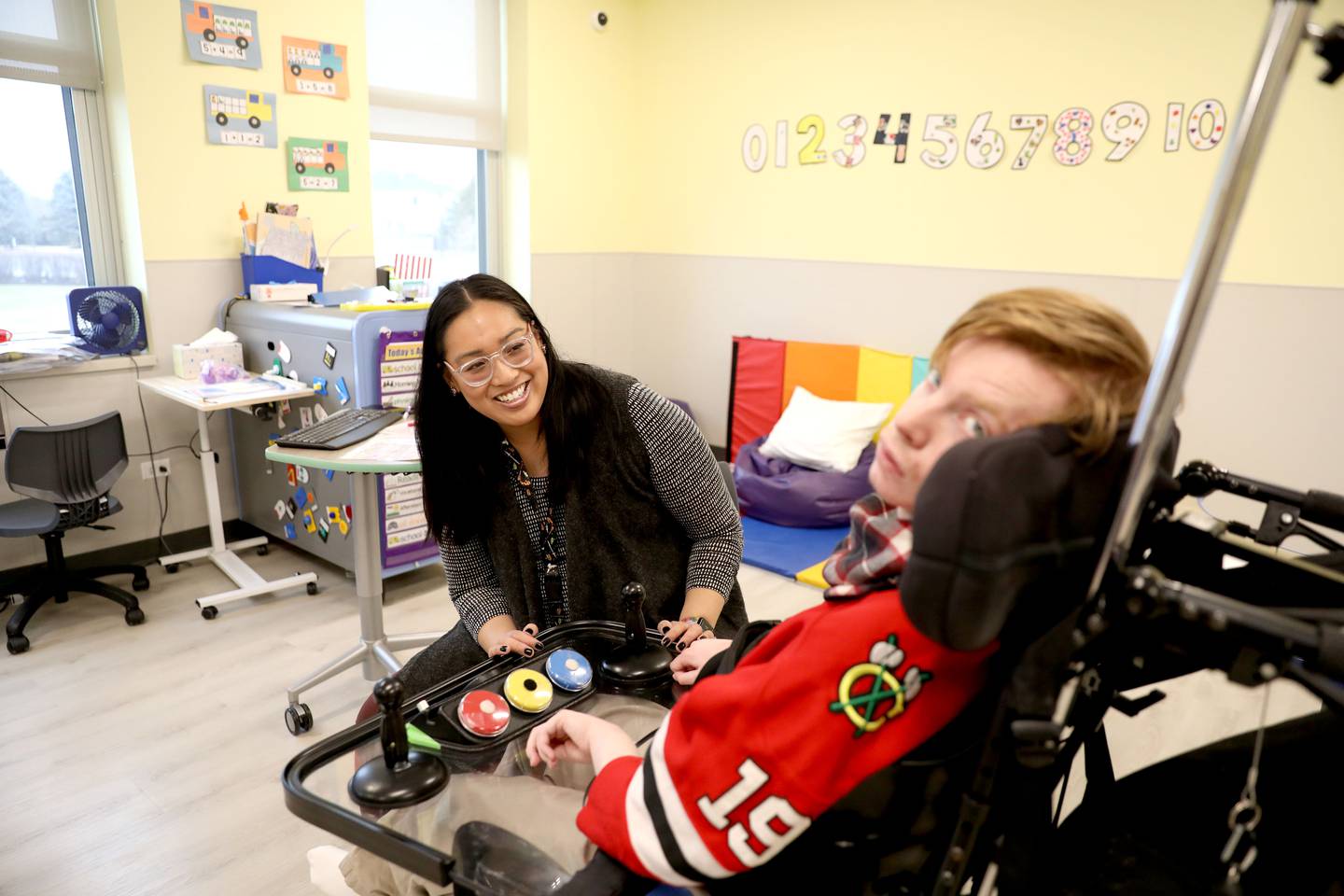 "I wish more people would spend time with our friends with special needs and disabilities," she said. "They have so much to say, so much personality and they are so smart. It amazes me every day to see them grow in how they communicate and how they learn. They become more independent every time I work with them."
Ehrenberg teaches students between the ages of 18 to 22 in the transitions program at Marklund Day School, a nonprofit organization that serves infants, children, teens and adults with serious and profound developmental disabilities and special health care needs. Marklund also partners with local school districts to serve children with multiple medical needs, learning, emotional and developmental disabilities and those diagnosed on the Autism spectrum.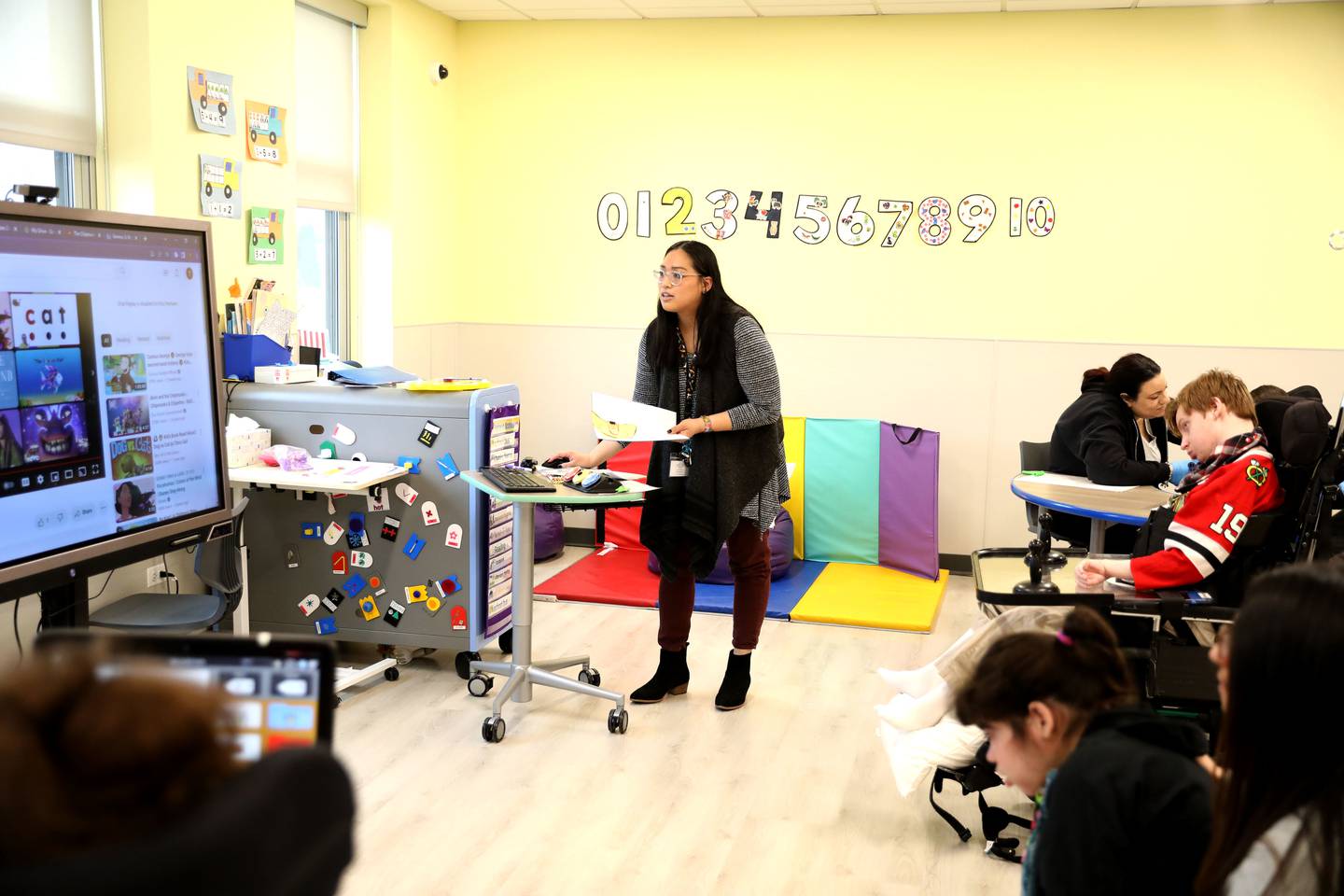 Ehrenberg has been working with the same group of four multi-needs students since she began at Marklund in 2020. Now that those students are in the transitions program, she works with them on vocational and independent living skills, in addition to science, social studies, reading and math.
"To see where we started in 2020 and how much they've grown now in 2023 is amazing. They've learned so much, and I get to be witness to that," she said.
One area of growth that Ehrenberg works on with her students is communication. She said that through technology such as tablet devices and picture cards, they are able to let her know their feelings. She said if they don't like a particular subject or lesson, they always let her know.
"They're pretty blunt about what they like and don't like," she said. "Their nonverbal language is strong ... their facial expressions can tell a lot. I've seen a lot of progress with this group, even though they're nonverbal. Before, we didn't know what their emotions were, but now they're able to communicate their feelings and emotions. It's so cool to watch that."
Heather Beck, the mother of Drew Beck, one of Ehrenberg's students, said her 21-year-old son and Ehrenberg have a "very special relationship."
"He lights up when he sees her and the two work very well together," she said. "She knows how to motivate him and get him to do his work. This is not an easy task when he doesn't want to work. One of the major accomplishments I have seen is him using his communication device more effectively. Tara and the team at Marklund have allowed him to have a voice. We have learned that he has a unique sense of humor. Through her hard work with him, she has given him the gift of communication."
Paula Bodzioch, director of education and adult services at Marklund, said one quality she values in Ehrenberg's teaching is her willingness to get to know her students as individuals and tailoring her lesson plans to include their needs and interests.
"The energy Tara brings to the classroom is contagious and she makes learning fun," Bodzioch said. "Anytime you're in the hallway near Tara's room, you can hear laughter, music and tons of positive encouragement spilling into the hallway. She is truly making our mission 'Making Everyday Life Possible' a reality within her classroom."
Ehrenberg, a resident of Roselle, has been teaching for 15 years. She spent several years teaching elementary grades at a Catholic school before earning her master's degree in special education from DePaul University.
Now that she's been in special education for three years, Ehrenberg said she doesn't plan to return to teaching general education students.
"I really like working in this environment with this population. They're so fun to work with. I've learned so much. They give me so much back," she said.