GENEVA – Pat Frederick's first teaching job was in the little farming community of Beecher City in south central Illinois.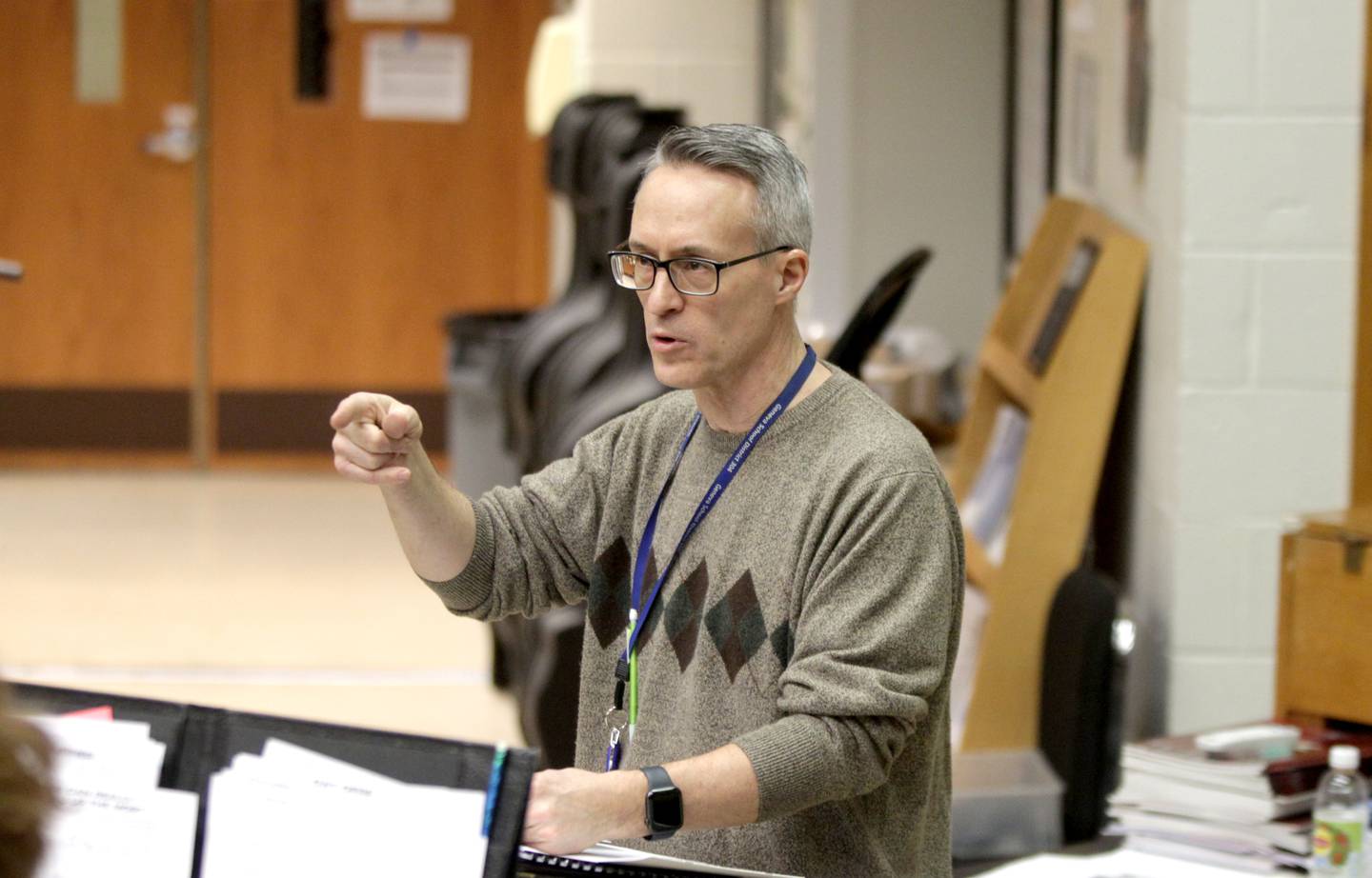 "I was 'The Music Man' in that town," Frederick said, referring to the 1957 musical.
"I taught general music, beginning band, middle school band, high school band. I also taught at a Lutheran school in a town band," Frederick said. "I learned a lot about what I didn't know. I learned how a bachelor's degree just scratches the surface. The rest of it is going to be experience."
Frederick is retiring as a Geneva High School band director this year after 29 years with District 304. He taught band at Beecher City for a year and a half and two years at Brookwood District 167 for a career spanning almost 33 years.
Frederick grew up in Batavia, but his family moved to Geneva when he was in fourth grade. While at Geneva High School, he was in the marching band and everything about music just clicked with him.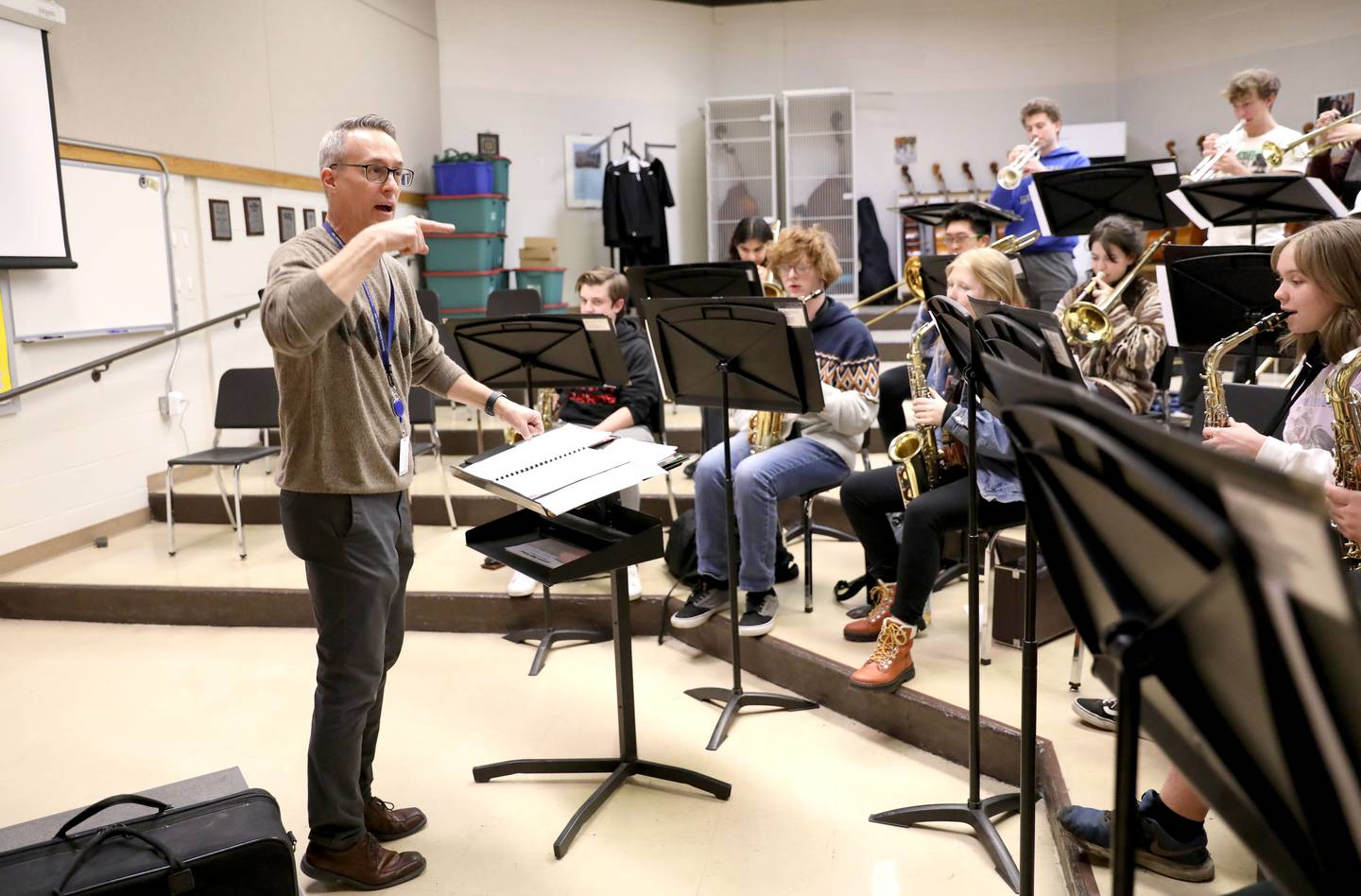 "Music was my niche in high school," Frederick said. "I did everything I could. Lessons outside of Geneva. I was in a jazz fusion band in the area. I was good academically and I did a little bit of sports, but music was always my safety zone. It was where I felt most comfortable and where I flourished the most."
While in college, Frederick said he thought he could make a career as a band director because he had so much fun in band.
"I did not think of the other side of the podium," Frederick said.
Loving music and having fun in band is not the same as teaching.
"Teaching is just the medium," Frederick said. "I really love working with kids. A lot of people who think about going into music and teaching music, their first love has to be working with kids. There is a tremendous burnout rate with band directors because you don't quite understand the work behind your fun experiences in high school."
For that reason, after a first teaching job, many turn away from the profession, he said.
The trumpet is his main instrument, but he took music education classes to learn about all the instruments.
His reward was seeing students progress: a student excelling where they weren't before; a student who helps another student, showing leadership and mentorship qualities; seeing the group as a whole start at one level and get to a higher level by the end of concert seasons or the end of the year.
"They tell you as they exit your class that this was where they felt happiest or most inspired or the safest in," Frederick said. "To have kids who leave Geneva High School and continue to play in bands at the college level is always satisfying to see."
And sometimes students use their music to do something a little more than planning a concert, he said.
One example is during the pandemic when 47 music students made videos for the residents of Bria of Geneva, a nursing home, to cheer them up.
Another example was a request that the marching band attend a young girl's birthday party on a weekend.
"The little girl didn't know we were coming and playing the birthday song," Frederick said. "To see our high school kids interact one-on-one with those little kids and show them the instruments – those types of moments make you very proud."
Another example involved an elementary child with cancer who watched the marching band practice on summer nights.
"The parents asked, 'Could you possibly have the band come over and just play a little something for our son? He's in a bad way and we don't know where this is going.' And they did," Frederick said.
"They came in huge numbers on the front lawn. He was big into Veggie Tales and I scored out music for that and they played that for him along with other tunes," Frederick said. "It was very meaningful. Tragically, he passed away later on. But the kids know music is more than concerts and football games."
Later, the band kids played Christmas carols around Geneva, just standing in front of random houses and a couple came out to watch.
"The parents came up and asked if we remembered them. They were the parents with the young man with cancer. They were at a new home but they wanted us to know how much it meant to their son," Frederick said.
As to what Frederick might do while retired is in flux. His wife, Shara, still has a year of teaching to go before she can retire. Shara teaches beginning band in Geneva's elementary schools.
"I think that retirement will be a time to play a little bit more. As a high school teacher, I don't always get to play my trumpet that much," Frederick said. "My instrument becomes the band. … I know I can't sit still. I'll get stir crazy if I don't have purpose or something to do."
Shara said her husband always went the extra mile for his band students.
"He's always given up his own time to try to make sure things are OK for his students," Shara said. "He's missed his own kids' concerts and stuff growing up because he had a feeling he had to be with his students and make sure they were getting the education they needed. He spent summers getting ready for the next year."
Though it is commonly thought that Neal Shipton will be Frederick's successor, Shipton said he is not an assistant band director, but that both he and Frederick simply are both band directors.
"Pat was very clear. I'm not an assistant but a co-director," Shipton said.
Shipton's main instruments are the euphonium and trombone. Before he came to Geneva in 2015, Shipton taught at Belvidere High School for six years, then 18 months of long-term subbing and providing private lessons.
Like Frederick, Shipton said he loved his high school band experience at Glenbard East.
"My band director was Ross Kellan. Sadly, he passed away in 2017," Shipton said. "I really wanted to do for other students what he did for me – encourage a lifelong love of music. I did not know how much I enjoyed working with kids."