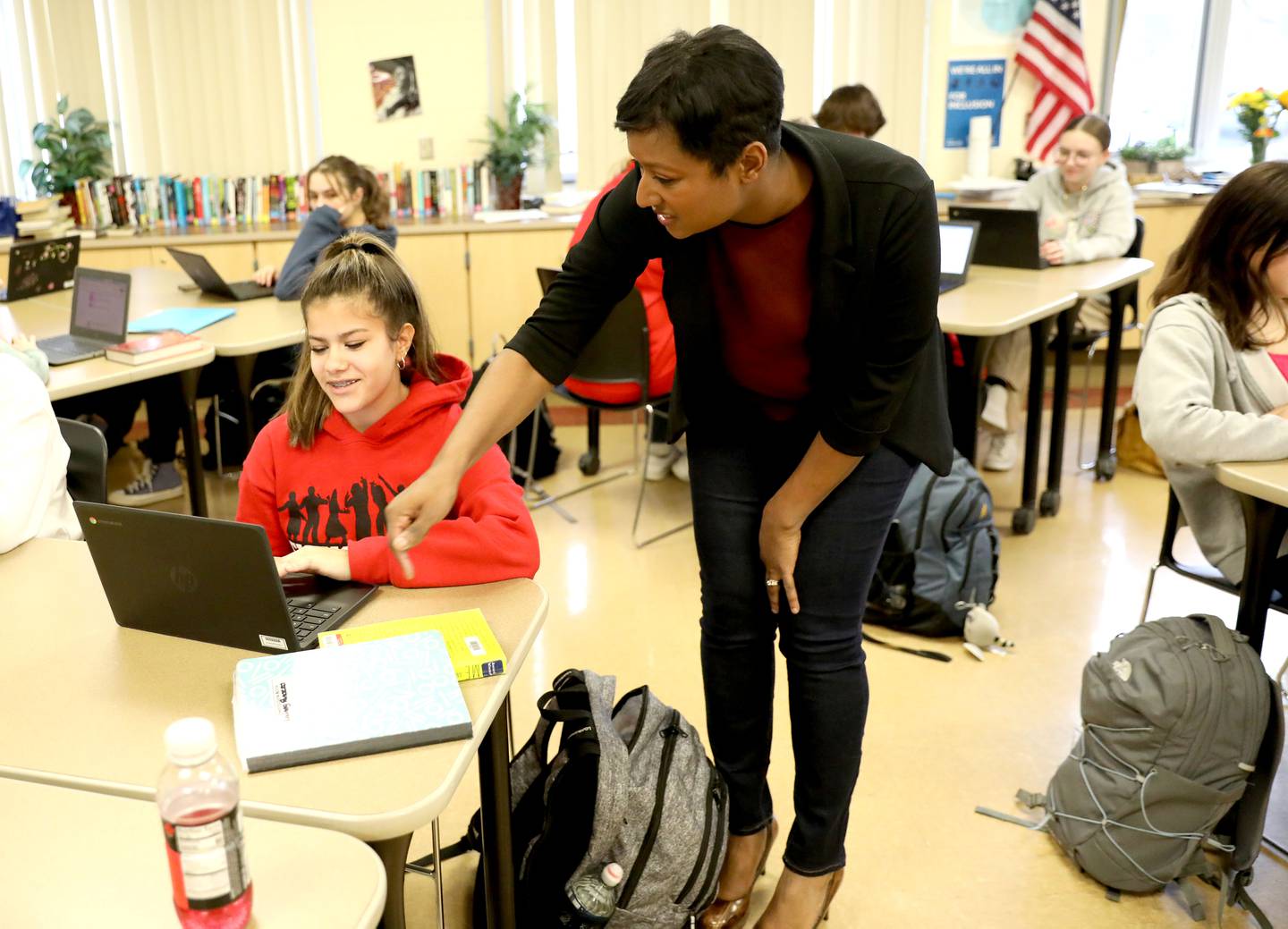 Batavia High School English teacher Amber Jirsa is no stranger to school meetings, whether they're with students or colleagues.
But when Batavia Public School District 101 Superintendent Lisa Hichens requested a meeting in January on just a day's notice, Jirsa wasn't sure what to expect.
"[School administrators] walked into my classroom the next day and there's a Zoom call with the [former] Illinois State Superintendent [Carmen Ayala]," Jirsa said.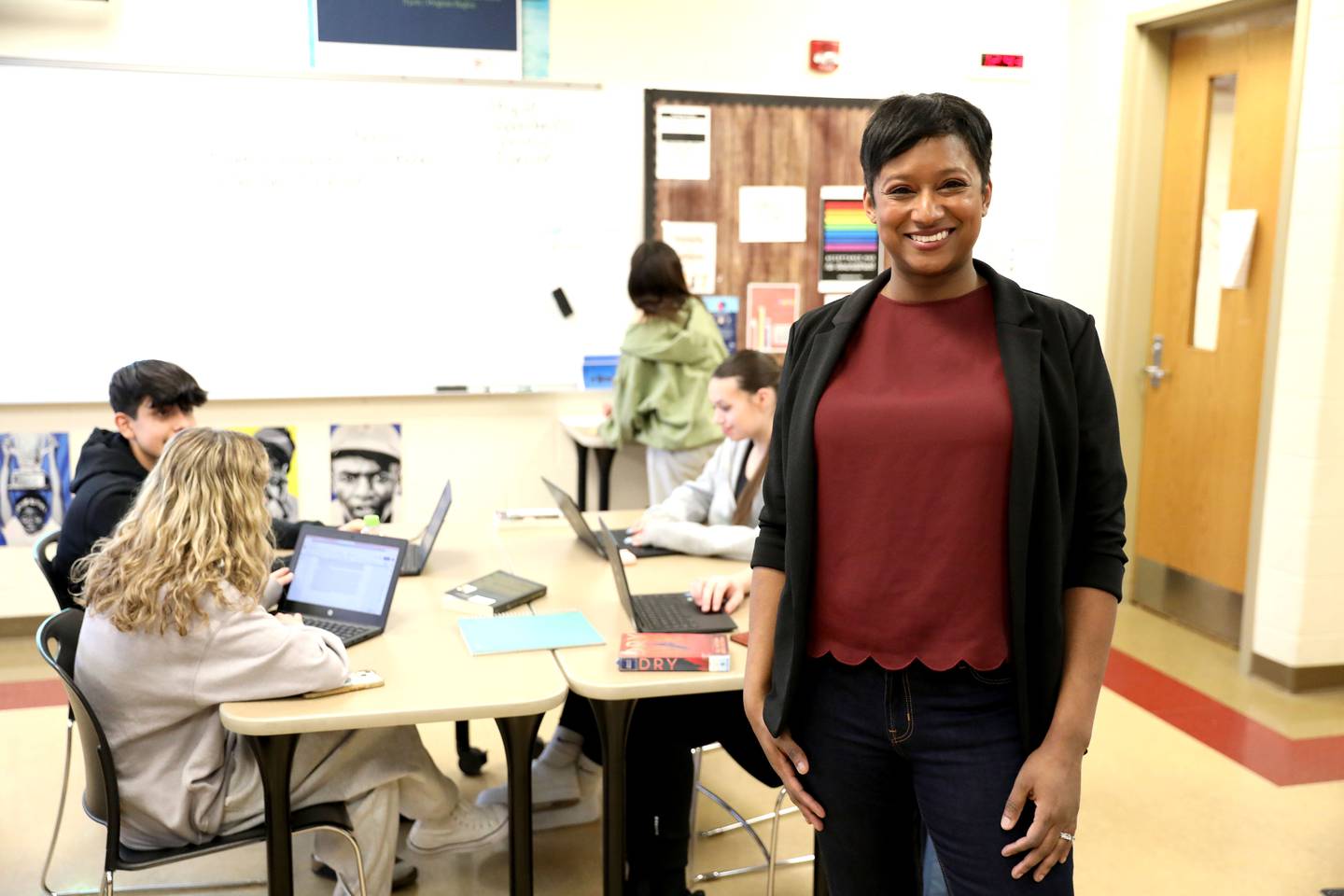 Ayala was on the call to inform Jirsa that she had won the Illinois State Board of Education Teacher of the Year award for the North Suburbs region and was in the running for Illinois Teacher of the Year.
"I am now one of 13 to [potentially] be Illinois Teacher of the Year. And the Illinois Teacher of the Year goes on to be in the running for the National Teacher of the Year," Jirsa said. "I couldn't even process it until about halfway through the call. It was so incredibly unexpected."
In addition to teaching, Jirsa works to improve the district's diversity, equity and inclusion initiatives for students and staff.
"May will be two years since I first sent an email asking what our district plans to do or is doing in terms of equity," Jirsa said.
Jirsa said the email was motivated by concerns that the district did not have a clear plan for handling DEI-related issues in its schools.
"That first year was just starting to find like-minded individuals, whether it was our students, which is why I started the Equity and Justice Committee," Jirsa said.
"Then it moved on to teachers, and I found teachers at all levels. Before, I was in my Batavia High School bubble, but once I started to reach out to middle school teachers and elementary school teachers, I realized that they were all very committed to this idea of equity for students also," Jirsa said. "They were noticing the same concerns that students had about the students not feeling exactly like they belonged."
It wasn't long before Jirsa became a regular at school board meetings, committee sessions and student demonstrations related to diversity and equity issues. Jirsa often would speak candidly about district shortcomings when handling sensitive situations and how it could improve.
Jirsa said she knew directly addressing institutional issues was the most efficient way to incite positive changes.
"Since then there's now a district equity committee that we have and I think the idea of equity is on our radar much more at this point," Jirsa said. "Being vocal about these concerns, being a voice for students, because a lot of times they don't know what to do. For me, it's my job to figure out what to do to get them what they need.
"It's almost impossible to learn when you feel like you don't have that sense of belonging," she said.
Joanne Smith, Batavia High School principal, described Jirsa as being "passionate about her work" as a teacher and also as a sponsor of the school's student equity and justice committee.
"This passion was recognized by ISBE as she is a finalist for Teacher of the Year. The Batavia High School community is happy for Amber and wishes her the best of luck this spring," Smith wrote in an email.
Jirsa was motivated to become a teacher by her experiences being the "new kid" in multiple settings.
"I was born in Mississippi and then I moved to Dallas when I was 3. I pretty much consider myself born and raised in Las Vegas because I went to middle and high school and a little bit of college there," Jirsa said. "I went to the University of Nevada Las Vegas, then when we moved [to Illinois], I went to Benedictine.
"I went to Columbia College after Benedictine. Then pretty much my last couple of years, I wrapped up at Aurora University," she said. "It took me a little bit longer than normal because I had to pay my own way."
Jirsa returned to Benedictine, where she received a master's in administration in 2011. She has worked in education for 14 years with roles at East Aurora High School and Bolingbrook High School before landing at Batavia High School in 2015.
"Just living in different places and being in different situations with very different people and then people who look just like you, I mean you just get so many different experiences," she said. "I think that's one of the things that helps me relate to the students.
"When we have a new student come in, I know what that feels like to get planted into a new school."
For Jirsa, few things are more important to teaching than building connections with students.
"It was so cool when I got this award how many students came back in and were like, 'Oh, my gosh, we saw that you got teacher of the year!'" she said. "That tells me that I've built relationships that are strong enough. When students come back, you know the relationship is strong."