MENDOTA - The Mendota boys soccer team started Wednesday's game with all five seniors on the field.
Even Kaleb Kleckner and Logan Dewey, who have been out with injuries.
The Trojans kicked the ball off to start the game, and Winnebago immediately kicked it out of bounds, allowing Kleckner and Dewey to come off.
Mendota put two younger players in, and after a slow first 10 minutes, the Trojans scored three goals in the next 10 minutes to propel them to an 8-0 victory on senior night.
"They're great leaders, they're great kids," Mendota coach Nick Myers said. "They're good kids in school. They're great leaders to have with this young group because they show up all the time. They're on time. They're responsible. They hold the younger guys to high expectations, so it just works."
Mendota's younger players provided the spark Wednesday.
Freshman Isaac Diaz stole the ball, dribbled through a few defenders and passed to classmate Cesar Casas, who blasted a shot into the upper right corner to put the Trojans on the board 9:19 into the game.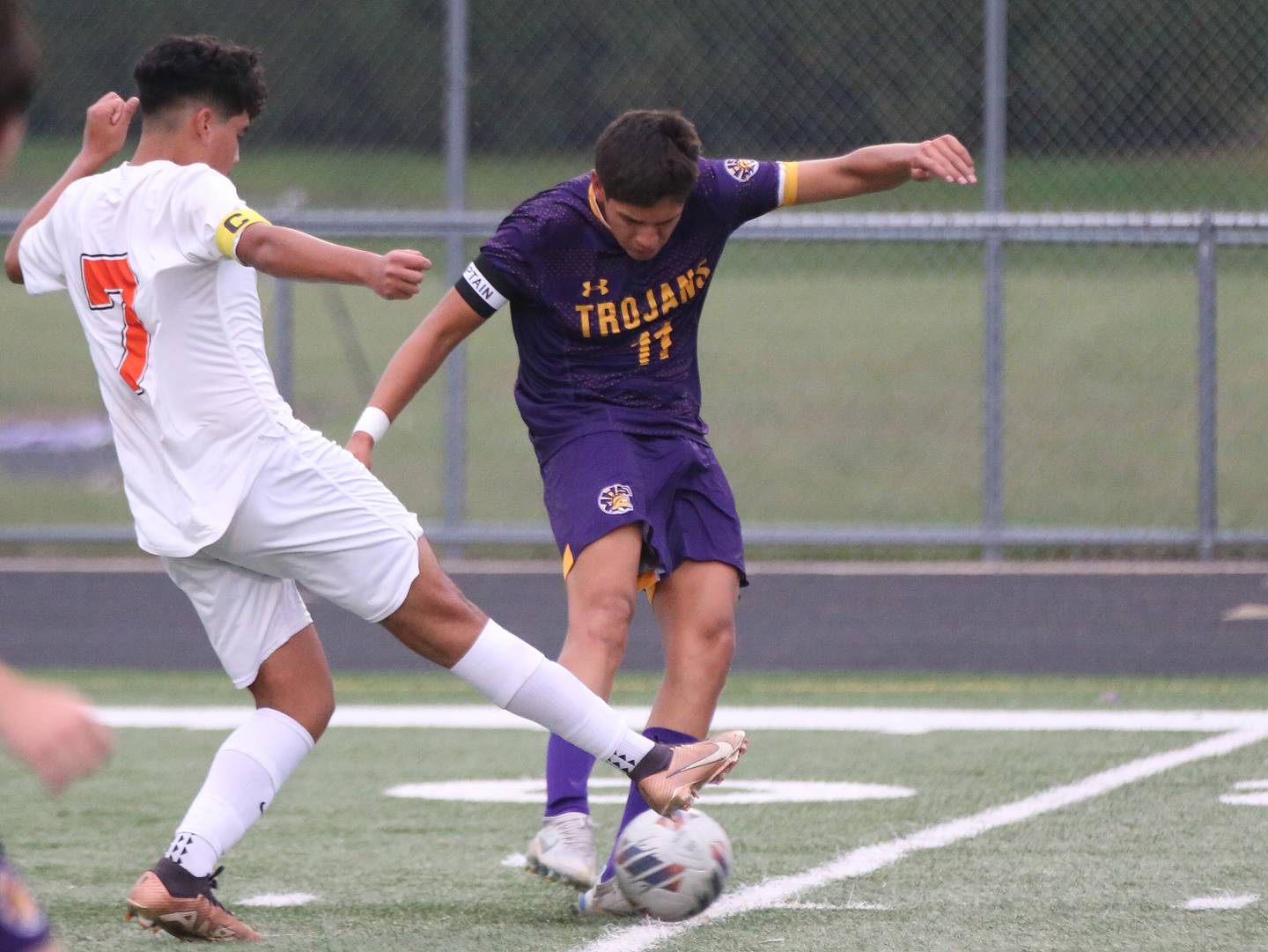 Nearly four minutes later, Cesar beat a couple of defenders and fired another shot into the upper half of the net for a 2-0 lead.
"The team started bringing the intensity and realized we should start winning and we could put the game away early," Casas said. "Since we hadn't scored yet, I decided to take action and I started scoring."
The Trojans tacked on four more goals in the first half.
Cameron Kelly scored on a through ball from Johan Cortez with 20:01 left in the first half, Diaz found the back of the net on an assist from Cortez with 17:24 left, senior Fredy Mandujano scored on Cortez's third assist with 10:29 left and Diaz scored again on a pass from Casas with 1:10 left.
"We don't start out the greatest, or as great as I would like offensively," Myers said. "I think a lot of that has to do with our youth. We're just inconsistent. I will say if it's a big, big game, they do step up, but I think we just kind of come in and go through the motions at the beginning of the game and we've been talking recently about how we have to stop doing that with postseason coming up because if you allow the other team to score first and they decide to pack it in, you're going to make things challenging on yourselves.
"After 10-15 minutes we got going. Cesar got us going when I brought him and Issac in. Cesar kind of set the tempo for us getting those two goals. Isaac played much better tonight. He's been one of our ones who's been a slow starter, but he came out with a little more aggressiveness tonight and got some goals."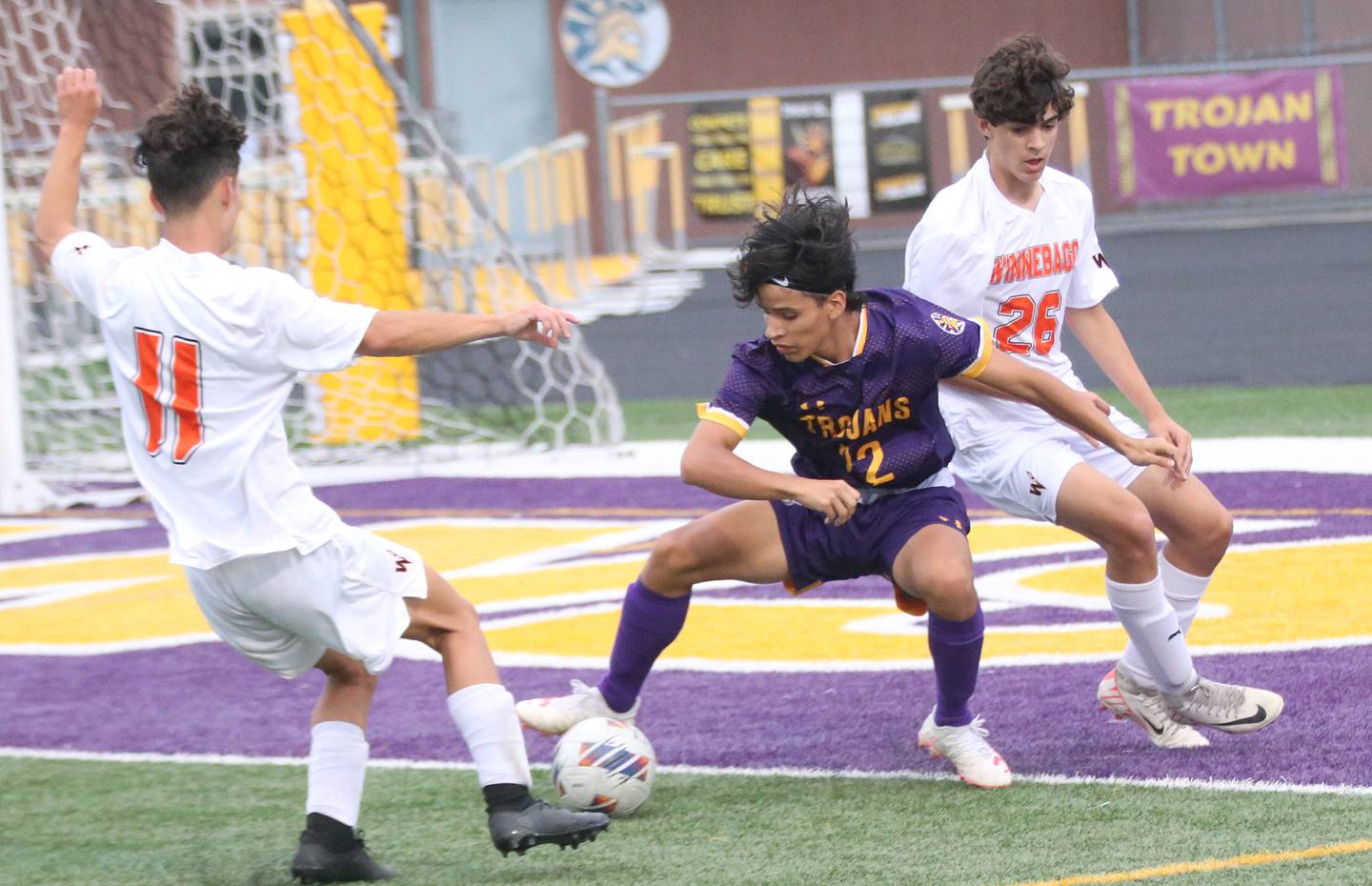 In the second half, Casas notched his third goal - off an assist from Diaz - to cut the remaining time in half, while Sebastian Carlos tacked on a goal with 4:06 left.
The Mendota defense limited the Indians to just one shot on goal.
"We've been doing pretty well this season defensively," Nanez said about the Trojans, who recorded their 14th shutout. "I think tonight we did a good job of staying together and working as one."
The Trojans, who are the No. 1 seed in their sub-sectional, improved to 18-2-2. While Wednesday was senior night, Mendota will play on its home field again as the Trojans are hosting a regional.
"Senior night was a big excitement just realizing it was one of the last games here," Nanez said. "This turf, we take maybe for granted. It's such a beautiful field. It's kind of sad it's one of our last games here."