Addie Duttlinger came up big for the La Salle-Peru volleyball team in a pair of Interstate 8 Conference matches last week.
Duttlinger put down six kills in a two-set win over Rochelle, then turned in eight kills in 18 attempts and seven digs in a two-set win over rival Ottawa.
"She's a very athletic player. She's a hard worker and all that hard work paid off against Ottawa. She was unstoppable that night," L-P coach Mark Haberkorn said. "That just makes us a lot better team when she's able to contribute like that.
"It's great to see all that effort from practice translate into her best efforts of the season."
For her performance, Duttlinger was voted the NewsTribune Athlete of the Week, sponsored by Sullivan's, Grasser's Plumbing & Heating and Central Bank.
Duttlinger answered some questions from NewsTribune sports editor Kevin Chlum.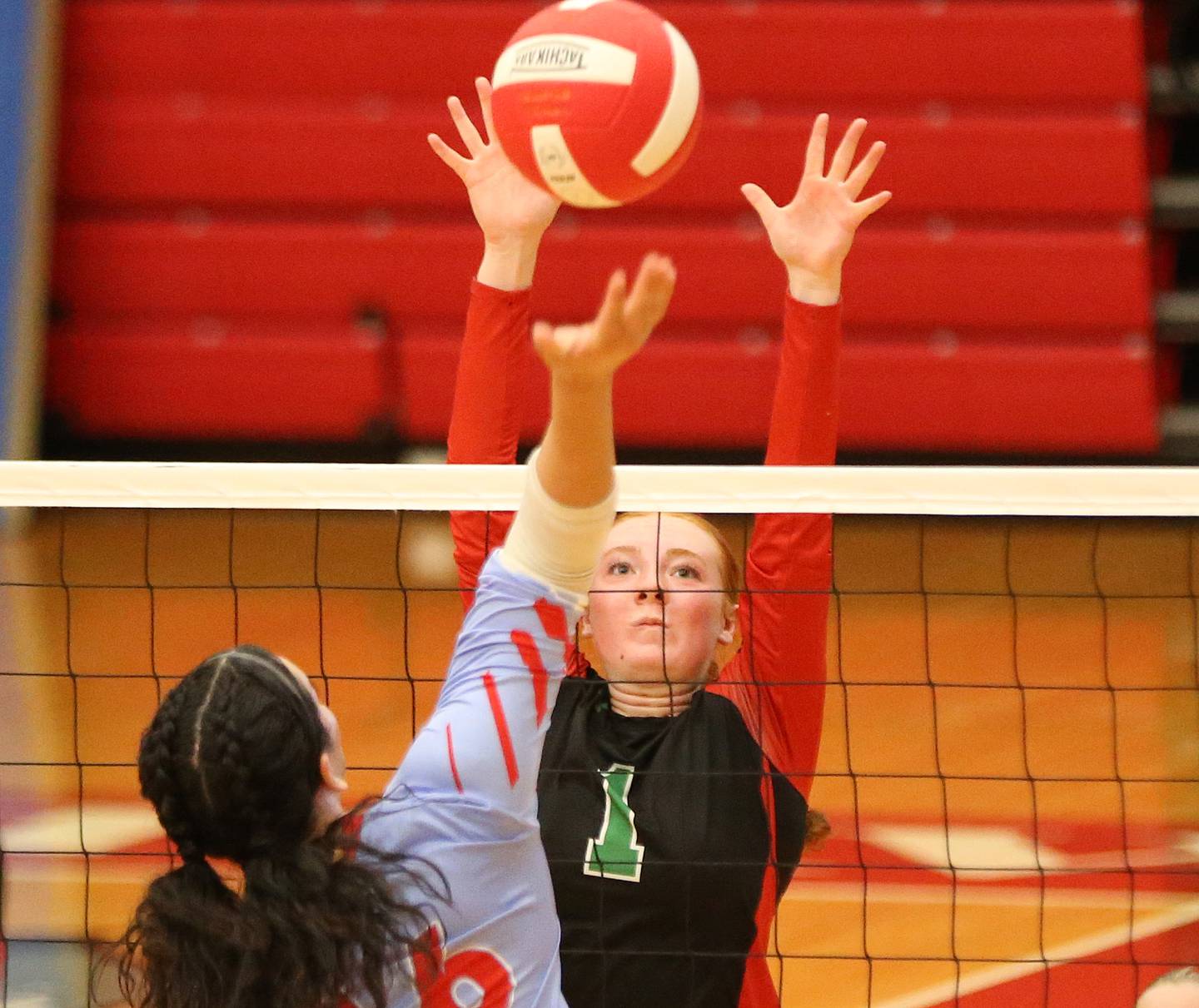 When did you start playing volleyball and how did you get into it?
I started playing volleyball in fifth grade, but have been interested in the sport most of my life. My mom played at WIU and she is one of the reasons I've grown to love the sport.
What do you enjoy about playing volleyball?
Other than the competition, my favorite thing about volleyball is definitely the friendships I've created with my teammates. It is truly a bond like no other and playing in a loud atmosphere with them has to one of the most exciting things.
What makes you a good volleyball player?
I think that I succeed because of my overall aggressive mindset toward the game. I give 110% to try to make those tough plays to help my team.
What is your favorite sports memory?
My favorite volleyball memory is beating Rock Falls in three in the Rock Falls tournament this year. Our team's energy was unmatched and it was overall just such a fun game to be a part of.
Do you have any nicknames?
Dutt and Red.
Besides volleyball season, what do you like about fall?
Honestly, I love every part about fall. I love the weather and pumpkin everything.
If you could travel anywhere in the world, where would you go and why?
I would definitely travel to Europe so I could visit multiple countries and try many different kinds of foods.
What is a TV show or movie you never get tired of watching?
I love watching New Girl.
With what food could you win an eating contest?
Ice cream. I could easily beat anyone in an ice cream eating contest.
What are your thoughts on your individual performance last week against Rochelle and Ottawa?
Since the team's energy was so high playing our biggest rival, I knew I needed to be an asset in order to help secure the win. I thought I saw the court well in both games and knew what I needed to do to get kills for my team.