La SALLE – With nearly full stands and two loud student sections chanting back and forth, it was a typical rivalry atmosphere for the La Salle-Peru vs. St. Bede match Tuesday at A.J. Sellett Gymnasium.
"It's fun because everyone always comes out for this game," L-P senior Marissa Sanchez said. "Our fan section always goes wild. It helps us go harder. It's always great to play matches like this."
The Cavaliers had plenty of fun on the court and gave their fans plenty to cheer about as they won in dominating fashion 25-9, 25-11 over their crosstown rivals on L-P's pink night which raised money for Cops 4 Cancer.
"It's nice to have a great crowd," L-P coach Mark Haberkorn said. "Anytime you play you like to have the home crowd supporting you. I think it gets everybody more excited to play. It's a rivalry game, so it's a lot of fun. It's a lot of fun for the students and the parents and for our team. I think they enjoy it, too.
"It's a tremendous cause. I imagine we're going to bring in a large total. It's outstanding we can contribute to such a good cause."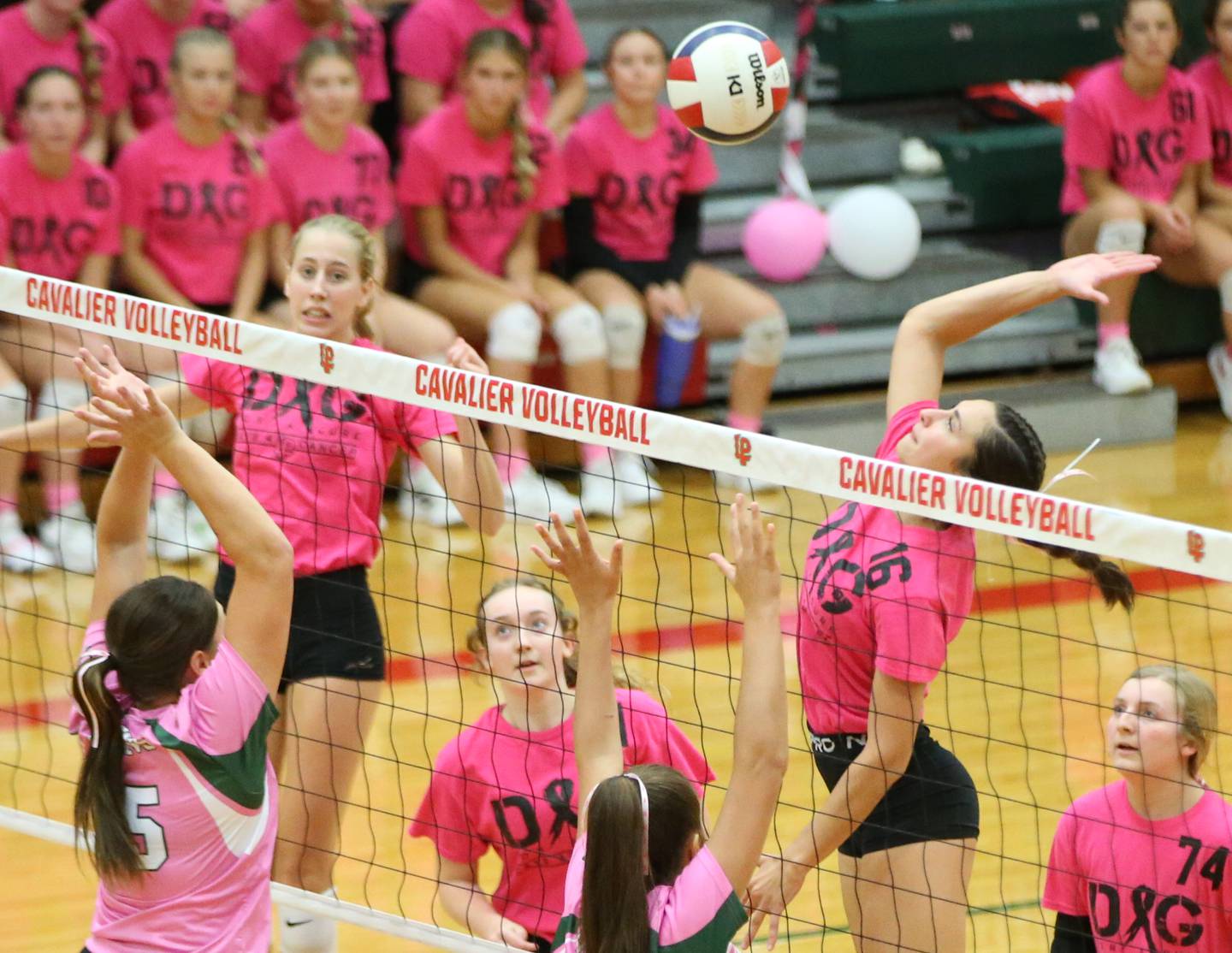 It was a tough night for the Bruins as a Class 1A team playing a Class 3A powerhouse.
"L-P is bigger, faster and stronger than us, there's no doubt," St. Bede coach Abbi Bosnich said. "They're a good program. I think we're not in the same class as them for a reason.
"It was a great atmosphere for the kids. I want to make sure the girls get all of the experiences that they can in high school, so I thought it was a great atmosphere for them to play in."
St. Bede got off to a good start in the first set, jumping to a 5-1 lead behind a kill from Johnna Bogatitus, two L-P errors and two net violations on the Cavaliers.
At the Bruins served out of bounds, Katie Sowers set the ball to the corner and Ava Currie put down a kill to pull L-P within 5-4 before another net violation on the Cavs.
Sowers got a kill to give the serve to Sanchez, who went on a 19-0 service run to give the Cavs a 24-6 lead.
"We started the match down 5-1, but then we gained our composure," Haberkorn said. "I think we were a little nervous and excited for the start of the match then Marissa Sanchez goes back and serves up four aces and 16 points. We just started rolling from there. I don't know what her ball was doing, but she kept them from getting into system. We got a lot of free balls, and we were able to build up the lead in both sets.
"I thought we played very good defense. There were plays we had to make, and we seemed to be in the right spot at the right time most of the night.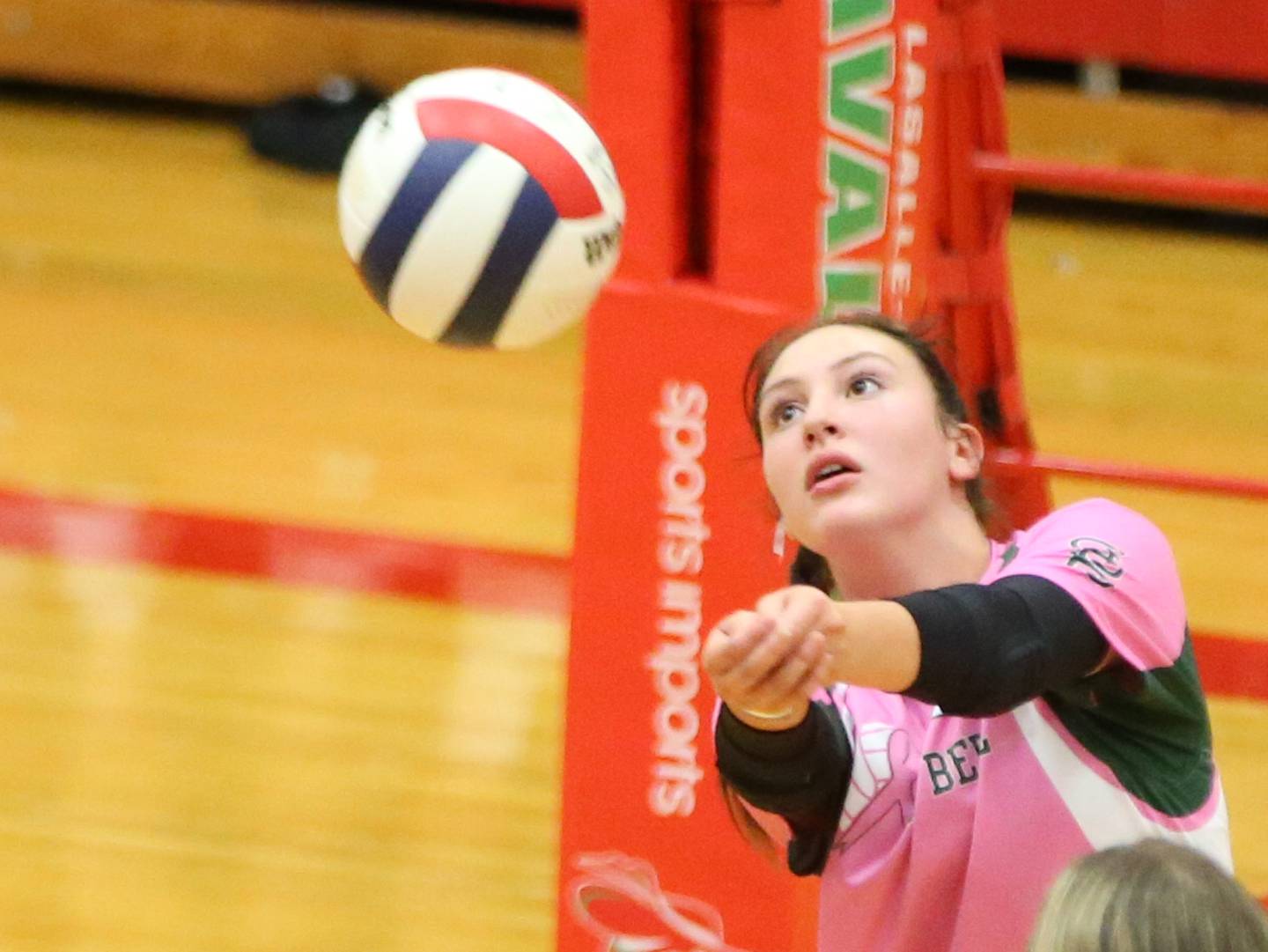 Sanchez's run included four aces, two kills and a block each from Sowers and Kelsey Frederick, two kills each from Aubrey Duttlinger and Olivia Weber and a back-row kill from Kaylee Abens along with five St. Bede errors.
"It's easy once they get rolling to get down on yourselves and get into a bigger hole, but we were able to stop that and come on top and keep going," Sanchez said. "[The key to the run was] just getting the ball over the net and then having our team do the rest. All I did was get the ball over, and then we finished it."
The Cavs led from start to finish in the second set, taking a 5-0 lead that caused St. Bede to call a timeout. L-P pushed the lead to 8-1, but the Bruins were able to pull within 8-4.
St. Bede (9-13-1) kept it relatively close until the Cavs went on a 6-1 run to push the lead to 22-9.
Sanchez ended the match with back-to-back aces.
"I felt like the first set we played a little bit scared and back on our heels and were just unsure of what we were doing," Bosnich said. "We had a great match [Monday] against Seneca, one of the top teams in our conference, and won in two and played super well. I didn't see that same team show up tonight. I felt like the first set we got caught up in the moment and got caught up in the atmosphere rather than just playing. The second set I felt like we were more relaxed. I had no idea the score was 25-11 because I felt like the girls were in the game. They were focused on what we could do."
For L-P (17-3), Sanchez had 26 points, six aces and 19 digs. Sowers had seven assists, five kills, five digs and a block, Abens had 11 digs and seven points and Addison Urbanski contributed 10 assists, three kills and two blocks.
While L-P swept at the varsity level, St. Bede won at the lower levels with a 10-25, 25-19, 15-13 victory in the sophomore match and a 23-25, 25-21, 15-13 win in the freshman match.