OTTAWA – Marquette rallied from 11 points down in the second set Monday for a 25-17, 27-25 nonconference girls volleyball victory over Hall at Bader Gymnasium.
The first set was back and forth early. Hall got a dink shot from Kennedy Wozniak and then a kill from Ella Sterling to give the Red Devils a 4-2 advantage.
A few moments later, Maera Jiminez had a kill to tie the set at 6 before a double hit by Hall gave the Crusaders a 7-6 lead.
After a Marquette shot sailed into the net, Hall took a 12-9 lead, but Marquette went on a 12-1 run to take control of the opening set.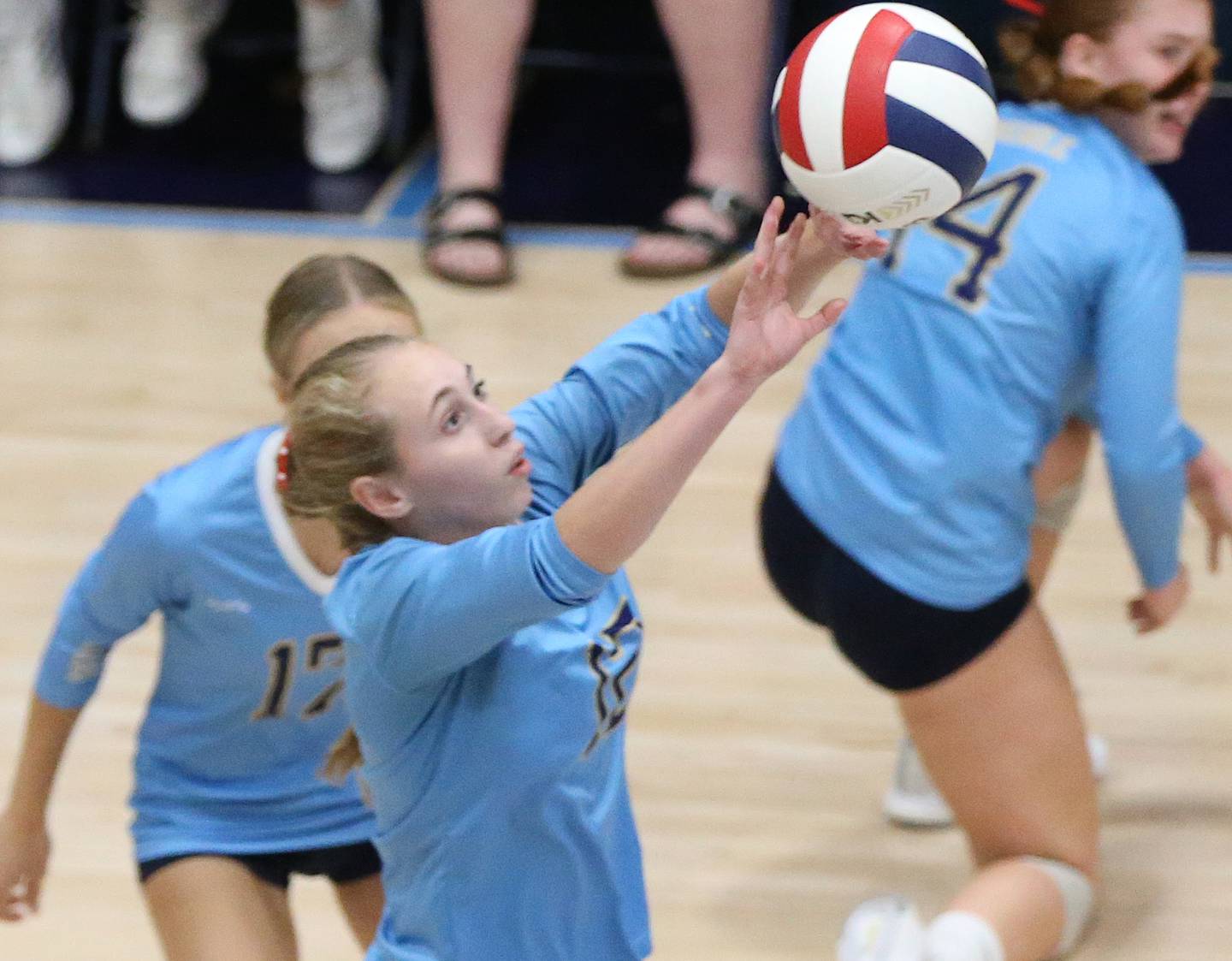 After back-to-back errors from the Red Devils, Marquette got a block at the net from Mary Lechtenberg to tie the set at 12.
Taylor Coutts had a dig to keep a rally going, but Makayla Backos ended the point with a touch shot for Marquette.
The Crusaders kept rolling with a kill from Lechtenberg and an ace from Kealey Rick as the lead grew to 19-13.
"I thought we got some good efforts from a number of girls," Marquette coach Mindy McConnaughhay said. "Emma and Nora Rinearson, who flip back and forth as the libero, were solid, and so was Mary Lechtenberg and Makayla [Backos] in that opening set."
Two more Hall errors and another monster kill from Backos made it 22-15 Marquette on the Crusaders' way to the first-set victory.
"I thought we could've executed a little better in that first set, but the effort was there for sure," Hall coach Carolyn Foster said. "We didn't do some of the things we were trying to do, but in the end it was a set that could've went either way."
The start of the second set was all Hall as the Red Devils stormed out to a 14-3 lead.
Haylie Pellegrini stated things off with a strong shot, and Taylor Coutts followed with an ace to go along with a shot into the corner from Ellie Brooks for a quick 4-1 lead.
Pellegrini added an ace, and moments later Mya McLaughlin forced a Marquette timeout with a block for an 8-2 Hall advantage.
After a Marquette shot sailed long, Natalia Zamora and Kennedy Wozniak teamed up for a block as the Hall advantage grew to 11-2 and eventually 13-2 after a Zamora shot hit the line, forcing a second Marquette timeout.
"I thought our captains Pellegrini, Wozniak and Coutts really played well tonight, especially in that second set," Foster said. "We also brought up sophomore Natalia Zammora, and I thought she also had a very good night for us. Ellie Brooks also seemed to be digging up some big shots for us tonight."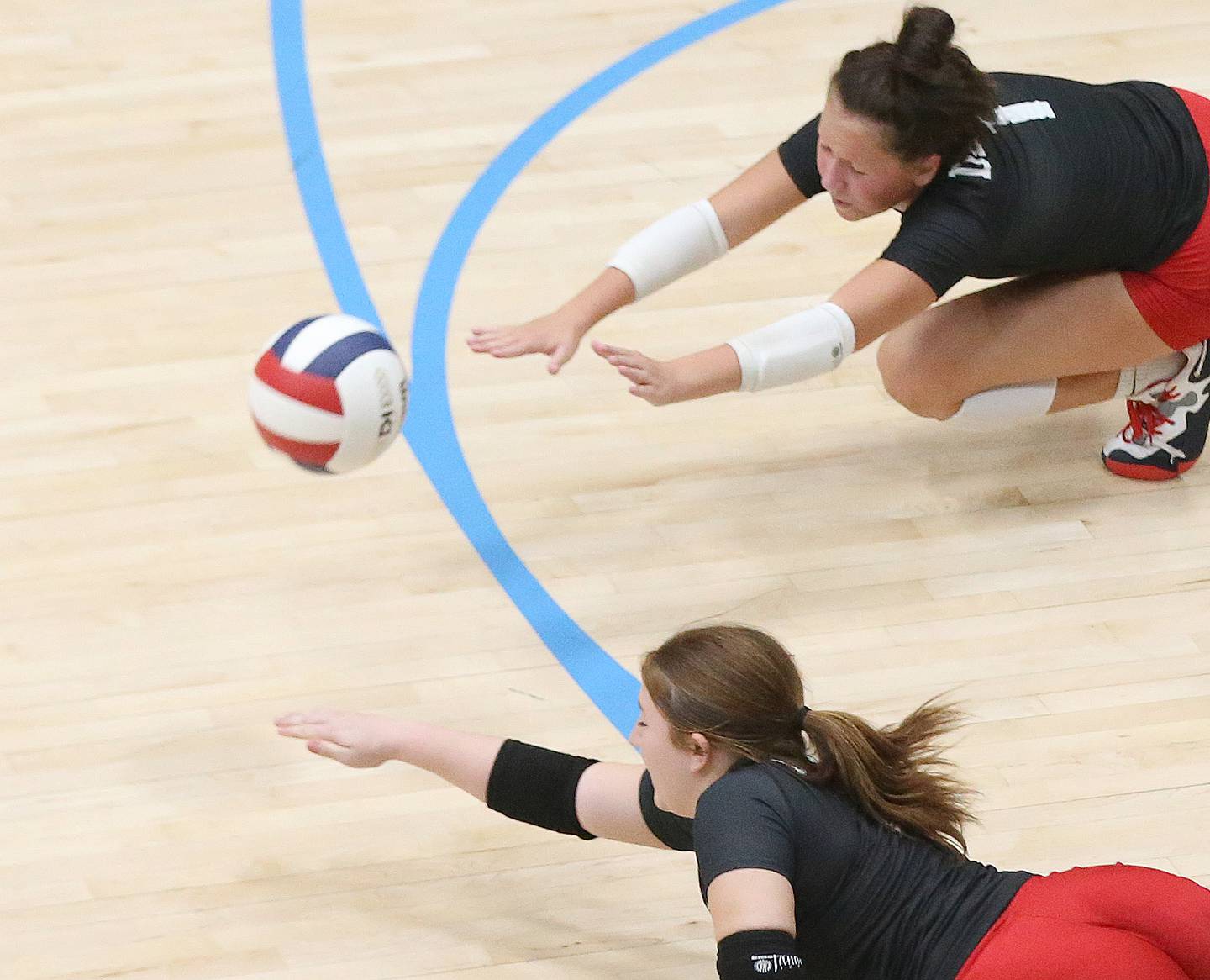 After the timeout, Marquette made a big run like it did in the first set, and the momentum shifted to the Crusaders.
Avery Durdan started it off by finding a hole in the middle of the defense, then back-to-back errors made it 14-7 Hall.
Maisie Lyons blasted a pair of aces before Backos and Craig combined for a block to go along with a Craig kill as the Crusaders finished a 13-0 run to take a 16-14 lead.
"I am so happy for these girls making that run," McConnaughhay said. "A week ago we probably fold in that second set and then in the third, but I think it shows how we are maturing as a team to be able to come together like that and not just battle back, but battle back to take the lead there."
After a Hall timeout, back-to-back Marquette errors tied the set.
Hall committed four straight errors that put Marquette in front 20-16, but a 5-0 run with the help of consecutive kills from Pellegrini gave Hall a 21-20 lead.
Durdan tied the set at 21 with a big shot before a Hall shot hit the net for a 22-21 Marquette advantage.
A Hall error gave Marquette match point at 24-22, but Hall responded with a shot down the line from Morgan Hoscheid and an ace from Pellegrini.
Hall went ahead 25-24 and had a chance to win the second set. But a service error tied the set again before Craig sent a shot off a Hall defender's hands, and Hall was whistled for a lift to end the match.
Pellegrini led Hall with 14 digs, and Ellie Brooks added 10. Pellegrini also led with four kills and 10 points, while Coutts had seven assists.
For Marquette, Craig led with seven kills, while Nora and Emma Rinearson along with Maisie Lyons had eight digs. Kealey Rick added 10 assists.