MENDOTA – Golfers battled a strong field and tough weather conditions at the Three Rivers Conference boys golf tournament Tuesday at Mendota Golf Club.
Perennial power Riverdale once again dominated the field, but several area golfers and teams had solid showings.
Hall junior Landen Plym and Bureau Valley sophomore Wyatt Novotny tied with 79s, with Plym taking fourth place and Novotny finishing fifth.
"It feels great," Novotny said about the fifth-place finish. "Conference is a big thing. It's an honor.
"It's competitive for sure. Riverdale is always a powerhouse even when my older brother was playing golf. So being up against those names that are up there is a great privilege."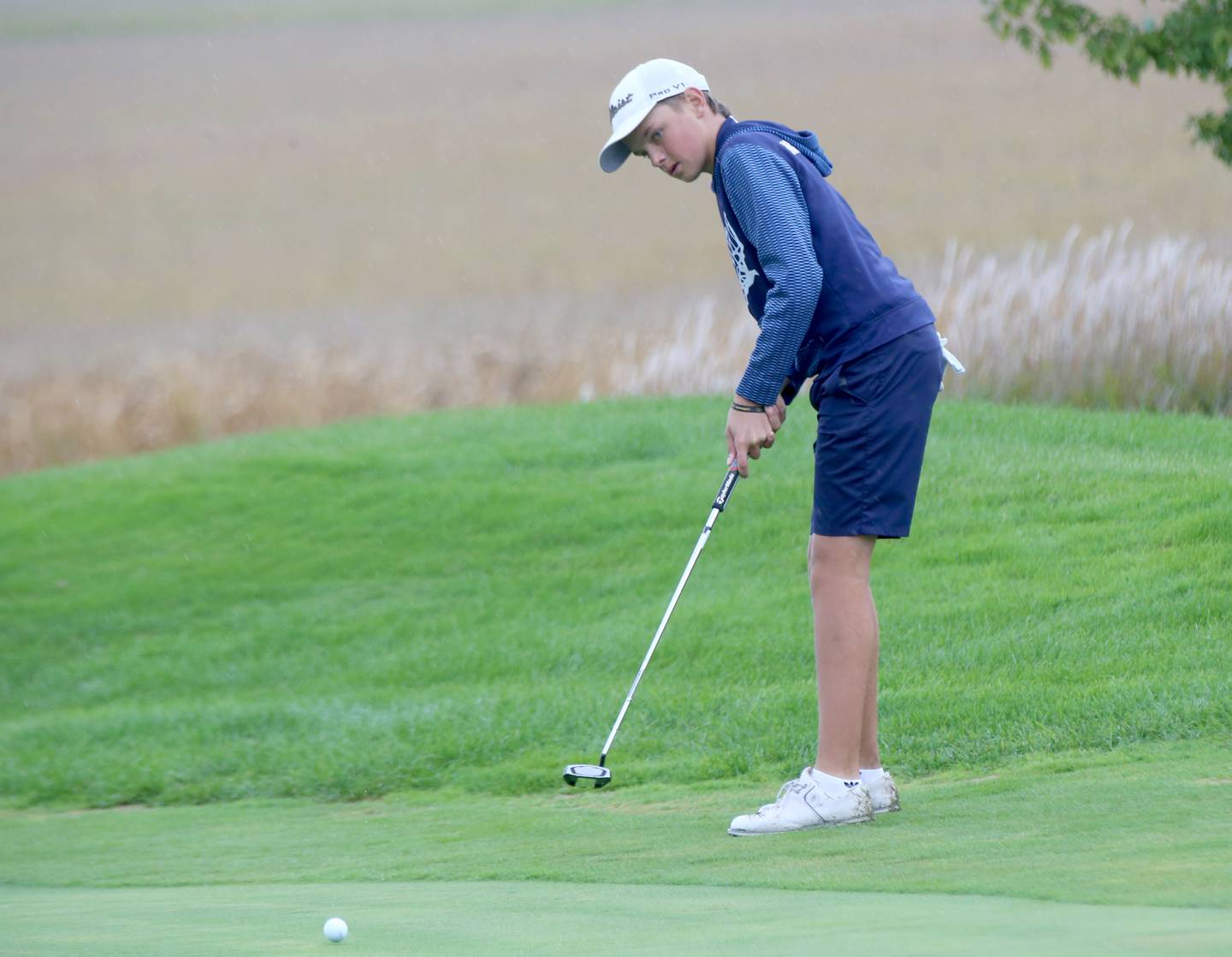 Plym placed top five in the conference for the second year in a row.
"We have a good conference," Plym said. "There are some good kids in it, so I'm pretty happy with finishing fourth."
The golfers faced rain and cold temperatures in the morning and windy conditions later in the round.
"It was tough in the morning," Plym said. "It was cold and windy and of course, the rain. You just have to grind through it and do the best you can."
Plym stumbled at the start with three bogeys and a triple bogey in the first five holes, but he bounced back to record one birdie, seven pars and five bogeys the rest of the way to climb from the 20s early on into fourth place.
"I started pretty rough," Plym said. "I was five over through six holes and then I steadied out. The front nine was easier because the rain and stuff was ending. I just flattened out and played better after the rain stopped.
"I missed a couple short putts. I had a couple three putts. My driver was really good though. I hit a lot of greens. I chipped really well today. Other than the short putts I missed, I played pretty well."
Novotny started with a par, bogey birdie. He finished with 10 pars.
"I played pretty solid," Novotny said. "I have to clean some stuff up before regionals, but it was pretty solid. I stayed with it and made a lot of pars, which is my goal.
"[Before regional, I want to clean up] some short game stuff. I hit some iron shots in bunkers and had to get out of those. I want to fix that up. Mostly short game stuff. Everything else was pretty solid today. My driver was stellar. I hit a lot of fairways."
Mendota senior Owen Aughenbaugh finished eighth with an 82 to help the host Trojans place second on their home course.
"It feels pretty good," Aughenbaugh said. "The last invite we had, we had some of the same teams and we ended up getting fifth, so it feels pretty good beat some good teams that beat us.
"I think experience (helped us). It rained a lot and the last invite we played it rained the whole time, so I think that helped us a lot. This is our home course. That's a real thing. We know it."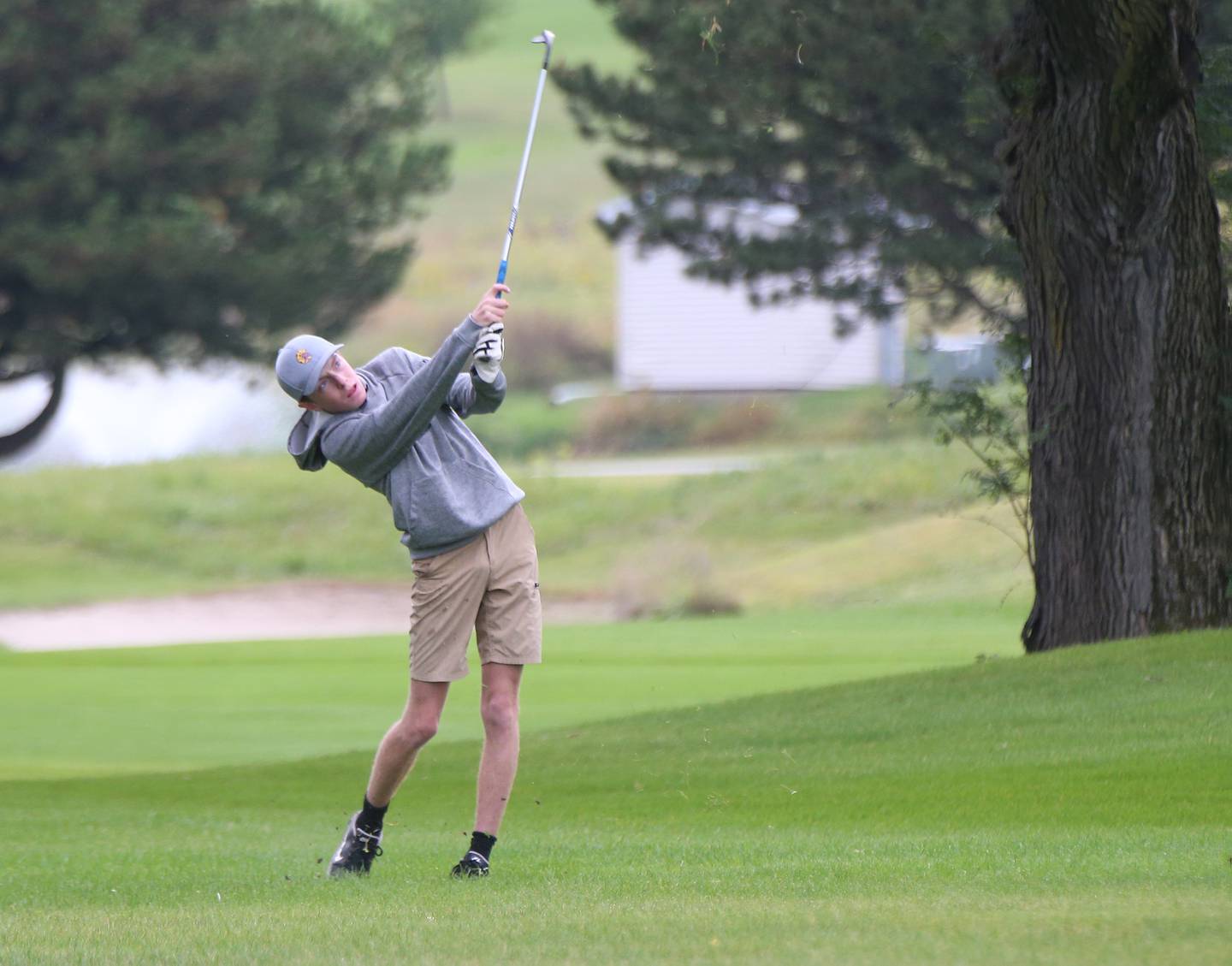 Aughenbaugh finished with seven pars.
"I could have played better," Aughenbaugh said. "Everything was good but the putting. My putting was rough. I three putted six or seven times. It was really just the putting that held back the score.
"It feels good [to place eighth]. Better than last year. It's improvement, so that's what I like to see. I hit the ball farther [this year]. My putting is better. Everything's just a lot better."
Riverdale took the top three individual spots and had four golfers in the top six to run away with the team title.
Riverdale junior Aidan Dorathy won the individual title with a 74, while Ram sophomores Mason Smyser and Blake Sutton took second and third, respectively, with 77s. Sophomore Braden Janicki rounded out Riverdale's four counting scores with an 80 to finish sixth.
The Rams carded a 308 to beat second-place Mendota (348) by 40 strokes.
Sherrard (349) placed third followed by Princeton (352), Bureau Valle (353), Hall (354), Newman (358), Rockridge (359), Monmouth-Roseville (362), Erie-Prophetstown (382), Orion (406) and Kewanee (475).
Brody Hartt (86), Dane Doyle (87) and Cale Strouss (93) rounded out the scores for Mendota, Landen Birdsley (87), Colin Stabler (93) and Landon Smith (94) also scored for the Storm and Noah Plym (87), Jacob Diaz (93) and Cody Orlandi (95) also had counting scores for Hall.
Luke Smith led Princeton with an 85, while Tyson Phillips (86), Jayden Fulkerson (90) and Kaiden Coomer (91) rounded out the scores for the Tigers.
Logan Palmer shot an 84 to lead Newman, while Chase Decker (87), Garet Wolfe (92) and Liam Nicklaus (95) also scored for the Comets.
Erie-Prophetstown's scorers were Dane Ryan (89), Blake Geuns (91), Caden VanHorn (93) and Sawyer Copeland (109).