Los Angeles Dodgers pitcher Bobby Miller let out a loud scream and pumped his fist after striking out Atlanta Braves first baseman Matt Olson on a sweeping slider to end the fifth inning on the 95th and final pitch of his major league debut.
Miller, a 2017 McHenry West graduate, is no stranger to the bright lights.
In the spring-training finale last month at Dodger Stadium, Miller got the start and displayed eye-popping velocity and pumped a 100 mph fastball for a memorable strikeout against two-way superstar and former American League MVP Shohei Ohtani.
On Tuesday, the 6-foot-5, 220-pound right-hander brought the heat in a nationally televised game at Atlanta's Truist Park, throwing 99-plus mph on 28 of his pitches and outdueling Braves starter and MLB strikeout leader Spencer Strider as part of an 8-1 win for the Dodgers.
After allowing some hard contact and a run in the bottom of the first, Miller settled down with four scoreless innings while flashing the star potential that has him ranked as the Dodgers' top pitching prospect – and perhaps future frontline starter.
Miller tossed 63 of 95 pitches for strikes and allowed only four hits and a walk in five innings. A two-out double by Austin Riley in the bottom of the first inning to drive in Sean Murphy was the only run charged to Miller.
"I put on a good poker face," Miller said in a post-game interview with the Dodgers' Access SportsNet. "I was really nervous. At the end of the day, I just focused on my breathing. It's the same game. I've got to keep telling myself that, as nervous as I was."
Miller, 24, had his full arsenal of pitches working with a heater that maxed out at 100.4 mph, also using a slider, changeup, curve and sinker.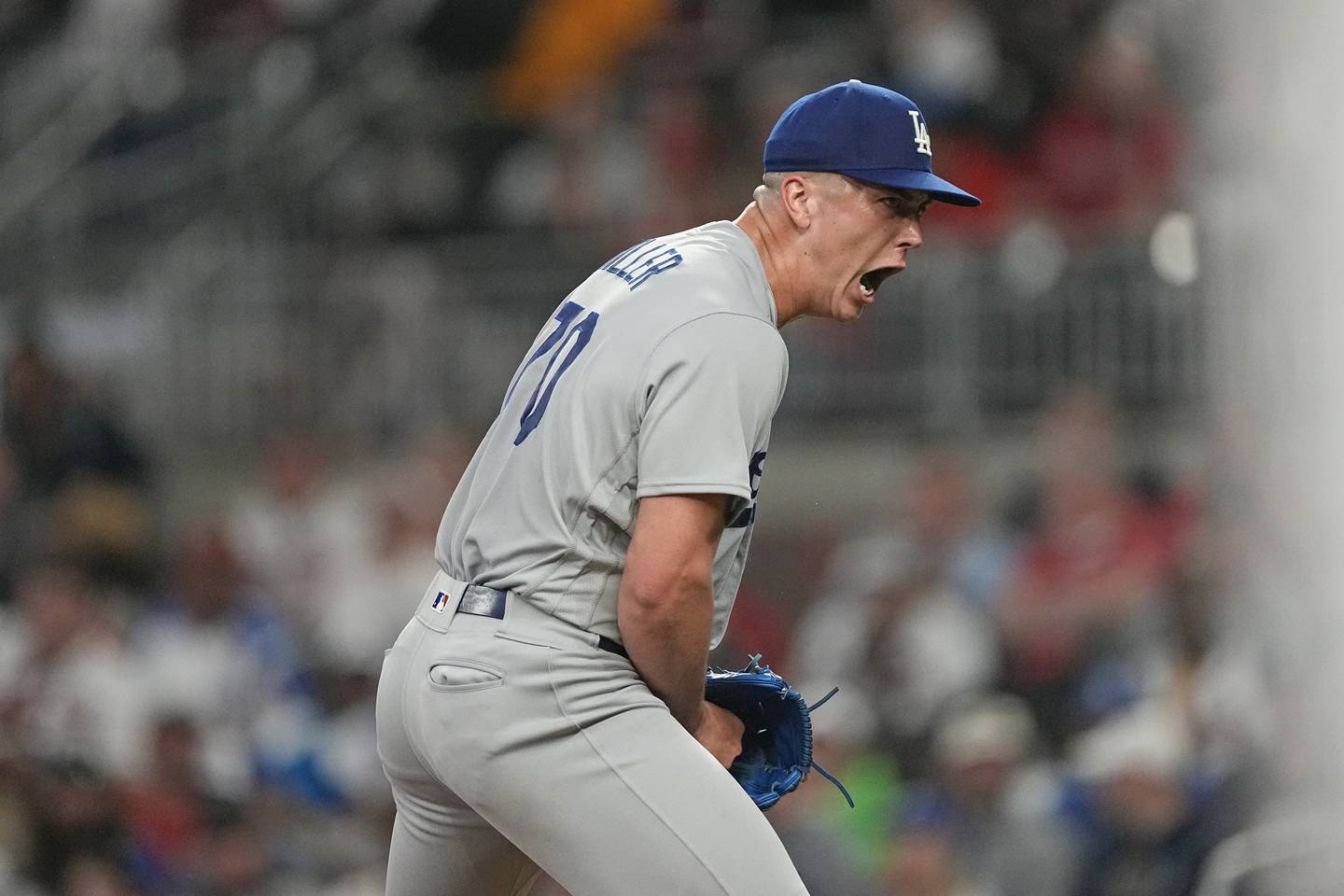 Miller recorded his first career strikeout against No. 9 hitter Sam Hilliard with two outs and a runner on first in the second inning. He needed only three pitches to retire Hilliard, throwing a 98.5 mph fastball, getting a foul ball on a 87.4 mph changeup, and finishing off Hilliard with a swinging strike on a 81 mph curve ball at the bottom of the zone.
Miller picked up two strikeouts against both Olson and Hilliard and also fanned Marcell Ozuna.
Miller's parents, Bob and Tracy, were among the 36,731 in attendance to see the former McHenry pitcher earn his first career MLB victory. Warriors coach Brian Rockweiler, pitching coach Zach Badgley and former athletic director Barry Burmeister also made the trip.
"It was surreal, unbelievable" Rockweiler said. "It's not something you think is ever going to happen. ... It's like a dream come true. Bobby's always been a competitor. He really settled down after those first two innings, and to do that against that lineup is pretty remarkable.
"Seeing him playing and doing what he loves, I was most excited about that."
Badgley felt Miller's secondary pitches were just as impressive as his fastball.
"We were saying all day, he just has to get out of that first [inning], and he will roll," Badgley said. "You can see he was a lot more confident in throwing all of his pitches. The last strikeout was awesome, the back-foot slider to [Olson] was very nasty."
Miller was the 2017 Northwest Herald Player of the Year after going 6-1 with a 0.83 ERA, 0.85 WHIP and 93 strikeouts in 59 innings during his senior season at McHenry. He was selected by the Baltimore Orioles in the 38th round of the 2017 MLB First-Year Player Draft but chose to stick to his college commitment to Louisville.
After three years at Louisville, Miller was drafted by the Dodgers with the 29th pick of the 2020 MLB Draft. He pitched at High A and Double A in his first professional season in 2021 and was promoted to Triple A last year.
In four starts this year for Triple-A Oklahoma City, Miller was 1-1 with a 5.65 ERA, 1.19 WHIP and 12 strikeouts in 14 1/3 innings. He had a late start this season after experiencing shoulder soreness, but still had a 99.1 average velocity in the minors, which would lead all major league starters.
Miller is ranked 19th in MLB Pipeline's top-100 prospects.