HUNTLEY – Huntley's seniors wanted to get a head start against Hampshire on Thursday after the Red Raiders started slow against their rivals the past couple of seasons.
They couldn't have asked for a better start, scoring six goals in the first quarter and eight in the first half to pick up a 13-6 win in a pivotal matchup between the Fox Valley Conference's top-two teams.
"Our offense, all the looks were there, we were moving the ball well, we all shared it," Huntley's Justin Jacobsen said. "We had that drive. We just wanted to come out early."
Huntley's (12-3, 6-0) offense showed off how well it can hum when it created two shots on goal in the first two minutes. The Red Raiders kept control of the ball and Jacobsen scored with 9:30 left in the first quarter. Andrew Baumley made it 2-0 with 8:47 left in the opening quarter and Gabriel De La Paz scored to make it 3-0 with 7:39 left.
Jacobsen went out to score all five of his goals in the first half as the Red Raiders led 8-1 at the half.
"We want to start off hot and keep it going," Jacobsen said. "Establish a good lead in the first half so we can carry it into the second."
Jacobsen led the team in goals while Bobby Pupich and Nico Andrews each scored twice. Baumley, De La Paz, Liam Manning and Cole Copersmet each tallied a goal.
Huntley coach Dominic Saccomanno credited Baumley, De La Paz and Giovanni Baggio for constantly winning faceoffs. Saccomanno said his team did a good job of constantly moving and coming hard off their cuts, which created open looks.
"This is the stuff we've been wanting to see in the postseason," Saccomanno said. "I'm really happy with that first half, start of the third quarter."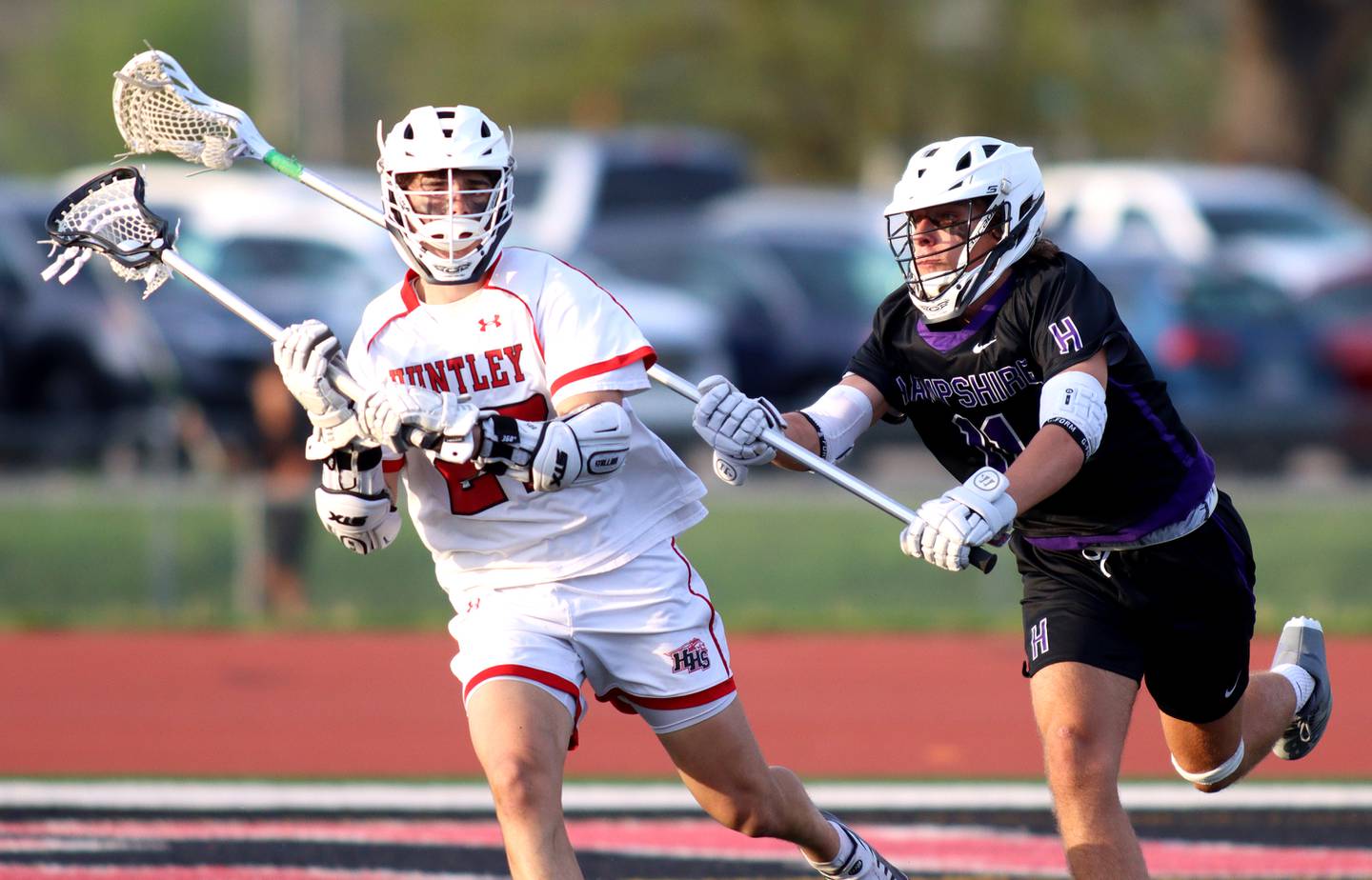 Cambell Smith and Chase Lorbiecki each led the scoring for Hampshire (11-5, 5-2) with two goals while Parker Smith and Connor MacKinney each scored once.
Hampshire coach Collin Rustay said his team did a good job of battling despite its early deficit.
"That's a good team that when you fall too far behind early on, they can handle that and hold that lead," Rustay said. "We weren't able to catch back up. When you give a big lead up, it's hard to catch back up."
Hampshire will play South Elgin on Saturday while Huntley will take on Glenbard West on Monday.
"Our offense, all the looks were there, we were moving the ball well, we all shared it. We had that drive. We just wanted to come out early."

—  Justin Jacobsen, Huntley attackman
The Red Raiders control their own destiny for the FVC crown after beating Cary-Grove on Tuesday followed by Thursday's win. They can clinch a share of the title with a win against Dundee-Crown (0-12, 0-5) on Tuesday and then play Crystal Lake South (9-6, 4-2) on Thursday, May 18.
Before then, the Red Raiders are excited to see how their offense holds up against one of the top teams in the state Monday.
"I'm looking for a good game against Glenbard West," Saccomanno said. "To finish off the season, if we have a good contest against Glenbard West, that's going to drive our confidence level into the postseason."