ST. CHARLES – St. Charles North football coach Rob Pomazak can point to one play that encapsulates both running back Drew Surges and quarterback Will Vaske's efforts on the football field.
It arguably didn't take long for the audience of players, coaches and parents to know what game he was talking about: the DuKane Conference deciding match against Batavia in October.
Vaske dumped a pass to Surges while being crunched by two defenders. Surges then broke seven tackles before Vaske – a month after suffering a sprained shoulder and returning to varsity game action that night – sprinted downfield to throw one last block to get his running back into the end zone.
That was just one of several memories shared at the program's National Letter of Intent signing ceremony at St. Charles North on Feb. 1.
Soon, Surges, Vaske and Henry Warsaw will make new memories at their respective college choices.
Surges, who racked up 888 rushing yards and 638 receiving yards on 42 catches and had 96 tackles defensively, cashed in on his incredible senior season with a preferred walk-on opportunity at Iowa State.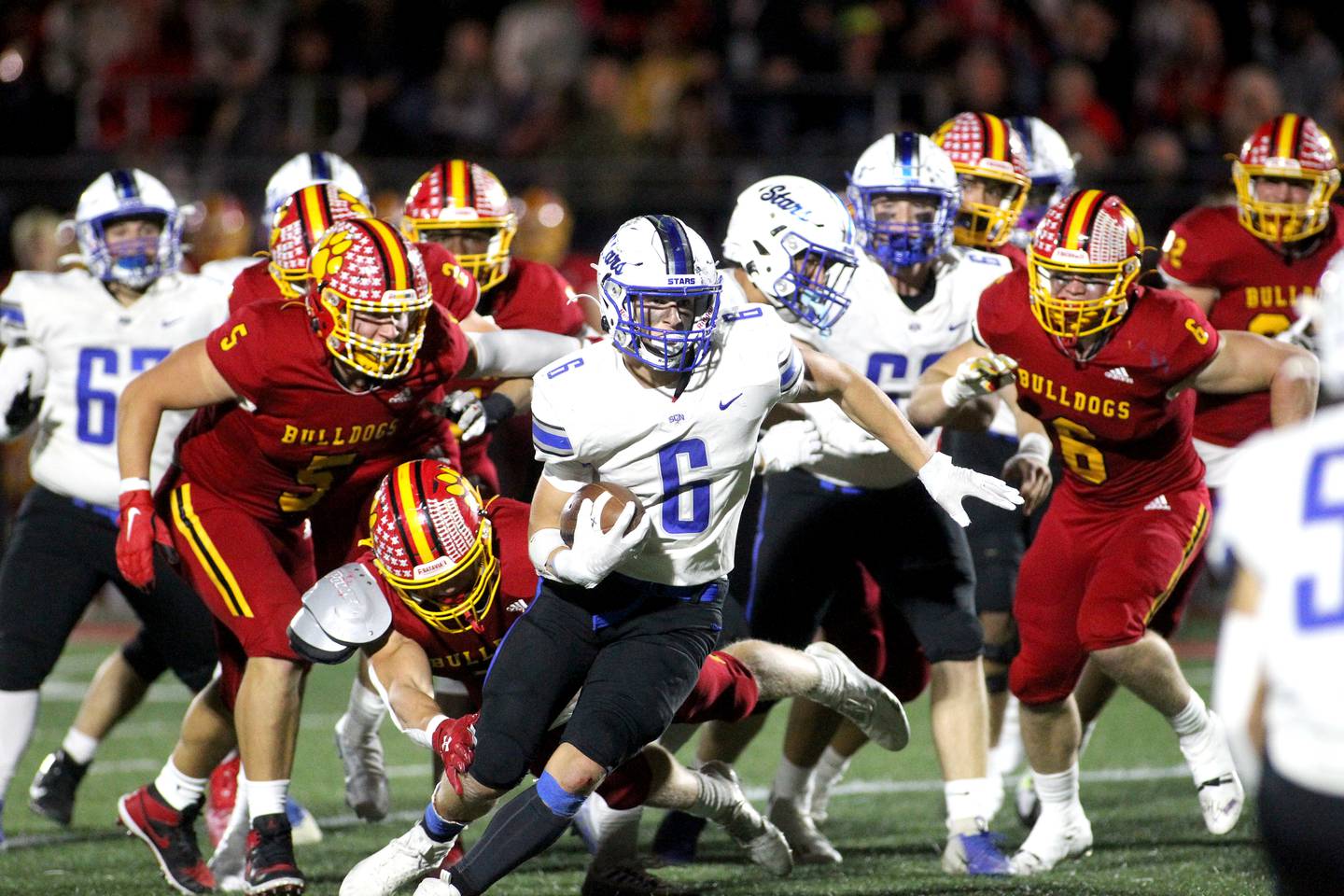 Surges, who played virtually every position outside of offensive line by the time his three-year varsity career was finished, contemplated opportunities at Army West Point, the Air Force Academy, Butler University and more.
"I'm very excited to go get a chance to prove myself," Surges said. "As a walk-on, I'm going to have to do the right stuff day in, day out. ... It means a lot living up to the dreams I had as a kid, so I can't wait."
"There really wasn't anything Drew couldn't do," Pomazak said. "For my money and for a lot of other people's money, he was the best player not only in this county, but in a few counties close by. For my money, Drew was the best player in the state of Illinois. He was [Class] 7A All-State. ... What you see is what you get with Drew."
Vaske, a two-year varsity member after transferring from Marmion before his junior season, is headed to Division III Trinity University in San Antonio, Texas. Vaske threw for 1,217 yards, 11 touchdowns and averaged 152 passing yards a game for the DuKane Conference champions and Class 7A quarterfinalists.
"It's really hard at the quarterback position as you guys will know. It's the hardest position in football to play and he did it with such leadership and such drive," Pomazak said. "It was hard to deny his effect on the football field. It was palpable. Our coaches felt it. When he got the opportunity, he certainly didn't let down.
"Man, if you could talk about why we were successful ... it is that effort right there."
Vaske landed on Trinity within the last week.
"I love the campus. It was eight minutes from downtown San Antonio, eight minutes from the airport, [and] academically it was everything I look for," Vaske said. "[Football-wise], they just held a lot of faith in me. I see opportunity for myself there."
Having a head coach and quarterbacks guru in former nine-year NFL veteran Jerheme Urban was a selling point, too.
Vaske's road to college football wasn't the easiest to take. Arriving at his next destination "means everything."
"It's been my dream since I started playing this game," Vaske said. "Since Day 1, I've loved this game. I've got passion for it, [and] it just doesn't even feel real."
Warsaw, a two-year starting left tackle, committed to Division II Minnesota State University-Mankato on a full scholarship. MSU was the 2019 Division II national runner-up.
"I just had an amazing time up at the visit. The coaches really made it feel like home, and it felt like home," Warsaw said.
"[It's] one of the best Division II programs you can possibly go to," Pomazak said. "He just works. If I can show you a photo of Henry as a freshman and I showed you the man that's in front of you, it looks like Henry ate freshman Henry.
"It's only because of his work ethic. Henry just constantly wanted to get better."