Growing up watching his uncle succeed in football, Trell Harris always envisioned following in the same path.
The Nazareth senior wide receiver achieved part of his football dreams when he signed his national letter-of-intent to attend Kent State on Dec. 15. Harris, who caught 53 passes for 865 yards and nine touchdowns this season, had 10 offers to sift through before electing to commit to the Mid-American Conference East Division champions.
Harris said he was motivated to follow in the footsteps of his uncle, Matthew Harris, a former standout at Lyons and Northwestern. Matthew Harris, a defensive back for the Wildcats from 2013-16, retired from football after a concussion in the second week of the 2016 season. He finished his college career with 161 tackles, six interceptions and three forced fumbles.
"He's been a mentor and a brother to me, and I think of him not like an uncle, but a brother," Trell said. "He's been by my side the whole time, even when I didn't have an offer. He always knew what I could do and believed in me and told me not to worry about the little things and to help my teammates out and that it was not about the process, but the goal."
The 6-foot-1, 185-pound Harris starred at Lyons Township for two seasons before transferring to Nazareth. He's packed on muscle to become a complete player, capable of taking over a game with his speed or strength along with his football IQ.
"I always knew I could play (in college) and that it was eventually a matter of time and I had to put on some weight," Harris said. "Words can't explain what it means to play (in college). It's great. I finally get a chance to showcase my ability in front of a lot of people and represent my hometown. This has been my dream since Xbox. I always had my eyes on my uncle playing at Northwestern. I've always been around it. It's been my dream and something I wanted."
Matthew Harris, a captain on the 2016 Northwestern team, said Trell Harris learned most of his lessons from his mother, but he's provided tips throughout the years.
"I've told him being a great person is more important than being a great athlete," Matthew Harris said. "Plus, to never forget where you came from and there's no such thing as failure and we learn and we move accordingly. I also told him to have fun and make sure you know who you are and what you stand for at all times.
"No matter what, I believe 'Q' will be great at whatever he wants to do in the future because he practices greatness relentlessly – spiritually, athletically, in his relationships with others and more. Our relationship is special and works both ways. I've learned a lot from him, too."
Trell Harris said he waited to make a commitment so he could concentrate on his season. His bond with Kent State coach Sean Lewis, a Richards graduate, was a major factor in selecting the Golden Flashes.
"He played a big role," Harris said. "I've heard nothing but good things about him. I built a bond in the summer with him. We've been doing this bond for a while, to see if I was going to commit. I know he's a good guy and cares about his players more than just about football. He reminds me of my [Nazareth] coach [Tim] Racki. It's a perfect fit."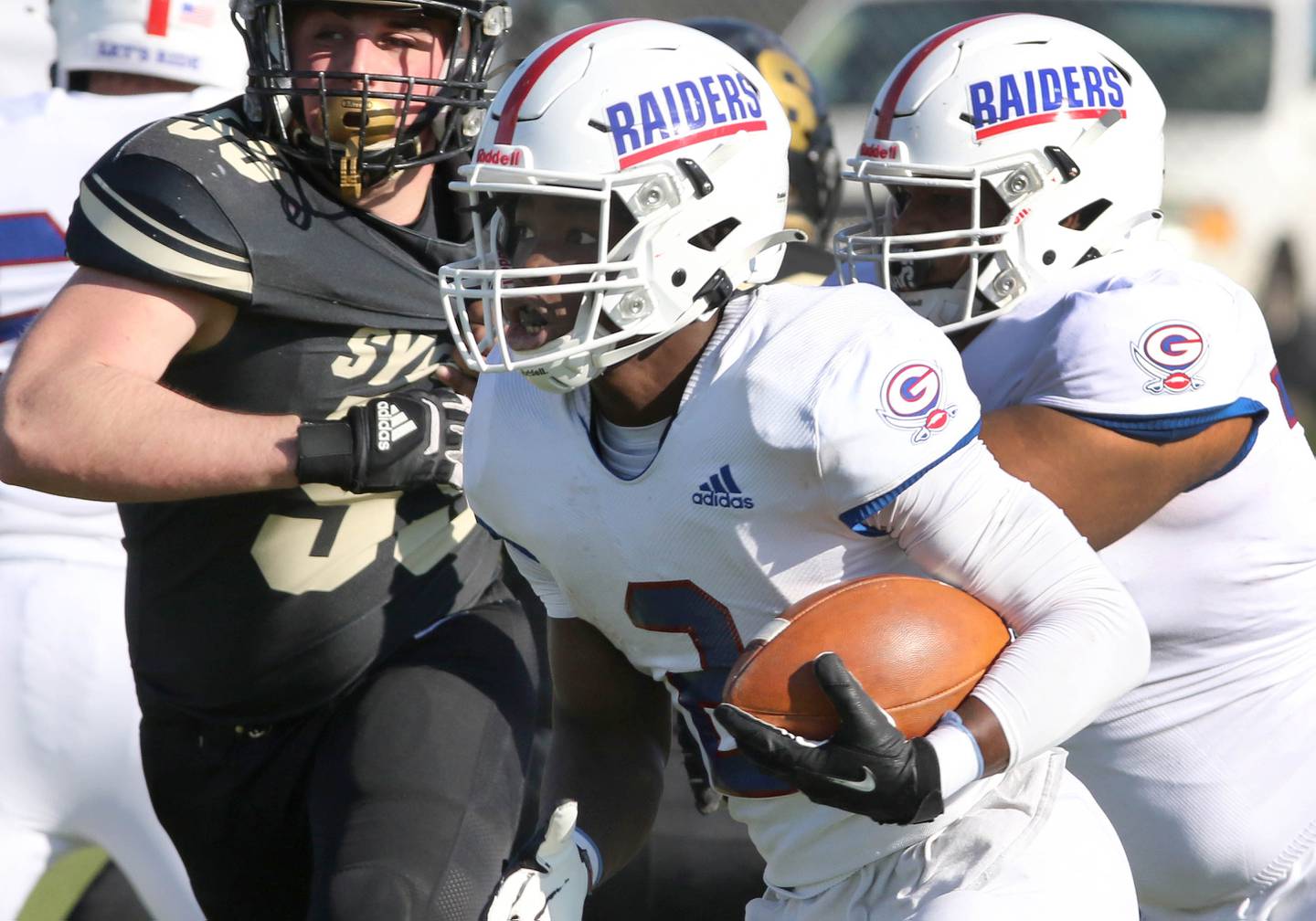 Burnett shifts course
Glenbard South senior running back Trevor Burnett is accustomed to shifting course on the field.
After all, he rushed for 1,432 yards and scored 13 touchdowns, added 228 yards receiving and three TD catches and tallied 291 return yards – punt and kickoffs – and three touchdowns to account for a whopping 1,951 yards and 18 TDs.
His big numbers led to 10 scholarship offers, along with one surprise late preferred walk-on offer.
"[Illinois] came to one of my practices late in the season," Burnett said. "I was surprised they came. They got a good chance to see my talents and see me play. I was having an outstanding season, so it was a blessing they came."
Soon after, Burnett accepted the PWO from Illinois, joining a growing number of in-state kids to welcome the chance to play for Illini coach Bret Bielema. Burnett, who was nearly ready to commit to Army, said he's not afraid of the challenge to earn a scholarship.
"It wasn't a hard decision," he said. "I know my talents and what I'm capable of doing. It's a great opportunity. I know I can get a scholarship. Me and my parents talked about it. Illinois is a Big Ten school, a great opportunity and is a family environment. I believe in the coaches, and also it's close to home, so my parents can see me play."
Glenbard South coach Ryan Crissey said Burnett should thrive in Bielema's offensive system.
"Trevor is one of the top leaders that we've ever had in the program," Crissey said. "Trevor's ability to overcome adversity on the field and in his life is incredible."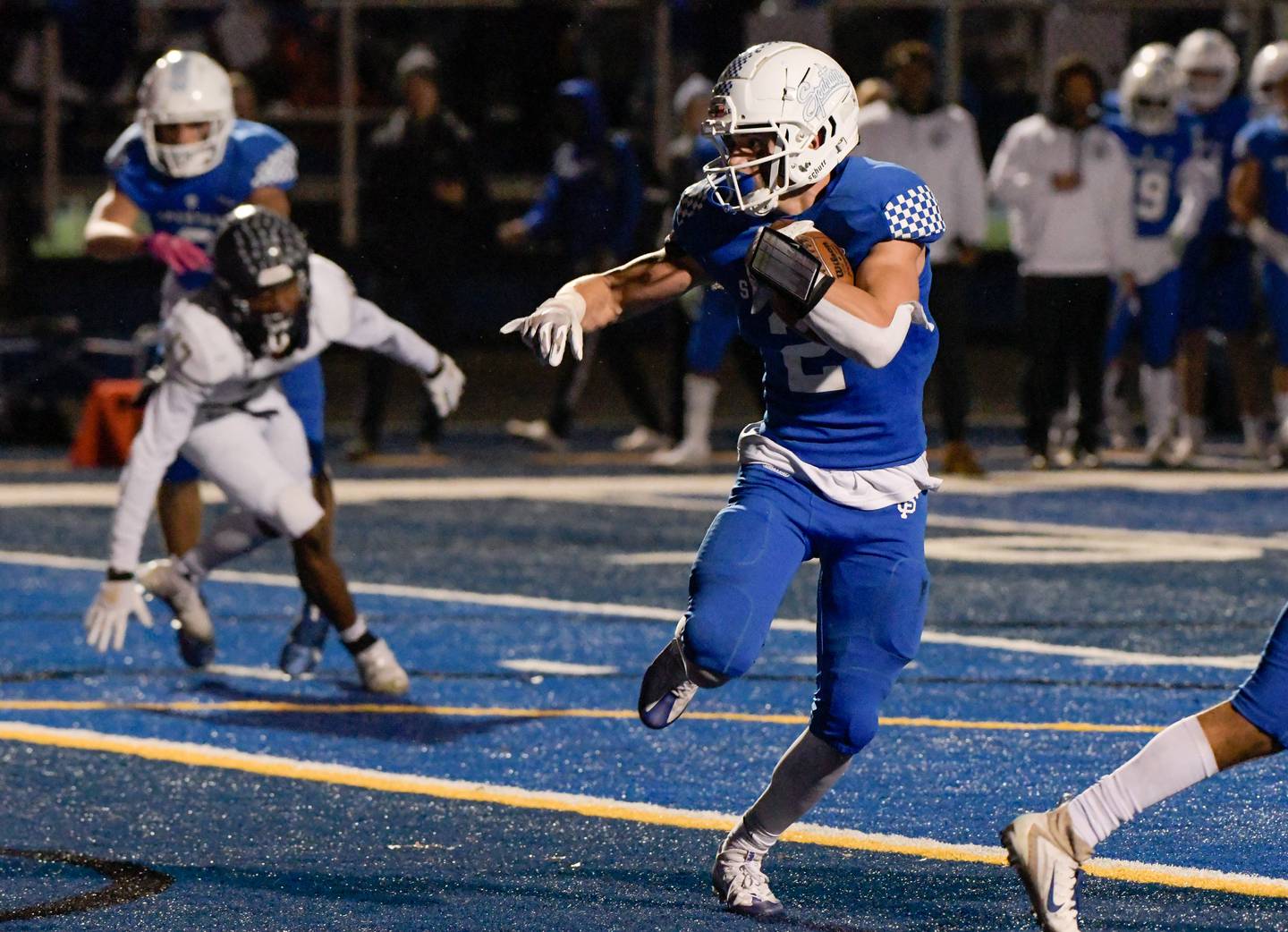 Extras
St. Francis senior Adam Criter committed to San Diego on Dec. 11. After playing wide receiver, running back, defensive back and punter for the Spartans this season, Criter's versatility caught the eye of several colleges. The 6-foot-2, 195-pound Criter had offers from Bemidji State, Cornell, Northern Colorado, Southeast Missouri State and Valparaiso. He racked up 573 yards rushing and 13 TDs to go with 21 receptions for 472 yards and three touchdowns. He also drilled 10 punts inside the 10-yard line. … Hinsdale South senior offensive lineman Joshua Sander committed to Grand Valley State on Dec. 12.