Tim Racki did not need long to realize how special a talent Tyler Morris was.
Morris, now a junior, arrived at Nazareth as a freshman in 2018. Racki, Nazareth's coach, knew Morris was a great player. But Racki also knew he had a loaded team already with the likes of future college players Michael Love and Diamond Evans at receiver.
"Two weeks into summer camp, the kid never saw a sniff of lower-level football," Racki said with a laugh. "I knew early on. If you crack the lineup on a team like that as a freshman, you're pretty special."
Morris, a four-star recruit and one of the most coveted wide receiver prospects in the country, on Tuesday announced by Twitter his verbal commitment to Michigan.
"I would like to start by thanking my parents and families for their guidance to help me become the person I am today," Morris tweeted. "Thank you to coach Racki, the Nazareth coaching staff, and my teammates for always pushing me to be a better player and helping me grow into a better person. Thank you to all my youth coaches who helped me develop a love for the game. Thank you to Kevin Kasper and JT (Josh Taylor) for showing me what hard work really is. After much thought, I am excited to announce that I will further my education and football career at the University of Michigan! # Go Blue."
Morris, the third-ranked junior in Illinois and a top 10 receiver and top 80 recruit nationally in the Class of 2022 by the 247Sports recruiting website, chose Michigan from 24 offers including Notre Dame, Penn State, Florida, Northwestern and Tennessee. Racki said Morris' choice ultimately came down to Michigan, Notre Dame and Northwestern.
At Michigan Morris will join former Nazareth teammate and quarterback J.J. McCarthy, who is early enrolled at the Ann Arbor school and will be a freshman this fall.
"I knew J.J. was a big draw," Racki said. "To me it was a coin flip. He couldn't go wrong. I love all three programs."
Morris' announcement comes three days after he suffered a torn ACL in Nazareth's game against Niles Notre Dame. Racki was not certain if Morris will early enroll at Michigan – but he is sure that he'll come back better than ever.
"How I see this kid work out and how he is, this will fuel his motivation," Racki said. "Rehab is a lonely place and I've seen for some athletes it's too much. For him it will be motivation. He will be more than fine. He will kill it."
He's done a lot of that at Nazareth.
Morris as a freshman caught 22 passes, third on Nazareth, for 419 yards and three touchdowns for the Class 7A state champions. As a sophomore, he caught 71 passes for 1,261 yards and 17 touchdowns, including a dazzling five-touchdown performance in a Class 7A state semifinal win over Rolling Meadows.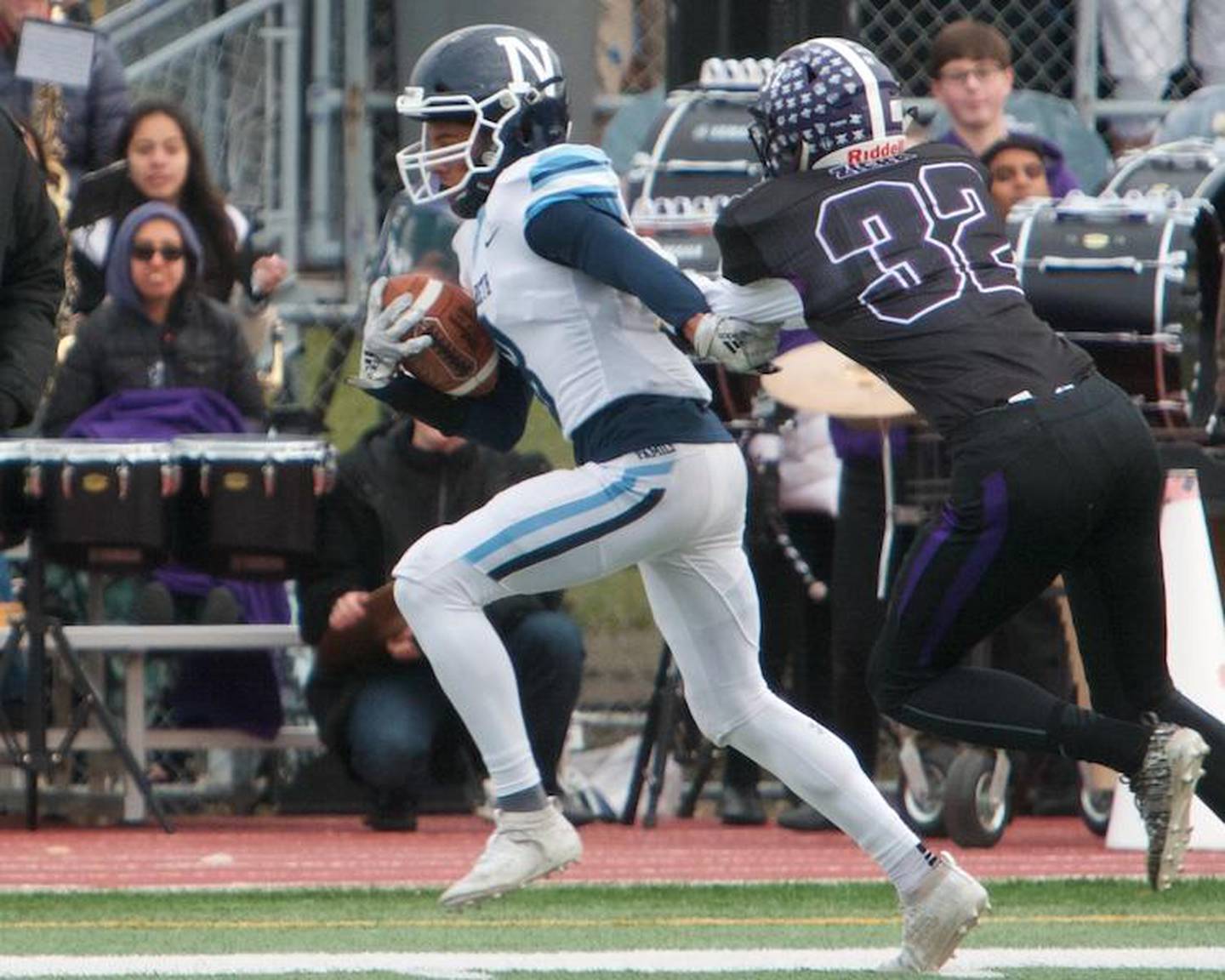 Morris also played defensive back for Nazareth, but was recruited as a receiver.
"As they should. This kid has made so many one-handed catches in his short high school career that I lost count," Racki said. "Lake Zurich game, freshman year, they had a great defense and J.J. threw some pass, Ty somehow went through four guys and somehow tracked it and caught it."
Racki praises Morris as much for his maturity as for his pass-catching skills. Soft-spoken, almost never one to show emotion, Morris just quietly went about his business at Nazareth – and excelled. His touchdown celebration was handing the ball to the referee.
Racki expects more of the same at Michigan.
"He will be a rare breed," Racki said. "To know Tyler, he knew what he wanted to do when he was very young. He wanted to go to a high-level program, wanted to prove himself, came in as a freshman and did it. He's going to go to Michigan and do the same thing. He wants to play at a high level and be the best. He has no concept of age. He avoids those labels. Freshman, sophomore, junior, they're going to get something special. They're getting a prize."