Nonconference games
When: 7:30 p.m. Friday
Last matchup: First known meeting
About the Trojans: Downers Grove North last season had its most wins since back-to-back state quarterfinal appearances in 2012 and 2013. Six starters return, led by senior linebacker and Iowa State recruit Cael Brezina. Noah Battle, a senior running back and third-year starter, put up 981 yards and 11 touchdowns as a junior. This games marks the varsity starting debut of touted sophomore quarterback Owen Lansu, who already has recruiting interest from Power 5 conference schools. Senior linebacker Jimmy Janicki and senior defensive back Owen Thulin are others to watch.
About the Spartans: St. Francis, coming off a Class 4A semifinal appearance, has no easy road back to the playoffs. The Spartans joined the CCL/ESCC Orange, with tough nonconference games to start the season with Downers Grove North and Sterling. Ball State recruit Alessio Milivojevic, a third-year starter, is one of the more talented quarterbacks around and threw for 2,450 yards and 36 touchdowns last season. Junior Deshaun Williams is one of his top targets in a talented receiving corps. Dom Beres, a four-year varsity linebacker and last year's Metro Suburban Defensive Player of the Year, is the ringleader of the St. Francis defense. The Spartans return four along the offensive line, but did graduate All-Stater TJ McMillen, now at Illinois.
FND Pick: St. Francis
Lyons Township (9-3 last year) at Prospect (9-2)
When: 7 p.m. Friday
Last matchup: First known meeting
About the Lions: Lyons returns 13 starters from a Class 8A quarterfinalist, the program's most wins since 2010. Leading the way is third-year starting quarterback Ryan Jackson, who threw for 2,029 yards and a single-season school record of 26 touchdowns on just three interceptions last season. Two-way lineman Eddie Tuerk, an Illinois recruit, is one of the state's top senior prospects. Noah Pfafflin, a Colgate recruit and two-way starter, and Travis Stamm and speedster Jack McQueeney are Jackson's top targets. The Lions have tough nonconference matchups with Prospect and Wheaton Warrenville South before entering the West Suburban Silver grind.
About the Knights: Prospect is coming off its fourth playoff appearance in the last five seasons under veteran head coach Dan DeBeouf. The Knights return 11 starters, five on offense and six on defense. Noah Easter is projected to be Prospect's featured back, with high hopes for 6-foot-3 junior quarterback Jack Skoog. Crash Davis anchors Prospect's defensive line with linebackers Grady Catanzano, Brock Clay and Michael Matuzak all returning.
FND Pick: Lyons
Marist (7-4 last year) at Glenbard West (11-2)
When: 1:30 p.m. Saturday
Last matchup: Glenbard West 33, Marist 31 (2022)
About the RedHawks: It's a new-look Marist team, as the RedHawks return just four starters from the group that lost to York in double overtime in last year's Class 8A second round. Dontrell Jackson, previously the head coach at Thornton, is back at Marist as the offensive coordinator. Senior running back Marc Coy rushed for 478 yards and 10 touchdowns last season. Senior Owen Winters takes over as the starting quarterback. There are big shoes to fill defensively, the graduation of Big Ten recruits Jamel Howard and John Nestor.
About the Hilltoppers: Glenbard West returns seven starters on defense, which an offense that has just three back from a Class 8A semifinalist figures to lean on early. The headliner offensively is senior running back and four-year starter Julius Ellens, who ran for 1,685 yards and 29 touchdowns last year. Ellens had a breakout game as a junior against Marist with over 200 yards of total offense and four touchdowns in a wild Hilltoppers' win. Glenbard West does have a whole lot of talent to replace up front alongside the offensive line. Linebackers Ben Starmann and Ben Cesario were second and third, respectively, in tackles for Glenbard West last season. Glenbard West's junior class is 16-2, with both of those losses coming to Marist.
FND Pick: Glenbard West
York (12-1 last year) at Glenbrook South (10-1)
When: 7 p.m. Friday
Last matchup: First known meeting
About the Dukes: The Dukes are coming off a historic season, the first 9-0 regular season in the 103-year history of the program and a Class 8A state semifinal appearance. Leading the returners is senior linebacker Cole Ostendorf, who had 90 tackles and 11.5 sacks and was a Class 8A All-Stater as a junior. Junior defensive end Joseph Reiff, who holds offers from Notre Dame, Iowa and Northwestern, is a name to watch defensively. The Dukes have big shoes to fill offensively at quarterback with Suburban Life Player of the Year Matt Vezza graduated. Senior Sean Winton will likely get the call under center. He'll be helped by returning skill-position talent in Jake Melion at running back and Luke Mailander, an Illinois State recruit, at receiver. York significantly beefed up its nonconference slate with Glenbrook South and Nazareth the first two weeks.
About the Titans: Glenbrook South won the Central Suburban South title last year with the program's most since since 1995, losing to Glenbard West in the second round of the Class 8A playoffs. But the Titans return just five starters, the vast majority of the experience on defense. Defensive end Patrick Benedict, who played offensive tackle last season, is the lone returner on offense. Junior Alan Motoa is expected to start at quarterback.
FND Pick: York
Naperville Central (6-4 last year) at Hinsdale Central (4-5)
When: 7:30 p.m. Friday
Last matchup: Naperville Central 24, Hinsdale Central 9 (2022)
About the Redhawks: Maverick Ohle, a state champion discus thrower and the DuPage Valley Conference's top defensive lineman last year, returns to anchor the Redhawks' defense. Naperville Central played six sophomores last season, so that experience figures to pay dividends. There are high hopes for new starting quarterback Jack Cook. Speedy junior Nick Zbylut is making the transition from cornerback to the Redhawks' featured back.
About the Red Devils: Hinsdale Central is looking to get back on track after a streak of 10 straight playoff appearances was snapped with the program's fewest wins since 2010. It will be no small feat right off the bat with Naperville Central and a trip to Bolingbrook the first two weeks. There are few full-time starters returning but several players back with some varsity experience. Senior receiver Carter Contreras had 10 catches for 194 yards last season and likely will be catching passes this fall from younger brother Riley Contreras, a sophomore who received some varsity experience last year.
FND Pick: Naperville Central
When: 7:30 p.m. Friday
Last matchup: Wheaton North 28, Downers Grove South 7 (2022)
About the Falcons: Wheaton North has a fair amount of experience back from a team that reached the second round of the playoffs last year. The man to watch is senior defensive end Joe Barna, an Illinois recruit and one of the state's top prospects in his class. There is a good deal of experience back on offense with quarterback Max Howser, running back Walker Owens and wideout Matt Kuczaj.
About the Mustangs: Downers Grove South overcame an 0-3 start last year to reach the playoffs, but the early schedule – Wheaton North, Downers Grove North, York and Willowbrook – is once again a bear. The strength of the Mustangs' offense will be the running game with 6-foot-7, 285-pound Army recruit Josh Manecke opening holes for third-year starting running back Deon Davis. Defensively there is experience at all three levels, led by two-year starter Matt Lapacek at linebacker. Because of a change in conference scheduling, Downers Grove South is at home the first four weeks of the season.
FND Pick: Wheaton North
Willowbrook (5-5 last year) at Notre Dame (8-4)
When: 7:30 p.m. Friday
Last matchup: Notre Dame 28, Willowbrook 0 (2022)
About the Warriors: Willowbrook last season had its fewest wins in a nine-game season since 2015 and didn't win the West Suburban Gold since 2016, but did make its seventh consecutive playoff appearance. Senior quarterback Arthur Palicki, a four-year varsity starter, leads 10 returning starters back on offense and nine on defense. Willowbrook will start five junior offensive linemen in front of him. The Warriors at times played 10 sophomores on varsity last season, experience that should benefit them right out of the gate.
About the Dons: Notre Dame is coming off a Class 6A quarterfinals appearance after reaching the Prep Bowl championship in 2021. Seniors Jimmy Donnelly, Ryan Losik, Ricky Russ and Max Cerrado return along the offensive line. Senior Leo Fraterrigo and sophomore Luke Dickey were both vying for the starting quarterback job in the preseason.
FND Pick: Notre Dame
When: 1 p.m. Saturday
Last matchup: Simeon 41, Wheaton Warrenville South 23 (2022)
About the Wolverines: Simeon, traditionally one of the Chicago Public League's strongest programs, will have a different look this fall. Dante Culbreath announced the first week of fall practice that he was stepping down as head coach after 13 seasons. Taking over the reins as head coach for just this season is Derrick Hunter Sr., who was Culbreath's defensive coordinator and previously a head coach at King. Star wide receiver Malik Elzy has graduated and is now at Illinois and running back Andre Crews, who had a huge game against WW South last year at Gately Stadium, has also graduated. Quarterback Keshaun Parker and running back Te'Shon McGee, a transfer from Brother Rice, are players to watch offensively. Defensively, edge Christopher Burgess is one of the top prospects in the state with 31 offers including Alabama, Ohio State, Michigan and Notre Dame. Fellow defensive lineman Mikeshun Beeler is another Division I prospect.
About the Tigers: WW South, looking to make a return to the playoffs, has tough sledding right out of the gates with nonconference matchups against Simeon and Lyons before DuKane Conference play starts. Junior quarterback Luca Carbonaro, who threw for 1,105 yards and seven touchdowns as a sophomore, leads seven returning starters on offense. Matt Crider is the Tigers' top running back returning. Players to watch defensively include cornerback Connor Sliwa and linebackers John Jensen and Lucas Rossini.
FND Pick: Simeon
When: 7:15 p.m. Friday
Last matchup: Riverside-Brookfield 35, Morton 28 (2022)
About the Mustangs: Morton is coming off its second consecutive 3-6 season, which may not sound like much but is the program's most successful two-year stretch in over a decade. The Mustangs return five starters on offense and four on defense. Junior lineman Ulley Mancilla, all-conference as a sophomore, is one to watch. Morton coach Bob Organ is also excited about returning two-way starter Tyler Nichols, who plays linebacker, tight end and defensive end.
About the Bulldogs: Riverside-Brookfield will be competing in the Southland Conference for the 2023 season before moving on to the Upstate Eight in 2024. First things first, though, a neighborhood matchup with Morton. Riverside-Brookfield senior quarterback Diego Gutierrez, a three-year varsity player, threw for 1,958 yards with 23 touchdowns and three interceptions last season. Manny Garcia-Rivera is a four-year starter on the offensive line. Gutierrez leads a group of experienced returnees on offense, but the defense is expected to be younger.
FND Pick: Riverside-Brookfield
Wauconda (9-2 last year) at Hinsdale South (4-5)
When: 7:30 p.m. Friday
Last matchup: First known meeting
About the Bulldogs: Wauconda, 19-3 the last two seasons, has an experienced group back from a team that reached the second round of the Class 6A playoffs last year. Senior Connor Vanselow ran for 1,055 yards and had 18 total TDs last year, while junior Logan Olsen passed for 1,100 yards and threw 14 scores as a sophomore. Zach Johnson is the leader of Wauconda's defense with three starters back on the offensive line.
About the Hornets: The Hornets are coming off their second consecutive 4-5 season, five years removed from their last winning season and playoff appearance in 2018. Five starters return on offense and seven on defense. All-conference wide receiver/outside linebacker Nate Fundator is among the names to watch.
FND Pick: Wauconda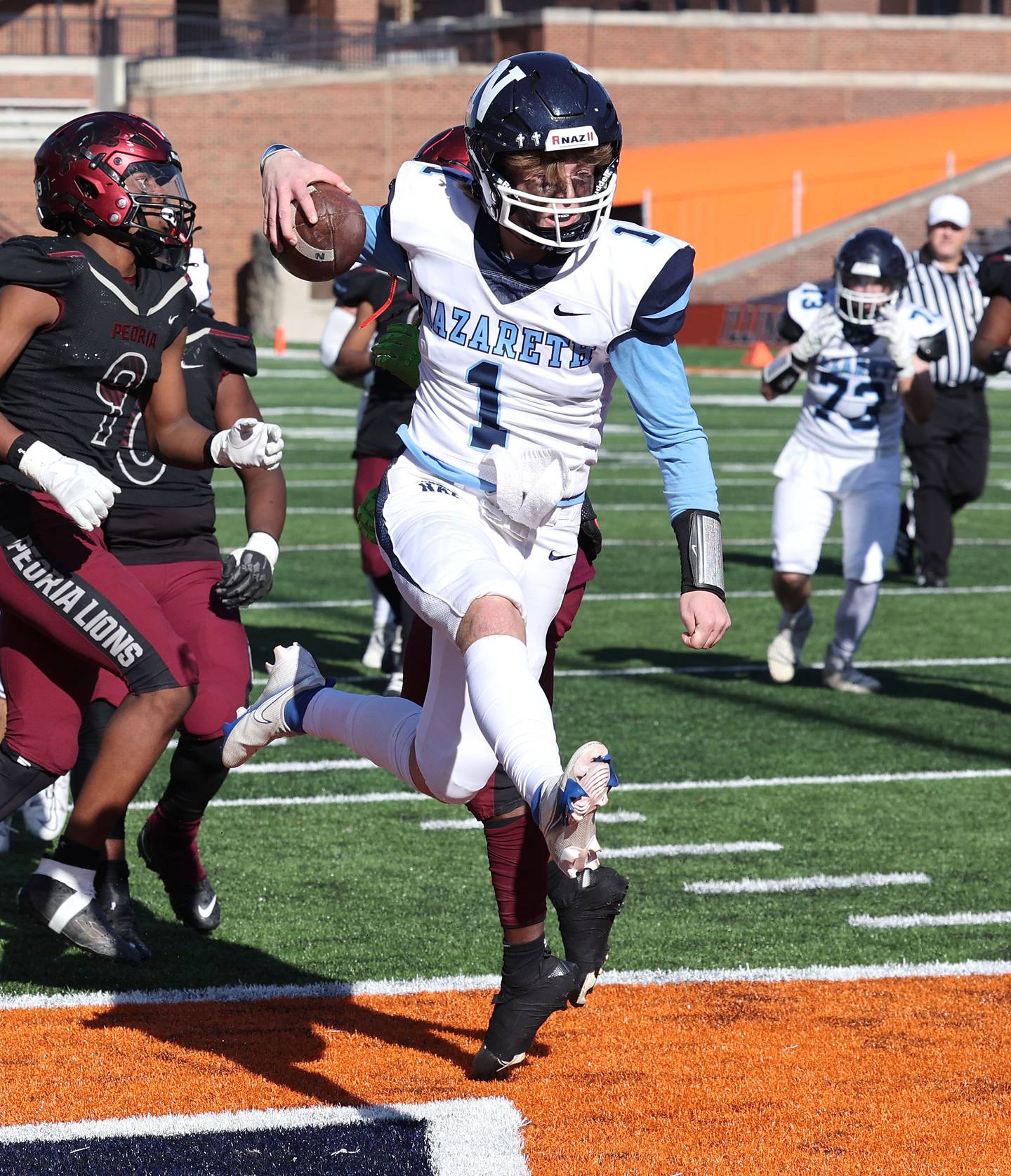 Nazareth (10-4 last year) at Kankakee (8-3)
When: 7 p.m. Friday
Last matchup: Nazareth 2, Kankakee 0 (2022)
About the Roadrunners: A ton of talent returns from the 2022 team that started the season 2-4, then won its last eight games to win the Class 5A state championship, Nazareth's fourth state title since 2014. Junior quarterback Logan Malachuk, a third-year starter, returns after throwing for 2,478 yards and 16 touchdowns last year. Fellow junior Gabe Kaminski, a defensive end who also plays some tight end, is one of Illinois' top prospects in the Class of 2025 with 12 offers including Michigan, Notre Dame and USC. Sophomore Lesroy Tittle, who started as a freshman, is another talented underclassmen to watch defensively. Hard to imagine with the firepower Nazareth and Kankakee has that they'll play a similar game to last year's. Nazareth's schedule is quite the grind – seven of the Roadrunners' opponents qualified for the playoffs last year.
About the Kays: Kankakee in 2022 made its third consecutive playoff appearance, losing to eventual Class 5A runner-up Peoria in the second round. Miles Osei, previously the head coach at Elk Grove for six seasons, was hired in February as Kankakee head coach. Marques Easley, a 6-foot-5, 335-pound senior offensive tackle committed to defending national champion Georgia, is one of the top five seniors in Illinois. Senior running back Tony Phillips has 12 offers including Tennessee and Arkansas. Junior defensive back Keyandre White, a transfer from St. Rita, is another to watch.
FND Pick: Nazareth
Westinghouse (5-5 last year) at Montini (3-6)
When: 7:30 p.m. Friday
Last matchup: First known meeting
About the Warriors: Westinghouse is coming off a 5-5 season, losing to eventual Class 5A runner-up Sycamore 54-13 in the first round of the playoffs. It was the program's first playoff appearance since 2017.
About the Broncos: Montini is looking to reestablish its pedigree. The Broncos are coming off back-to-back 3-6 seasons after making 27 straight playoff appearances. The schedule once Montini starts CCL/ESCC is a bear, but this opener provides an opportunity for a fast start. George Asay, who played running back, wide receiver, linebacker and special teams, is the Broncos' ringleader along with running back Alex Marre. A deep, talented senior class promises high hopes.
FND Pick: Montini
Oak Forest (5-5 last year) at Benet (4-5)
When: 7 p.m. Friday
Last matchup: First known meeting
About the Bengals: Oak Forest last season squeaked into the playoffs for the first time since 2016; before that, the Bengals had 17 consecutive playoff appearances.
About the Redwings: Benet is looking to make a return to the playoffs after back-to-back 4-5 seasons, following eight straight playoff appearances. New offensive coordinator Craig Harmon brings 18 years of coaching experience in college, 10 at the Division I level most recently as the quarterbacks coach at Temple. Junior Ryan Kubacki Jr. takes over at quarterback. Benet's defensive line is expected to be a strength, what head coach Pat New said is the best group he's had in the last 10 years.
FND Pick: Benet
Fenwick (5-5 last year) vs. Oak Park-River Forest (4-5)
When: 1:30 p.m. Saturday at Triton College
Last matchup: Oak Park-River Forest 35, Fenwick 7 (2022)
About the Friars: Fenwick qualified for the IHSA playoffs for the second straight season, losing to Morgan Park in the first round, then made a deep run in the Prep Bowl playoffs, losing to Simeon in the championship game. Junior defensive end Nathaniel Marshall is one of the state's top prospects with offers from the likes of Alabama, Notre Dame and Michigan. Senior Marek Hill, who started for Fenwick during the Prep Bowl run after sharing time during the season, returns. He leads an experienced skill position group. Seven of Fenwick's opponents made the playoffs last season, making this crosstown matchup an important one.
About the Huskies: Oak Park-River Forest has posted 4-5 records in its past three nine-game seasons, its last playoff appearance coming in 2018, but 13th-year head coach Hoerster and the Huskies are optimistic they can make a return to the postseason. The Huskies must replace three-year starting quarterback Jack Gooch and dynamic receiver Ryan Martin. Top returning players include senior offensive lineman Kaden Garland, senior running back/linebacker Sam Gray, senior defensive back/running back Khalil Nichols and senior defensive lineman Jeremiah Williams.
FND Pick: Fenwick
Lemont at Libertyville
When: 7 p.m. Friday.
Last matchup: Lemont 32, Libertyville 27 (2022)
About Lemont: Lemont hopes to keep things business as usual after making a coaching change heading into this season. Lemont was tremendously successful under former head coach Bret Kooi who passed the reins to one of his assistants Willie Hayes. Kooi didn't leave the cupboard bare for Hayes who has a pair of solid offensive lineman in Jacob Katuskas and Jake Sulzberger to provide protection for Nathan Kunickis, a jack of all trades performer that has fulfilled a number of roles for Lemont in recent seasons.
About the Wildcats: Libertyville is hoping to break out of the middle of the pack of the North Suburban Conference and at the very least extend its playoff qualification streak to five seasons. In order to do that, the Wildcats will lean heavily on junior quarterback Quinn Schambow, who threw 16 touchdowns as a sophomore. Wide receiver Luka Nikolich should also see an expanded role. The defensive unit doesn't have a lot of experience beyond returning all-conference performer Charlie Clark, but veteran coach Mike Jones likes the overall team speed that his team possesses and thinks his team should be able to cause some problems because of it.
FND Pick: Lemont
-- Steve Soucie
Wheaton Academy (8-2 last year) at St. Michael's (Texas)
When: 7:15 p.m. Friday
Last matchup: First meeting between the schools.
About the Warriors: Wheaton Academy begins the 2023 season with a road trip to Austin, Texas, to face St. Michael's. "The Texas trip was a result of needing to fill weeks 1 and 2 with nonconference games while beginning in our new conference (Chicagoland Christian)," Warriors coach Jim Johanik said. "We secured Week 2 with St. Charles East, which is nearby but a school four times the size of our enrollment. After many inquiries, the only school that responded for Week 1 was a top-5 team in the state across all classes. We didn't want to schedule a hammer Week 1 knowing Week 2 was going to be a challenge, so we began to look outside the state for this game, and when we did, the vision grew. We raised some funds and had the kids work in the summer to pay for their share of the trip. It's a great opportunity for the boys and the program." The Warriors must find a replacement for since-graduated quarterback Belay Brummel (now a walk-on at Cal) but return several defensive stalwarts, including OL/DL Ethan Brunner and LBs Brett Dieter, Jeremy Johanik, and Brandon Kiebles. The Warriors fly to Texas Thursday morning and return home Saturday night.
About the Crusaders: St. Michael's is coming off a 4-6 campaign a year ago and returns its leading tackler in junior defensive back/wide receiver Utah Anderson (averaged 12.5 tackles per game last season). "There is always a greater unknown in playing a team from out of state," Johanik said. "St. Mike's is in a talent-rich Austin area and has a new coaching staff, which came from strong college programs. We don't have film on them, which means we'll need to make a lot of game day adjustments. It's also going to be over 100 degrees, which means we need to have a solid substitution plan in place."
FND pick: Wheaton Academy
-- Craig Brueske
Crane (3-6 last year) at Westmont (2-4)
When: 7 p.m. Friday
Last matchup: First meeting between the schools.
About the Cougars: Crane, from the Chicago Public League, finished 3-6 last season. The Cougars return a pair of senior leaders in quarterback Deshun Humphrey and wide receiver Lavell Hardy. "I've seen Crane film from last year and have perused their roster on MaxPreps," Sentinels coach Lee Maciejewski said. "They are gigantic and athletic. They have a good nucleus returning, led by a senior quarterback. I'm expecting a physical game."
About the Sentinels: Maciejewski, a longtime assistant football coach, takes over the helm for the Sentinels — their third head coach in as many seasons. "Basically, what will be going through my mind is, 'here we go again," Maciejewski said. "Did we cover everything? Are the kids ready? Stay focused. If we had two more weeks of practice, I would be saying the same things two weeks from now." Westmont's youthful roster includes eight sophomores and seven freshmen. "Right now, I have 22 believers that have worked very hard to learn a completely new system and get fundamentally better and they have," said the coach. "The real challenge lies ahead when they face adversity. The test will be to stay true to what they have learned regardless to what is happening on the field."
FND pick: Crane
-- Craig Brueske
Gary Bowman Academy (Ind.) (3-6 last year) at IC Catholic Prep (13-1)
When: 7 p.m. Friday.
Last matchup: First meeting between the teams.
About the Eagles: Bowman Academy finished 3-6 last season and returns senior RB/DL George Myles, junior QB Maurice Jackson, and sophomore (OT/DE) Isaiah Holden.
About the Knights: Plenty of pedigree, as the defending Class 3A state champions have won four state titles since 2016. Coach Bill Krefft's squad returns plenty of talent, including senior QB Dennis Mandala and a stable of superb wide receivers in Iowa commit KJ Parker (37 catches, 1082 yards, 17 TDs), Texas A&M commit Eric Karner, seniors Kaleb Ellis, Joey Gliatta, and junior Dominic Hulak. The Knights averaged 44.1 points per game last season.
FND pick: IC Catholic
Upstate Eight Conference
Glenbard East (8-2 last year) at Larkin (6-4)
When: 7 p.m. Friday.
Last matchup: Glenbard East 28, Larkin 0 (2022)
About the Rams: Coach John Walters' squad returns five defensive and seven offensive starters from a team that placed second in the Upstate Eight Conference and reached the state playoffs for the fourth consecutive full season. The list of returnees includes three all-conference players — LBs Augustus Winkler and Blake Salvino, and Division 1 secondary recruit Eric McClain. Salvino also saw limited time at quarterback last season. Glenbard East's defense recorded five shutouts in 10 games a year ago.
About the Royals: Larkin has a new coach, Vincent Ray, who inherits a team that welcomes back all-UEC players Erick Myrick (WR/DB), Jalen Miller (RB/LB), and Kevin Malone (RB/LB) from last year's Class 8A state qualifier. The Royals have reached postseason play in back-to-back seasons — the first time that has happened since 2002-2003. Junior Tizairan Johnson-Williams gets the call at quarterback. What thoughts does Ray expect to be going through his mind prior to his head coaching debut? "Hard work and dedication truly pay off," said Ray. "That I'm proud of how these young men and women sacrificed all summer and finally get a chance to enjoy the fruits of their labor." Ray wants his team to play smart, fast, and tough, which will be imperative against an experienced Rams squad.
FND pick: Glenbard East
Glenbard South (7-3 last season) at East Aurora (4-5)
When: 7 p.m. Friday.
Last matchup: Glenbard South 44, East Aurora 12 (2022)
About the Raiders: Glenbard South possesses one of the most electrifying players in the state in wide receiver Cam Williams, a Notre Dame commit who caught 47 passes for 1,022 yards and 13 touchdowns last season while helping lead the Raiders to a Class 5A postseason berth. Williams also plays defensive back and handles the punting chores. He will catch passes from a familiar face, third-year varsity starting quarterback Michael Champagne (1,795 yards, 29 TDs, 2 interceptions in 2022).
About the Tomcats: After finishing with back-to-back 4-5 records the past two seasons, East Aurora coach Nick Kukuc is hoping his team can muster up at least one more victory to qualify for the state playoffs this season. The list of returning players includes senior QB Amado Martinez, senior WRs Kenneth Cooley, Adam Tavizon, senior RB/LB Montana Calderon, and junior RB/LB Jeremiah Brown.
FND pick: Glenbard South