The 2023 11-man football season was one to remember for several Sauk Valley area teams. Seven out of 12 made a playoff appearance. Five won a first-round playoff game. A few had their best season in years.
Here's a look at how the 12 teams fared in 2023:
Dixon (9-2)
The Dixon Dukes enjoyed their best season in six years, posting an 8-1 regular-season record en route to their first playoff win since 2017 – a 10-7 victory over Plano in the first round in Class 4A. The Dukes kept it close with the St. Laurence Vikings in their second-round playoff game last week but couldn't close the deal in a 31-21 loss.
Morrison (9-2)
The Morrison Mustangs completed their best season since 2019 (11-1) under first-year head coach Nathan Vandermyde. The nine wins, which followed a 2-7 season and 5-5 season in 2021 and 2022, included a 22-21 upset victory over previously top-ranked Class 3A Princeton and a 34-12 win over Fulton in the first round of the Class 1A playoffs. The Mustangs competed in their second-round playoff game against Annawan-Wethersfield but lost 13-6.
Newman (7-3)
The Newman Comets improved their regular-season record by two wins from 2022 but couldn't get past the first round. ROWVA, who ended the Comets' season with a 28-14 win, defeated 10-0 Stark County 36-8 in the second round of the Class 1A playoffs and will play in the state quarterfinals this weekend against Chicago Hope Academy.
The highlight of Newman's season came in Week 1 in a 12-7 comeback victory over Three Rivers West champion Rockridge. In his first varsity start, sophomore quarterback Evan Bushman led a 92-yard game-winning drive, capped by a 3-yard touchdown pass to senior wide receiver Isaiah Williams with five seconds left in the game.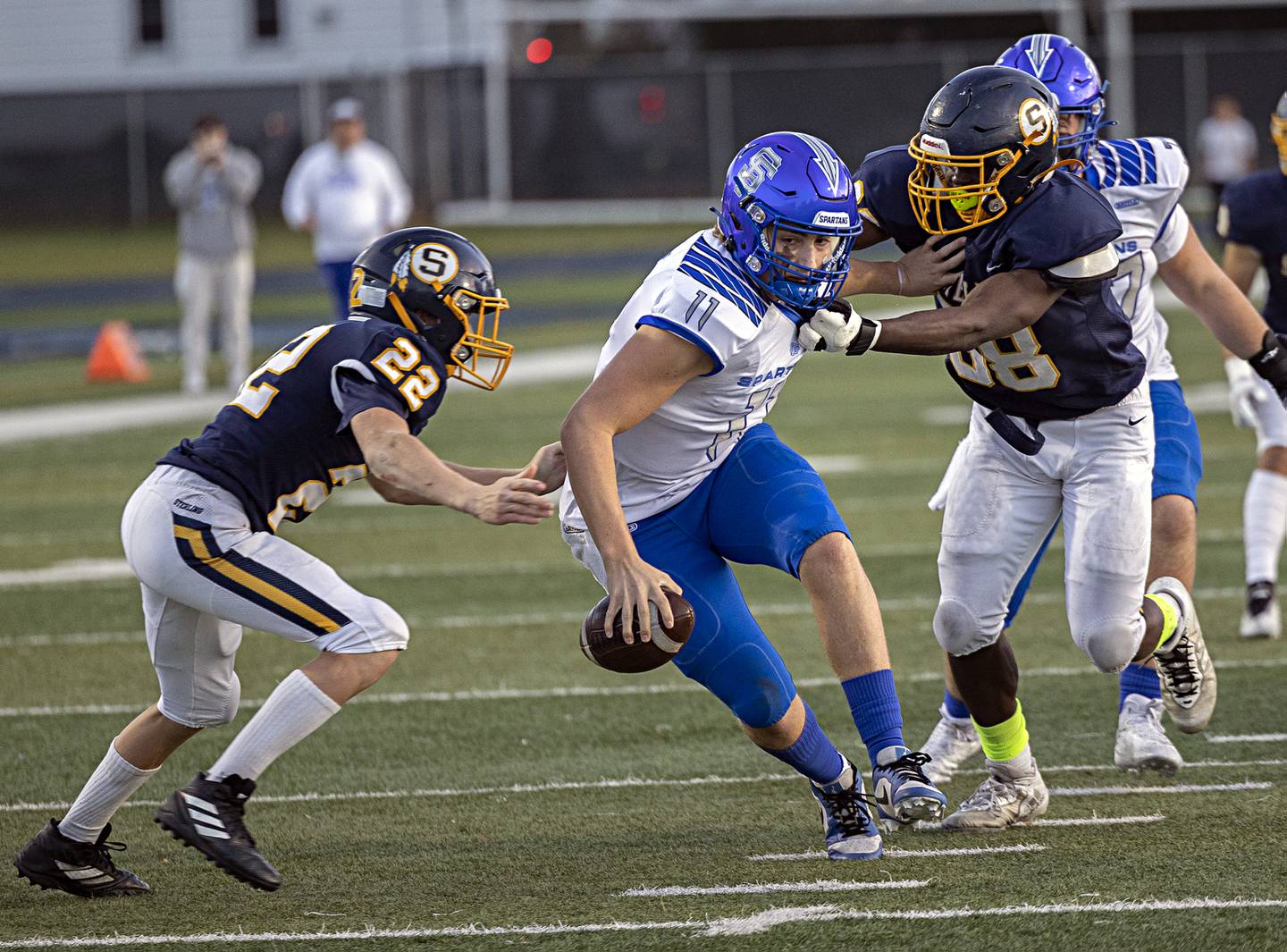 Sterling (5-6)
The Sterling Golden Warriors snuck into the Class 5A playoffs with a 4-5 record after a 22-17 win over Moline in Week 9. They routed top-seeded Chicago Payton 50-0 in their first-round game, but lost 49-8 to Wheaton St. Francis in the second round.
The Golden Warriors competed against good opponents this season, but couldn't finish the job on multiple occasions. In Week 7, they lost 35-33 to 11-0 Quincy after rallying from a 21-point first-quarter deficit. In Week 1, they led 8-3 Metamora 17-14 at halftime, but ended up losing 28-17. In Week 5, they trailed 10-1 Princeton 8-6 late in the third quarter and ended up losing 28-6.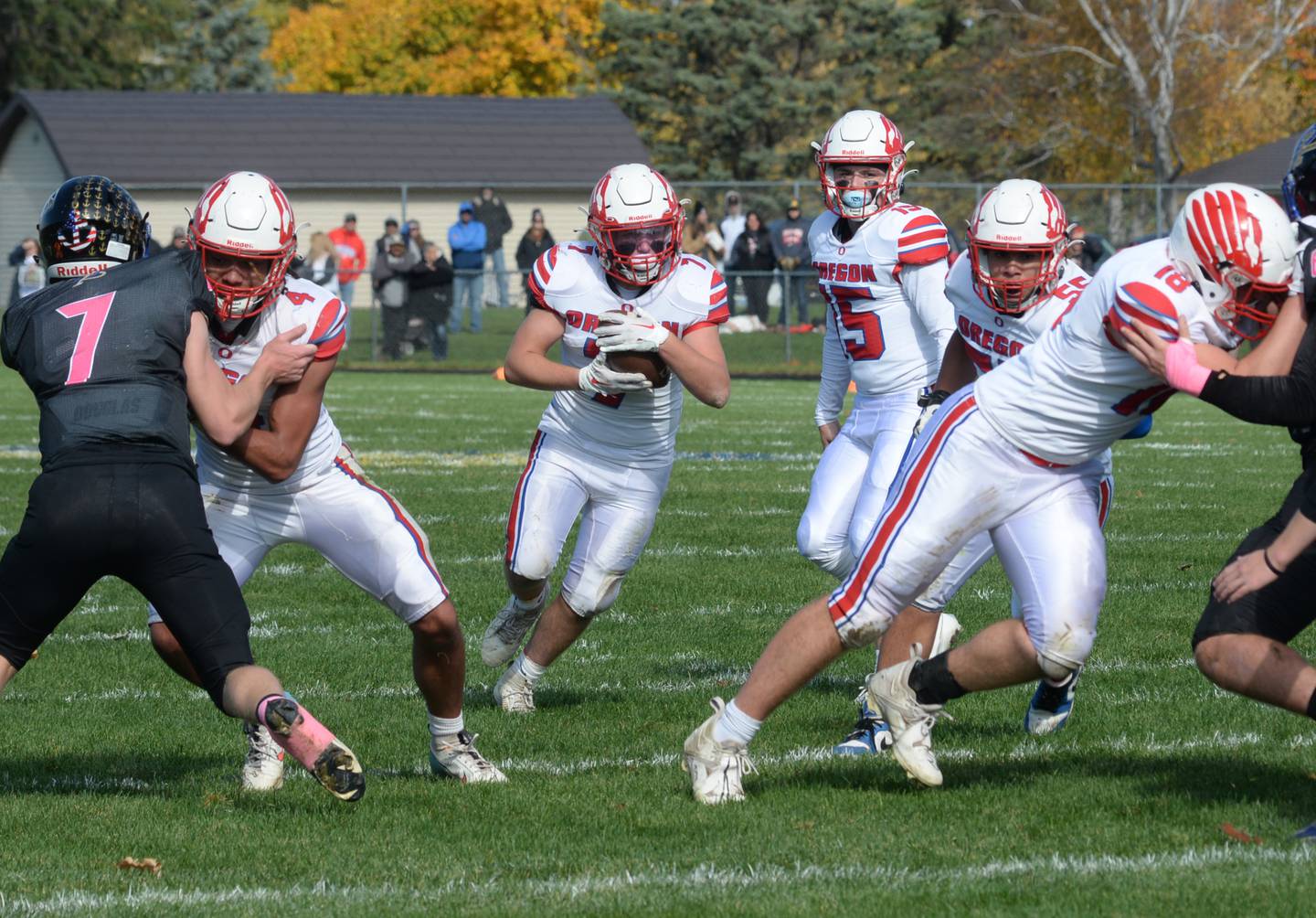 Oregon (5-5)
The Oregon Hawks made the playoffs for the first time since 2014, riding a balanced offense and solid defense to a five-win season. Junior quarterback Jack Washburn passed for 1,046 yards (67 for 143) and nine touchdowns, and junior running back Logan Weems rushed for 1,009 yards (195 carries) and 14 touchdowns. A 34-0 loss to Durand-Pecatonica ended the Hawks' season in the first round of the Class 3A playoffs.
Forreston (8-3)
The Forreston Cardinals had another strong season, earning a 20-7 win over Ottawa Marquette in the first round of the Class 1A playoffs before dropping a 46-14 contest against Lena-Winslow in the second round. The Cardinals' losses this season came against 11-0 Lena-Winslow (twice) and 9-2 Durand-Pecatonica. Forreston was 7-0 prior to a 6-0 loss to Durand-Pecatonica in Week 8.
Fulton (6-4)
The Fulton Steamers competed well in a tough Northwest Upstate Illini Conference. Their season ended in a 34-12 loss to Morrison in the first-round of the Class 1A playoffs. Their three other losses this season also were against quality opponents (Lena-Winslow, Forreston and Durand-Pecatonica). The Steamers ended Knoxville's seven-game undefeated streak with a 42-0 win in Week 8.
Bureau Valley (4-5)
The Bureau Valley Storm showed great improvement in 2023, improving on a 1-8 campaign the year prior. Running backs Elijah Endress and Cameron Lemons led an effective rushing attack this season. The Storm almost ended a seven-year playoff drought but lost 38-13 to Morrison in Week 9.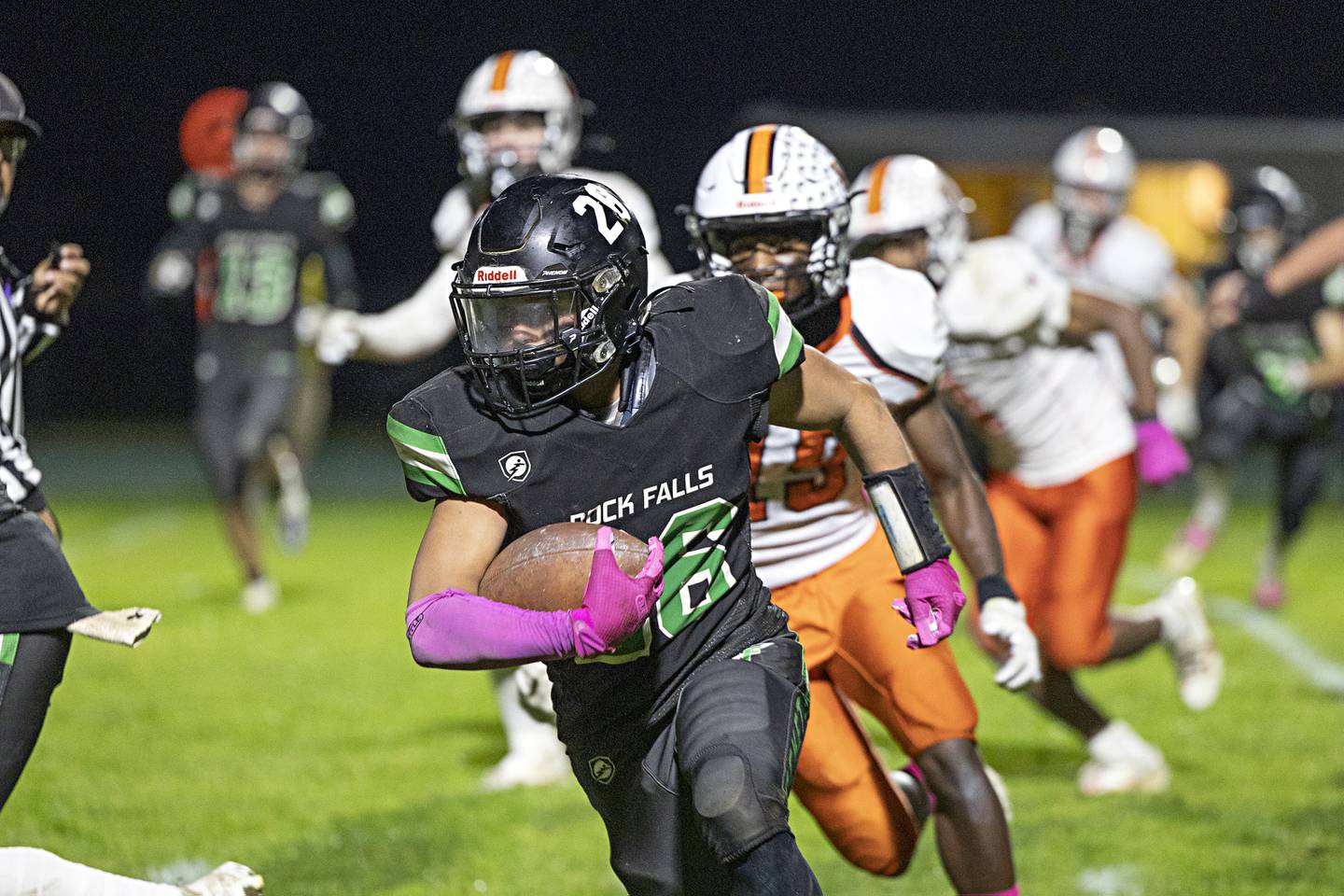 Rock Falls (2-7)
The Rock Falls Rockets showed signs of progress in their rebuild, improving on a winless 2022 season and scoring a season-high 41 points in their season-finale win over Winnebago. That was their highest point total in a game since 2016 Week 2 when they defeated Mendota 53-48. Their other win this season, a 21-16 victory over Rockford Christian in Week 5, snapped a 21-game losing streak.
Erie-Prophetstown (3-6)
The Erie-Prophetstown Panthers showed their resilience this season, following an 0-5 start with a three-game winning streak. With wins over Orion (35-34, Week 6), Riverdale (46-7, Week 7) and Sherrard (19-7, Week 8), they briefly resurrected their slim playoff chances.
Eastland-Pearl City (3-6)
The Eastland-Pearl City Wildcatz had a rough start to the season, dropping each of their first five games, but they finished on a high note, winning three of their last four. The Wildcatz defeated Aurora Central Catholic 40-15 in Week 6, West Carroll 44-0 in Week 8 and Dakota 28-8 in Week 9.
West Carroll (0-9)
The West Carroll Thunder struggled with depth issues and a difficult Northwest Upstate Illini Conference schedule this season. They will transition to 8-man football next season in response to low participation numbers.