BURBANK – Every time Dixon looked to take the momentum, St. Laurence had the answer.
The last ones were daggers the Dukes just couldn't recover from.
A 77-yard touchdown run late in the third quarter provided a 10-point swing, and a pair of defensive stops in the fourth led the Knights to a 31-21 victory in their Class 4A second-round playoff game Saturday afternoon at Kavanagh Field.
It was a tough end to a stellar season for Dixon (9-2), and not capitalizing after being on the doorstep multiple times in the second half – one touchdown in three trips to the red zone – made it even tougher to swallow.
"We were in this game. There was no time in this game where we were not in it to win it, and we definitely had a chance, but it slipped out of our hands, which is super unfortunate," junior linebacker/receiver Eli Davidson said. "But it's football, that's the game, and it happens."
"It probably stings more than if we just got our butts kicked," senior quarterback Tyler Shaner said. "That was probably our most complete game as a unit. We were right there, we just couldn't finish."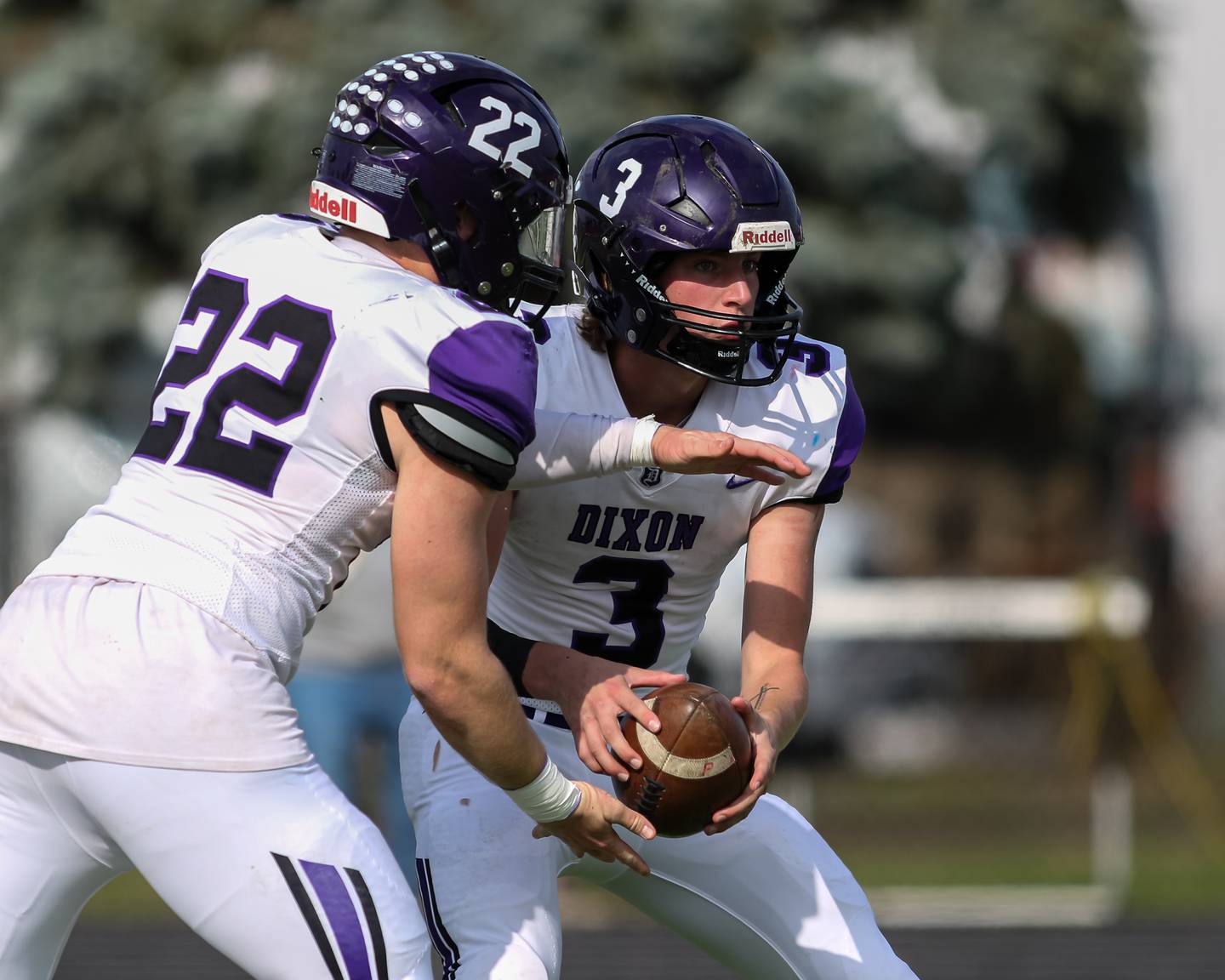 The biggest turning point came late in the third quarter. The Dukes scored on the opening drive of the second half to get within 24-21, then got a defensive stop and again moved the ball inside the Knights' 5-yard line. An incomplete pass into the end zone on third down set up sophomore kicker Caleb Carlson for a tying 21-yard field goal.
But the snap was high, and Carlson was forced to pick up the loose ball and heave a desperation pass toward the end zone. It was intercepted at the 4.
Three plays later, St. Laurence senior quarterback Evan Les ran the ball up the middle, dodging tacklers and outrunning the Dixon defense for a 31-21 lead with 2:24 left in the third.
"It was a read-option play, so I made the decision to pull the ball, and then I saw space. I'm not the biggest or strongest or fastest runner, so I look at the defense and try to figure out how I can angle myself away from people. I saw space and I tried avoiding people, and it took me pretty far," said Les, who finished with 168 yards on 15 rushes and was 7-for-14 passing for 107 yards and two touchdowns. "Absolutely, it changed things. It just flipped everything on its head."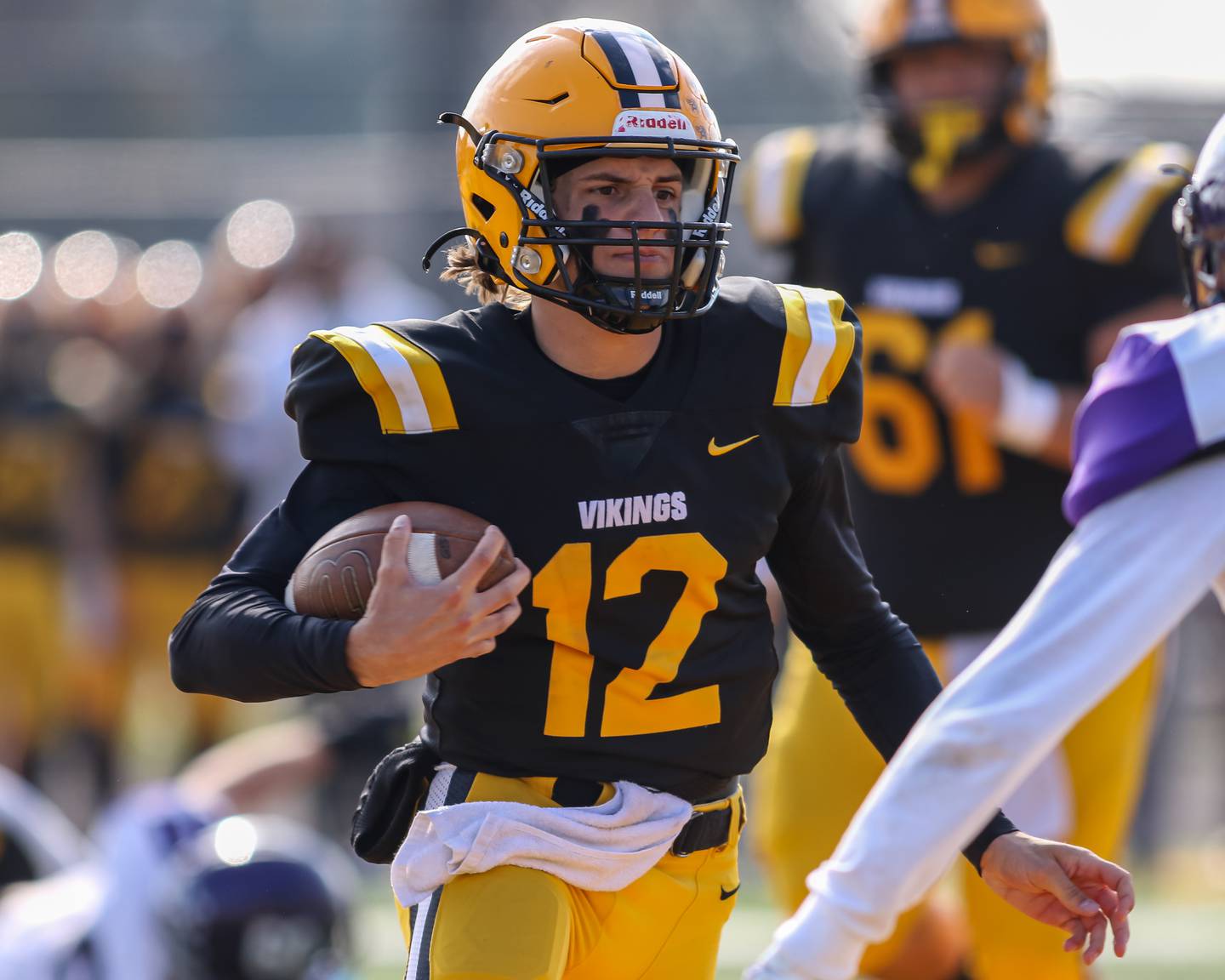 "It was a major point in the game," Shaner said. "I made a couple mistakes there, but us not getting points there, that was huge. After that, they had 100% of the momentum and we had zero."
Dixon's next drive ended with an interception, but Cullen Shaner returned the favor, intercepting an overthrown pass in the end zone to keep it a 10-point deficit.
The Dukes then drove 62 yards to the St. Laurence 18, but a second-down pass reception was fumbled, and the Knights recovered. Taking over with 4:58 left, they got four first downs in an 11-play drive to run out the clock.
"We made it interesting. That's a really good Dixon team, but we stepped up and made the plays when we needed to," St. Laurence coach Adam Nissen said. "I feel like that's kind of been our M.O. all year, is we go from the ones who were on our heels to being the one who's attacking. Our defense really rose to the occasion and our offense made plays when we needed to."
The Knights (8-3) scored on four of their five first-half possessions, but Dixon hung around. Senior running back Aiden Wiseman (12 rushes, 90 yards) broke off a 64-yard TD run right up the middle on the Dukes' third play from scrimmage to tie the score 7-7.
Trailing 17-7, Cort Jacobson jumped the route on a wide-receiver screen near midfield and returned it 48 yards to cut Dixon's deficit to 17-14. They trailed 24-14 at the break after a St. Laurence touchdown pass with 25.3 seconds left.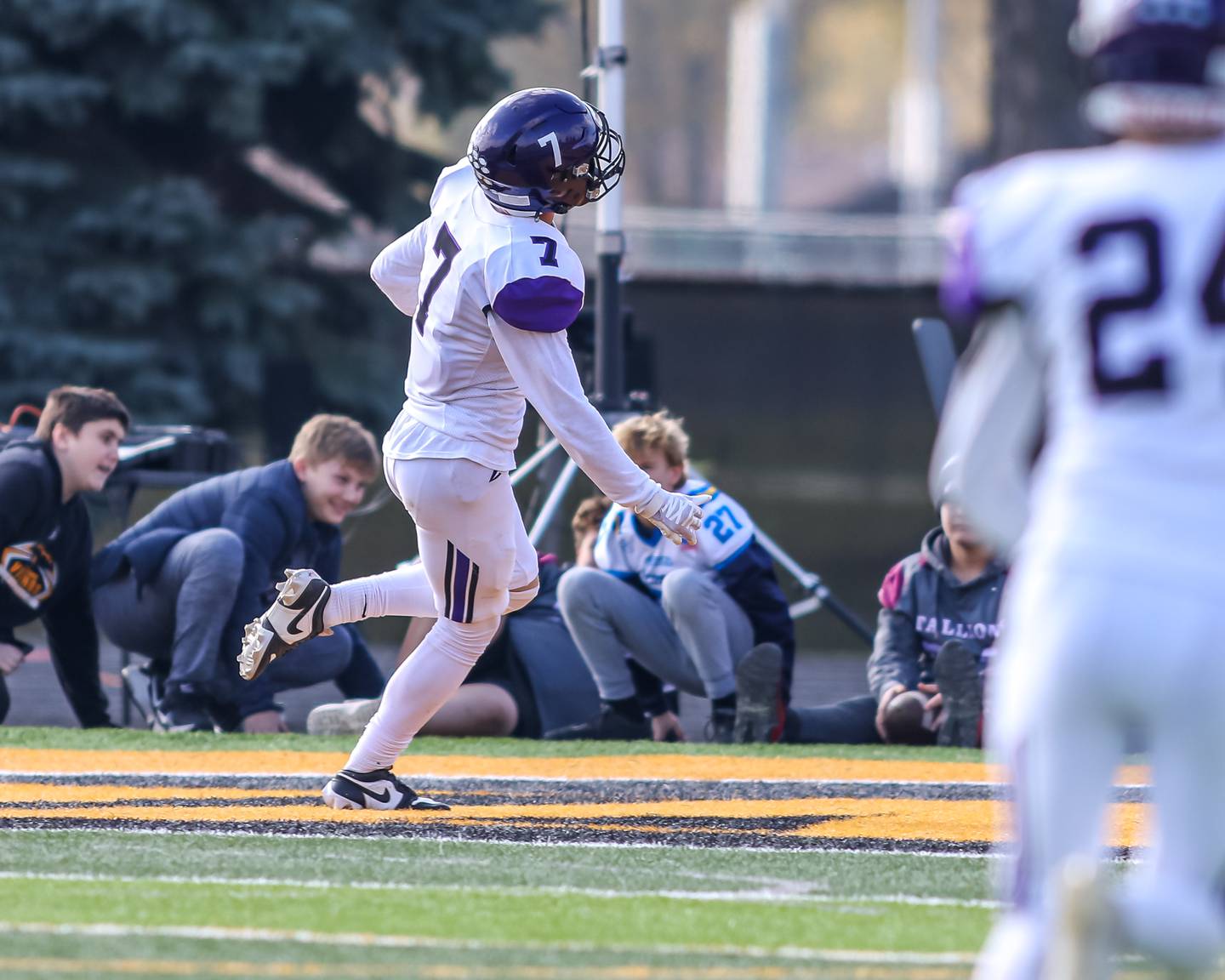 "We fought the whole time. The key was we would get the momentum, and they'd kind of snatch it back, and it just didn't seem like we could put together two or three series in a row of that momentum," Dixon coach Jared Shaner said. "Always tough to end your season, but very, very proud of these kids."
Dixon made some key adjustments and turned to the short passing game, and it proved effective as it marched 81 yards in seven plays to cut the deficit to 24-21. Tyler Shaner and Davidson connected for three completions for a total of 51 yards in the drive, and Shaner capped it with a 20-yard touchdown run on a rollout pass.
"We knew that we had an advantage to one side of the field at all times. They play two linebackers in the box and bring a third one out to the wide side of the field, and we were just hitting the short side. It was that simple for us," said Tyler Shaner, who finished 18-for-25 passing for 195 yards.
After the Dixon defense forced a three-and-out, Tyler Shaner connected on passes with Davidson, Tyson Dambman and Cullen Shaner to move the ball to the St. Laurence 4-yard line on a 12-play, 85-yard drive, but the Dukes couldn't cash in – and then the Knights turned the tide.
"Getting the ball out quick was definitely the key. They were playing a little soft on the back end, so we figured getting it out quick and manipulating those zones that they were leaving open for us would work, and that was really successful for us," said Davidson, who caught 10 passes for 127 yards. "Tyler was extending those plays longer than maybe they were set up to be, and it gave me time to find a zone and sit there and get open for him, and he kept delivering it to me."
Shaner was 16-for-19 for 171 yards in the second half, and other than the 77-yard TD run, the defense clamped down after the break, allowing 93 total yards in the final 24 minutes.