iSTERLING – The No. 8-seeded Wheaton St. Francis Spartans defeated the No. 16 Sterling Golden Warriors 49-8 at Roscoe Eades Stadium on Saturday evening.
St. Francis will host No. 4-seeded Morgan Park (10-1) in the Class 5A quarterfinals next weekend.
[ Photos: Sterling vs St. Francis football ]
St. Francis comes out firing
The Spartans (9-2) took a 7-0 lead less than four minutes into the game with a 10-play, 75-yard opening drive. A 32-yard catch-and-run by senior Domenic Beres from senior quarterback Alessio Milivojevic moved the ball into Sterling territory. A few plays later, Beres powered into the end zone on a 1-yard run.
St. Francis stretched its lead to 14-0 with 3:29 left in the first quarter. After recovering a Sterling fumble at their own 27-yard line, the Spartans moved the ball 73 yards in five plays. The culminating play of the scoring drive was a 35-yard touchdown strike from Milivojevic to sophomore wide receiver Zachary Washington.
"It's hard beating a team twice, especially coming here twice. Against another good team in Sterling, we wanted to come out fast, play fast, and that's what we did," Milivojevic said.
"The receivers are great. We have 8-10 guys that can come in and make plays at all times. And when the line's giving me time like they did, we can make a lot of plays happen."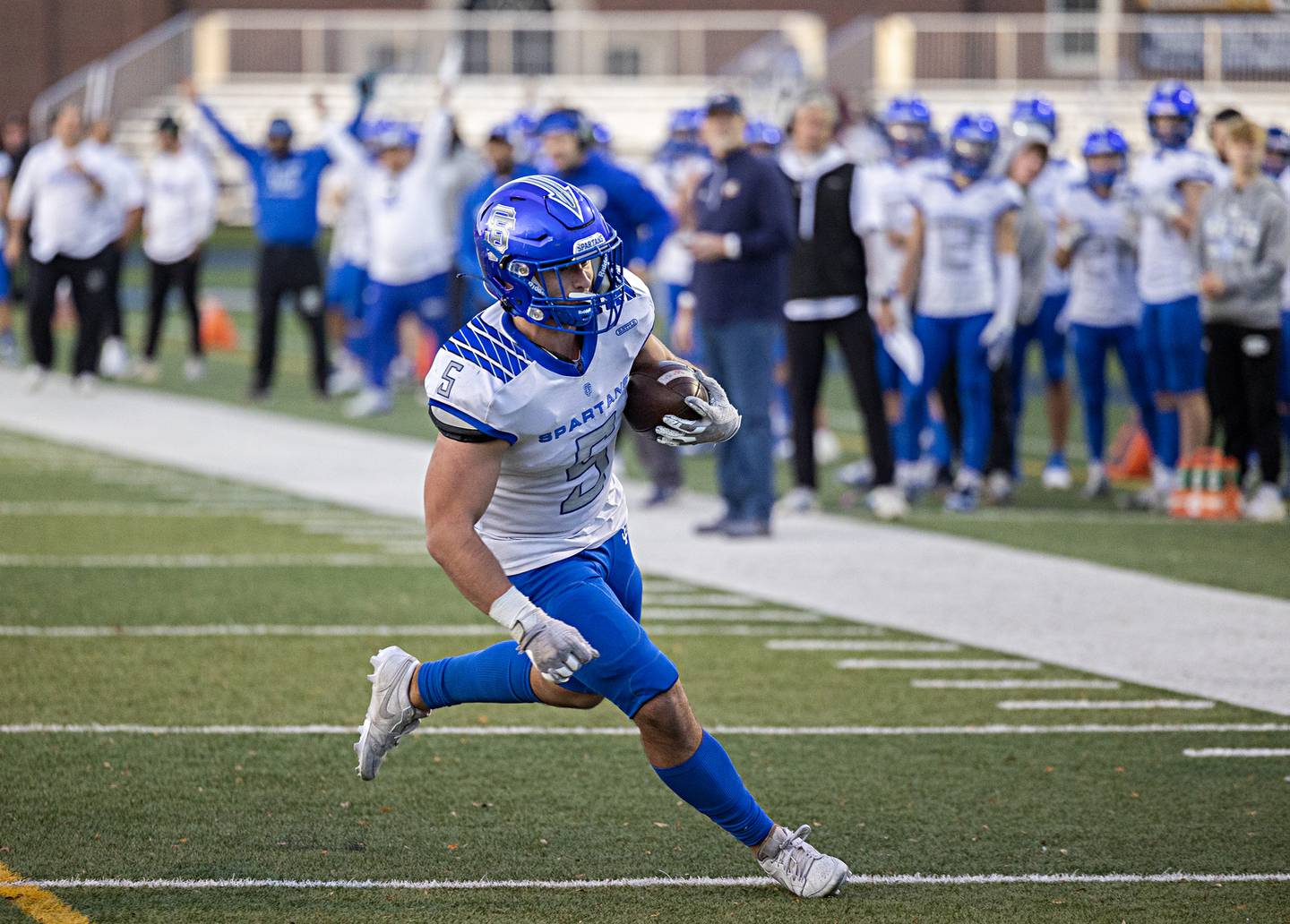 St. Francis got another extra possession early in the second quarter after senior linebacker Jackson Anderson came off the right edge, batted a Drew Nettleton pass into the air and hauled in a terrific one-handed interception as he fell to the ground.
Facing a fourth-and-15 from their own 20 on the ensuing possession, the Spartans gambled with a fake punt pass and completed it for a 49-yard gain and first down. Sophomore Brady Palmer hit junior wide receiver Liam Kolinski over the middle for the chain-moving throw. A few plays later, Milivojevic found Beres for a 9-yard touchdown on a throwback screen.
Senior kicker Cooper Winslow then executed a perfect onside kick that was recovered by freshman defensive back Tyler Dunlap. That gave St. Francis its third extra possession of the first half. After a tush-push fourth-and-1 conversion by Milivojevic, St. Francis scored in a few plays. A 2-yard Milivojevic touchdown run put the Spartans up 28-0 with 3:16 remaining in the half.
"A lot of times, Coach Bob [McMillen] will say to [Coach Dan Paplacyzk], our OC, 'We have four downs,' because he has the confidence in all of our guys," Milivojevic said. "Our line to block. Me to make the right read, RPO, run it at all times. I think we have ultimate confidence in going for it a lot of times."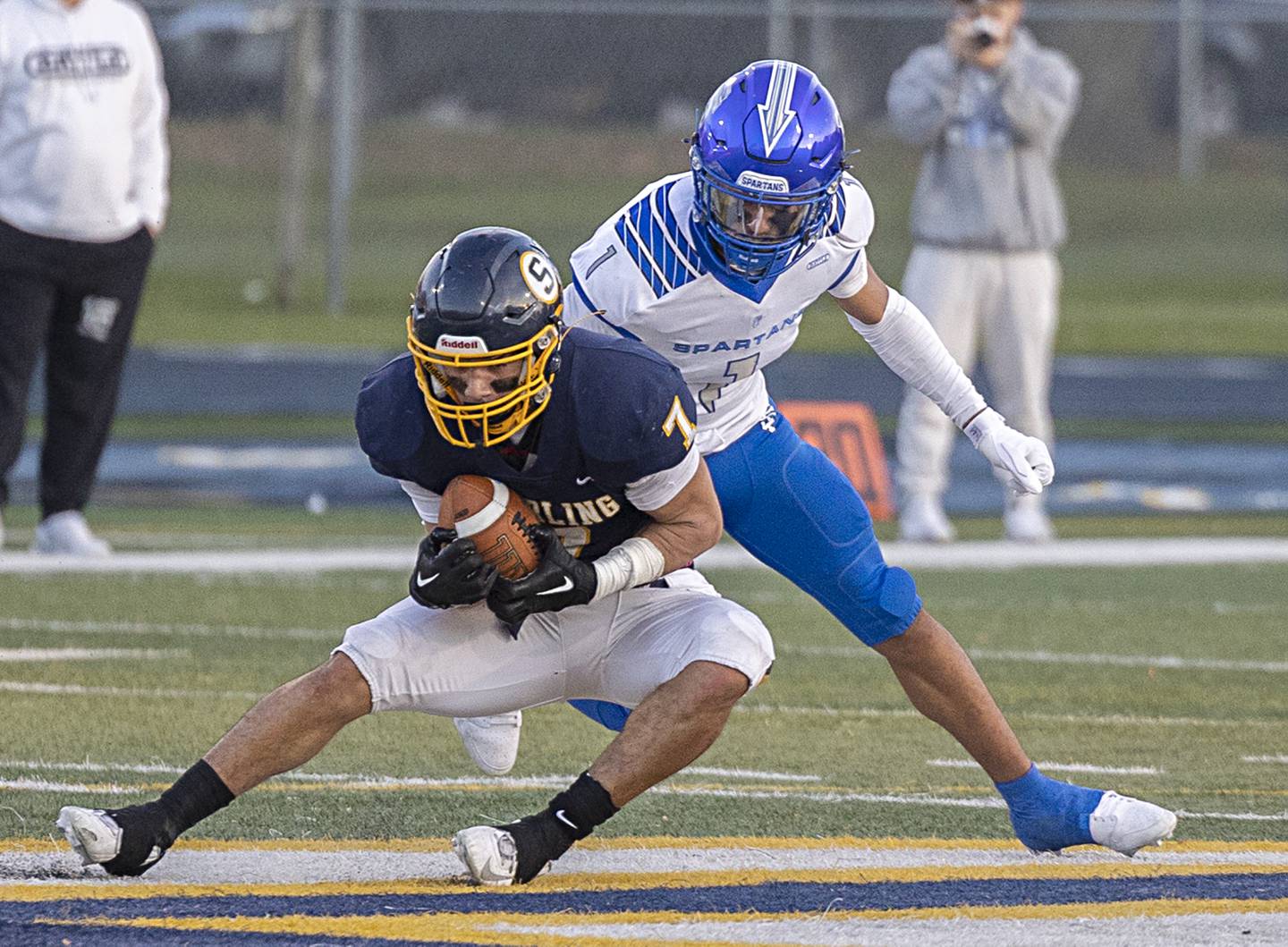 Sterling (5-6) answered quickly on its next possession, using a two-play, 60-yard touchdown drive to make it a three-score game again. After a 10-yard jet sweep by junior wide receiver Kaedon Phillips, Nettleton lofted a 50-yard bomb over the middle to senior Andre Klaver for Sterling's only touchdown. A Klaver two-point conversion run cut the deficit to 28-8 with 2:49 remaining in the half. That was the score at halftime.
"They're really good. They stress you in so many different ways," Sterling coach Jon Schlemmer said. "The bottom line is, I think we gave them five extra times to touch the ball offensively in the first half. Threw a couple turnovers. They made two really good plays in the special teams phase with the fake punt that they executed really well, and then the onside kick. They did some really good things and it stressed us, but credit goes to them. They're a really good ball club."
Defense pitches second-half shutout as Spartans pull away
Milivojevic tossed two more touchdown passes in the third quarter before the second-team offense came on in the fourth. His first touchdown pass of the second half was a 2-yard strike to junior wide receiver Ian Willis. The second one, which stretched the lead to 42-8 with 3:23 remaining in the third quarter, went for 14 yards to sophomore wide receiver Tanner Glock.
The St. Francis defense intercepted another pass and forced another fumble in a shutout second half. It finished with five total takeaways.
"We really want to work on our turnovers all season," Beres said. "We haven't been getting the ball out, so all week we've been working on turnover drills, punching that ball out in practice, walkthroughs. I think it really came through today and kids really focused on it and took advantage of it."
Milivojevic finished 28-for-37 passing for 285 yards with four touchdowns and no interceptions; 247 of those passing yards came in the first half. He also had a touchdown run.
Eight different receivers caught a pass from Milivojevic. Washington was the leading receiver with five catches for 75 yards and a touchdown. Willis had seven catches for 49 yards and a touchdown, sophomore wide receiver Dario Milivojevic had seven catches for 60 yards, Beres had two catches for 41 yards and scored two touchdowns (one rushing and one receiving), and Kolinski added two catches for 71 yards. Junior running back TyVonn Ransom rushed 15 times for 80 yards.
Anderson, Cole Pickler and Corin Greenwell each grabbed an interception for St. Francis. Greenwell also recovered a fumble.
Nettleton completed 9-of-16 passes for 159 yards and one touchdown. Klaver totaled more than 100 all-purpose yards, catching three passes for 80 yards and a touchdown and rushing eight times for 36 yards. He also led the Golden Warriors in tackles with 10. Phillips totaled three catches for 61 yards and four carries for 28 yards for Sterling.