SYCAMORE — Twelve strikeouts. One walk. And most importantly, no hits or runs.
Sycamore baseball coach Jason Cavanaugh said there's no way to pitch better than Ethan Storm pitched in a 5-0 win against Kaneland on Saturday, clinching the Class 3A Sycamore Sectional title for the Spartans against their rivals.
"You can't pitch better than Ethan Storm pitched today," Cavanaugh said. "He pitched such a great baseball game that I didn't even know it was a no-hitter. What a wonderful job he did."
The Spartans (28-5) will face Washington at 6 p.m. Monday in the Class 3A Geneseo Supersectional with a trip to the state tournament on the line.
Storm allowed four baserunners all game, two of them on Sycamore errors.
"It's pretty surreal," Storm said. "You don't think you're going to come in and throw a no-hitter, obviously they made it this far too, they're a good team. They can hit. But once you get out in the last inning, I kind of knew I had one going on, but once I started throwing I didn't really think about it. I was trying to throw strikes."
[ Photos: Sycamore tops Kaneland for Class 3A Sycamore Sectional title ]
Kaneland's Logan Kottmeyer was keeping pace with Storm, with both pitchers throwing shutouts through six innings. In the top of the seventh, Sycamore put up five runs in an inning that started with a double by Joey Puleo.
"That was the thing we'd been missing the whole time is somebody to do it in the beginning of an inning to get us going," Cavanaugh said. "To give us some options, whether we wanted to bunt or hit behind the runner or those things."
Conner Williar followed with a bunt he pushed past the pitcher and to the shortstop for a single, advancing Puleo to second. Kyle Hartmann drove in the first run of the game with a high chopper over the third baseman's head.
"I just got up there and didn't think," Hartmann said. "I just put the ball in play and good things happened."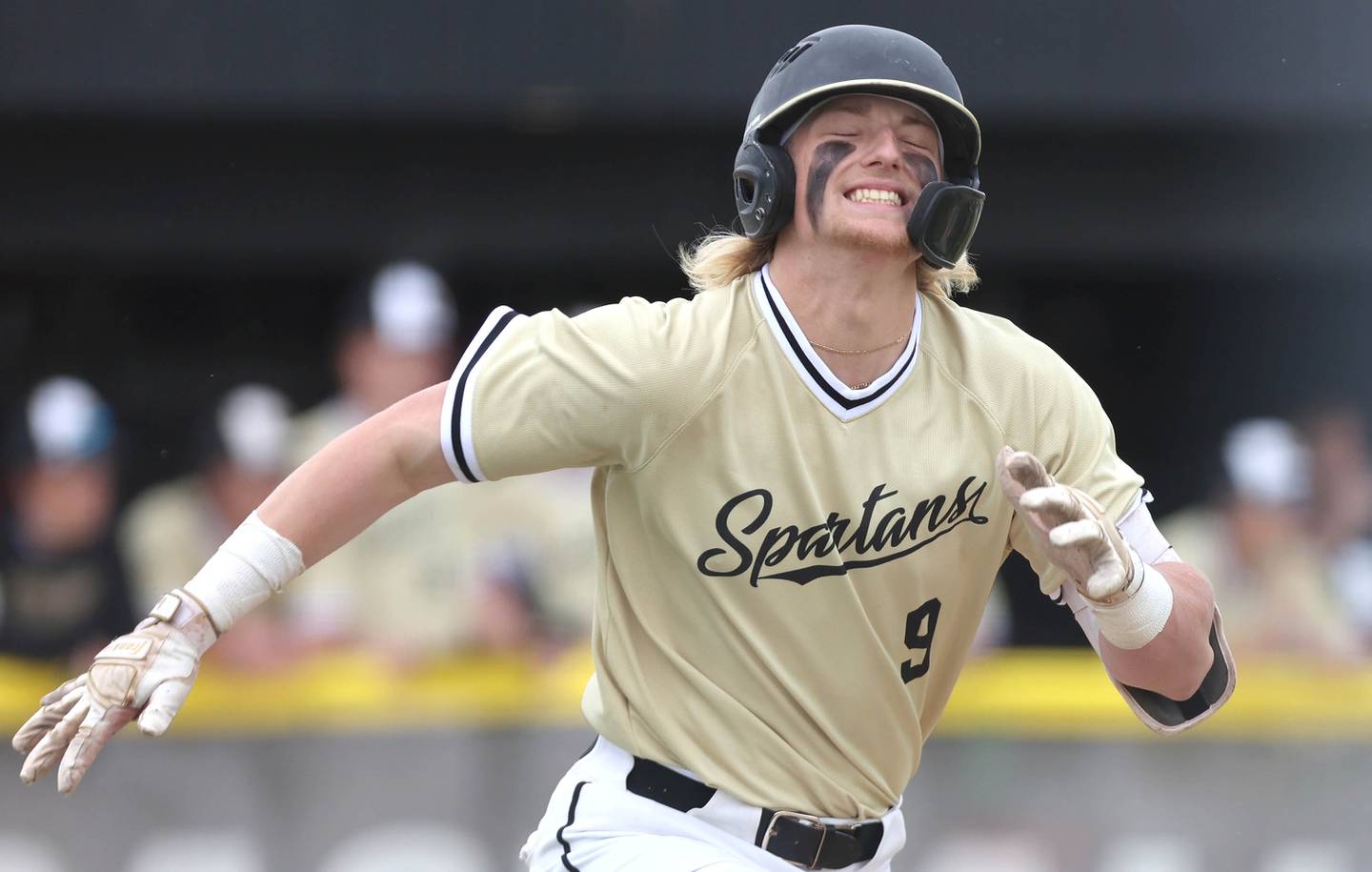 Byron Blaise laid down a bunt to Kottmeyer, who tried to get the runner at third but the throw was wild, allowing a run to score. Pinch hitter Matt Rosado then hit a comebacker to Kottmeyer, who tried to get the runner at the plate, but Hartmann slid under the tag and was safe for a 3-0 Sycamore lead.
That ended Kottmeyer's day but two more runs scored for the Spartans off reliever Luke Wituk, one on a wild pitch and the last on a single by Owen Piazza.
Kottmeyer allowed two hits through the first six innings, but finished allowing five runs, four earned, on five hits with four strikeouts.
"Our pitching was awesome," Kaneland coach Brian Aversa said. "Logan Kottmeyer did the job and we needed to give him some support. And unfortunately we didn't. Storm did a great job pitching today as well, and it's pretty easy when he's on cruise control like that. He did a great job keeping us at bay."
Aversa said all the breaks the Knights (23-9) caught in a wild win against Benet for a regional title on Monday went against them on Saturday.
"They hit a double, got a guy on second, then it's all balls that don't leave the infield," Aversa said. "Stuff started breaking their way, and that's just baseball. We lived the charmed life a couple games ago and that stuff moves around. It was their day today."
Hartmann had the only multihit game for the Spartans, as Sycamore finished with seven in the game, with five coming in the seventh inning.
"We were all over him, making solid outs the whole game," Hartmann said. "It felt good to get some big hits in good situations."
All four runners who reached for Kaneland eventually got into scoring position. Cole Pugh walked to lead off the sixth and got to second on an error on a pickoff attempt, with no outs and the top of the order up. But Storm got two strikeouts and an infield popout to escape the jam.
"I'm at a loss for words," Storm said. "It's something we've had our mind on this whole season and once you get here, you get a little nervous coming into games, a lot of people here. It's a little nerve-wracking because we didn't put up any runs into that last inning. But it's awesome. We have a great team here, played well and brought the bats together at the end of the game."