DeKALB – Dana Walker of DeKalb browsed the downtown DeKalb Farmers' Market Thursday with her dog, Sophie and said she and her daughter frequent the market regularly.
The DeKalb Farmers' Market returned to Van Buer Plaza in downtown DeKalb and will continue from 10 a.m. to 2 p.m. every Thursday through Sept. 21. The market is hosted by the DeKalb Chamber of Commerce and presented by Northwestern Medicine.
"We never miss it," Walker said. "We come every Thursday. So, it's on the calendar."
Walker said she wasn't looking for anything in particular, but she felt the market had a nice turnout for opening day.
"I have a couple booths that I always hit every time that I come," Walker said. "I always love getting the fresh veggies. I love that the AM and PM Hemp Farm is here and that they have water bowls for the dogs."
The market, located between Second and Locust streets, featured vendors selling everything from fresh, locally grown produce and extra virgin olive oil to handmade and homemade products.
New this season, the market will feature a craft demonstration by DeKalb craft store Michaels. The demo will take place from 11 to 11:30 a.m. June 22. Participants, while supplies last, will have the chance to decorate a sign that they can take home and place in their yard.
Also new this season, the market is introducing some different musicians to the lineup for Egyptian Theatre's free Live Lunch Music Series, which runs every week from noon to 1:30 p.m.
Whatever I produce, I put them in the bottle. Like I said, from my farm to your table."

—  Bill Hristakos, DeKalb Farmers' Market vendor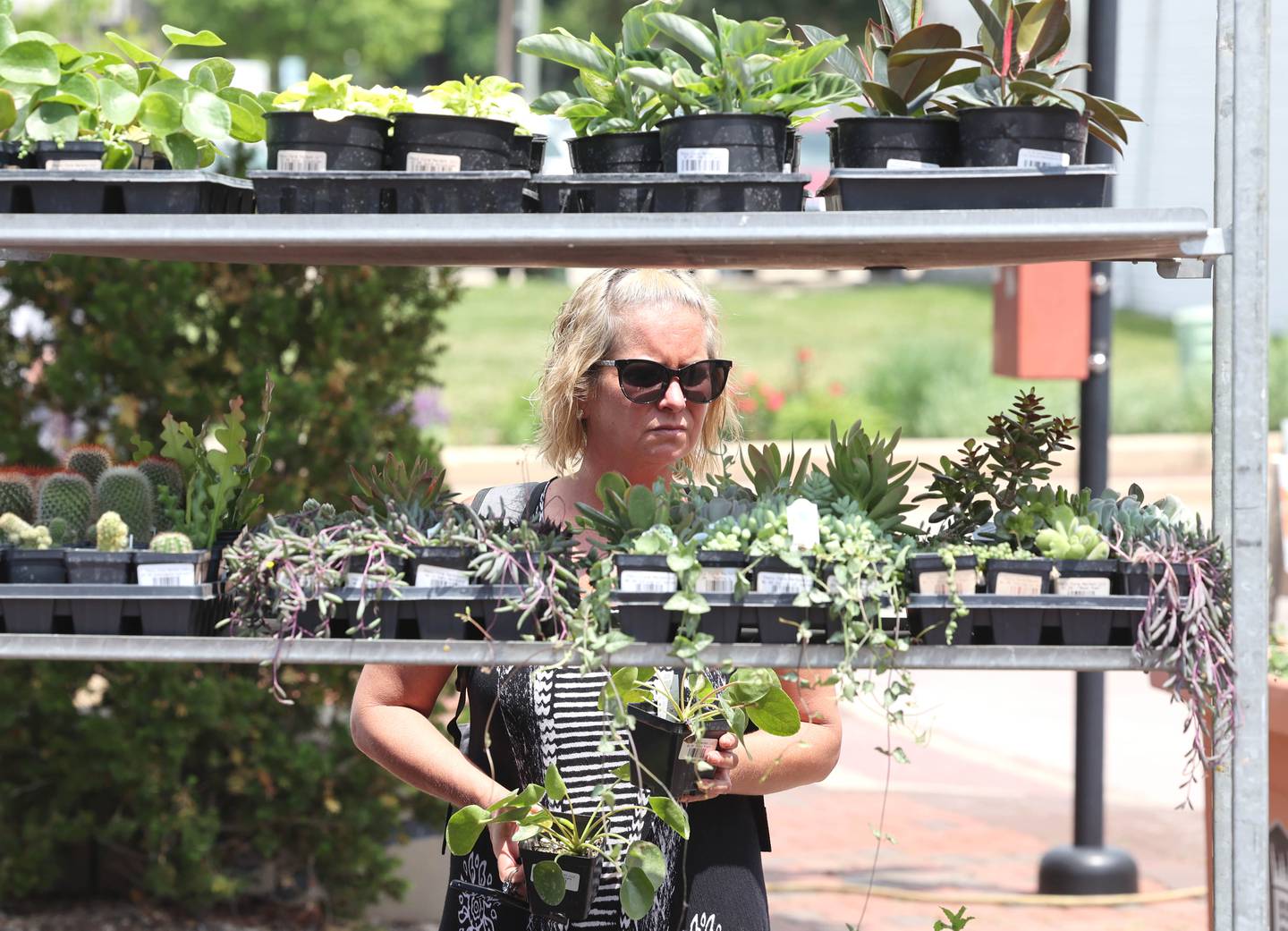 Virginia Filicetti, DeKalb Chamber market manager, said the series will offer a wide variety of music to appeal to anyone's taste.
"It ranges, so there's going to be jazz music, guitar artists," Filicetti said. "Usually, Stage Coach Players does a few songs from musicals that they have coming up."
Among the vendors on hand for opening day was Bill Hristakos. Hristakos said he was selling extra virgin olive oil from his olive farms in Greece, which he described as very pure.
"It takes about a month to harvest it and then we leave it about a month and a half to settle down because we don't filter it," Hristakos said. "We just leave it to be all everything natural. Because when you filter it, you lose a lot of flavors. So, we leave it in the vent for a month and a half, it settles down by itself and then we put in the bottles. [It's] never been mixed. Whatever I produce, I put them in the bottle. Like I said, from my farm to your table."
On average, the market features 20 vendors each week.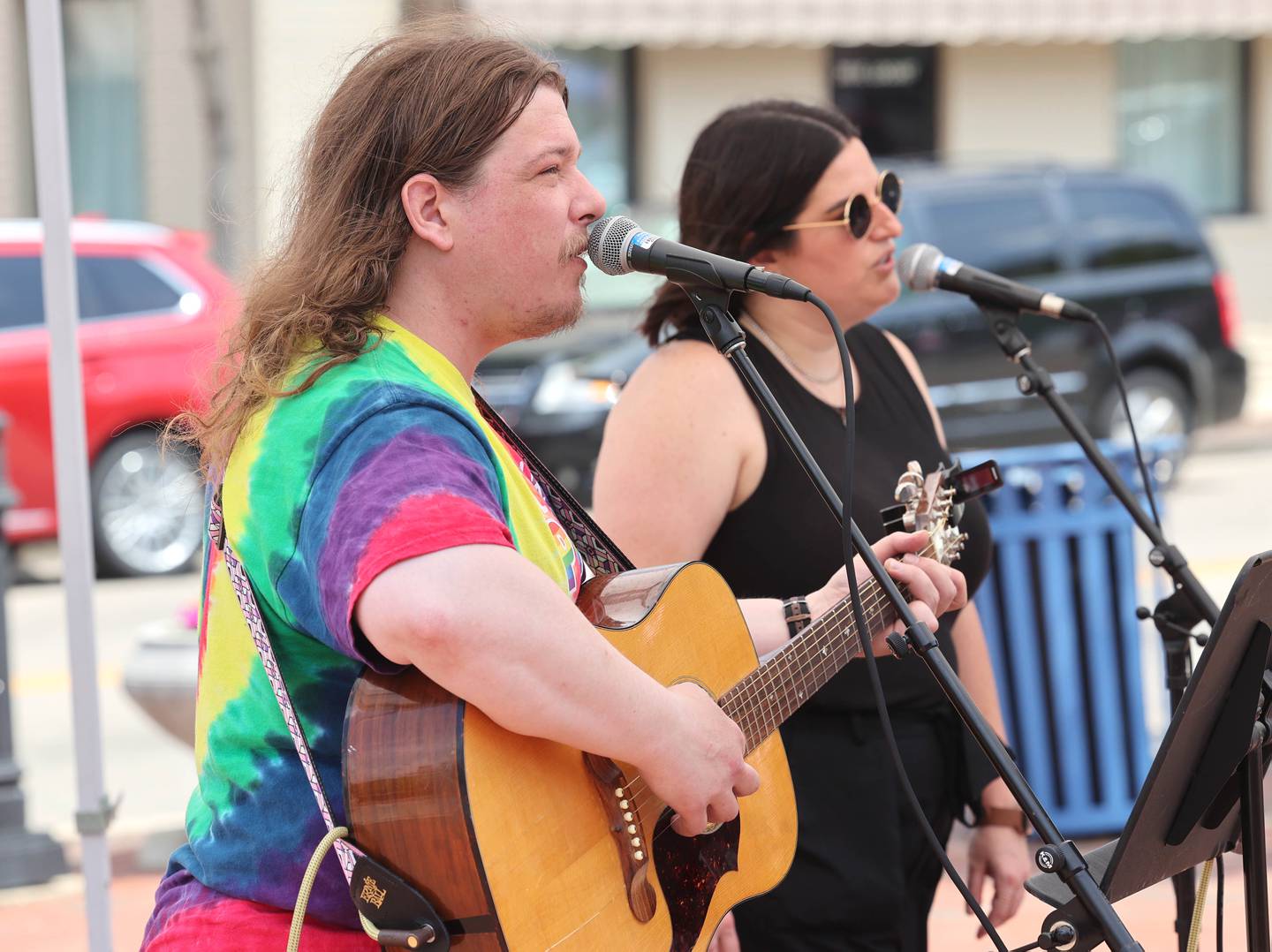 Hristakos said he enjoyed the turnout for the market's opening day.
"For a hot day like we have today, it's not bad," Hristakos said. "It's good crowd. It's very good."
Filicetti said she feels some people have become increasingly concerned about where their food is coming from.
"I think definitely since [COVID-19] it's been more of a concern from customers," Filicetti said. "It's great because you get to talk to the farmer or the vendor that works at the farm or property and grows, so they can ask more questions about it versus going to a grocery store, you pick it off the shelf and you go checkout. You get that one-on-one interaction. You get to know where your food is coming from, who's growing it."
One such program, Filicetti said, that's helped people to afford the locally grown fresh produce they desire is the market's Link Match program. Link cards are provided to those in Illinois who quality to receive SNAP food assistance benefits.
Filicetti said the DeKalb Farmers' Market is the only market in DeKalb County with a Link Match program that allows those with a Link card to double their benefits to purchase fresh produce.
"It's still a fairly new program and we're definitely trying to spread the word about how you can get so much fresh fruits and vegetables, produce all at the same time at the market," Filicetti said. "It's a great opportunity. We're the only market in the county that offers that. There are others throughout the state, but we're the only ones in the county that do that."