SYCAMORE – Erik Poleate has amassed a social media following, with Facebook posts updating the community about sightings of him and when and where he can be seen around town.
Poleate – or as he is better known online, "Taco Bell Guy" – is surprised at his local superstar celebrity status, all for doing his job as a fast-food employee.
"Some people call me 'Taco Bell Guy,' 'Fun Erik,' or 'Nanny Erik,' but I'm just Erik," Poleate said. "People are starting to recognize me at work or when I go to the stores. I'm flattered and honored, really."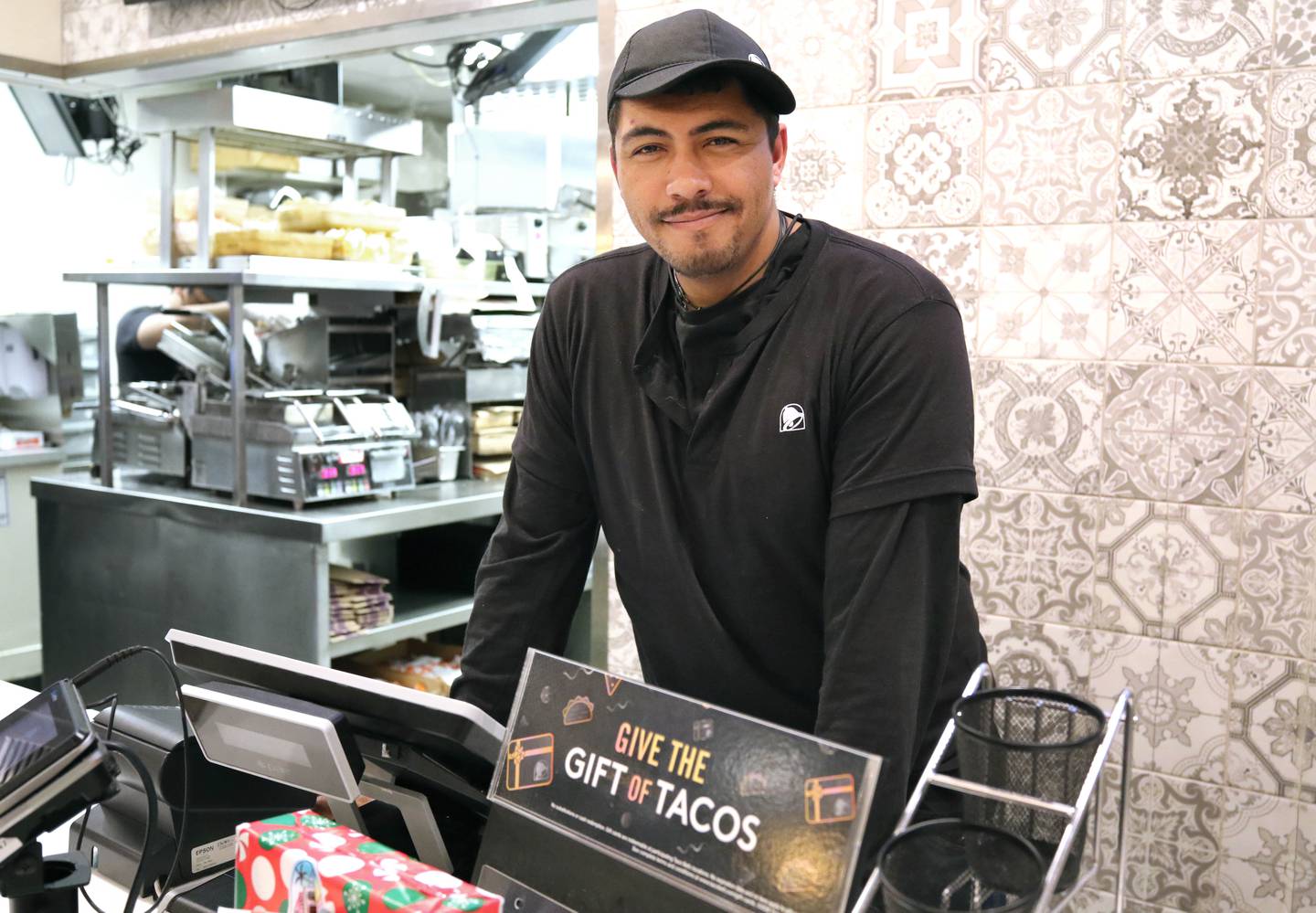 On social media, one Taco Bell customer described "Mr. Taco Bell" as "so so kind" and how "it's so nice to see good people in this world." Another said he was "funny, added some flare, and had me laughing several times while trying to order my food." Another customer described Poleate as "a ray of sunshine. … He definitely made my day brighter." Many comments use the same phrase: "The world needs more people like him."
Poleate works three jobs: He is a nanny for a family, a full-time employee at Taco Bell in Sycamore and a part-time employee for McDonald's in Sycamore. He has worked at McDonald's since August and Taco Bell since September.
Poleate, 33, is originally from Utah and moved to DeKalb about seven years ago for film production. He decided to nanny for a family and work fast food jobs "on the side to help pay the bills."
"Food is awesome, and I like to make people happy," he said. "It gives me a chance to meet the community. It brings me out of my shy shell and allows me to talk to people."
Carrie Thome and her brother Tim are friends of Poleate. They say his positivity is what sets him apart from others.
"I was having a bad day, and I decided to go through the Taco Bell drive-thru with my girlfriend," Tim Thome said. "[Poleate] was working that day. He was so amped up. The fire, the fun he brought to the order, was amazing. He was so energetic. He definitely made my day."
Friend and previous co-worker Stephanie Stout said that Poleate's personality "is like the Energizer Bunny: he keeps going and going."
"He's so hardworking and happy," Stout said. "He's amazing with kids and loves meeting new people."
Carrie Thome described Poleate as her best friend.
"I've never had a friend like him," she said. "He's always genuine. You can just be yourself around him. He listens, he cares, he is always himself. He brings happiness to others and asks for nothing in return. We need more people like him in this world. More people need to follow his example and be kind."
Poleate said his goal is to put a smile on people's faces. In the past, using his own money, he said he's purchased slushies for high school students, paid for a meal for a mom who forgot her wallet at home, and often treats customers to food to help start a pay-it-forward money chain.
Poleate said that other than close friends, he's alone in the area. He credits his mom for his kindness and morals. His mom worked at Taco Bell when she was pregnant with him. She died almost 10 years ago, when Poleate was 24.
"I've been alone for so long, I'm glad to make everyone happy and make new friends," he said. "It's not about the fame for me. I just want to make people happy, to make their days a little bit better. I'm not a celebrity, I'm not a hero. I'm just a dude doing good, trying to pay it forward."