Gov. JB Pritzker announced Thursday morning a statewide indoor mask mandate for everyone 2 and older, effective Monday, as well as a vaccine mandate for all preschool through 12th-grade teachers and staff and higher education employees and students to reduce the spread of COVID-19.
Those who now are required to get a vaccine need to get a first dose by Sept. 5, or else face weekly testing, include:
• Preschool through 12th-grade teachers and staff
• Higher education personnel
• Higher education students
• Hospital workers in a variety of settings, like hospitals, nursing homes, urgent care and doctors' offices.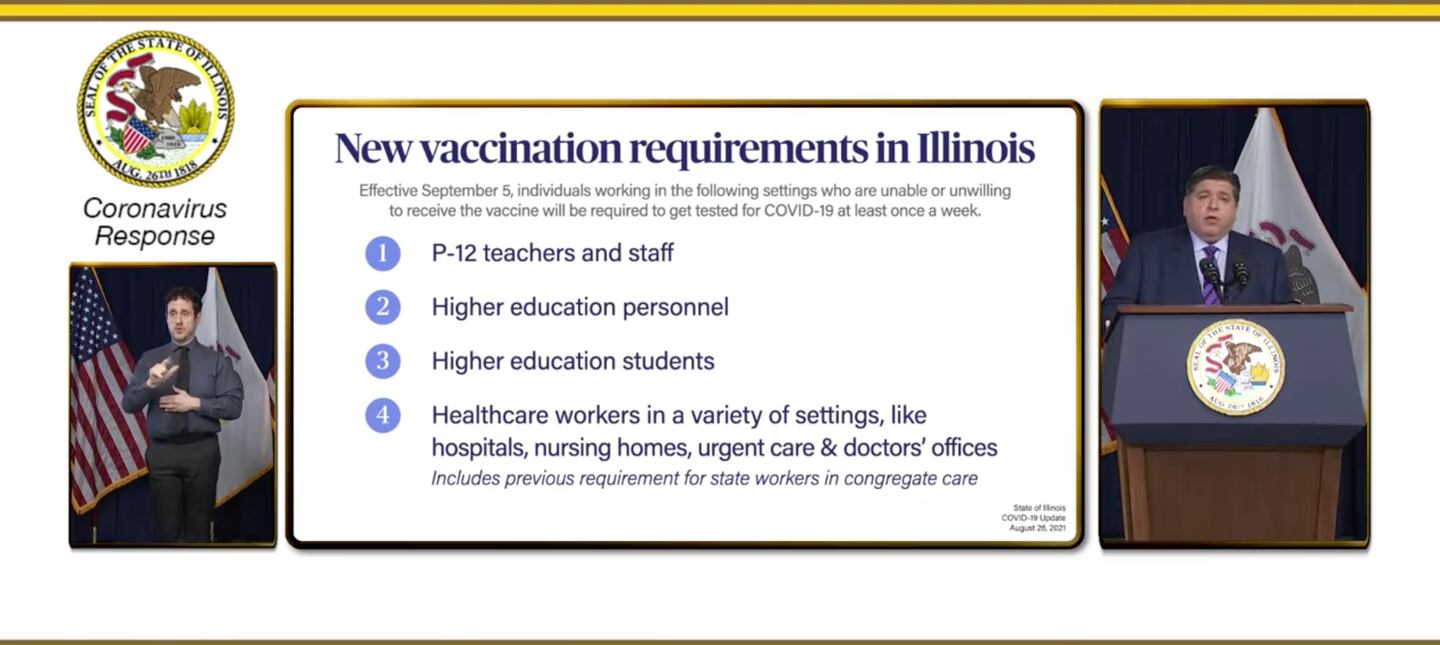 Pritzker said those who are unable or unwilling to get a vaccine from those groups may face additional testing if required by the Illinois State Board of Education or Illinois Department of Public Health.
Pritzker and IDPH Director Dr. Ngozi Ezike made a point to correlate the low vaccination rates in the southern and central portions of the state to increases in hospitalizations. Region 5, southern Illinois, was down to one available, staffed ICU bed on Tuesday.
From January through July, 98% of the state's COVID-19 cases, 96% of hospitalizations and 95% of deaths from COVID-19 are among unvaccinated people, Pritzker said.
"We are continuing to rely on experts at the Centers for Disease Control and Prevention and the IDPH, but you don't need to be an epidemiologist to understand what's going on here: This is a pandemic of the unvaccinated," Pritzker said. "These are preventable deaths and beyond the tragedy of losing lives for no reason, this also means inflicting serious damage on communities."
Only two counties in Region 5 are more than 40% fully vaccinated. Region 4 (Metro East, near St. Louis) only has one county greater than 50% fully vaccinated.
"The ICU beds have run out, particularly in southern Illinois, and central Illinois, where vaccination rates are lowest," Ezike said.
Ezike said Region 5 could run out of open ICU beds as soon as Friday, and the same could be true of Region 4 as of next week. Regions 3 (Springfield area) and 6 (Champaign area) could run out of beds by mid-September.
As of late Wednesday, Illinois had 2,184 people in the hospital with COVID-19. Of those, 489 were in the ICU, and 241 were on ventilators, according to state data.
Pritzker had warned of additional mitigations earlier in the week as hospitalizations for COVID-19 in the state have neared the spring peak. Pritzker noted that the ICU bed availability in southern Illinois is at just 3% and the governor blasted elected officials who have not focused on boosting vaccination rates and are opposed masking requirements
"So if you're an elected leader from one of those highly infected communities and you're spending your time, resisting masks instead of working to get your people vaccinated, then your definition of public service looks a whole lot different than mine," Pritzker said.
The move follows several vaccine mandates handed down by private businesses over the past few days. Most recently, employees of Northwestern Medicine will be required to become fully vaccinated by Oct. 31 or undergo weekly testing, the hospital announced Wednesday. All city of Chicago employees will be required to get COVID-19 vaccines and submit proof by mid-October, Mayor Lori Lightfoot announced Wednesday.
The state has already required vaccinations for those working in congregate care facilities. Masks are also already required in schools aged preschool through grade 12, and all long-term care facilities.
After Thursday morning's news conference, The Illinois Retail Merchants Association released a statement regarding Pritzker's reinstatement of a statewide indoor mask mandate:
"Retailers remain dedicated to the health and safety of employees, customers and our communities. We support the governor's mask mandate as a measured approach that ensures shoppers continue to have access to needed goods, food and medicine with minimal disruption," said Rob Karr, president and CEO of IRMA. "We ask all customers to abide by this public health order in a respectful manner. We strongly encourage local law enforcement agencies to promptly assist us in ensuring employees are not subjected to verbal and physical abuse as we have seen in the past and call on local health departments to enforce this order in uniform fashion. We must all work together to ensure the health and safety of our communities."
The Illinois Manufacturers Association also supported the mandates in a statement.
"The scientific data is irrefutable: vaccines and mask wearing are safe and effective ways of slowing the spread of the deadly virus. These lifesaving vaccines were created by American manufacturers under federal oversight and are the best way to protect our communities and restore our economy," said Mark Denzler, President and CEO of the Illinois Manufacturers' Association. "The IMA and our members across the state support vaccinations and mask wearing to slow the spread of this virus. We cannot cede the progress that has been made in restoring our nation's health and economy."
Ezike also noted that the Pfizer COVID-19 vaccine received full approval on Monday, a benchmark that she hoped would spur stragglers to get inoculated against the deadly disease.
"For people who are hesitant because the vaccine had – quote – not yet been approved or was – quote ' experimental that excuses gone," Ezike said. "I urge you now to go and get vaccinated. FDA is full approval of the COVID-19 vaccine, after tens of thousands of clinical trial participants and months of real world data should help reassure everyone who has concerns about getting vaccinated."
As of Wednesday, 6,719,139 Illinois residents have been fully vaccinated, which is 52.7% of the state's 12.7 million population. More than 8.2 million Illinois residents have received at least one dose of the vaccine.
"The bottom line is masks are effective. Vaccines are effective," Ezike said. "But until more people are vaccinated, we need to take the steps to protect our health care workers, protect our hospital resources and protect our most vulnerable."