The Bears are all but certain to stick with quarterback Justin Fields in 2023. General manager Ryan Poles appears much more likely to trade the top pick than use it on a prospect, much less a quarterback.
Even so, he has been clear that he's going to do his due diligence and take a long, hard look at the quarterbacks available in April's NFL Draft.
He said he would have to be "blown away" by a quarterback prospect to consider taking one with the first pick. Poles had his chance to meet with and watch all the quarterbacks last week at the NFL Combine in Indianapolis.
Here's what to know about each of the top four quarterbacks in the draft. If the Bears were to draft a quarterback, it would most likely be one of these four.
[ Here's what Ryan Poles' potential trade partners are saying at the NFL Combine ]
Bryce Young, Alabama
Young is the perfect quarterback prospect, except for one thing – his size. Young measured in at 5-foot-10 1/8 and 204 pounds over the weekend at the combine. The tape, though, speaks for itself. He won the Heisman Trophy and dominated in the SEC.
That said, there will certainly be teams that knock Young down their draft boards because of his height.
"I've been this size, respectfully, my whole life," Young said. "I know who I am. I know what I can do. For me, it's fair [concern]. Everyone can speculate and ask when the questions are necessary. I'm going to continue to control what I can control."
Drew Brees was an even 6-foot. Russell Wilson is 5-foot-11. Kyler Murray is 5-foot-10. Some shorter quarterbacks find success. Young's height certainly didn't appear to bother him during his college career.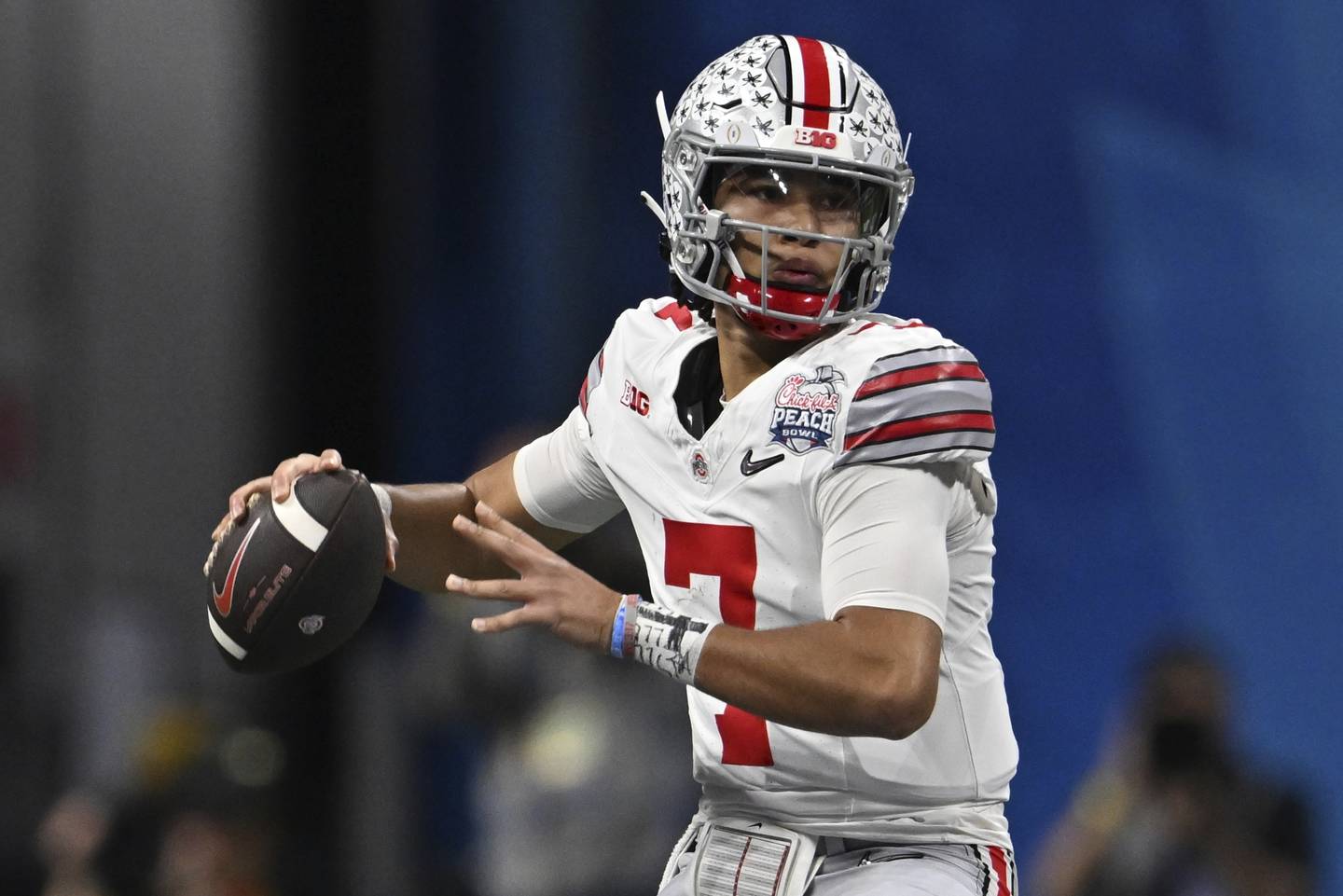 C.J. Stroud, Ohio State
Stroud stands 6-foot-3 and has no height concerns. That is his clearest advantage over Young. Statistically, he nearly matched Young in production over their two seasons as starters. He also might be slightly more consistent throwing the ball deep. Stroud averaged 9.8 yards per attempt compared to Young's 8.8 in college.
Stroud proved to be a reliable pocket passer in college. He didn't run much while at Ohio State. Stroud, who sat behind Fields in 2020, knows the Bears are Fields' team.
"I don't want to go there," Stroud said when asked about the Bears. "That's his team. I've got to do my thing and I've got to go build my legacy."
Will Levis, Kentucky
Levis has the size NFL teams want and a cannon of an arm. As far as arm strength goes, he might be No. 1.
Despite coming from a Kentucky football team that went 7-6 in 2022, Levis is a legitimate contender to be the first QB off the board. ESPN's Mel Kiper ranks him as the No. 1 quarterback in the draft. He measured in at 6-4, 229 pounds, and showed off his arm during throwing drills.
He didn't have the same on-field success that Young or Stroud had in college, but teams will see potential.
Anthony Richardson, Florida
Don't count out Richardson. It would be a shock to see anybody draft him first overall, but he's certainly in the conversation with the three other QBs on this list. Richardson is "toolsy." He has the right build and arm strength, he simply didn't have the starting experience the other three did during their college careers.
Richardson didn't become a starter until last season. He threw for 2,549 yards with 17 touchdowns and nine interceptions in 2022 for a Gators team that went 6-7. He might be less of a finished product than the other three, all of whom started two seasons in college.
He took exception last week when asked about being labeled a project.
"I don't even know what that means, 'project label,'" Richardson said. "But I'm willing to bring anything and everything that they need from me. I'm going to work hard. I'm going to be dedicated to my craft."