There have been many, many outstanding track & field athletes around the Illinois Valley over time.
Through the use of Bureau County records and NewsTribune files, and a few updates from area coaches, I have compiled the current Illinois Valley records, a list including schools in the BCR, NewsTribune and the Times circulation.
Here's a look inside at some of the athletes who set the Illinois Valley records, many of whom have stood the test of time while others have been set in the past decade.
Some names and their accomplishments just jump out at you.
Hall's D.J. Glynn had a state finals for the ages when he won four events at state in 1999, setting the 400-meter dash record with his state championship time of 48.44. Glynn shares the IV 100-meter dash record when he clocked a 10.4 manual time in the 1998 NCIC Meet at Princeton with Putnam County state champ Steve Safranski (1975).
Lonnie Hewitt, of defunct Buda Western, set the high jump record at 6 feet, 10 1/4 inches in 1977. He won three Class A state championships from 1977-79, a feat matched only by the legendary Dwight "Dike" Eddleman, of Centralia, from 1940-42. Hewitt was a two-time All-American at Augustana College.
St. Bede's Bret Dannis, of tiny Arlington, erased the IV records in the 110 hurdles (13.93) and 300 hurdles (37.66) when he won Class 2A state championships in 2017. He now competes for the University of Illinois.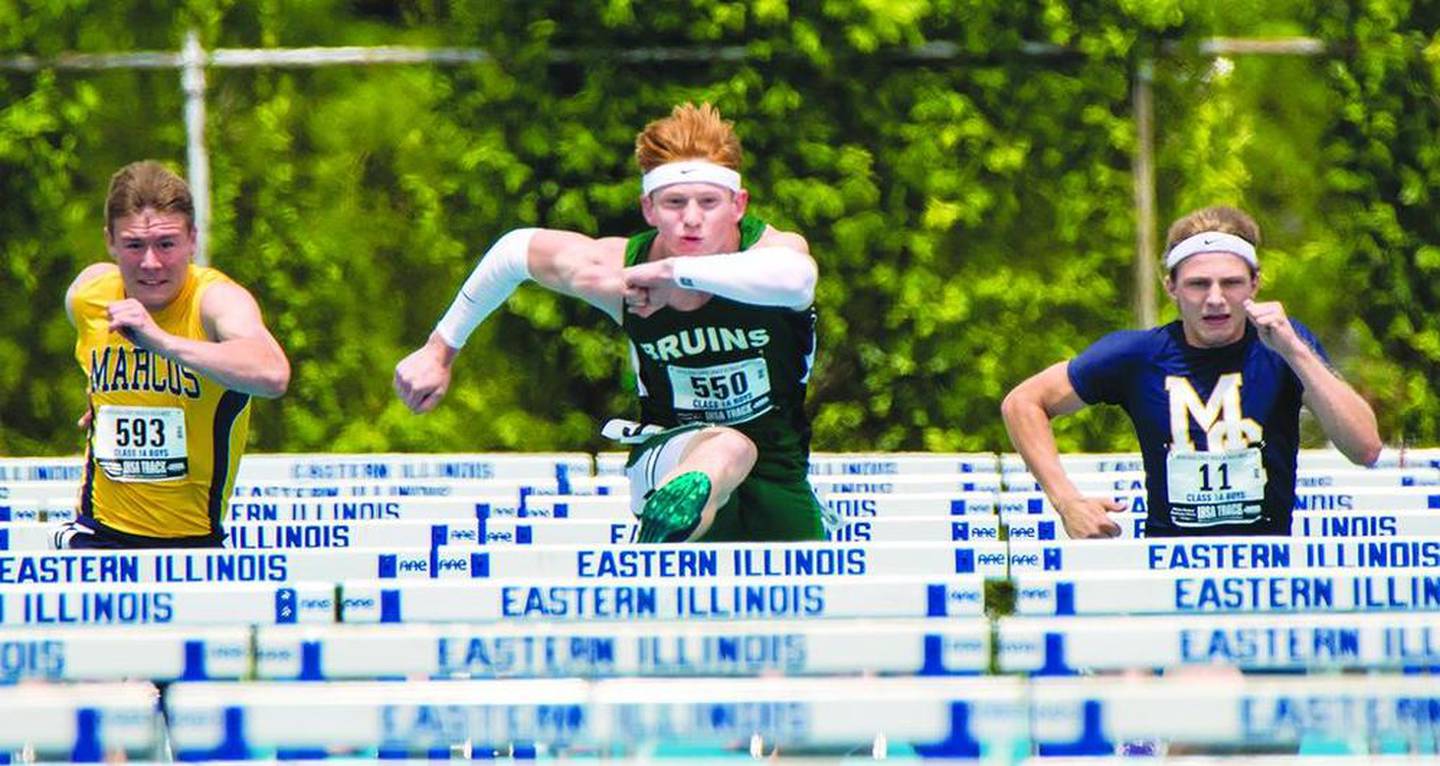 Two-time state champion Logan Pflibsen, of Streator, soared to the pole vault record of 17-2 in 2010.
Distance ace Troy Maddux, of Streator Woodland, another two-time state champion, has held the 3,200-meter record of 9:10.86 since 1985.
Other boys record holders who were state champions are Princeton's Greg Groat in the discus (189-1) in 1991, and Hall's 4x100 relay of Steven Brust, Anthony Buchanon, Devin Solidati and anchor man Marshall Walk with a time of 42.74 in the 2019 IHSA Class 1A state finals.
Tom Swan, of Princeton, has the oldest record on file, setting the 1,600-meter record 54 years ago when he won the IHSA state championship in the mile in 1968. His converted mile time is 4:11.9.
Princeton's Nate Norman broke a six-decade old mark held by George Meagher, of DePue, in the long jump when he went 24-0 1/2 on his last jump in the IHSA state finals in 1998, finishing as the Class AA runner-up.
Pat Hodge, longtime girls coach at Princeton, holds the 800-meter record, running a converted time of 1:53.3 in 1976 for the Tigers.
Streator speedster Walter Moton motored to the 200-meter dash record with his 21.5 clocking in 2004.
Princeton holds two longtime relay records with Dennis Stocking, Ed Eckhoff, Hodge and John Timberlake running a 4x400 time of 3:21 in the 1975 Class AA state prelims and Rich Ellis, Brett Miller, Craig Martin and Steve Arch turning in a 4x800 time of 7:53.4 in the 1978 Class AA state finals.
L-P runs down girls records
Eight different schools check in with IV girls records with La Salle-Peru heading the list with seven.
Rachel Hickey, a 2018 L-P grad, holds a hat trick with records in the 800-meters (2:10.70), the 1,600 meters (4:56.54) and the 3,200 meters (11:06.86). She also played a key role on L-P's records in the 4x400 (4:01.01) and 4x800 (9:29.06) relays.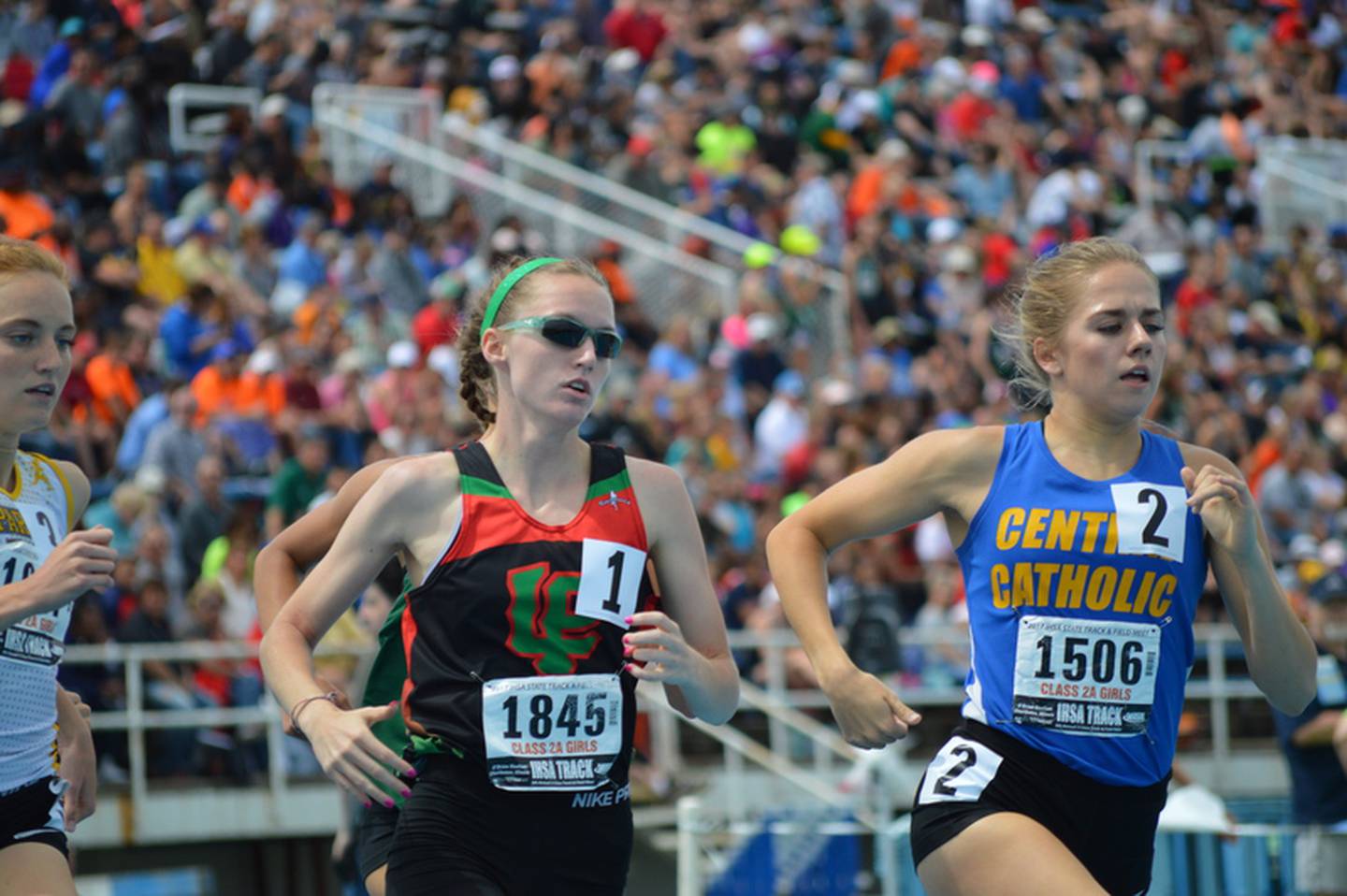 A two-time state champion in the 800 meters, Hickey now runs for Illinois State University.
Another Cavs' standout, Alyssa Hancock, set IV records in both the 100 dash (11.92) and 200 dash (24.86).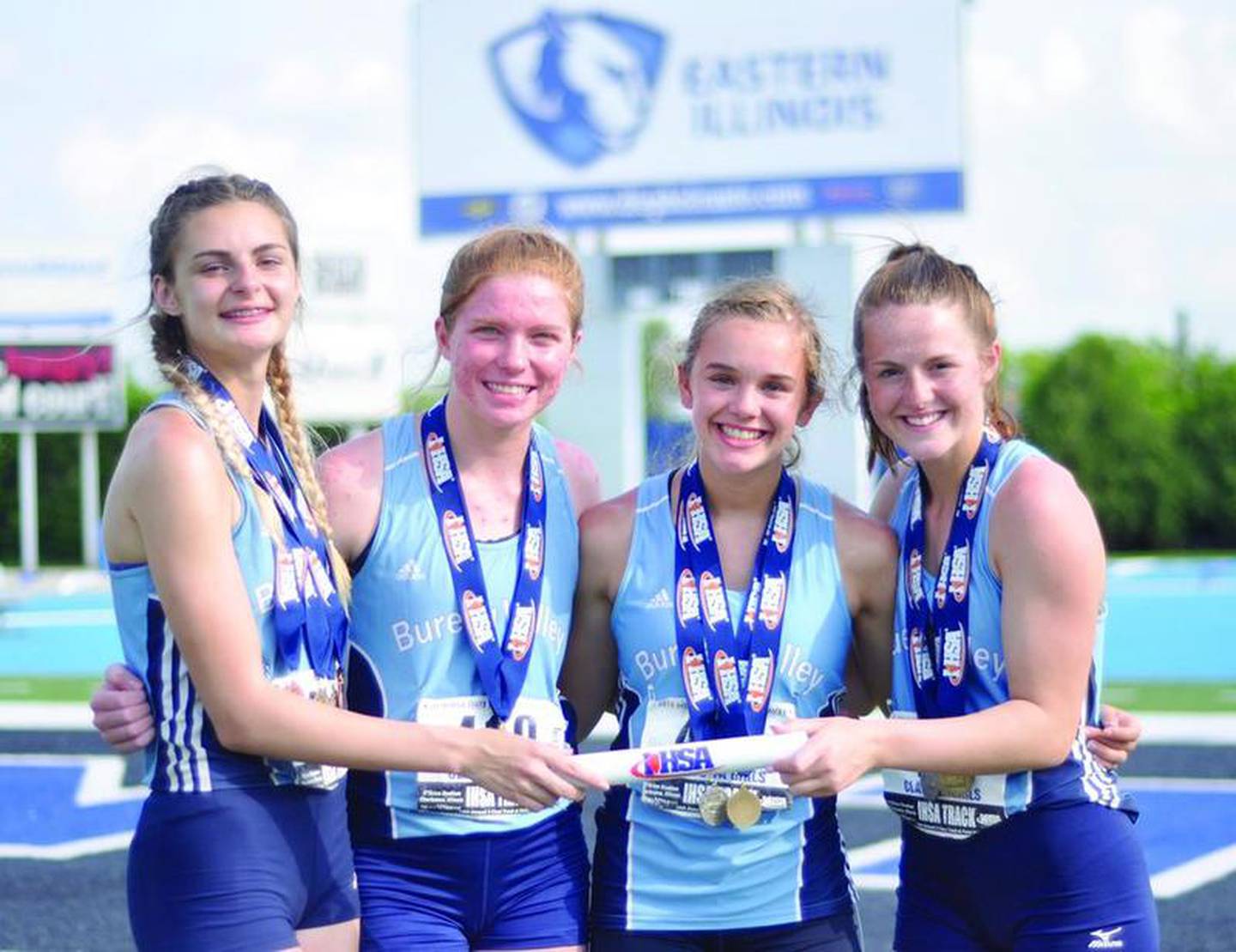 BV's Marissa Endress, Carly Konneck, Molly Bohm and Kamryn Kolb set two records in the 2018 IHSA Class 1A state finals, winning the 4x100 (49.78) and taking second in the 4x200 (1:45.48). Kolb, who is a freshman member of the Division II Lewis University track team, also held the long jump record at 19-5 until it was broken this week by Henry-Senachwine senior Nakeita Kessling, who leapt 19-6 3/4 at the El Paso-Gridley Sectional.
Ottawa's Tricia Weygand, a two-time state champ, set the shot put record of 46-2 in 1993. More recently, Ottawa produced another state champ and record holder in Maddy Smith in the pole vault (11-9) in 2019.
Marquette's Lindsey Homfeldt set IV records in both hurdles events in 2005 with times of 14.89 in the 100 H and 44.34 in the 300 IH, in which she won state.
Other state champions in the record books are Mendota's Tracy Stroyan in the discus (141-8) in 1981, Bureau Valley's Alisa Baron, who ran her state title 400-meter run of 55.66 in 2008, and Hall's Kendall Rush in the triple jump with her effort of 39-3 1/4 in the 2009 state prelims.
Fieldcrest is represented by Tessa Holland, who like Rush and Hickey, competed at ISU, in the high jump at 5-7.
The 800-meter medley relay record (1:50.8), an event which is no longer run, is held by Tiskilwa in 1984.
BCR Sports Editor Kevin Hieronymus has covered Illinois Valley track since 1987. Contact him at khieronymus@bcrnews.com