PRINCETON – Mendota coach Steve Wasmer said his wife and mother told him that Princeton was fun to watch.
"I said, 'Fun for who?'" he said with a laugh. "Maybe they're fun to watch for them, but not for me as a coach."
Wasmer watched the Class 2A No. 2 Tigers race to a 76-47 win over his Trojans on Friday night at Prouty Gym, and it wasn't much fun.
"They're a hard matchup for us. They're all super athletic, all got good size and are skilled offensively. They're hard to guard," Wasmer said. "And we got sloppy with the basketball. When you give them easy transition baskets, everything kind of snowballs on top of it."
Senior Christian Rosario, who drew the start with classmates Brady Byers and Karter Patterson, said it was definitely a senior night to remember.
"It was good to get the start with Karter and Brady in front of a packed crowd. The atmosphere was amazing. Probably my favorite part was Karter hitting that 3," he said.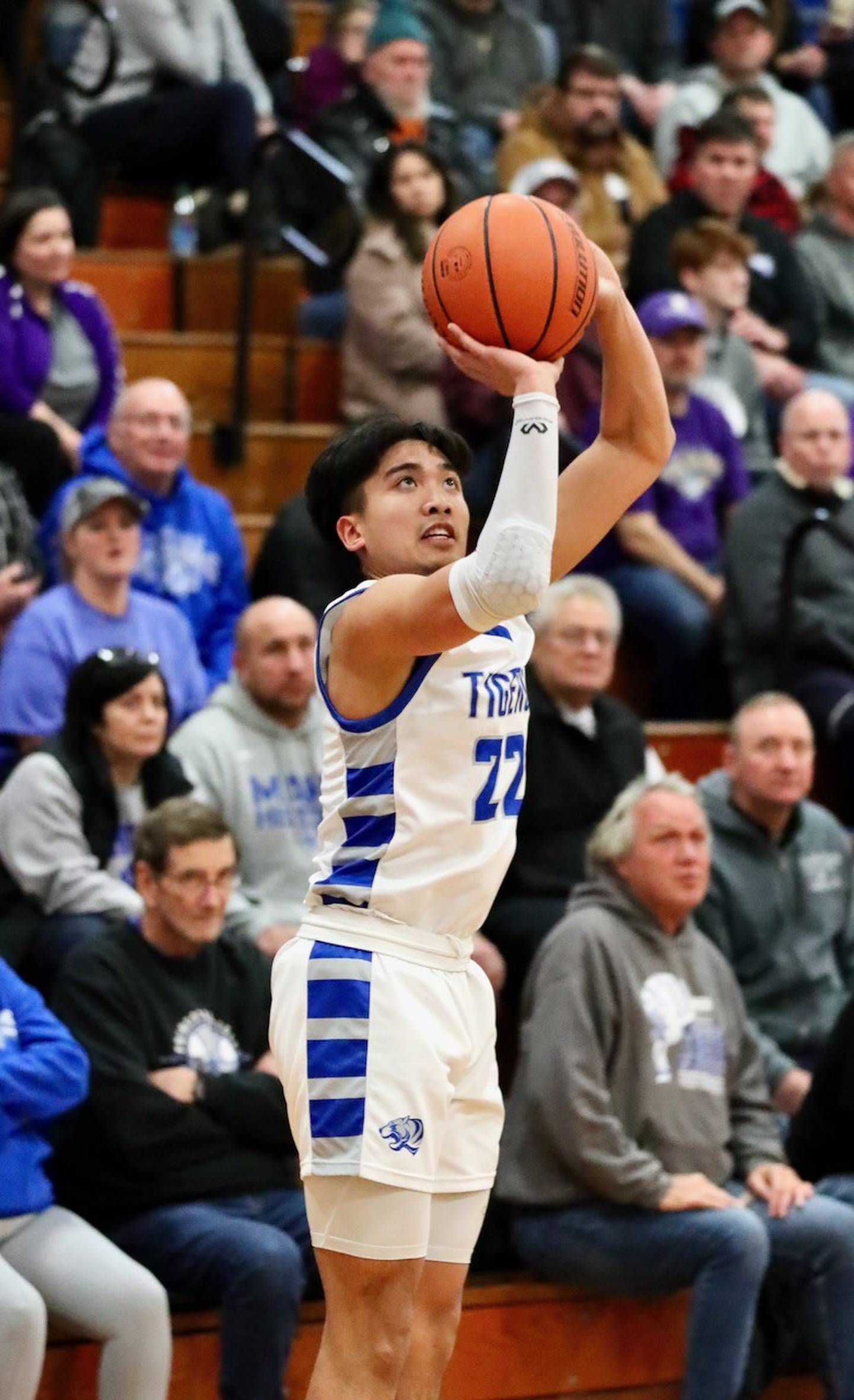 It was Patterson who helped get the fun started for the home crowd with an early 3-pointer, slyly giving a "3″ signal as he made his way down the court.
"He didn't hesitate. Stepped into his shot and nailed it. He's capable of making it," Tigers coach Jason Smith said. "I was happy he got on the board like that. It's always a good night when KP scores a 3.
"The bench was happy. The band mob was happy. It was a good feeling all the way around."
"We were all smiles, joking about it," Rosario said.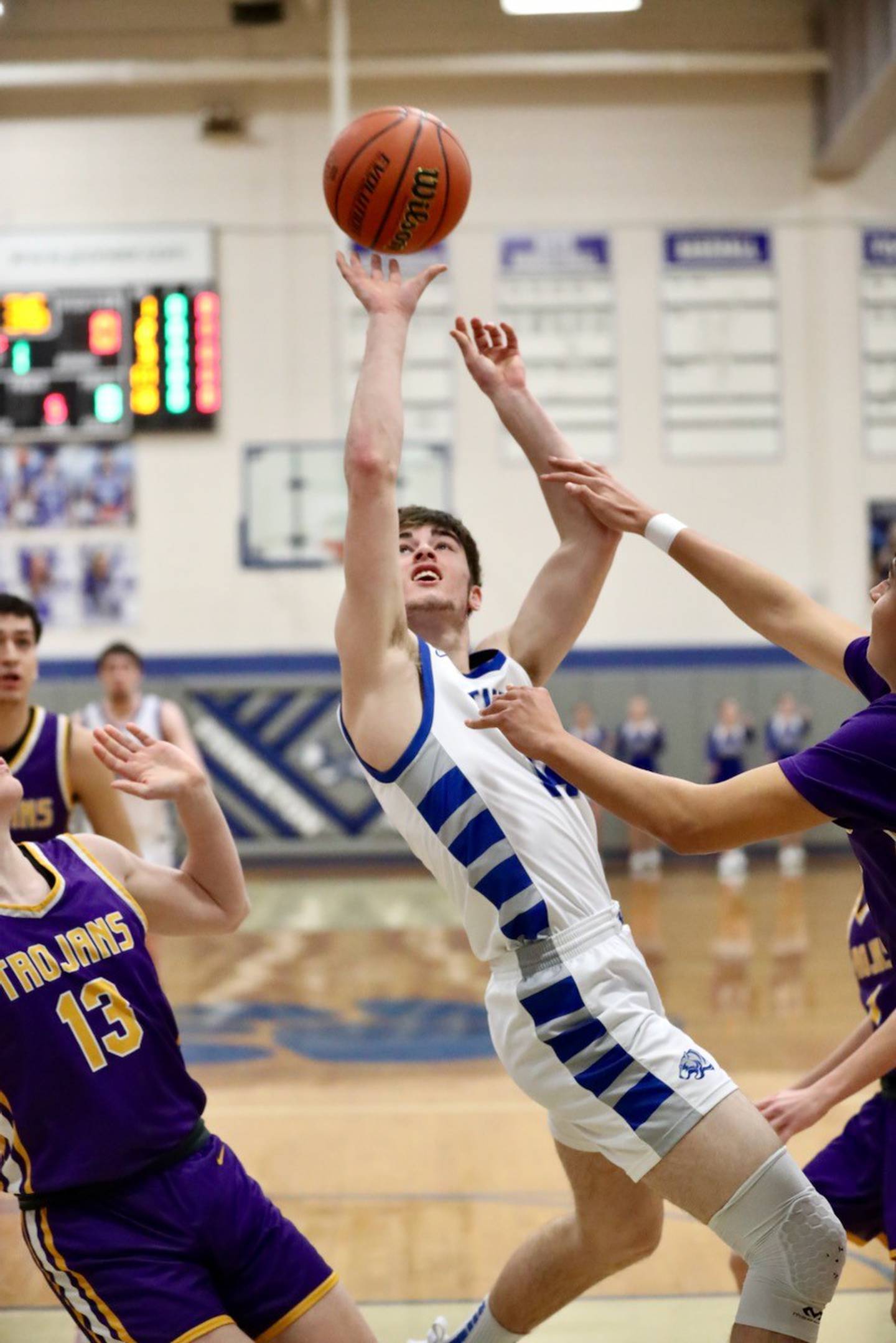 Princeton improved to 26-1 overall and 10-0 atop the Three Rivers East.
The Trojans (8-21, 2-8) hung close at 12-8, but the Tigers closed the first quarter with an 8-0 run with two baskets each by seniors Teegan Davis and Grady Thompson.
Davis, who volunteered to give up his starting spot to another senior, opened the second quarter with two hoops and then buried a 3-pointer to give the Tigers a 28-16 lead at the 6:30 mark.
The Trojans closed with 28-20 on a putback by Jaice Baird and basket by Rafa Romero.
Then it was off to the races for the home team.
Senior Kolten Monroe sparked an 18-1 run with nine points to send the Tigers to a 46-24 halftime lead, capped by a basket via an outlet pass from Rosario to Davis, who ran down the ball and flipped to Monroe.
"It's hard to slow the tempo down," Wasmer said. "They gamble on defense, but they have the athletes to do that. If they miss one of those steals, they got guys who can recover.
"That's a really good ball club. I think losing for them [to Normal U-High] was a really good thing. I saw that and thought, 'Ah, that's probably not a good for us that they lost." Jason would not admit it was fun they lost, but I think that will help them in the long run."
Princeton has won twice since losing its first game and Smith said they have put in their rear view mirror.
"We didn't dwell on the past. We just learned from it and go on. Look forward to the next opponent and it's St. Bede on Tuesday," he said. "It's all you can do is play the team that's ahead of you and that's what we're doing right now. You can't look back at the past, because you can't fix what's already done."
Smith said it was a good night for the seniors to be recognized.
"I just want to thank the seniors for buying in when they were freshmen. This is my first class to go four years with me. They're a big reason why our program is in the shape that it's in right now," he said. "I just want to thank them for buying in and all their hard work the last four years to make all this happen and I couldn't be more proud of a group of kids."
Davis and Thompson both netted 21 points with Monroe adding 16.
Romero led the Trojans with 15 points and Izaiah Nunez added 11.
Notes: Princeton's game scheduled for Saturday has been postponed to Feb. 14 with Byron in need of making up a conference game. Smith said, "I thought that was a win-win for us. One, our legs are getting tired playing three games a week the last three or four weeks. And two, we're filling that spot where we had a dead spot where we didn't have a game for a week. That will really help us, too." ... Princeton won Friday's sophomore prelim, 58-49. The Kittens got balanced scoring from Jordan Reinhardt (19), Asa Gartin (13), Liam Swearingen (12) and Jayden Fulkerson. Domenic Richey led the JTs with 17 points.