A new entrant in the barbecue realm is making delicious waves at the southeast corner of Randall Road and Fabyan Parkway in Batavia.
Checking out the website before heading over for dinner, we learned the fast-casual restaurant specializes in central Texas style barbecue, which means rubs trump sauce in flavoring their meats, which are smoked at low temperatures for between 4 and 18 hours. The meat is rubbed with spices and smoked over indirect heat to attain the target taste and texture.
The menu offers smoked meats ranging from brisket and turkey breast to pulled chicken, wings, sausage, burnt ends and pastrami.
We opened with an appetizer of Pig Candy, promising caramelized bacon with brown sugar and spices. Think Texas longhorn in the remarkable length of the bacon slices, a good thing once you take your first bite and suddenly crave many more. The guilty pleasure delivers a decadent treat with a mild heat that balances the sweetness.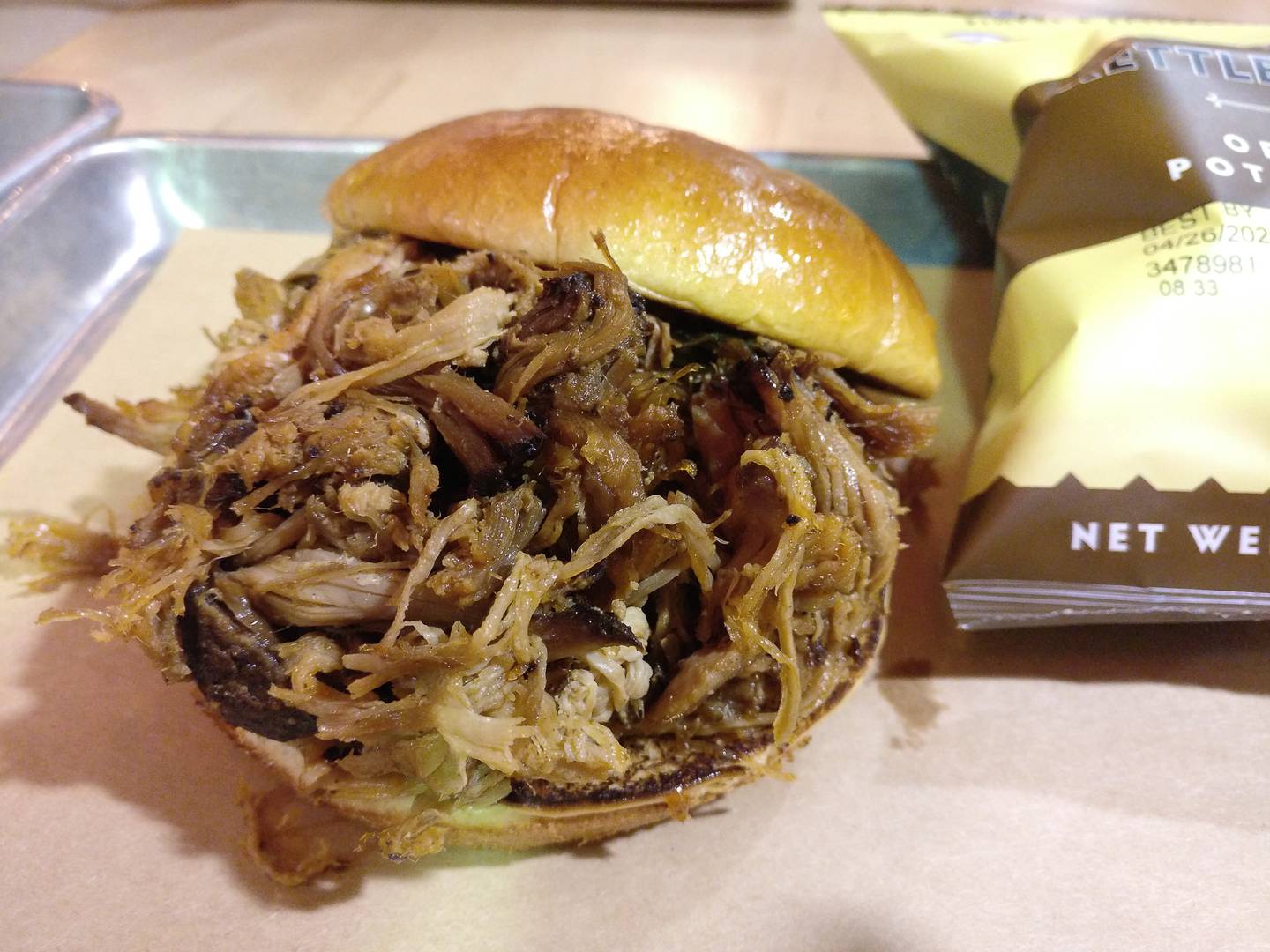 For our entrees, we enjoyed a generous pulled pork sandwich and a half slab of the baby back ribs.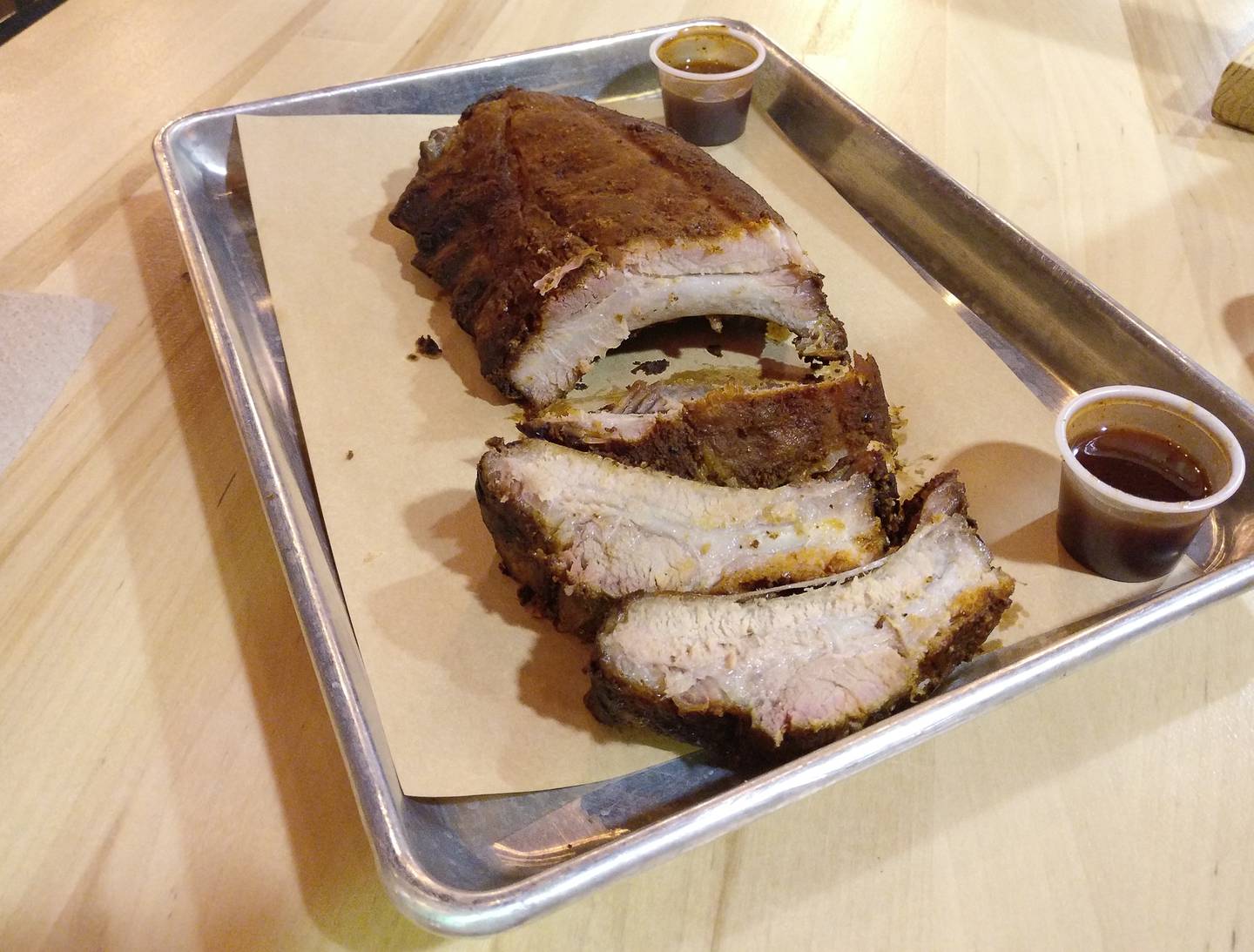 The ribs are superlative, with lots of meat on the bone, tender but with a satisfying chew. Given that we're drawn to the typical "slathered with barbecue sauce" take on ribs, this was a revelatory presentation, with the pork deeply infused with a dry rub creating layers of tantalizing flavor.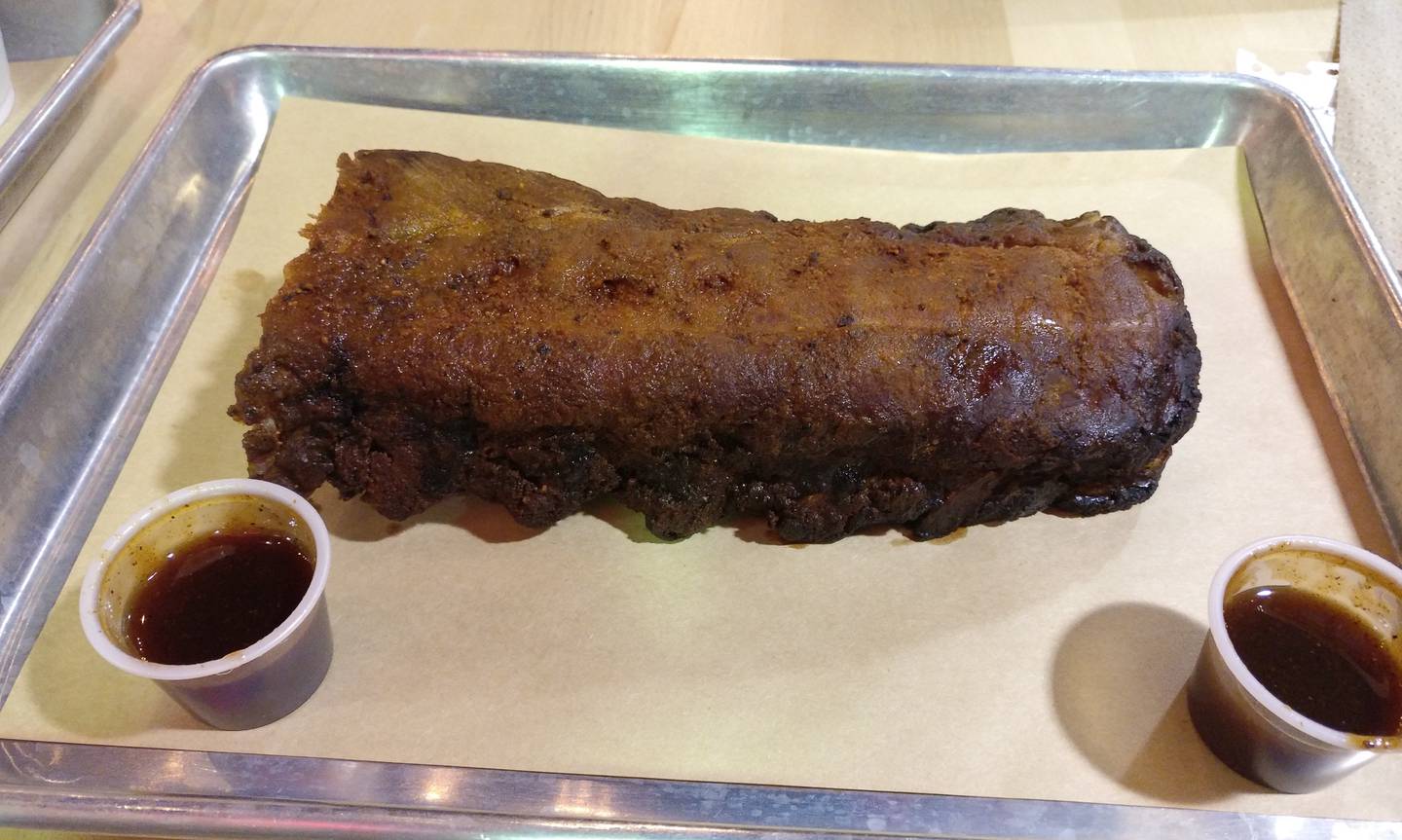 And the sides we sampled were enjoyable, the Mexican Street Corn with its Cotija cheese, mayonnaise and cayenne, and a moist cornbread muffin with tender kernels.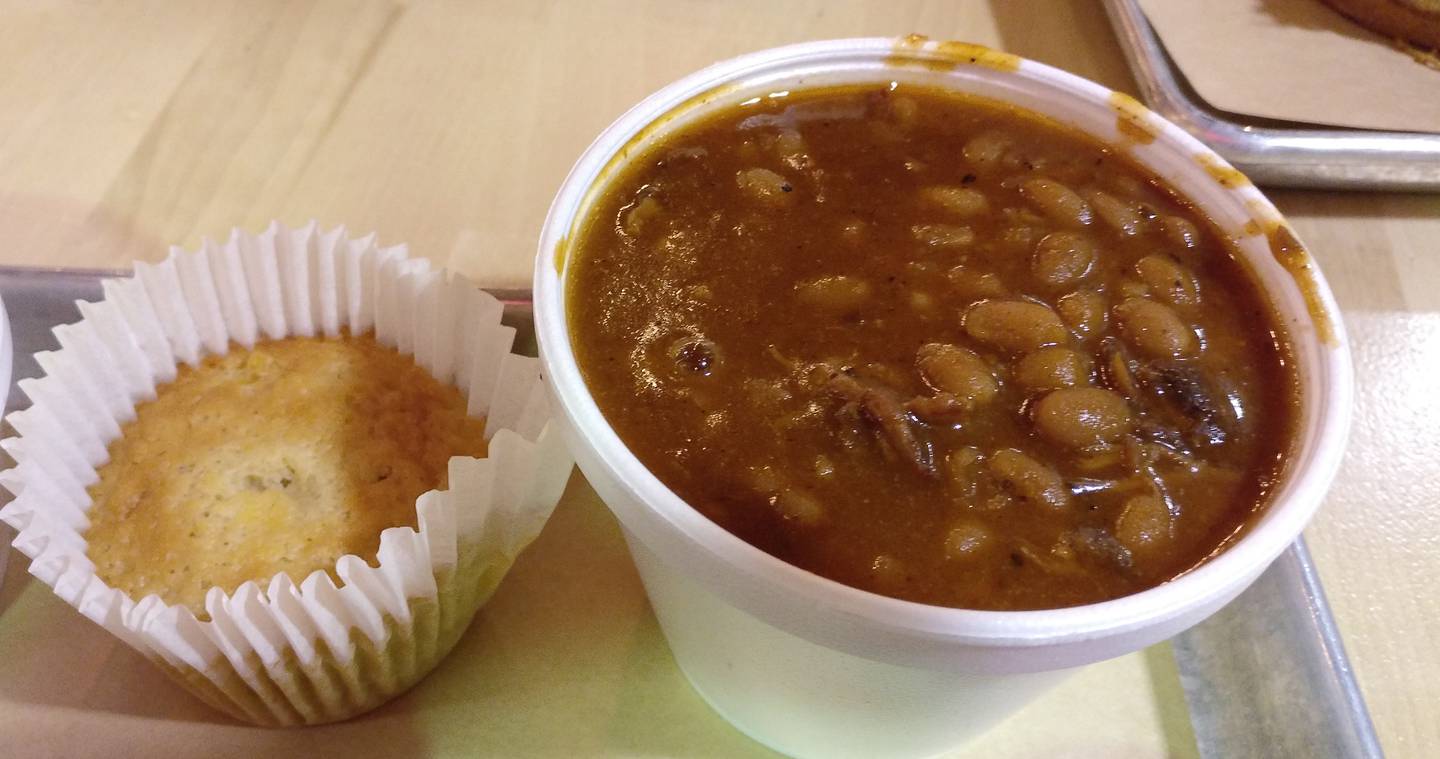 A lot's in a name, so pay attention when someone dubs a dish Monster Beans. The moniker is meant here in the best possible way. The baked beans take flavorful flight thanks to brisket, pulled pork and Pig Candy melded with a sweet sauce that has a mild spice factor.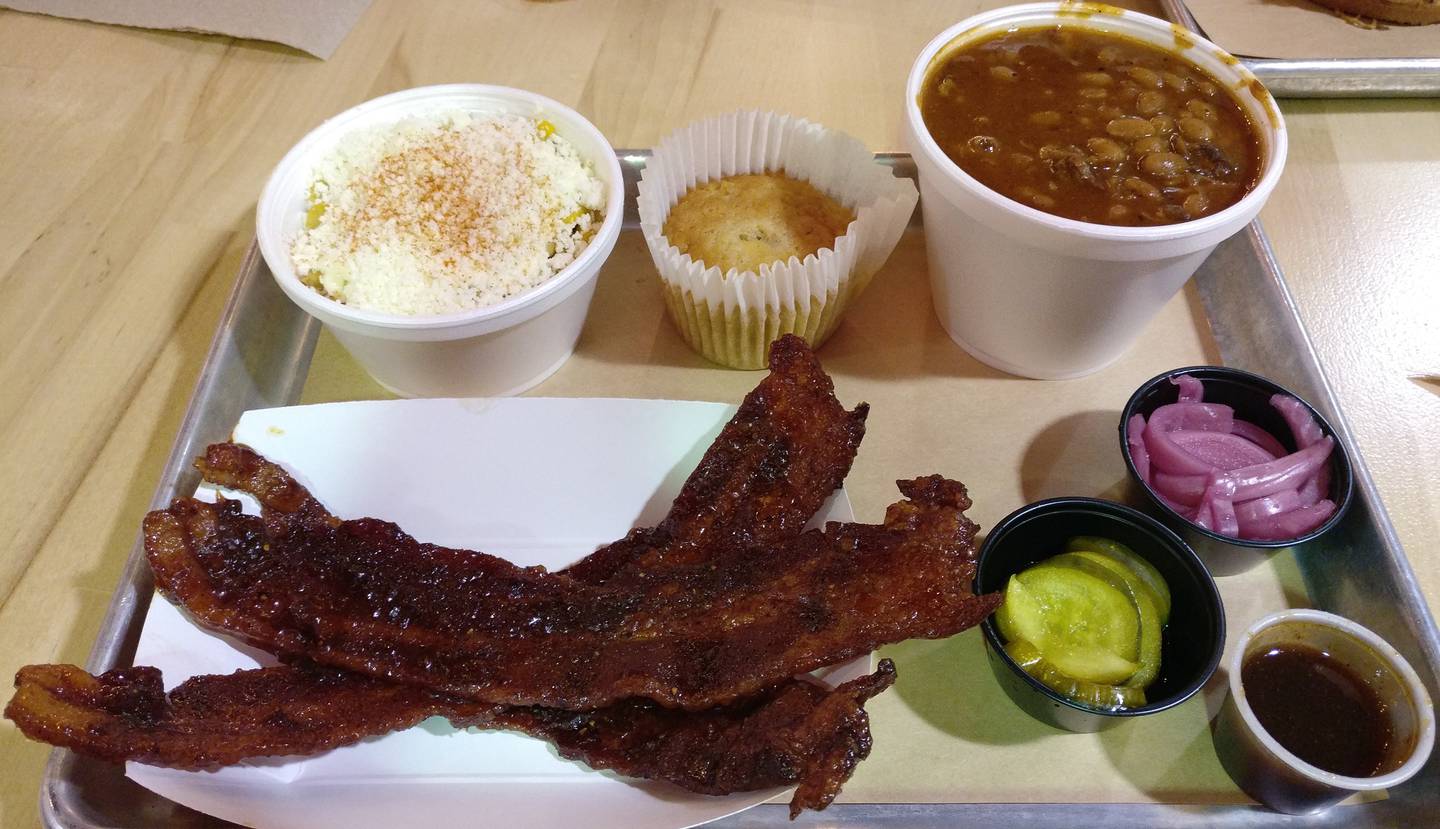 Dessert lovers always will find cheesecake on the menu, with specialty sweets like peach cobbler and other treats offered on the weekend. A cooler contains a selection of beers and other drinks, along with the fountain beverages. Daily specials range from a massive bone-in pork chop to smoked salmon and smoked prime rib.
We enjoyed the spacious and relaxed dining room with its well-spaced tables. Our server told us the restaurant opened in May, and is a sister to a 4-year-old location in Romeoville.
We look forward to returning to sample the brisket chili and more of the smoked meats, although we're likely to hold off on the turkey until our Thanksgiving entree is a little smaller in our rear-view mirror.
But I'm making a note that the restaurant was taking orders for Thanksgiving birds, and has catering options.
To find Doc Watson's, look for the big sign that simply reads BBQ.
• The Mystery Diner is a newsroom employee at the Kane County Chronicle. The diner's identity is not revealed to the restaurant staff before or during the meal. If the Mystery Diner cannot recommend the establishment, we will not publish a review.
IF YOU GO
WHAT: Doc Watson's Smokehouse
WHERE: 842 N. Randall Road, Batavia, and 444 N. Weber Road, Romeoville
WHEN: 11 a.m. to 8 p.m. Tuesday through Sunday
INFORMATION: 630-326-9604 for Batavia, docwatsonssmokehouse.com