KANSAS CITY, Mo. – The Chiefs demolished the Bears on Sunday at GEHA Field at Arrowhead Stadium. Kansas City scored 34 point by halftime and went on to finish a 41-10 victory.
Justin Fields and the Bears offense had little success to hang its hat on. The Bears defense, meanwhile, couldn't put up much of a fight against two-time MVP Patrick Mahomes and the Chiefs.
Head coach Matt Eberflus' team is now 0-3 and has lost 13 consecutive games dating back to last season.
Things were bleak on Sunday. But here are five takeaways from the game.
1. Where's the fight?
The Bears had every reason to play with nothing to lose. They were big underdogs Sunday against the defending Super Bowl champions and they had one of the worst off-the-field weeks that an NFL team can possibly have.
The least they could do was fight. Instead, they found themselves in a 31-0 hole at halftime.
The defense came up with a stop on the first possession, then gave up points on seven consecutive Chiefs possessions. Mahomes didn't really even have to work that hard. The Bears offense punted on its first three possessions, then turned the ball over twice before punting again to close out the first half.
In the Super Bowl era, only six NFL teams have ever made the playoffs after starting 0-3. The Bears came into this contest with an 0-2 record. Nobody expected them to win this game, but the least they could have done was put up a fight.
"We're charged with putting our players in the best position to execute, and that's what the coach does," Eberflus said. "And develop the players at the same time. We just got to do a better job."
2. The Bears passing attack looks broken
After all that talk of fixing the Bears offense this week, of finding the right way to play into Fields' strengths, the Bears offense looked as broken as ever. The team totaled 87 net passing yards. Fields finished his day with 11-for-22 passing for 99 yards with a touchdown and an interception. No. 1 receiver DJ Moore caught only three passes (including a touchdown) and two of them were once the game was already out of hand.
This passing attack is on life support. There remain a variety of symptoms. Not to be understated is the banged up offensive line. Backups Lucas Patrick, Ja'Tyre Carter and Larry Borom all had to start the game on the offensive line due to injuries.
Fields was under a fair amount of pressure, taking three sacks. Fields and the receivers couldn't connect when there were plays to be made. Fields himself has to take some of the blame too.
"There's no one more determined than Fields," Eberflus said. "Justin is working his tail off. And again, we're finding the flow for him. And we just have to keep doing it."
There's no one more determined than Fields. Justin is working his tail off. And again, we're finding the flow for him. And we just have to keep doing it."

—  Matt Eberflus, Bears head coach
3. Taylor Swift celebrates Travis Kelce's score
The vibes on the Chiefs' side of things were significantly different. Music superstar Taylor Swift was in attendance Sunday after Chiefs tight end Travis Kelce invited her to the game. Swift sat with Kelce's mom, Donna Kelce, in the Kelce suite.
Travis Kelce found the end zone on a 3-yard touchdown pass from Mahomes in the third quarter. Fox cameras caught Swift celebrating furiously, pounding her hands on the window of the suite.
Kelce had merely a good game by his standards – seven catches for 69 yards and a touchdown – but the All-Pro tight end didn't really need to beat the Bears because everyone else on his squad was pulling their weight. Running back Jerick McKinnon scored two touchdowns, and backs Isiah Pacheco and Clyde Edwards-Helaire each scored one.
The Bears defense came away with its first two turnovers of the season, but only after the Chiefs pulled Mahomes in favor of backup Blaine Gabbert, who threw two interceptions.
4. Beat up Bears secondary never had a chance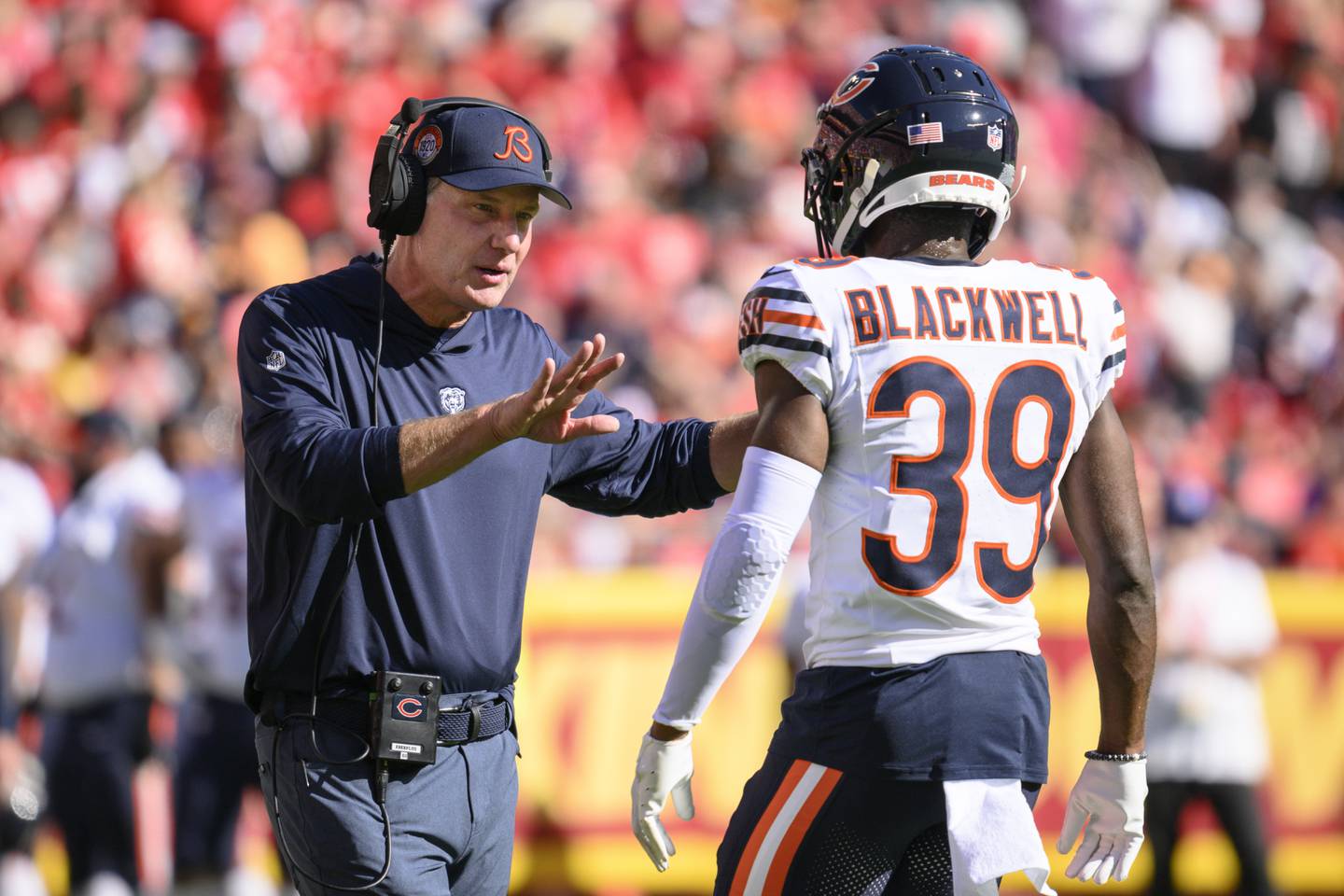 The Bears were already without starting safety Eddie Jackson and starting nickel corner Kyler Gordon. So when cornerbacks Tyrique Stevenson (concussion/illness) and Jaylon Johnson (hamstring) left the game and did not return, the secondary was in a tough spot going up against Mahomes.
The only regular starter on the field was safety Jaquan Brisker. Defensive backs Elijah Hicks, Terell Smith, Greg Stroman Jr. and Josh Blackwell all saw significant action.
Mahomes and the Chiefs simply rolled right through them, again and again. Mahomes threw for 272 yards and three touchdowns in basically two and a half quarters.
"I need to watch the film and then I'll be able to have a better idea, but it's going to come down to probably execution," said Hicks, who started in place of Jackson. "They didn't really run too many things we weren't prepared for."
That was the thing. The Chiefs didn't have to do anything fancy. It didn't help that the pass rush has been missing in action all season. The Bears did not have a sack in the game and they have just 21 sacks in the 20 games that Eberflus has been the coach.
"We're still finding our identity," defensive end DeMarcus Walker said. "I truly, honestly, believe that."
5. It can't get worse than this. Can it?
So where do the Bears go from here?
Well, they're underdogs on the sports gambling market next week despite facing a Denver team that just lost to Miami by 50. They have the Commanders the following week. On paper, those would seem to be winnable matchups.
But it's hard to see this Bears team beating anybody right now. The Bears haven't started a season 0-4 since 2000.
"We just got smacked in the face the first three games," Fields said. "We've just got to come out here and put it all together. Like I said, I'm going to keep saying the same thing. We've got to put it all together. We've got a lot of stars. We've just got to use them to our ability and execute the plan."
General manager Ryan Poles threw his support behind Eberflus and Fields in a media session earlier this week. But if the losses continue to pile up, that patience may where thin.