LAKE FOREST – The long wait is over. After months of talk, the Bears finally will be playing meaningful football. The 2023 season starts off strong, too, with a rivalry matchup against the Green Bay Packers on Sunday at Soldier Field.
Aaron Rodgers is gone. Shipped off to New York to play for the Jets. In steps Jordan Love, the 24-year-old quarterback who the Packers selected 26th overall in the 2020 draft. A new era of the Bears-Packers rivalry is here. Love is only the third QB to start Week 1 for the Packers in 30 years.
The Packers have won eight straight games in this rivalry (Green Bay holds the all-time edge at 105-95-6). They've won 13 of the past 14 matchups, and the Bears have won a grand total of three games since 2010. It has been as one-sided as any rivalry could be.
Still, with Rodgers gone, there's optimism in Chicago. The game kicks off at 3:25 p.m. Sunday and will be broadcast on Fox. Here's what to watch for.
1. Justin Fields and the passing attack
All of Chicago is watching. The Bears committed to quarterback Justin Fields in the offseason, electing to pass on any of the quarterbacks in the draft and improving the offense in ways that should help their 24-year-old quarterback. They traded for top receiver DJ Moore and drafted right tackle Darnell Wright with their first-round pick. Midway through last year, they traded for receiver Chase Claypool with the same goal in mind.
Now, it's time to see what the Bears have been working on.
Fields knows he needs to improve as a passer if he wants to be an elite quarterback in the NFL. He threw for 2,242 yards in 15 games last season, with 17 touchdowns, 11 interceptions, 55 sacks and 16 fumbles. All of those numbers must improve if Fields is going to be the long-term answer.
Fields and the Bears should be able to run the ball. But will this passing attack show the necessary improvements? Bears fans are about to see their first glimpse.
2. Jordan Love and the unknown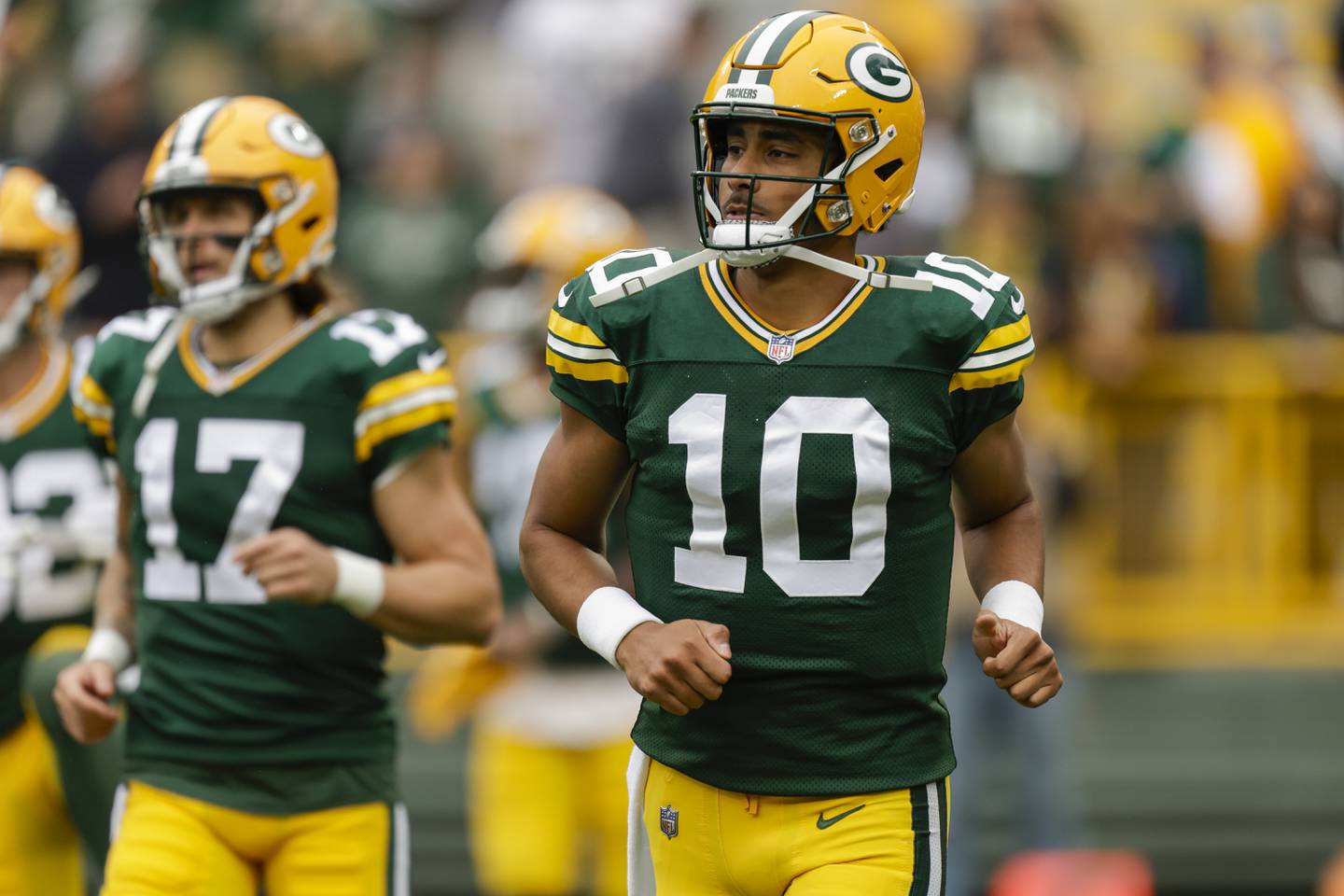 Speaking of unknowns, Love might be the biggest curiosity in the league this week. He started one game in 2021 when Rodgers missed time with COVID-19. That's not much to go off.
This much seems clear: Packers coach Matt LaFleur will continue to run his version of the Kyle Shanahan-style outside zone scheme, as he did with Rodgers. Now, however, LaFleur has a younger, more mobile quarterback at his disposal. Love isn't necessarily a scrambler, but he is more of an athlete than Rodgers was in his last years in Green Bay.
"What we're trying not to do is hunt up too many ghosts and say, 'We think he's going to do this, we think this going to happen, we think they are going to do these things,'" Bears defensive coordinator Alan Williams said. "What we have to focus on is what Green Bay has done up until this point."
What we're trying not to do is hunt up too many ghosts and say, 'We think he's going to do this, we think this going to happen, we think they are going to do these things.'"

—  Alan Williams, Bears defensive coordinator
There are plenty of questions about Love's receivers. The Packers have a relatively unproven group at the position. Expect to see the Packers lean on their run game and shift the pocket laterally like the Bears do with Fields.
Love has everything to prove in Green Bay. The Bears hope they can make his first test a tough one.
3. Key Bears rookies
Sunday will mark the debuts of several rookie contributors in the Bears' lineup, notably Wright, the right tackle and the No. 10 overall draft pick. On defense, second-round pick Tyrique Stevenson will start at cornerback, and defensive tackles Gervon Dexter and Zacch Pickens will contribute off the bench.
Wright will be tested this season. When offensive tackles make mistakes, people notice. The Bears have high hopes for him, but he's a rookie. Mistakes are bound to occur.
Stevenson plays aggressive defense. He's a big, physical corner who will start immediately. Williams is confident about his rookie corner.
"Tyrique's been playing – I think you'll like what you see when the lights come on," Williams said.
The Bears have a lot riding on Dexter and Pickens. This defense needs to improve against the run and in the pass rush. That's why both of them are here.
4. Has the offensive line improved enough?
The Bears invested heavily in the offensive line. They drafted Wright and signed veteran guard Nate Davis to a three-year, $30 million contract. Entering training camp, the starting lineup looked solid, but the depth was in question.
Already, starting left guard Teven Jenkins is out with a leg injury. Because of that, veteran Cody Whitehair has moved to left guard and Lucas Patrick will come off the bench at center.
Being down a man in Week 1 isn't ideal. Still, Wright and Davis should make this line better. Nobody is doubting that the Bears can block well in the running game. They led the NFL in rushing yards in 2022. The bigger question is in the passing game.
Is Wright going to be good enough at right tackle to fend off NFL edge rushers? Has left tackle Braxton Jones taken the next step in his development from his rookie season? Is the interior solid enough with Patrick at center?
The Bears don't want Fields running for his life.
5. What does an improved Bears defense look like?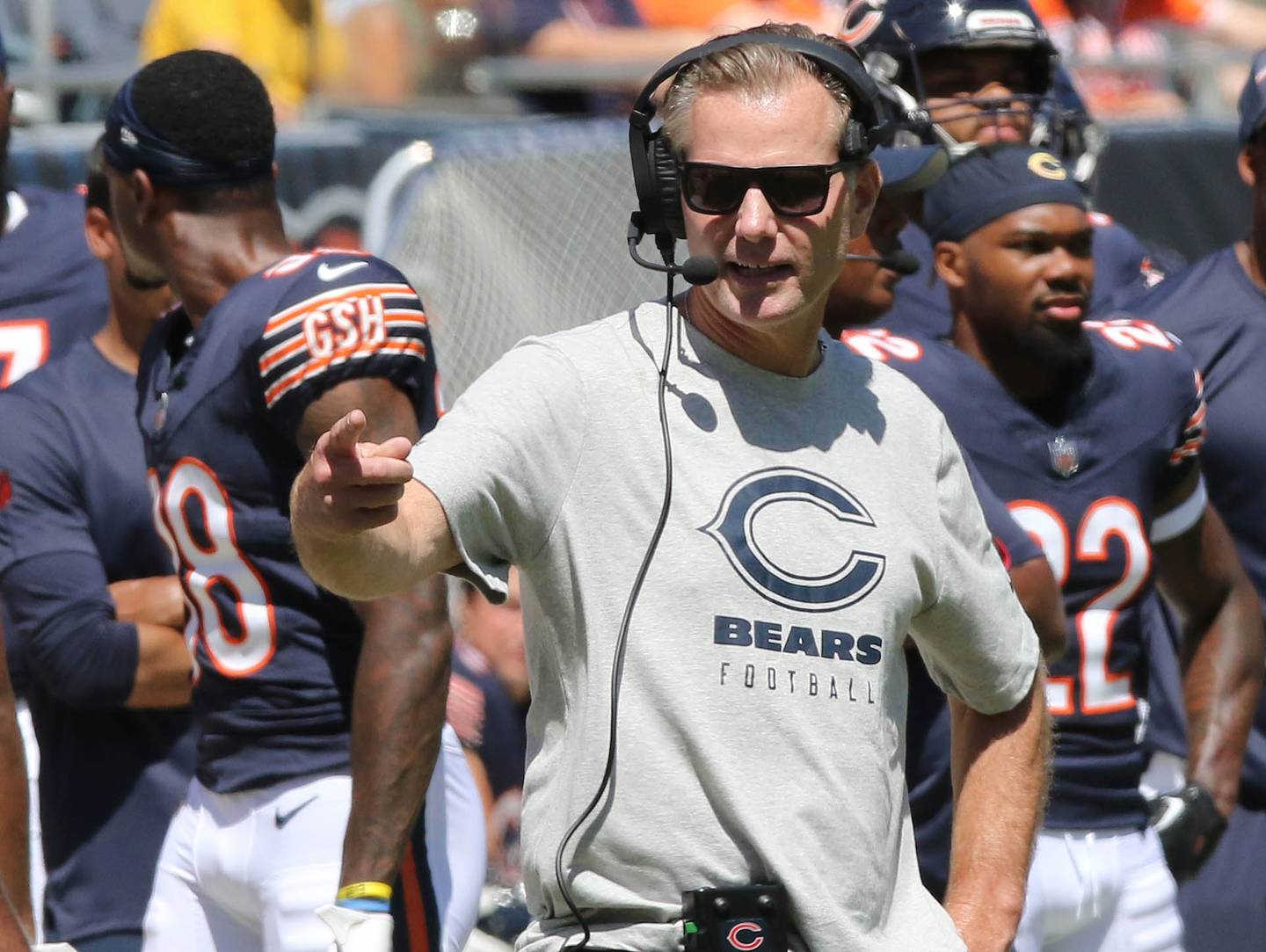 The Bears spent big money on the linebacker position, signing Tremaine Edmunds (four years, $72 million) and T.J. Edwards (three years, $19.5 million). They completely revamped the defensive line, notably bringing in defensive end Yannick Ngakoue (one year, $10 million). The secondary is the same as a year ago, except with the addition of Stevenson at cornerback.
In 2022, the Bears were the worst defense in football. They allowed 27.2 points per game (32nd among 32 teams) and 375.9 yard per game (29th). With the additions made, this defense should be much improved.
The biggest question remains the defensive line. Have they done enough to disrupt opposing quarterbacks. If the QB has all day to throw, it won't matter how good the secondary or linebackers are. The Bears want to play a physical brand of football. Head coach Matt Eberflus wants takeaways.
This is just a one-game sample size, but the Bears will be feeling really good about the future if they can shut down Love and the Packers.