CHICAGO – Quarterback Justin Fields and the Bears' first-team offense caught everyone's attention Saturday on two explosive touchdowns.
Receiver DJ Moore and running back Khalil Herbert each caught short passes from Fields and went the distance to the end zone thanks to some well-timed blocking ahead of them. Moore's touchdown went for 62 yards, while Herbert's went for 56 yards.
The Bears beat the Titans, 23-17, on Saturday at Soldier Field in Chicago.
Other than the explosive plays from Moore and Herbert, here were the big takeaways from Saturday's preseason action.
Tyrique Stevenson's energetic debut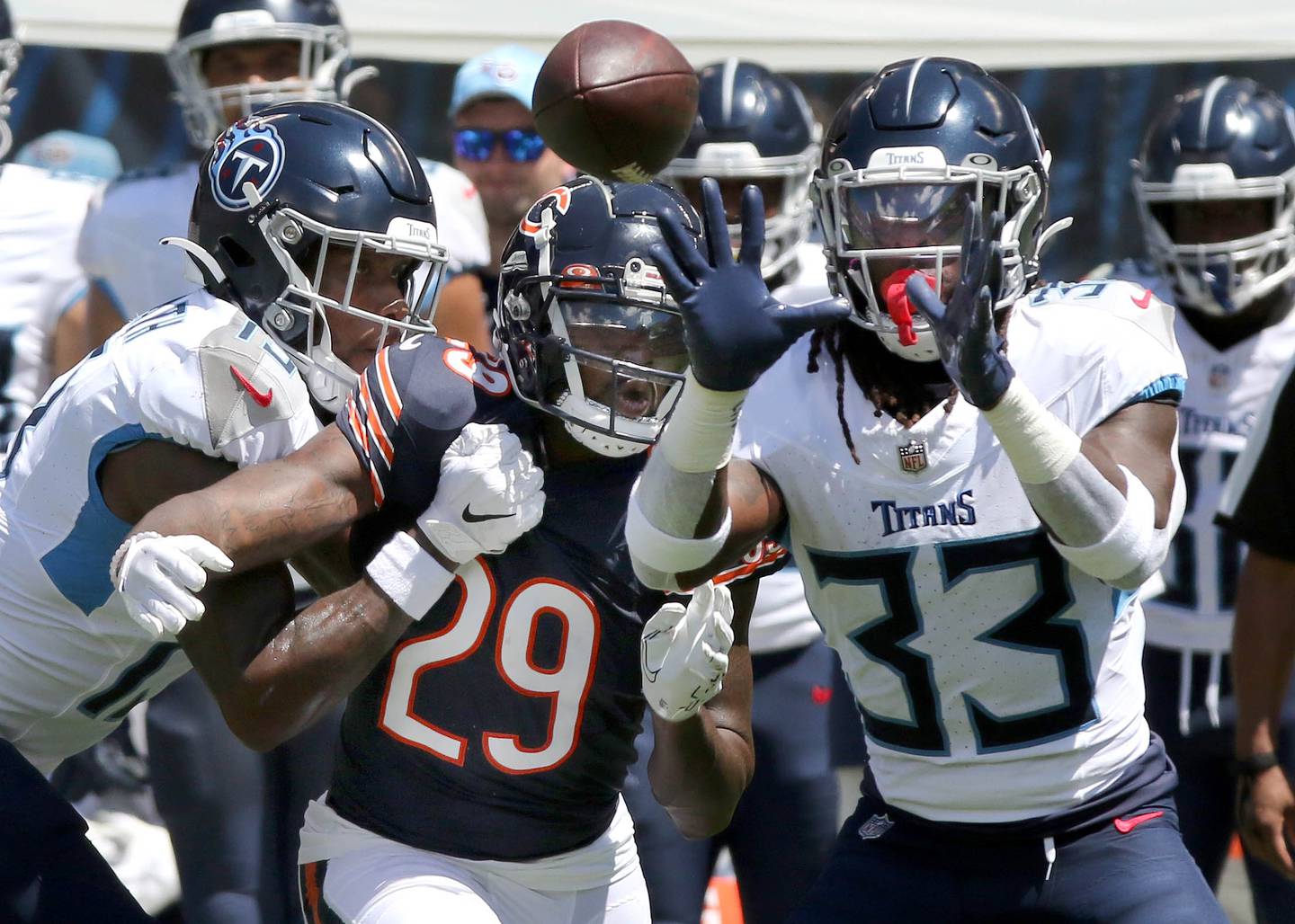 Rookie cornerback Tyrique Stevenson started the game for the first-team defense. He made his presence known quickly with seven tackles, including one tackle for loss, and a pass defended. Stevenson has been battling for a starting spot with fellow rookie Terell Smith. Smith, however, has been dealing with an undisclosed injury and did not play Saturday.
"It's just the game of football," Stevenson said. "I went out there with the confidence I always keep. The game pretty much went fast. Had a couple mistakes I have to clean up, but other than that I was out there and pretty much felt comfortable."
Stevenson showed his physical play style early on. The Bears drafted him with a second-round pick (56th overall) because they like his size and his physical style of play.
"I knew that was coming," Bears head coach Matt Eberflus said. "The reason he's here is because of that, because of his length and he's physical. And you saw that today."
"I knew that was coming. The reason [Tyrique Stevenson is] here is because of that, because of his length and he's physical. And you saw that today."

—  Matt Eberflus, Bears head coach
Zacch Pickens makes a difference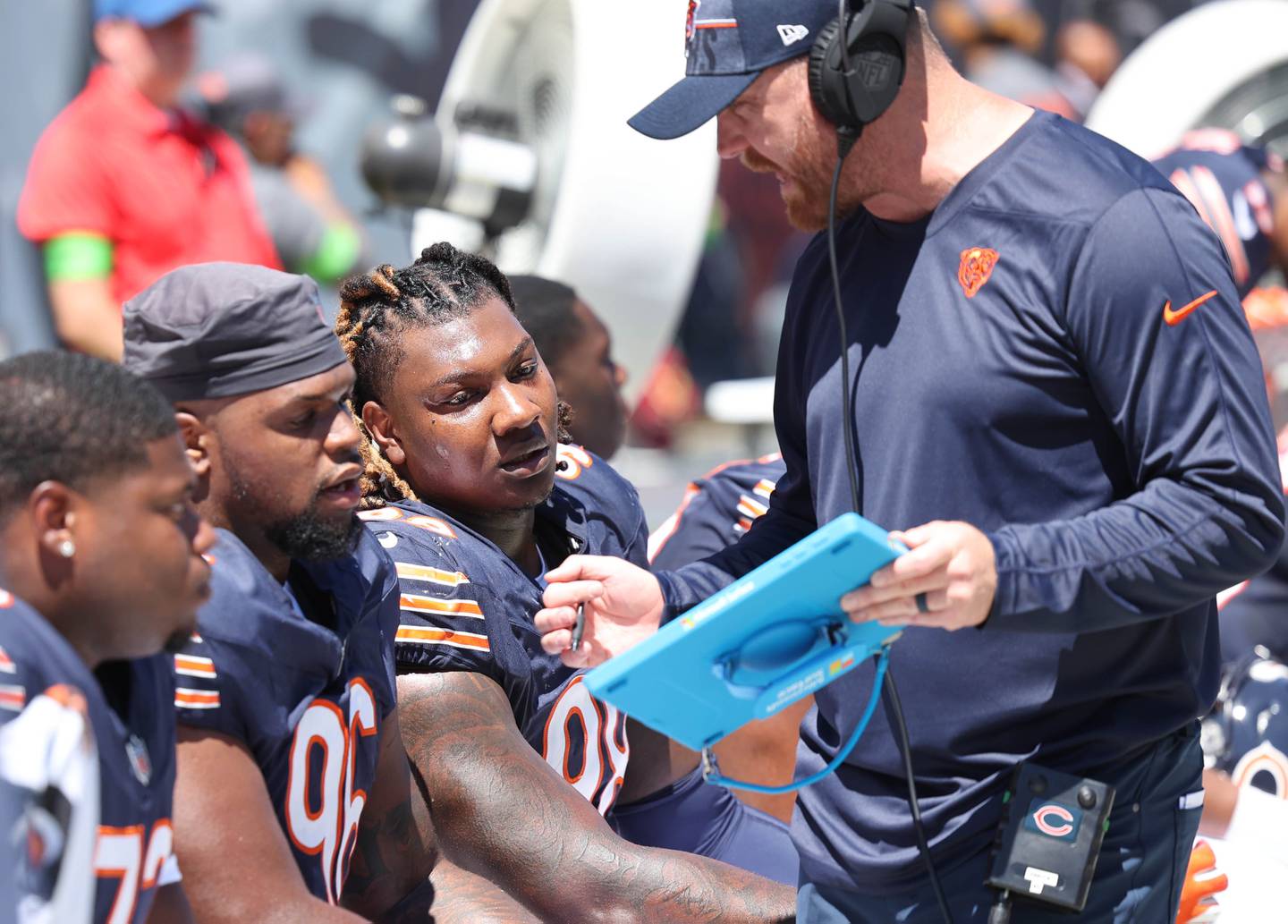 Rookie defensive tackle Zacch Pickens had a nice day in his preseason debut. In the first quarter, he sacked Titans QB Will Levis on third-and-9. Later, he recovered a fumble after defensive end Terrell Lewis strip-sacked Tennessee QB Malik Willis.
Pickens was a third-round draft pick (64th overall) in April. He and second-round pick Gervon Dexter are expected to be key additions along the defensive line.
Afterward, Pickens made sure to call his mom.
"She was just happy for me," Pickens said. "Usually she'll be here because she's always trying to be at every game and I want her at every game. So whenever she's not, I call her."
Velus Jones Jr. muffs another punt
A year after his notable struggles fielding punts, the Bears are giving second-year pro Velus Jones Jr. another shot at the punt returner job. On Saturday, Jones failed to field cleanly either punt sent his way. Both hit the ground. The first one he caught on one bounce and returned for seven yards.
The second one also hit the ground and he again tried to field it on a bounce. This time, the Titans clobbered Jones as soon as he touched the ball, knocking it from his grasp. Titans linebacker Luke Gifford recovered the muffed punt.
"Again, it comes down to fundamentals, it comes down to technique," Eberflus said. "We're going to work on that, reading the flight of the ball, getting ourselves in position early and then getting underneath the football and squeezing the ball down on the catch."
Jones had been doing a good job of catching punts during practice over the last few weeks. Special teams coordinator Richard Hightower had previously applauded Jones for improving as a punt catcher. Receivers Tyler Scott and Nsimba Webster also returned punts in the game.
Sack party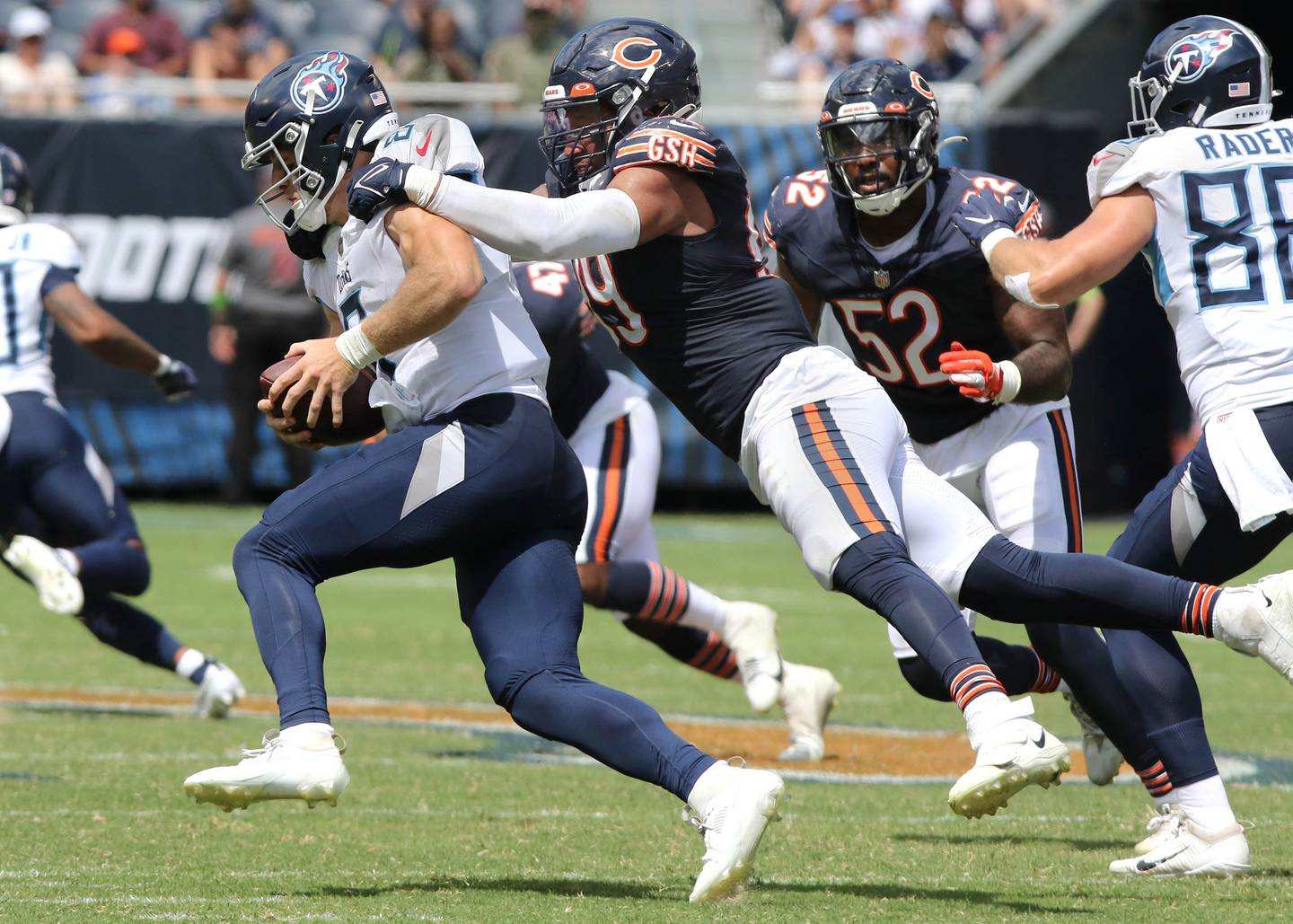 The Bears defense totaled eight sacks during Saturday's game. It was a tough day for Willis and Levis, who split quarterbacking duties for Tennessee.
The Bears totaled 20 sacks in 17 regular season games last year. Yes, it was a preseason game, but the defensive line was getting after it Saturday. Eight sacks is extremely promising, especially for a team that wasn't playing either of its starting defensive ends.
Defensive end Terrell Lewis led the way with two sacks, while Jalen Harris recorded 1.5 sacks. Pickens, Trevis Gipson, Micah Baskerville and Noah Sewell each had one sack, while Travis Bell had half a sack.
"It felt pretty good," Pickens said of his sack. "It's been a minute since I did that. It felt pretty good to sack the quarterback."
Key absences
Several expected starters did not play in the game. The Bears continue to be extra cautious with injuries at this time of year.
The following players did not suit up: safety Jaquan Brisker, receiver Chase Claypool, cornerback Terell Smith, linebacker Tremaine Edmunds, linebacker Dylan Cole, offensive lineman Lucas Patrick, right guard Nate Davis, receiver Dante Pettis, defensive end Yannick Ngakoue, defensive end DeMarcus Walker, cornerback Josh Blackwell, linebacker DeMarquis Gates and tight end Marcedes Lewis.
Ngakoue and Lewis only just began practicing after signing with the team last week. With Brisker, Edmunds, Ngakoue and Walker out, the Bears were without a good portion of their expected starters on defense. Dominique Robinson and Rasheem Green started in place of Ngakoue and Walker at defensive end. Claypool suffered a hamstring injury earlier this week in practice.