LAKE FOREST – Bears quarterback Justin Fields is ready to build relationships with the offensive talent the organization acquired over the offseason to help him develop into the quarterback Fields believes he can become.
General manager Ryan Poles acquired talented players to surround the third-year quarterback, and Fields said Tuesday he is grateful for the investment and support.
"It's awesome for me, getting that trust from the coaching staff," Fields said after the second day of the team's organized training activities at Halas Hall.
"We communicate all the time, we trust each other fully. Just having them behind me, they know the kind of leader I am to my teammates. They know how great I want to be. They know the work I've put in. It's great to have them behind my back."
"We communicate all the time, we trust each other fully. Just having them behind me, they know the kind of leader I am to my teammates."

—  Justin Fields, Bears quarterback
The Bears' biggest move of the offseason came when they traded the No. 1 overall pick to the Carolina Panthers for numerous draft picks and wide receiver DJ Moore. The team also signed guard Nate Davis and drafted offensive tackle Darnell Wright with the No. 10 overall pick, along with wide receiver Tyler Scott and running back Roschon Johnson in the middle rounds of the 2023 draft.
Fields has spent the first few days of OTAs trying to get on the same page with his new teammates, primarily Moore. The two connected for a long pass during Tuesday's practice and Fields said working on their connection has been a focus.
Moore finished last season with a career-high seven touchdown receptions and 888 yards with the Carolina. Although he said building his relationship with Fields has been a work in progress, he sees the potential quarterback that Fields can become.
"He's on par to be great for the season," Moore said.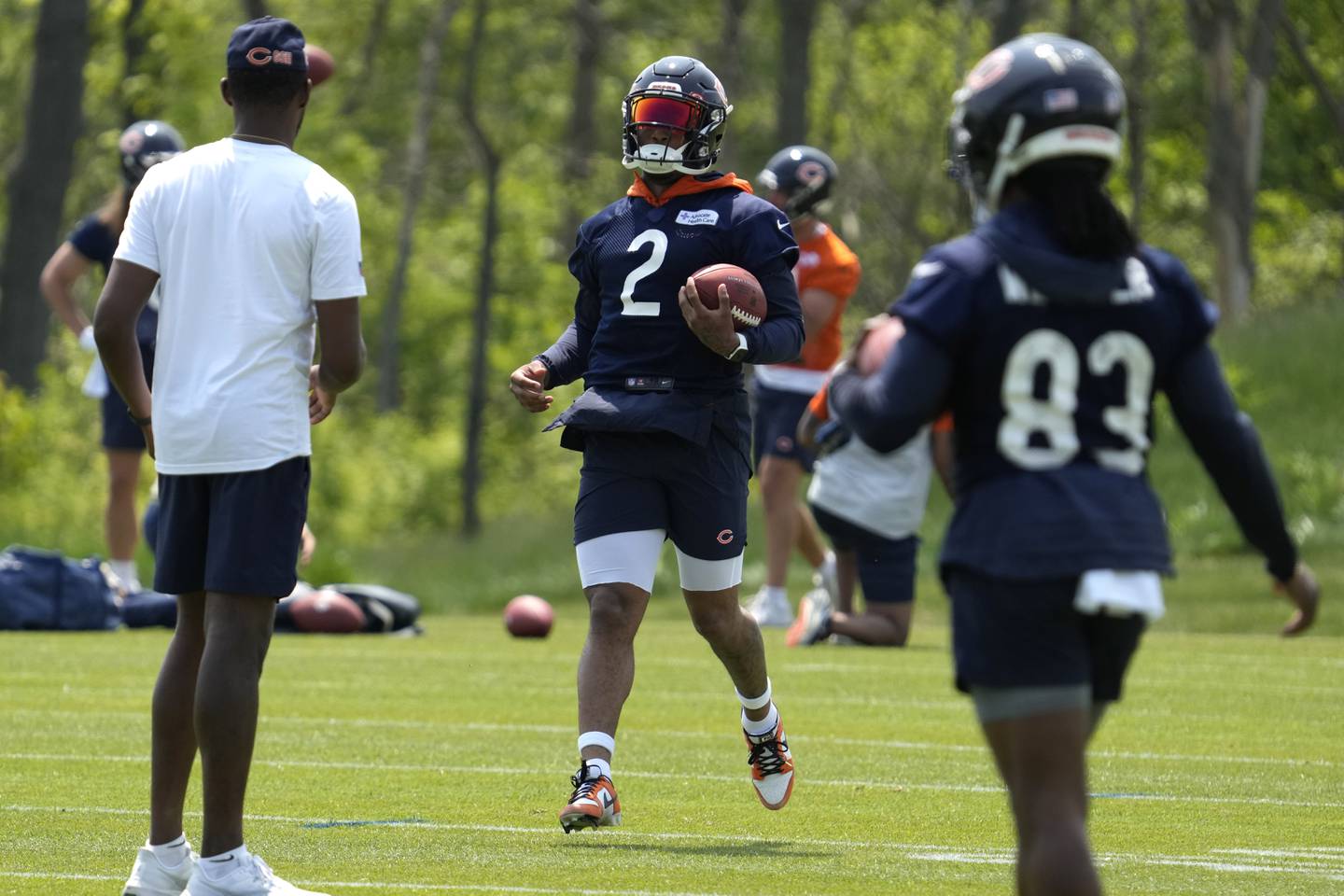 The two dedicated the first two days to learning about each other. It's routine for Fields and Moore to meet up after most plays to go over what the other was seeing. Right now, in May, it's about figuring out the timing on throws and their footwork.
But there's more to building a strong relationship between a quarterback and his offensive targets, according to Moore. He said there's been some joking around in-between plays as the offensive teammates try to build a rapport that works beyond the field.
"It's off the field," Moore said. "We can have the connection on the field, but when you go deeper into it, it's the off-the-field relationship, like the locker room relationship, even outside of work. That's what we're going to keep doing."
Bears coach Matt Eberflus has been impressed with Moore's speed, which he hopes can complement Fields' abilities. While there still are too many dropped passes during the first few days of practices, he's encouraged that the new offensive connection will grow.
"You need to see good execution, that they're all on the same page," Eberflus said. "You can just feel that rep after rep, it's the consistency of it. It's not just one time, it's pretty much every time."
Fields said wide receiver Chase Claypool has made a big jump since the end of last season and he's looking forward to working with wide receiver Darnell Mooney when he returns from an ankle injury. The four already were seen building a strong relationship when they attended a Bulls game over the offseason, and they'll continue to work on it over the offseason.
As for pressure or any contract talk, Fields isn't worried about any of that. He's just focused on building connections with his new offensive targets.
"Every year is a big year," Fields said. "I don't really have anything to expand on that, but every year is a big year and I'm excited to show it."
Taking attendance: Cornerback Jaylon Johnson, safety Eddie Jackson and Davis were not at the voluntary activities Tuesday.
"We'll coach the guys who are here," Eberflus said. "That's really all I can say."