While the Bears have been busy adding multiple free agents this week, including several who are very impressive, the most likely key new acquisition so far isn't a free agent at all.
It is wide receiver DJ Moore, who arrived as part of general manager Ryan Poles' trade of the No. 1 overall draft choice.
"To add capital this year in the draft, as well as the future, and set ourselves up with two [first-round picks] in '24, I couldn't be happier about that," Poles said Thursday at Halas Hall.
"But, then when you add a player like DJ Moore, who can help us right now get better, continue to add weapons on our team, I was over the moon about that. And not only getting a great player, but when you get to know DJ in a few minutes, you will understand he's a really good person."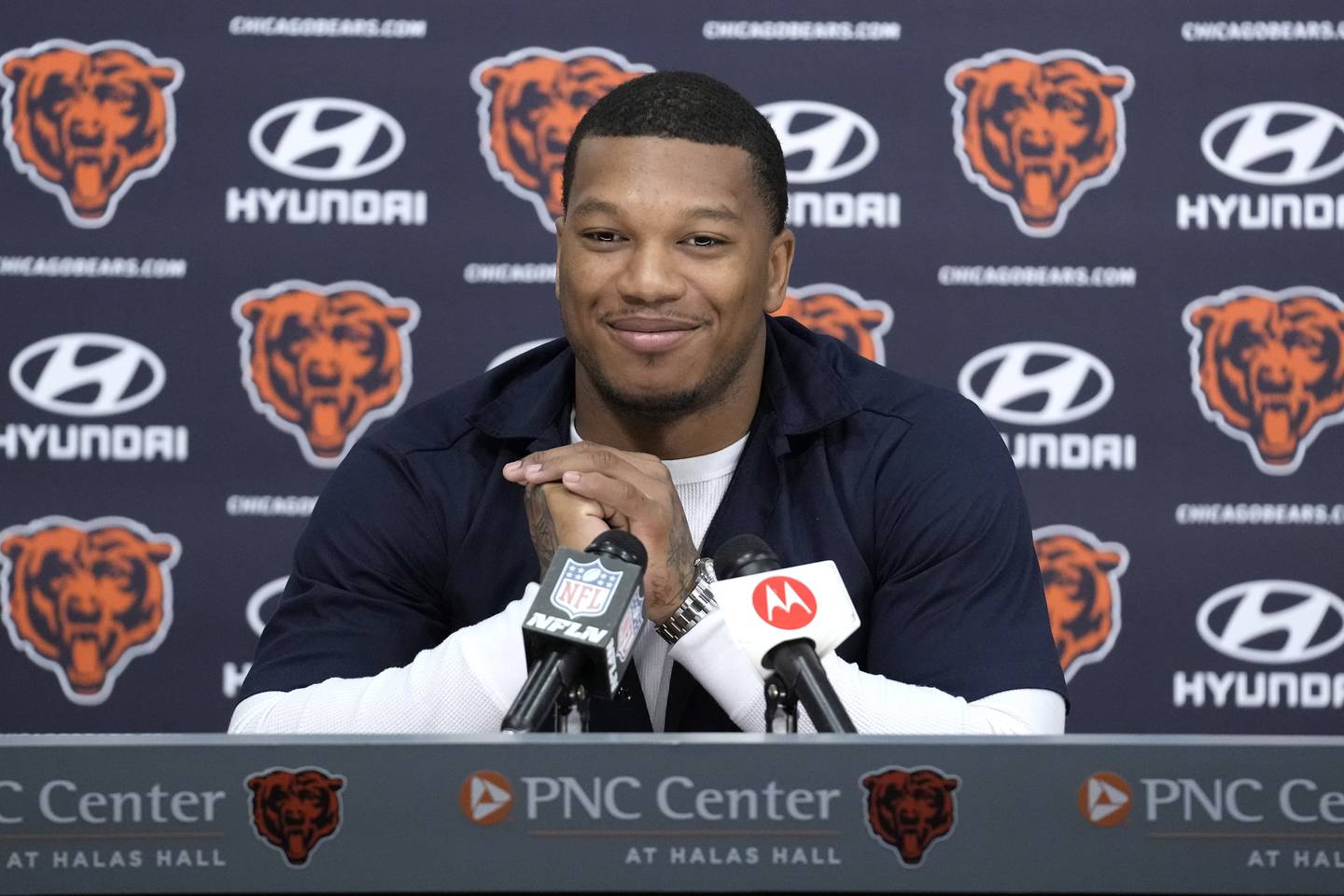 While all of that is great, it's not why adding Moore now was so critical. The key to the 2023 season for the Bears is finding out whether or not Justin Fields can become the franchise quarterback who leads them to the playoffs and Super Bowl contention. Being able to make a fair determination on Fields' future wasn't going to happen without upgrading the receiver corps.
Fields may, in fact, become that guy. He has great size, plenty of smarts, is an excellent runner and has more than enough arm strength. He's a fine young man his teammates appear ready to follow, and he looks ready to lead.
It's a great start, but it's not enough yet. The NFL has been loaded with prospects who had those tools but never became franchise QBs.
What separates the special ones is accuracy and a God-given gift and ability to see and know what's happening on the field before it is clear – and before anyone else knows it's coming. The best must be able to constantly and consistently deliver the ball into those spots most can't. Tom Brady, Aaron Rodgers, Patrick Mahomes have it, but very few others do.
There is a misconception that the reason the Bears had the worst passing game in the NFL last season was because they were so weak at receiver and on the offensive line. Very little of that was Fields' fault.
But you can't have the league's best running game with a bad offensive line. And as much as the Bears did need to get better at receiver – and their pathetic passing game certainly wasn't all Fields' fault – their struggles throwing the ball in 2022 were every bit as much about what Fields isn't seeing yet and, at times, questionable accuracy.
Several key sources have confirmed for me that while Poles and his crew genuinely like and are hopeful about Fields, they are realistic and know he hasn't shown what he needs to take the next step.
They are going to need to know by the end of this season, thus the need to be sure their receiver group and offensive line are building toward two of the better groups in the league. If they are, and Fields still is unable to take the next step, the Bears will be looking for a new quarterback next season. With two likely high first-round picks in that scenario, they'll have the capital to try again.
With the arrival of Moore, a true No. 1 wideout, they may already have given Fields the pass catchers he needs.
Darnell Mooney was looking like a potential No. 1 himself after his second season, but losing the last five games last year to an ankle injury, which required surgery, made his third season a wash.
Chase Claypool was drafted by the Pittsburgh Steelers to be a No. 1. Poles giving up what turned out to be the first pick in the second round of this year's draft suggests he thinks Claypool could have No. 1 or at least No. 2 talent, as well. If Poles is right, he may have a special wide receiver group.
The ball definitely is in Fields' court now.