Tyrik Henderson had a nickname for his buddy Greg Newsome when they were growing up.
"Touchdown Newsome," Henderson said. "He was always finding his way into the end zone. Always."
Henderson first noticed Newsome in elementary school when they played on rival youth football teams. By fifth grade, they were teammates on the Carol Stream Panthers. The Panthers almost always had two running backs in the backfield, and it was usually Newsome and Henderson.
"It was crazy because every team we've ever been on together, he was one of the fastest, if not the fastest guy on the field," Henderson said. "We literally did everything together from little league, to 7-on-7 with [Midwest] Boom, to high school football, we were like the duo. We called ourselves 'The duo.'"
They played in the same secondary at Glenbard North for two years on varsity before Newsome transferred to IMG Academy in Florida for his senior season.
This week, one half of "the duo" is about to realize his NFL dreams. Newsome, a stud cornerback from Northwestern, is earning significant buzz ahead of the NFL draft. Many are predicting he could be selected in Thursday's first round.
[ Hub Arkush's 2021 NFL draft preview: Top 200 draft board ]
Northwestern is on the verge of a historic draft, with potentially two first-round picks (the other being tackle Rashawn Slater). Newsome could become the first "three-and-done" draft pick of the Pat Fitzgerald era. He didn't redshirt and is leaving a year early.
"That was definitely a goal of mine," Newsome said at his Pro Day last month. "And I knew that if I put my head down this offseason and worked, I knew that it was going to be a possibility after the season."
His former coaches and teammates at Glenbard North knew he had potential. Newsome was a friendly kid back then who always had a smile on his face, and he had the athletic abilities to back it up.
"We all saw it when he was in high school," Glenbard North football coach Ryan Wilkens said. "How tall he was and how explosive. I mean, a first-rounder? No, you can't predict that. But having a shot at the pros? We all thought he would."
'I knew the opportunities that football can give me'
Newsome thought he was "the best basketball player there was," he said.
He was a successful sprinter and long jumper in track. He played point guard on the Glenbard North varsity basketball team as a sophomore and junior. A long, rangy guard who could leap out of the gym, Newsome grabbed rebounds over much taller forwards.
"You could see on the basketball floor he would make up speed, defensively be able to cut guys off, those kind of things," Glenbard North basketball coach Joe Larson said. "It was at another level as far as athleticism was concerned."
Newsome credited his mom with keeping him focused on football. His athleticism transferred to almost any sport, but his 6-foot stature made him the perfect defensive back, if somewhat undersized for a Division I point guard. There's also a lot more football scholarships to go around than basketball.
"The reason that I chose football was more so it was put in front of me," Newsome said. "I knew the opportunities that football can give me because of recruiting and things like that. There's more opportunities in football. I'm going to give all the credit to my mom. When I was in sixth grade, I was playing AAU basketball, 7-on-7 had just started up and my mom just took me out of basketball altogether. I was mad at the time, but I think she chose the right thing for me."
Henderson and Newsome played varsity football as sophomores. They were still lanky kids weighing in at about 150 or 160 pounds.
"We were at the age where we were very immature and the stuff that hurt, we didn't like doing very much," said Henderson, who played cornerback at Northern Illinois but has since transferred to Iowa Western Community College.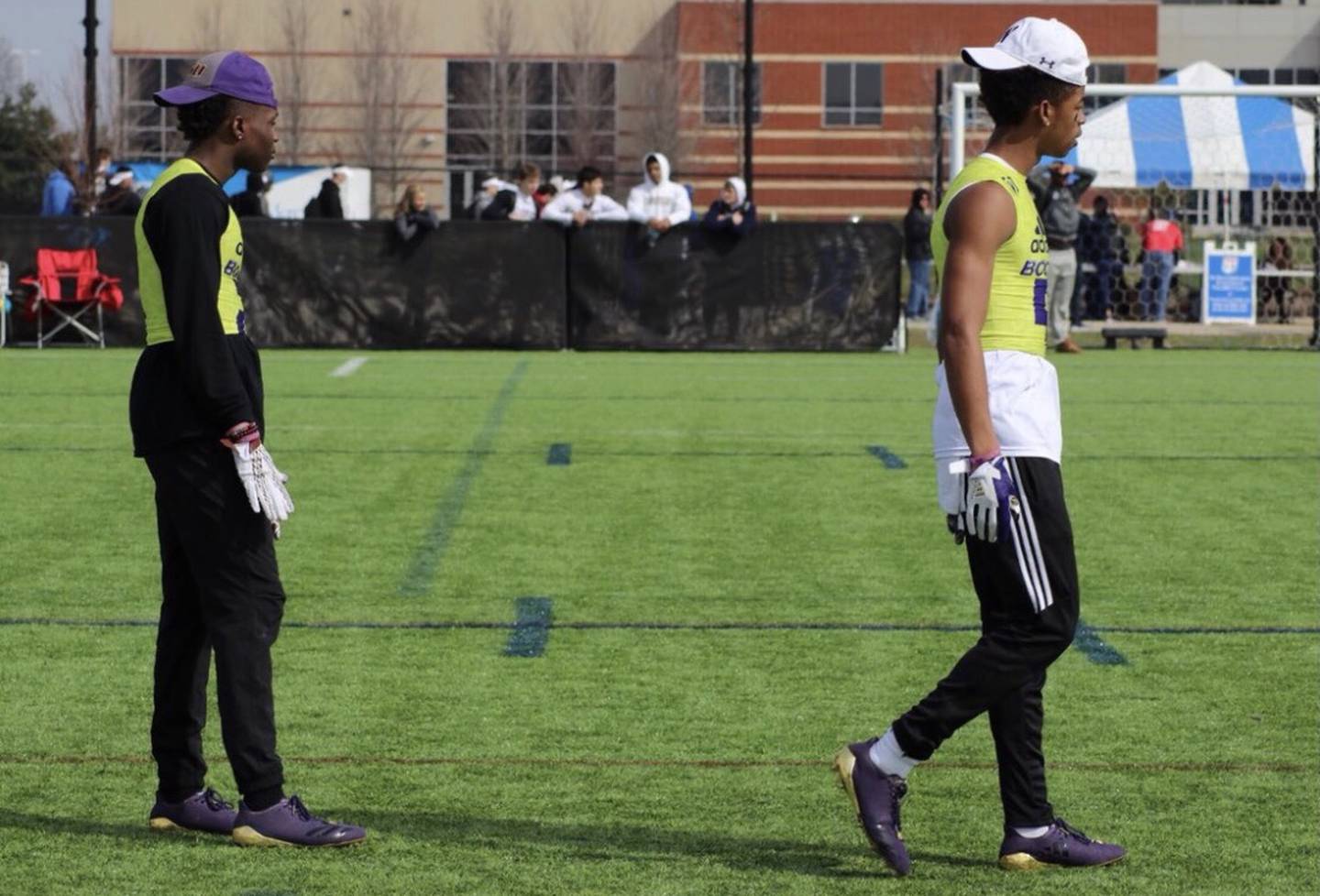 They were expected to play offense and defense as juniors. That was the year they learned to love the weight room. Newsome always had speed. All these years later, Newsome isn't that big (6-foot, 192 pounds at Pro Day), but his 4.38 40-yard dash time speaks for itself.
"He put more emphasis on the weight room because his speed was always there," Henderson said. "Speed has never been a problem for Greg."
During their junior football season in 2016, Glenbard North went 7-2 in the regular season and nearly upset eventual state champion East St. Louis in the second round of the IHSA Class 7A playoffs. Newsome scored three touchdowns in that game against a Flyers team loaded with Division I talent.
The following spring, he committed to Northwestern. He also made the decision to transfer to IMG Academy in Florida for his senior season. Wilkens was disappointed by that decision, but said "there's no ill will toward Greg whatsoever." Unfortunately, that meant his basketball days were officially over too.
'He's running routes before receivers are'
At Northwestern, Newsome played six games as a true freshman in 2018. In nine games as a sophomore, he totaled 11 passes defended. In a six-game season in 2020, he had 10 passes defended and an interception.
Northwestern coach Pat Fitzgerald said Newsome has the field speed to succeed in the NFL.
"Whoever gets him will see that," Fitzgerald said.
Shaw Local analyst Hub Arkush has Newsome rated as the No. 20 overall prospect in this year's draft. ESPN's Mel Kiper has Newsome at No. 21. The Athletic's Dane Brugler ranked him No. 18. As the draft approaches, it's looking more and more likely Newsome will hear his name Thursday night.
[ Hub Arkush's 2021 NFL draft positional preview: Cornerback ]
Wilkens believes Newsome's smarts are what will make him a great NFL player.
"He's on top of it," Wilkens said. "He's running routes before receivers are. He gets it."
At Northwestern, the Wildcats preferred to take away the deep ball and let receivers have some space for shorter passes. That didn't always sit well with Newsome.
"You can see the way I played this season, I was not OK with letting guys catch the football," Newsome said. "I just think that an NFL team, when they see my versatility and see that I can do it all, I don't see why I won't be the first corner off the board."
Newsome will be watching the draft virtually. The Glenbard North and Northwestern communities will be paying close attention, too.
"I really don't have any words to express how proud I am," Henderson said. "It's been our dream since little league. We were always talking about it."