The easiest way to reach the IHSA football postseason is to win six games and secure a playoff bid.
Ten local teams already have done that and will hear their names announced when the 256-team field is revealed Saturday night.
But that's not the only way to get there.
PLAYOFF LOCKS
Bolingbrook (6-2 entering Week 9): The Raiders have locked in a bid, and kudos to them for doing so in a schedule that looked problematic to start the season. By picking up quality nonconference victories over Simeon and Minooka early in the season, the Raiders also have enough playoff points (opponents' wins) to likely find themselves with an opening-round game at home in the Class 8A field.
Joliet Catholic (8-0): The Hilltoppers are in great shape in the Class 4A field and could emerge with a top seed on the north side of the bracket.
Classes 1A through 6A are divided by the geographic makeup of the 32 teams. The projected Class 4A field indicates Joliet Catholic should stick on the north side of the bracket, but its position as the No. 1 seed in that draw depends on two things: a win over Montini in Week 9 and which class Kewanee ends up in, as it has been bouncing between the 3A and 4A draws. Kewanee has more playoff points than Joliet Catholic and would push the Hilltoppers down to the No. 2 seed if the Boilermakers do indeed land in 4A and also defeat Newman Central Catholic this week.
Lemont (8-0): The geography has a significant effect on Lemont's placement in the bracket, as well. Illinois geography would indicate that Lemont should be on the north side of the draw, but a high concentration of Class 6A qualifying teams reside near the Illinois/Wisconsin border, which almost certainly will push Lemont into the south bracket.
With a Week 9 win, Lemont will land the No. 1 seed in that bracket, but it will have to wait and see where powerhouse East St. Louis lands in the draw, as it lurks as a potential force in the 6A southern bracket.
Lincoln-Way East (6-2): The Griffins are rounding into playoff form after a surprise loss to Sandburg in Week 5.
The Griffins are in the mix as a potential top 10 seed in the 8A field, which is deep but likely will feature only three undefeated teams.
Morris (8-0): At one time, Morris looked like it might be trending toward a slot in the Class 4A field, but the potential field has adjusted against that, and it now appears 5A is much more likely.
With a win over Sycamore, Morris likely would lock in the No. 1 seed in the south bracket, which would help it for many reasons, one of which being it would keep itself away from Rochester for longer.
Plainfield Central (7-1): The Wildcats continue to break through walls. A Week 9 win would allow them to host an opening-round game in the Class 7A field.
Plainfield North (6-2): Plainfield North is bouncing back and forth between the Class 8A and 7A draws. It looks like a true toss-up over which class the Tigers will land in. Oddly enough, their seed likely would be much higher if they land in the Class 8A draw.
Reed-Custer (7-1): The Comets are headed to the playoffs for the first time since 2009. Friday's win over Coal City shows how the Comets aren't satisfied with just getting into the field.
An eighth win Friday would pin down an opening-round home game, although it looks fairly secure already.
Wilmington (8-0): The Wildcats have been tap dancing between the Class 2A and 3A fields all season. Although the last few weeks have had Wilmington trending toward Class 2A, all it will take is an upset by one small school in the final week of games to push the Wildcats back to Class 3A.
Provided it wins in Week 9, Wilmington will be the No. 1 seed in whatever bracket and classification it lands in.
Lockport (7-1): The Porters saw their dream of an undefeated season come to an end with a loss to Lincoln-Way East in Week 8.
But provided they collect a win in Week 9 over Andrew, the Porters still should find themselves among the top five seeds in Class 8A.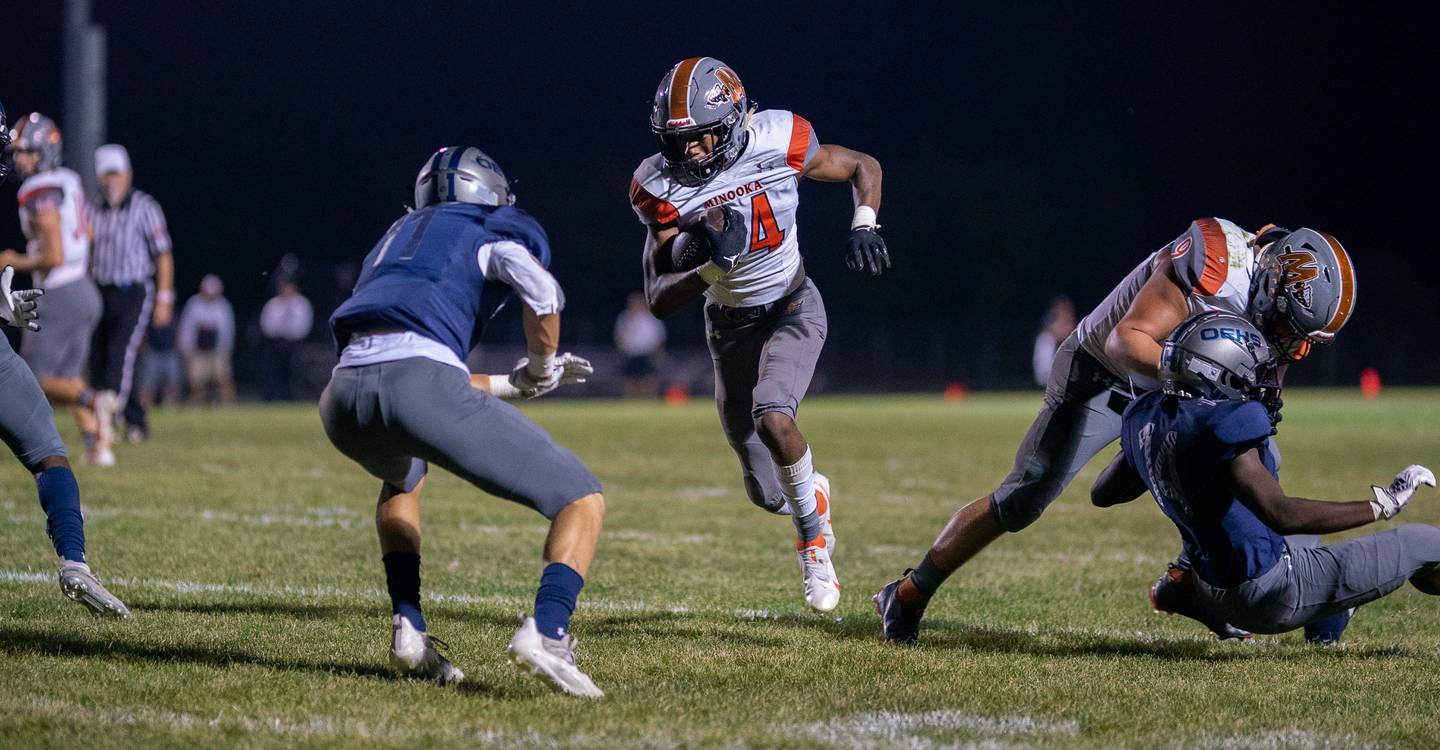 REALLY CLOSE TO SECURE
Coal City (5-3): Although you can't officially lock in a playoff berth until you've won a sixth game, it appears that nearly every (if not all) five-win teams in the state will make this year's playoff field.
Coal City could draw a wide variety of opponents in the north bracket in 4A, ranging from powerhouses such as Wheaton St. Francis to Chicago Public League teams, which typically have a rough time being competitive in the IHSA postseason.
Lincoln-Way West (4-4): The Warriors have righted the ship after a rough start but have a tough hurdle clear to get that fifth win in Homewood-Flossmoor. The victory would easily lock in the berth, but the Warriors haven't been accumulating enough points over the past few weeks to make them look like a viable team to qualify as a four win squad if they should lose.
Minooka (4-4): It's fairly simple for Minooka. Win its Week 9 matchup with West Aurora and make the field.
There's an outside chance Minooka still could make the field after a loss, but it isn't an ideal situation.
Peotone (5-3): The Blue Devils could make it a lot easier by toppling Lisle (also 5-3) in Week 9 to earn a playoff spot. Peotone is light on playoff points, but it looks safe given the likelihood that all five-win teams will make the field.
Plainfield East (4-4): As long as Plainfield East defeats 1-7 Romeoville in Week 9, the Bengals should be in as one of the lower seeds in the Class 7A draw.
NEEDS SOME HELP
Providence (3-5): Ordinarily a fifth regular-season loss, which Providence already has, fundamentally would disqualify a team from playoff consideration.
But this season is shaping up to be a bit different. There is a fairly good chance that at least a small number of teams will qualify for the postseason with only four wins.
Those teams will need a large stash of playoff points. On that count, Providence certainly fits the bill. Through eight weeks, Providence is tied for the second-most playoff points accumulated in the state, so if four-win teams do get in – provided the Celtics are able to defeat St. Laurence, which finds itself in the same boat at 3-5 with a large number of playoff points – Providence would be the first team added to the field as a four-win squad.