In chess, that first move might be crucial, but it's unlikely to be decisive.
It's the progression of subsequent moves that produce victory.
Math teacher Joel Penne has taken a similar tack as coach for the Sterling High School chess team.
A deliberate, low-key persistence over the years produced what was arguably one of the most successful seasons yet: finishing 20th in a single-class enrollment format that favors the schools with far more students.
"I love doing what I do, teaching math. I think at the end of the day, chess will be my legacy here. And so I hope to do it for a long, long time."

—  Joel Penne, chess coach at Sterling High School
"It took me 15 years of coaching chess before we finally won five out of seven matches at the state tournament," Penne said. "It's going to be really hard to replicate what this group of seniors have done."
But talk to a couple of the seniors on the team, and they don't mention wins and losses.
"It feels more like a family than feeling like an activity that we all have to partake in," Alexis Torres said.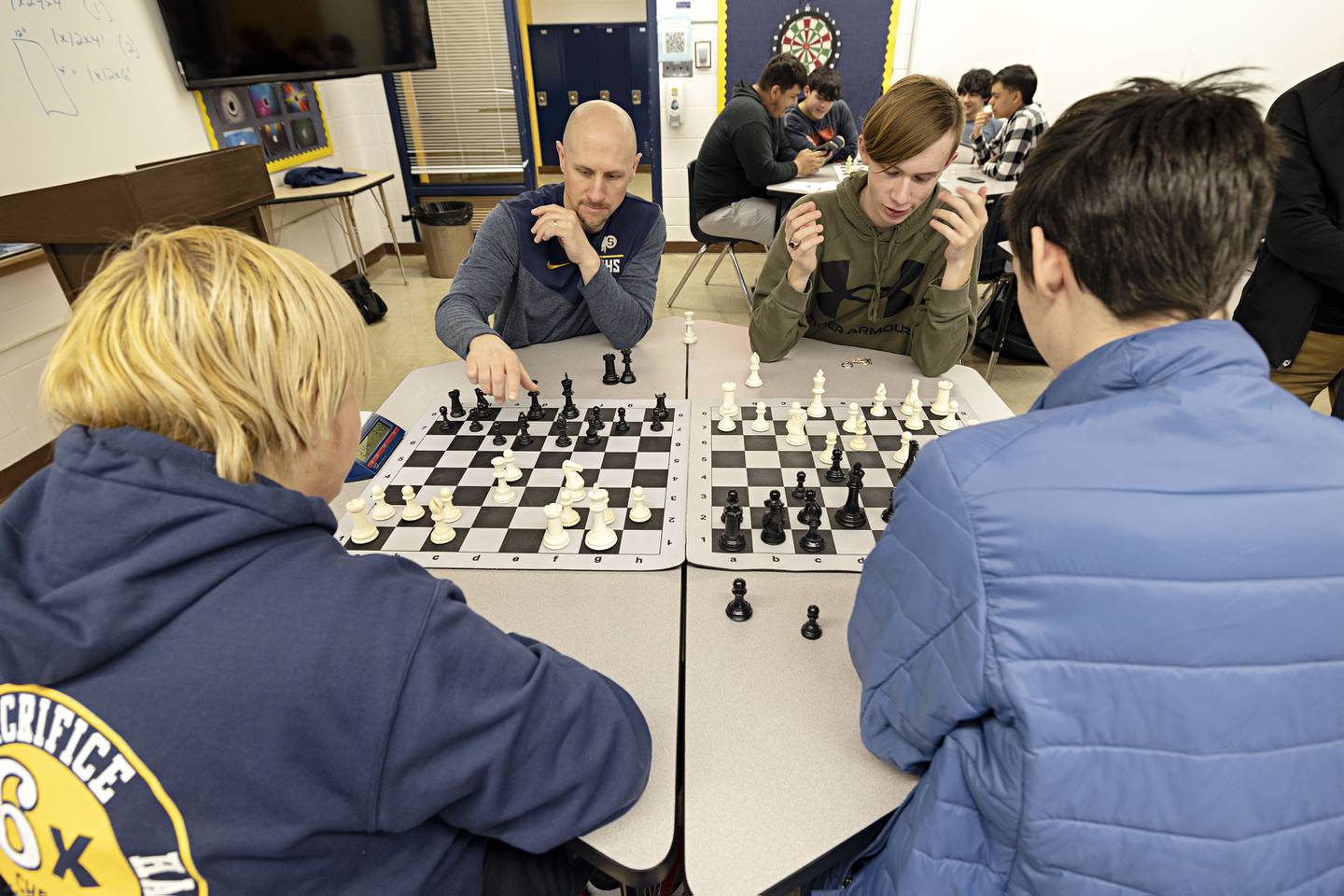 "Mr. Penne makes it feel more like a group of friends bonding together," said Elias Jensen, the last of a trio of brothers who led the program's shift from a club to interscholastic competition. "We have a lot of events where we don't even play chess. A cookout, a barbecue … Frisbee, golf. Jumping into a creek once or twice."
Family connections – like that of the Jensen brothers – have been part of the chess program's foundation. But the growth and interest in the game has taken root across the district's schools.
For example, Penne said he is thankful for the contribution by Challand Middle School teacher James Shamp, who for two years has run an instructional chess club for the junior high.
Penne said that although he talks to some students about coming out for chess ("I noticed you're not doing anything in the winter …"), it's the open door to his classroom that does the trick more often enough.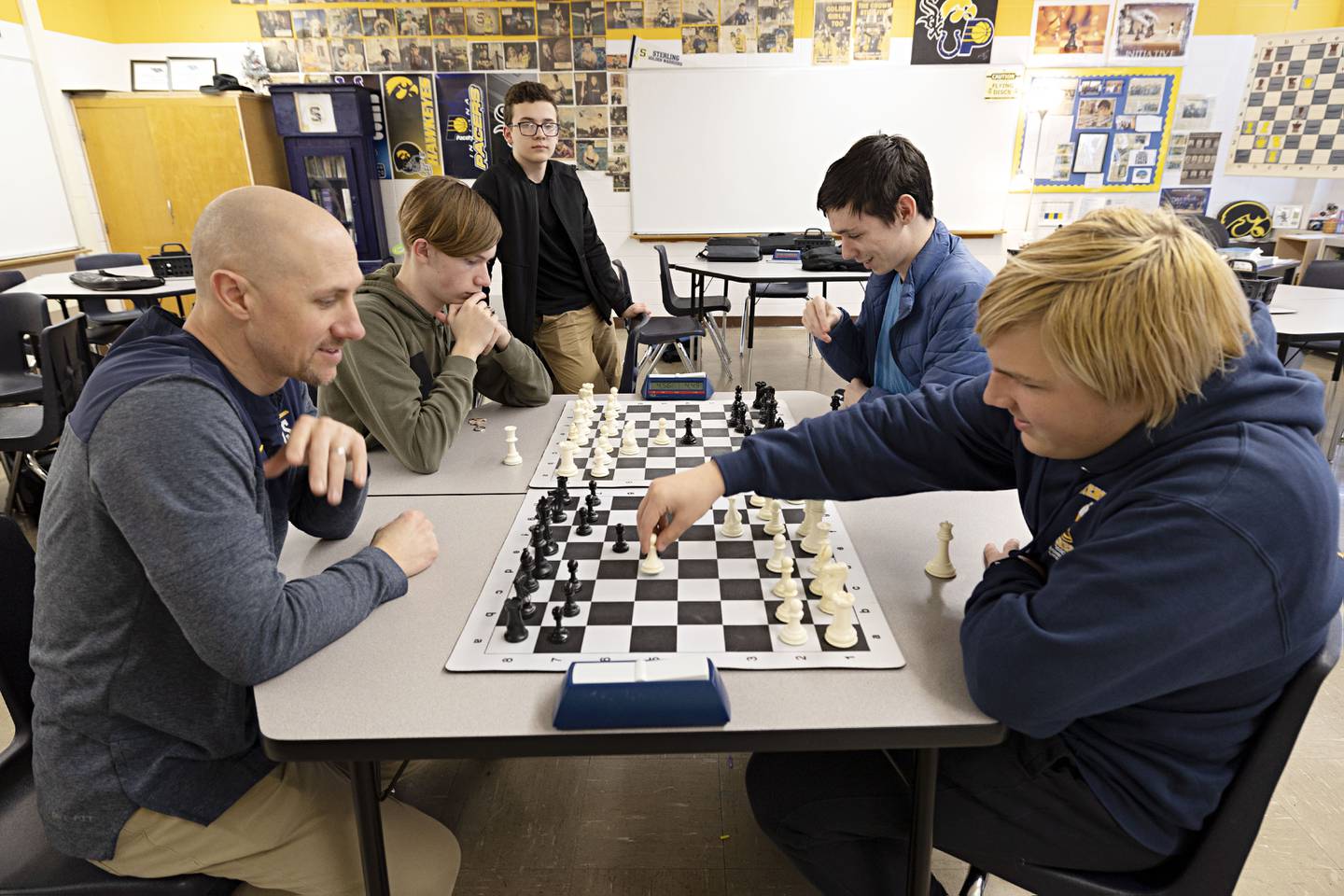 This spring, Penne's classroom is taken over once a week by casual players and pickup games. He likens it to a "basketball open gym" for chess.
The room is adorned with chess-themed decor and all the trophies they've won over the years.
It's where students can discover that playing chess can be fun, and Penne can sign them up for next year.
"It's becoming a thing where they just genuinely want to play," Penne said. "I have students come to my room in the eighth hour that just want to learn; they're not even on the team."
In fact, both Torres and Jensen can attest to the fact that in the hallways and classrooms of Sterling, casual chess games are going on all the time, including solitaire versions on a smartphone app.
Torres and Jensen have said the competitive nature of interscholastic chess has been a boon to their other extracurriculars. Maintaining composure in a stressful situation is one aspect, but there are others.
Jensen plays tennis, which he said strategically is a lot like chess.
"You're trying to play off your opponent's weaknesses while also trying to create an attack with your own strengths," he said.
Torres said the biggest lesson is that every member of a chess team scores points, which translates to what she does as a member of the track and field team.
"It doesn't matter if you are the fastest or the slowest – everyone matters," she said.
And Penne said he's seen friendly rivalries blossom into lasting friendships among players from competing schools, another extension of that family atmosphere.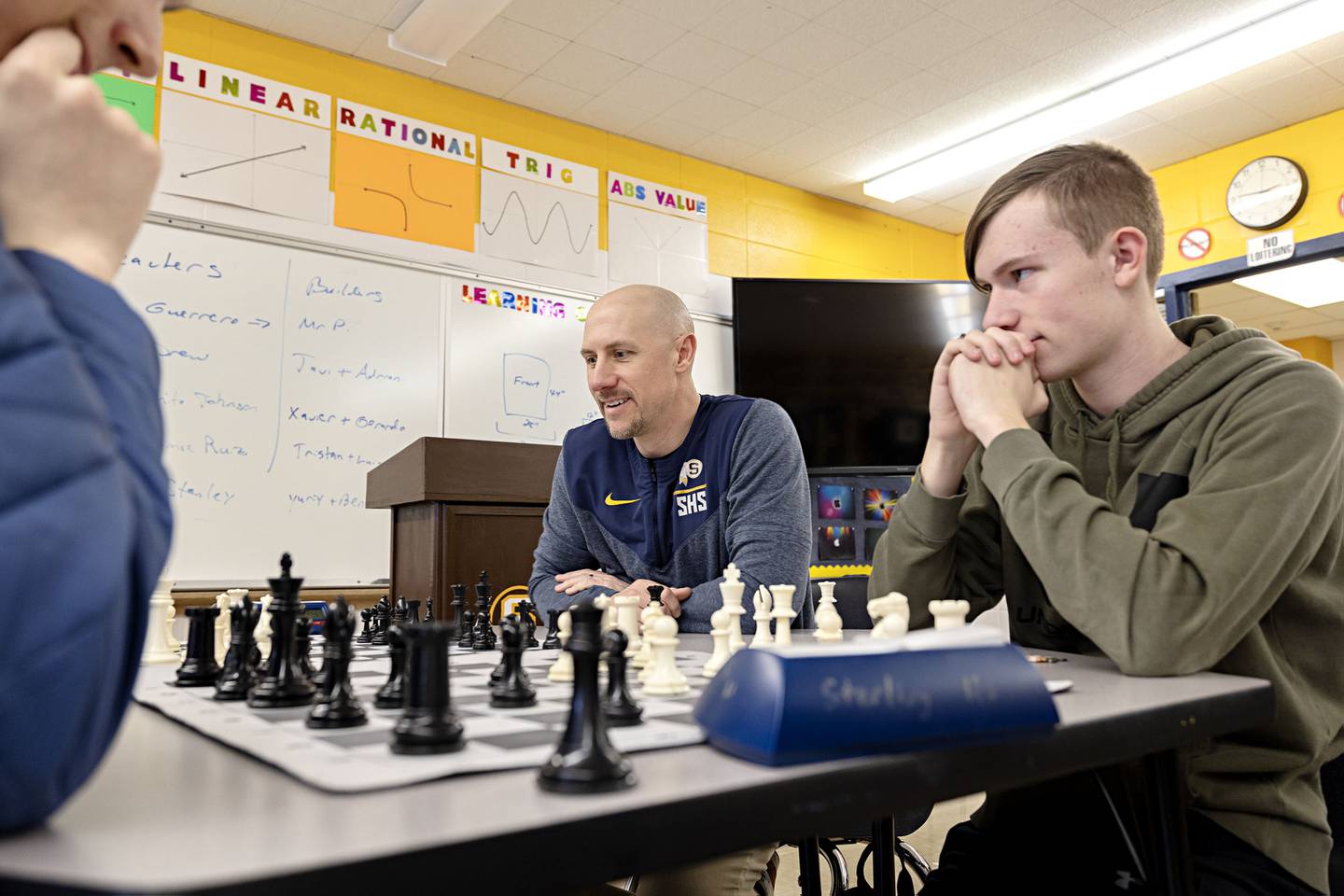 "The cool thing is that year after year, without exception, I have players come back that have graduated that will help with instruction or will help mentor … or just come in and play a game," Penne said. "Stuff like that matters."
Penne said Sterling has been exceptional in another way: The pandemic didn't decimate interest in chess at Sterling like it did at other schools.
In some cases, older coaches left their schools, and entire programs folded. The conference Sterling competes in shrank in membership.
But for Sterling, leaning into remote play actually fostered its development and enabled the team to play more matches in a season than it previously had. Sterling has to travel a good distance for most of its matches.
"We were one of the few programs around the state that actually thrived during COVID," he said. "We had some smart individuals that were able to develop a way for us to play online."
Penne said he hopes that chess will be embraced at more area schools. He is optimistic that discussions with Rock Falls will lead to that school eventually fielding a team.
He knows what it's like starting from scratch. Penne began his teaching career at Argo Community High School near Midway Airport, coaching the chess team there for four seasons. His wife is originally from Sterling, so they relocated to the area so they could raise a family.
Sterling did not have a chess program at the time, so Penne first started it as a club. It became a sanctioned interscholastic team in 2010.
As long as the team continues to attract about two dozen players a year, the future looks bright, Penne said.
"I love doing what I do, teaching math," Penne said. "I think at the end of the day, chess will be my legacy here. And so I hope to do it for a long, long time."