Marching band is often the most visible aspect of a school's music department, in part because of its association with halftime at football games.
We invited the marching band conductors from Rock Falls, Sterling and Dixon high schools to take part in a virtual roundtable as part of Salute to Teachers.
In a series of questions, we asked these educators to share their thoughts on the importance of music in the lives of students and the community.
These responses were edited for publication.
Welcome to the roundtable. Our participants: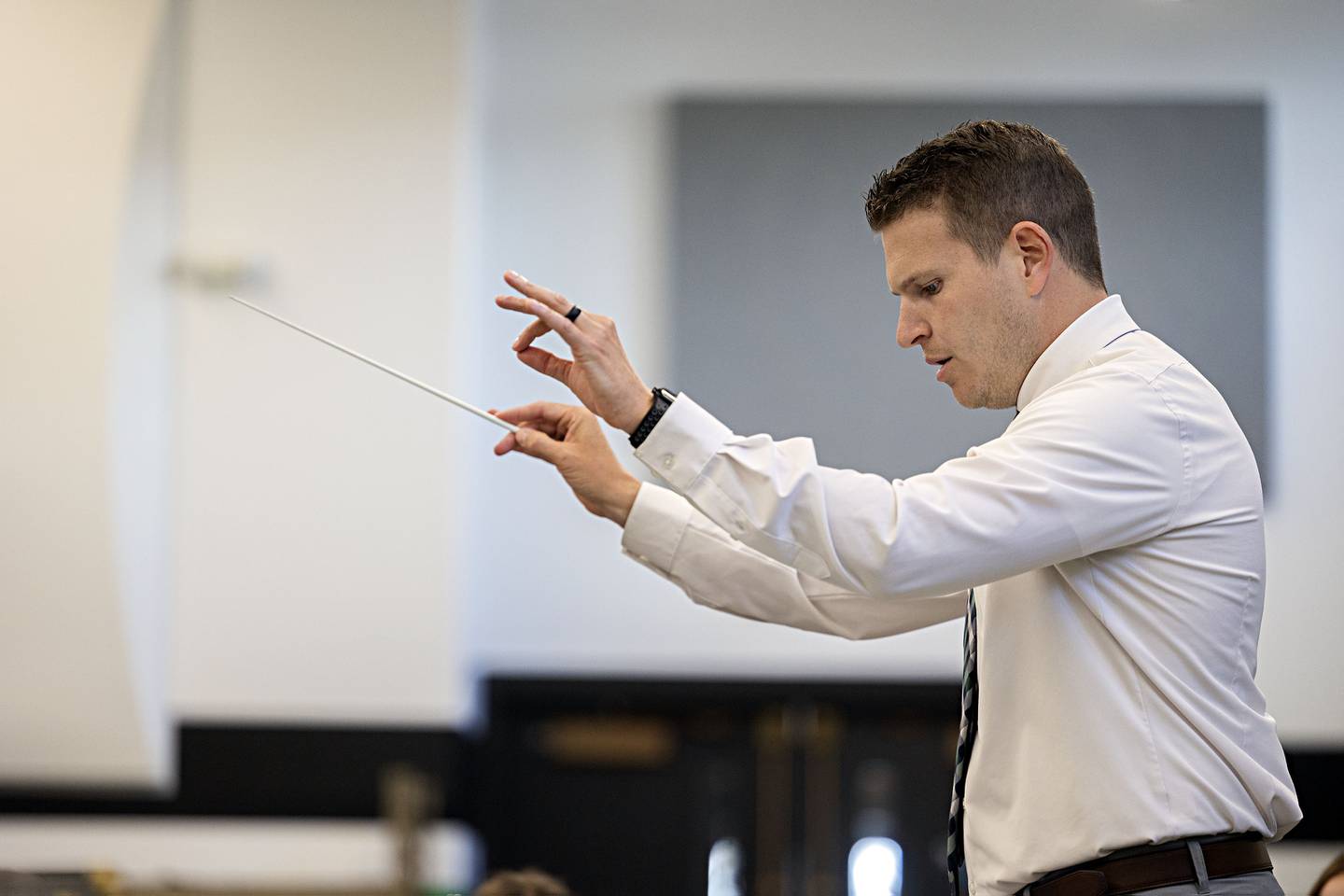 Patrick Anderson, Rock Falls High School
Anderson, 33, has an undergraduate degree in K-12 instrumental music education from Millikin University and a master's degree in education leadership from the American College of Education.
He taught music for grades K-12 in Ohio, Illinois, spent three years at Polo Community School District 222 and is in his sixth school year at Rock Falls High School.
"Music is always part of my daily life," he said.
He plays guitar, often with other acoustic groups in Dixon, Rock Falls and Polo.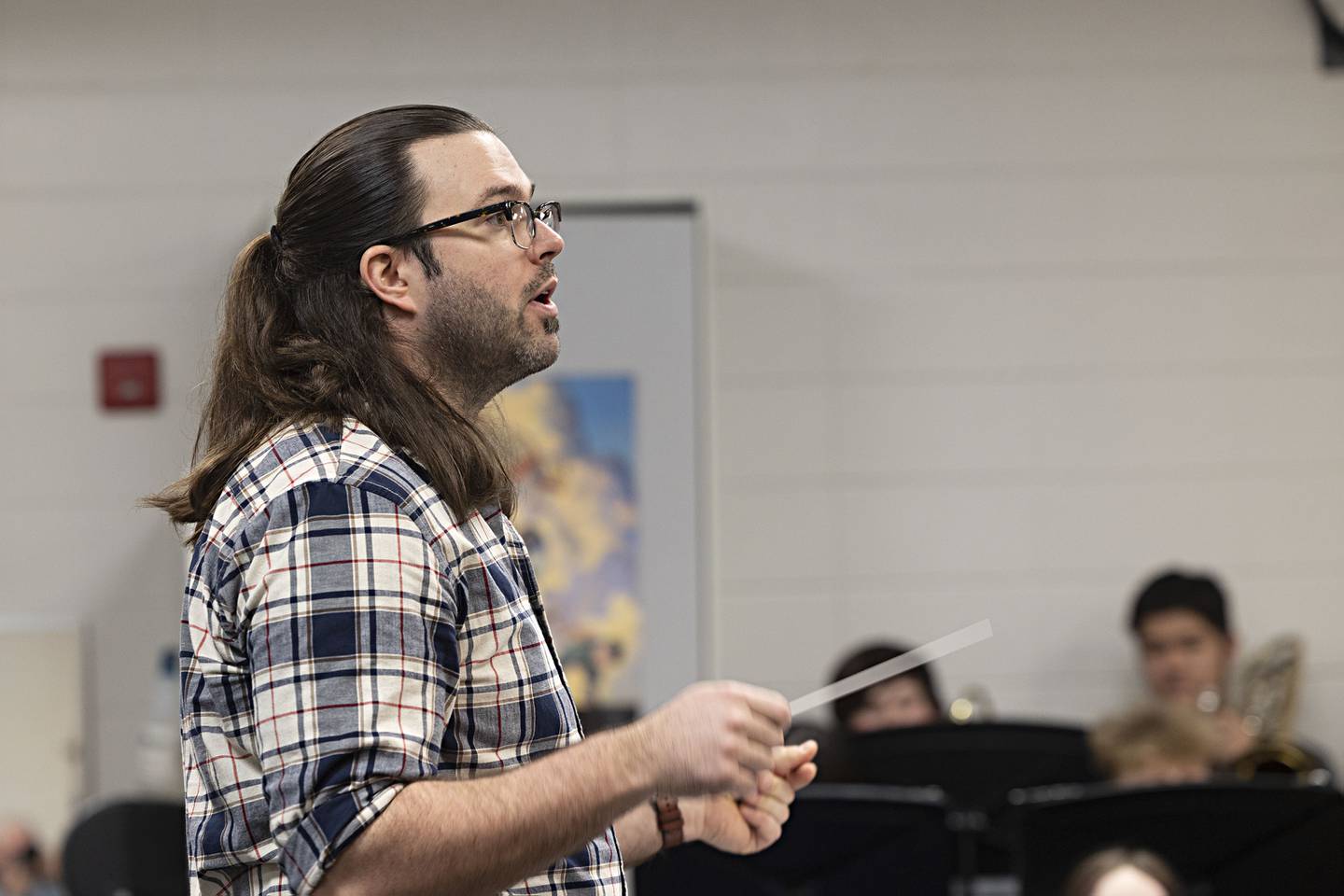 Brendon O'Donnell, Sterling High School
O'Donnell, 35, has a bachelor's degree in music education from Northern Illinois University and a master's from the University of Nebraska at Kearney. He has taught general music, fifth-grade band and middle school band in Rock Falls School District 13.
O'Donnell started teaching band at Sterling High School in 2018. He also teaches percussion ensemble and music appreciation.
Outside of school, O'Donnell performs with the Sterling Municipal Band, Clinton Symphony and the "occasional gig with friends and colleagues."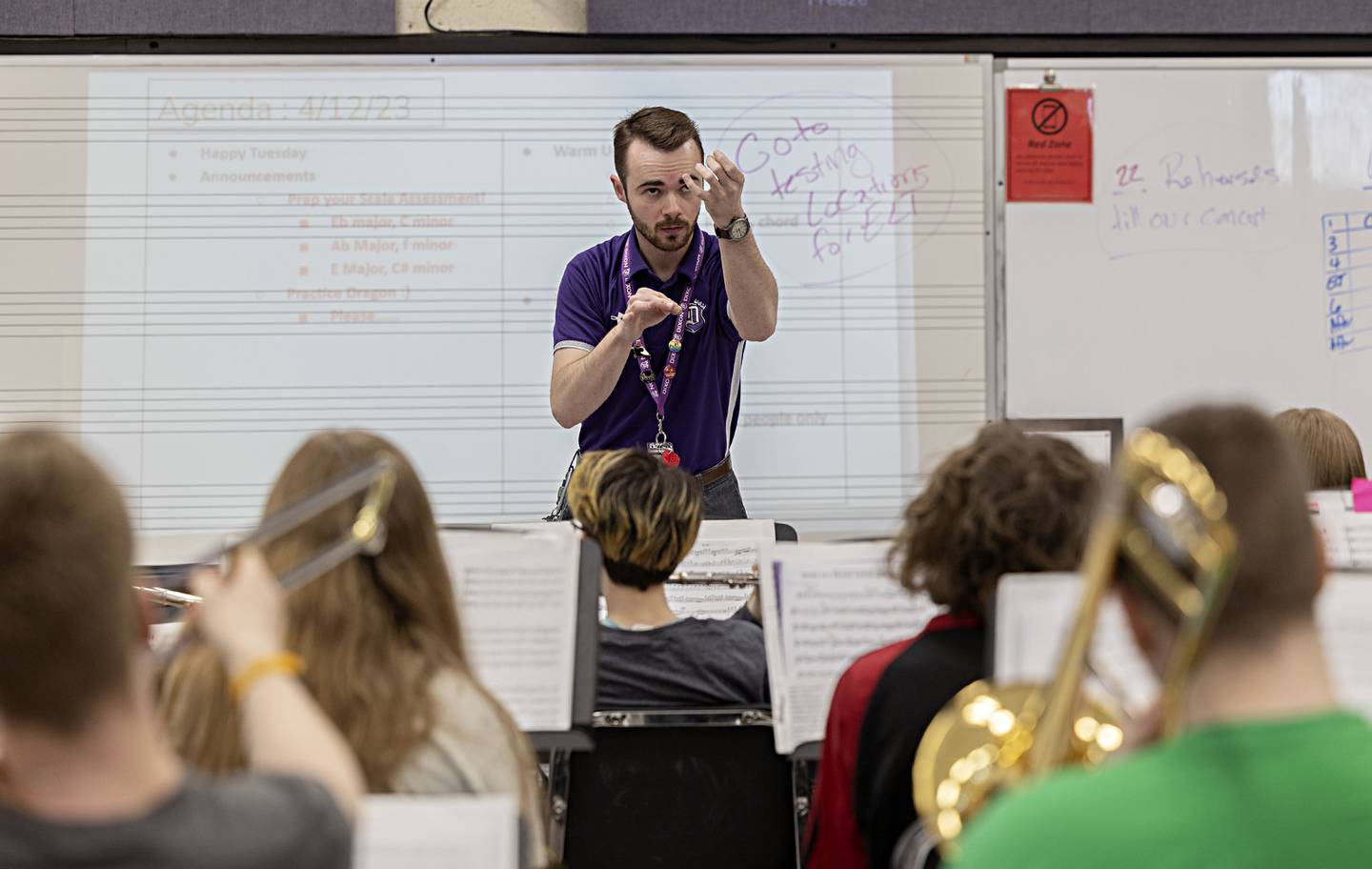 Riley A. Carter, Dixon High School
Carter, 27, is in his fourth year at Dixon Public Schools. He first served as the general music and band director for grades four and five at Madison Elementary, then became director of bands and is in his second year as head of the music department for the district.
Carter has a bachelor's degree in music education and a degree in saxophone performance from Illinois State University.
"While at ISU, I was involved in the top wind ensemble and jazz band and performed with competitive saxophone quartets," he said.
He is on track this summer to attain a master's degree in music education from Vandercook College of Music in Chicago.
These days, he performs with the Dixon Municipal Band, Sauk Valley Community College Band, Sterling Municipal Band, Rock River Jazz Band and the saxophone quartet Saxophonic Sounds.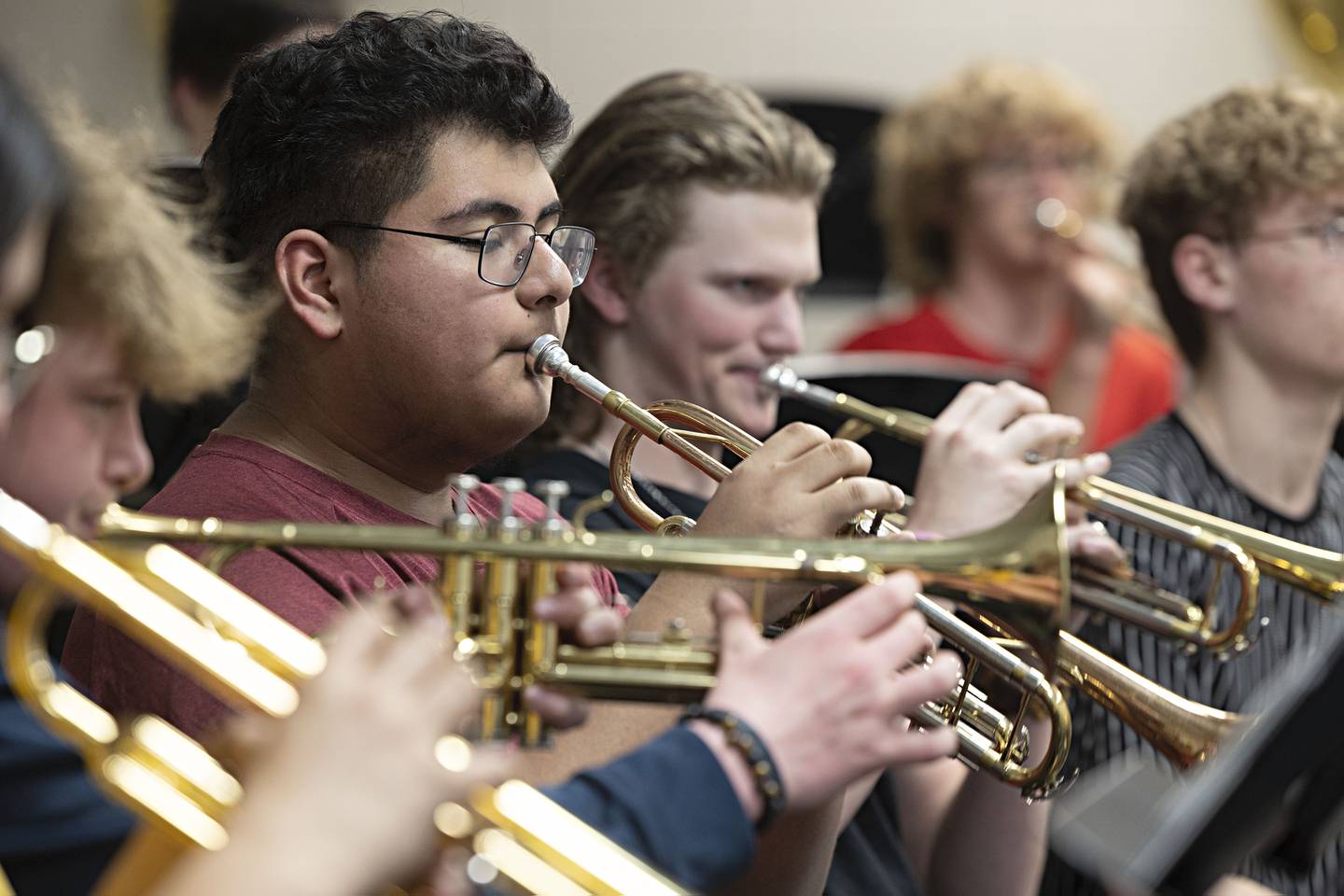 Q: What is the importance of having a marching band perform for football halftime shows?
Carter: Football games are one of the biggest audiences bands generally receive in this area. Having that large of an audience is extremely important for the kids.
O'Donnell: The marching band is the most visible part of any music program. This is because you have a dual audience: band fans and football fans.
Anderson: I always joke with the administration that my job title should have "community relations director" as part of it. We have the special tradition where we march from the high school quite literally through the community over to the football field for pregame. I try to use that as an opportunity to teach the kids that there are always eyes on you and what you are doing, so always do it to the best of your ability.
Carter: Having things like a dance team, cheer and band at football games gives a level of hype and camaraderie to the night itself.
O'Donnell: I feel that it's important to showcase the fun atmosphere of the band but also the artistry and musicality necessary to perform at a high level. This is where you find the balance for the variety of audience members. I regularly get feedback from parents, coaches and players about how different the atmosphere is when the band is performing during games.
Anderson: The marching band has a unique responsibility to create atmosphere. Friday night lights aren't the same when there isn't a band there, playing the timeouts and touchdowns, marching and performing a show at halftime, or playing the fight song after a hard-fought win.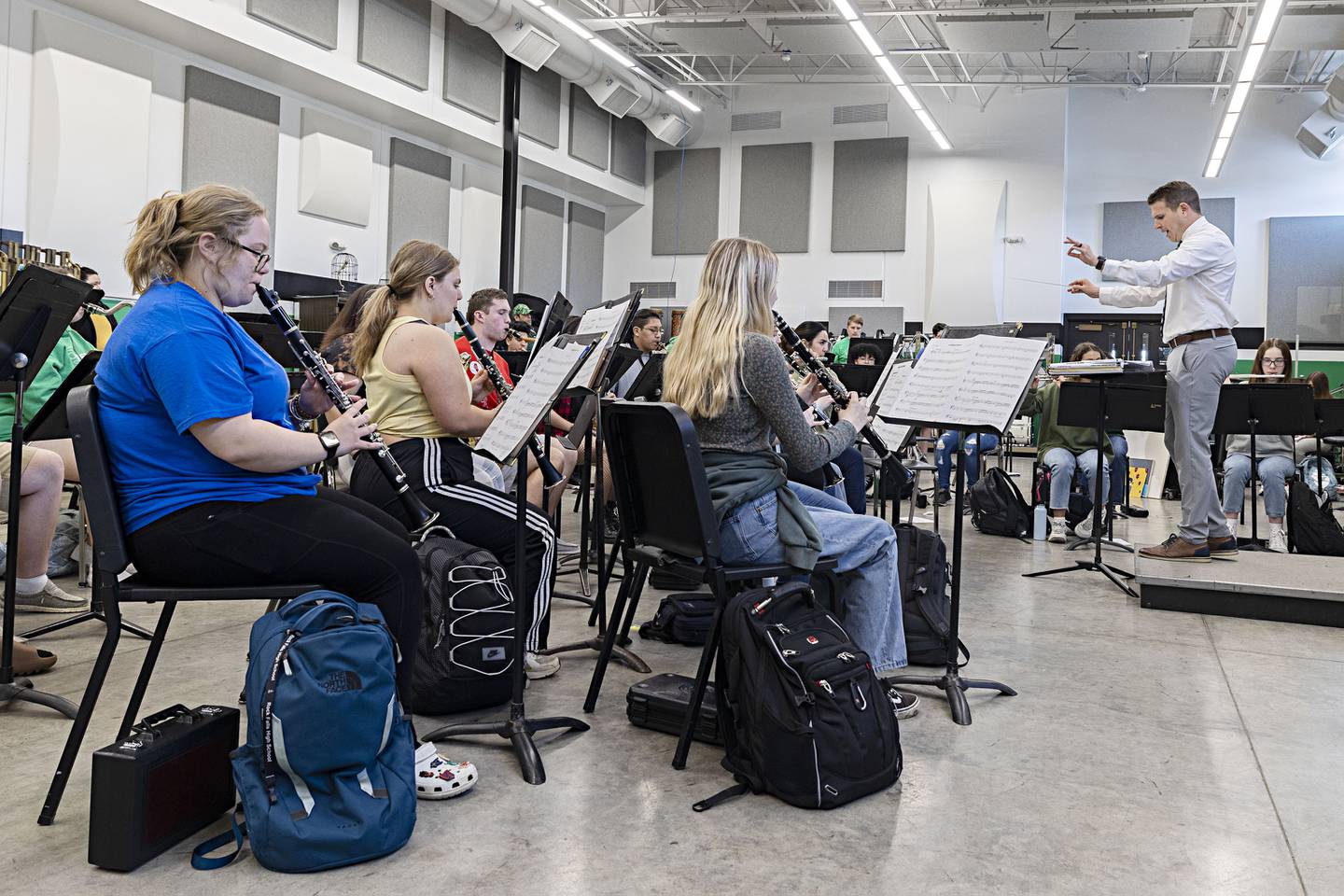 Q: What are the challenges for musicians during a nine-week football season?
O'Donnell: For me, the hardest part is balancing between music preparation and marching preparation. We need to sound good, but we also need to look good.
Carter: Finding the time in the schedule for rehearsals outside the school day can be difficult because band kids are very involved in many activities. In Dixon, we started having weekly night rehearsals for an hour and a half a week. It has helped us to grow stronger.
Anderson: With our marching band being a competitive unit, the kids join sort of knowing what they are getting into. The first challenge is that we start preparing for our halftime show before the previous school year is even over. Students have music in their hands before they leave for summer break and have had five rehearsals on it as well.
O'Donnell: Planning is essential. I try to have the show idea/theme planned out before school is out for summer, get the music out to kids and prepare what I think is a good field show during the summer months. There are extra percussion lessons for drumline in the summer, and band camp. Once school starts, we might only have a week to get something ready for the first home game. We start small with our show and gradually build it up.
Carter: Having that time crunch of needing to knock the socks off your audience week after week with a new show can be daunting, but it ultimately pulls out the best in our students.
Anderson: I have found that my students really enjoy the rush of performing. Some of our best performances of our shows have been on Friday nights. I think the students enjoy knowing they are able to showcase their hard work to their families and peers in the audience, as sometimes our competitions are so far out of town that not everyone can attend.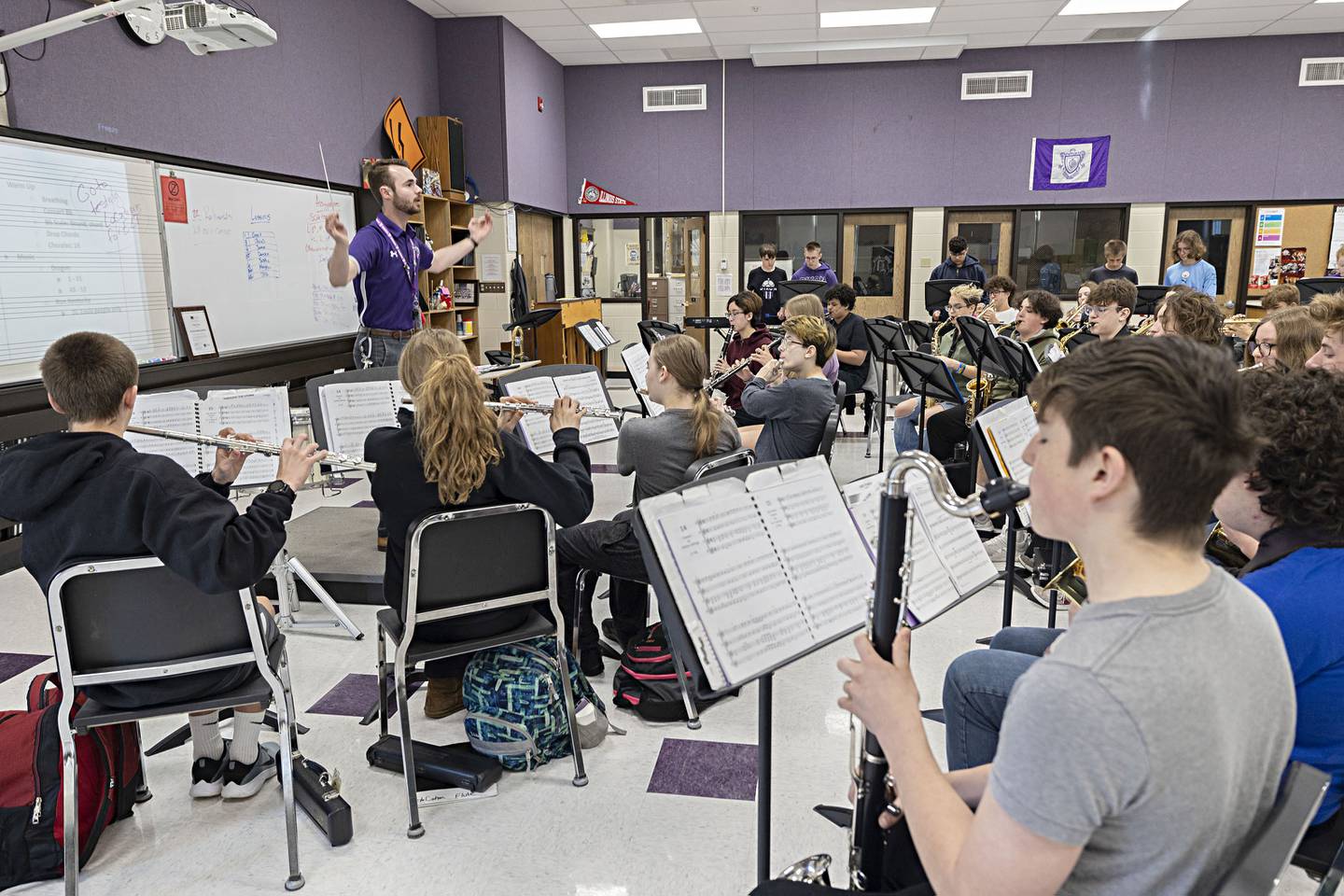 Q: What is the importance of instrumental music when it comes to the student experience?
O'Donnell: Music is such a useful tool for developing other skills that we use in life. There is the known argument that "music is a universal language," which is totally true, but there is a lot more to music. Music teaches my students problem-solving, self-reflection, attention to detail, nonverbal communication and healthy emotional expression.
Carter: Being a part of band, choir or orchestra is a pursuit worthy in and of itself. That being said, the performing arts enhance the school experience for kids. It gives them other avenues to succeed and is a highly collaborative experience that teaches real-life communication skills, social-emotional support and the importance of personal preparation.
Anderson: There are so many layers to music that it isn't ever just about one thing. You need to focus on rhythm, melody [and] style, along with so much more. This is going to translate in the classroom to study skills, practicing, attention to detail and problem-solving when things don't go quite how you expect them to during a performance.
O'Donnell: Music has its own alphabet and grammar. Let's not forget about the constant use of math when decoding rhythms in every measure of every piece. It is our job as musicians to take these symbols on paper and translate them for an audience to enjoy.
Carter: To gain the full experience within a class like band, the student must have their own parts learned so they can participate in the high-level musicianship that is occurring. Oftentimes, students struggle to get to the level of understanding within a piece of music, but when they do, we are able to dive into more depth. We teach higher-order communication skills using no words. We force students to listen to various parts of the music so they can respond musically to them.
O'Donnell: Not every single student we come across will be professional musicians, music educators or even lifelong players. Sometimes students are in the class because they love being a part of something or need the family environment. Some students won't practice a single minute outside of class but will stay in the class because they love the teacher. Everyone has their own reason for participating. It is our job to make every student feel loved and valued because, let's face it, they choose to be in music. It isn't a requirement.
Anderson: It is the social-emotional aspect that really makes a difference. The band room is the great melting pot of students. It is amazing to watch students grow and find themselves not just as musicians but as people. You get the opportunity to see shy freshmen come out of their shell to be witty juniors and seniors, gain confidence in and out of the classroom, and succeed in ways they otherwise wouldn't be able to.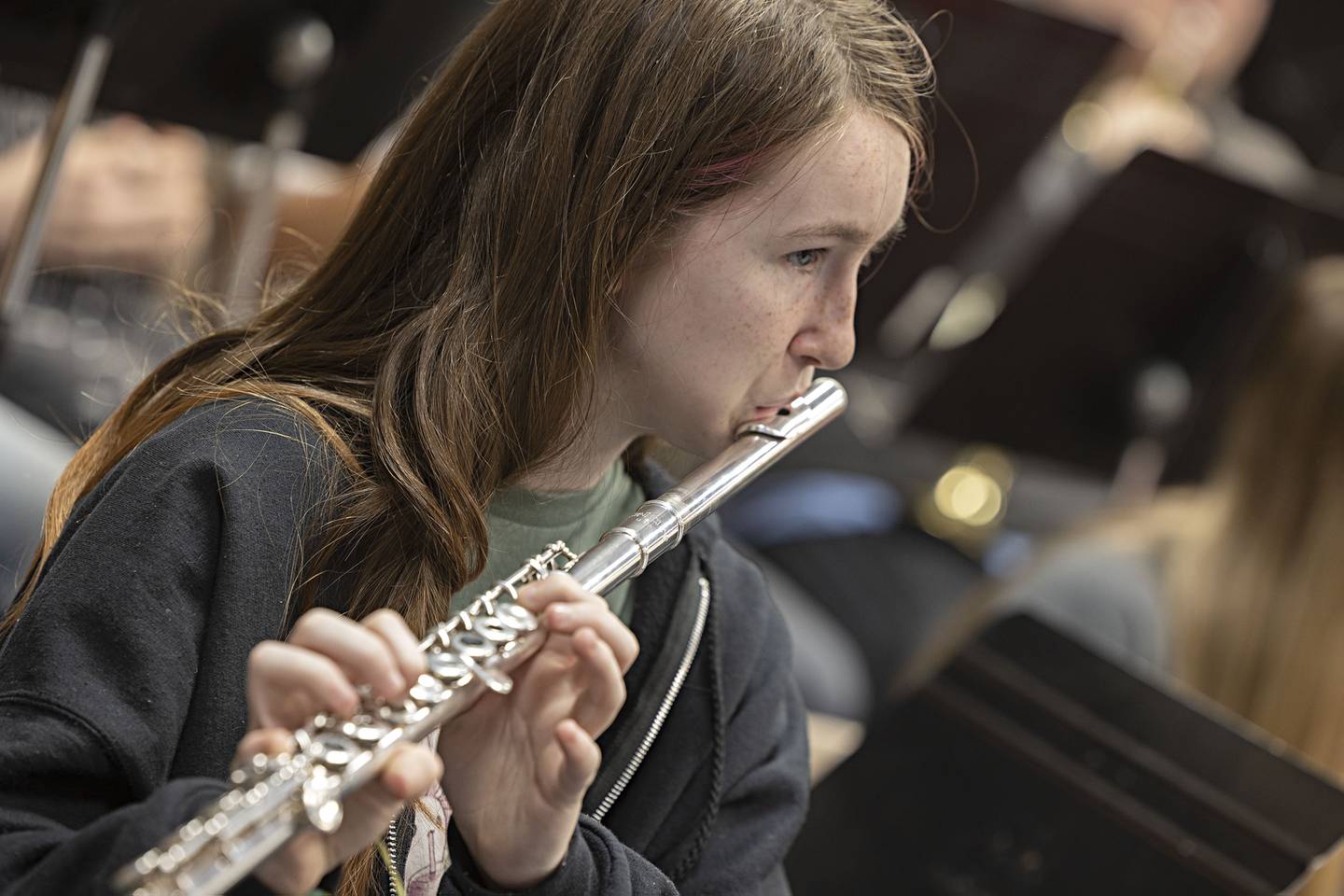 Q: What are the financial investments of having a marching band?
Carter: Marching band can be one of the most expensive parts of an entire program if you want it to be. There are several different schools of thought about marching bands, all of which are perfectly valid, such as competitive marching or noncompetitive, high-quality shows. One of the costs that adds up quickly season-to-season is hiring outside professionals – techs – to work with your kids. In an ideal setting, you would have a tech working for each instrument group: flutes, clarinets, saxophones.
O'Donnell: My band is noncompetitive, but there are still plenty of costs. The instruments themselves are so expensive. Over the last few years, I have had to replace several marching baritones and mellophones. A decent marching baritone can easily set a school back $2,000. And when you need to replace five or more of them, it turns into a nightmare. A good marching tuba will cost anywhere between $5,000 [and] $8,000. Maintaining instruments is also costly. Not every student is the best keeper of nice things, so there will be damage at some point. I've tried to keep costs down by doing repairs myself and teaching students how to properly maintain their instruments.
Anderson: The competitive marching band landscape is certainly one where you need deeper pockets to be able to compete in the design and technology aspect of it. I remember when I first started at Rock Falls, we didn't have any sort of technology going out on the field with us. I was at the Western Illinois University Marching Band Invitational my first year, and I remember watching one of the 4A bands perform, and they had microphones, laptops, synthesizers and a full speaker system, and I said, "I want to do that." It adds to the overall impact of your performance and, in a lot of cases, that is needed at the competitive level if you want to be placing. I think that is where the hidden costs start, technology in the marching band.
Carter: Aside from hired marching band staff, you have the cost of the music you play, the drill (formation schematics), travel cost for any out-of-town performances, drum heads, sticks, marching shoes, season shirts, with the biggest being uniforms.
O'Donnell: I was looking into getting more traditional uniforms for the SHS band, and the low-cost quote I received was around $50,000 for 100 uniforms. We would have to fundraise for years, get the uniforms, then immediately start fundraising again for the next set of uniforms for when the current ones wear out.
Carter: Dixon Public Schools was generous enough to fully fund brand-new marching band uniforms for DHS this year. A lot of programs in smaller areas struggle to replace uniforms because of that. Many bands are marching in subpar, falling-apart uniforms because they're 20-plus years old and have serviced hundreds of kids.
O'Donnell: Band boosters are essential for a lot of programs. I have used band booster programs before to do fundraising. The hardest part of doing that is the time commitment needed from the parents and the director. We now have to put hours and hours of more work in so we can afford one of those baritones.
Carter: The way that DHS band is able to help fund our marching season is through our wonderful band booster organization. It has been critical for the further development of our program and helps out with all those hidden costs. If we just stuck to a budget, we would eat the entire thing by September.
Anderson: Luckily, we have had a history of an extremely supportive music boosters organization. This starts with fundraisers and ends with support and help throughout the season moving gear and loading and unloading trailers, and even offering to drive the trailers all over where we need to go. As far as supplementing the budget, we have a summer fundraiser where we work with a company that helps put on the Wahl Clipper Family Fun Day, a fall fundraiser where we have sold a variety of things before, and then our spring fundraiser is our Pot of Gold raffle ticket fundraiser. Those three combined usually provide enough to fill in the gaps where the budget doesn't have room. I have also been extremely fortunate to have support from an administration level that, if there is something we need that is going to directly benefit the students, I feel comfortable going to them and asking for assistance throughout the year.
Q: Are there other opportunities for marching band?
Anderson: With the absence of soccer at RFHS, there aren't really other outdoor sporting events that would have a halftime for the band to perform at. The marching band transitions to pep band in the winter, and we get a chance to play for both the girls and boys basketball teams. We have played at volleyball matches before, and have even tried to find a way to play for the wrestling team but haven't figured out the logistics of that one yet.
O'Donnell: Adding extra events and performances is a big deal. If everyone isn't on board, it can be a seriously hard sell. If there aren't enough kids to participate in other band events, then it doesn't work. The students have other aspects of their lives that are important to them. Many students work, do sports and participate in musicals and plays. Sterling High School performs at four to six football games with halftime performances, two parades and 10 basketball games. This is in addition to the concerts we put on in December, March and May. Some kids want to do more, some kids wish they could do less.
Carter: In DPS, we have seen such incredible support from our lovely administration with our budding music department. With the increased level of hype for band, I am looking into expanding our parade schedule for next year and getting our marching band more involved in the community.
Anderson: Parades are another big outdoor performance event that doesn't involve athletics. We regularly perform at the Fiesta Days Parade, the homecoming parade and the Galena Halloween Parade. While it isn't halftime shows, it does offer the students a different way to perform in front of the community and represent Rock Falls outside of the community.
Carter: There are always plenty of opportunities to add to the schedule, but it's also important to give the season balance. We don't want to burn our kids out with too much. Marching season is a very packed endeavor.
Q: What can be done to encourage involvement in music beyond high school?
O'Donnell: As a music educator, my job is to create a lifelong love of music. If the students we come across don't end up playing after they leave school, we want them to support other musicians. We are very fortunate to have groups in the area that are community-supported like the Sterling Municipal Band, Dixon Municipal Band and Sauk Valley Community College Band. I am always encouraging my students to stretch themselves musically and audition for the Sterling Municipal Band. Annette Hackbarth does a great job at making the students feel welcome and valued in the group.
Anderson: Having performance opportunities for students to take part in or just go and witness is going to help fuel the fire for a long time.
Carter: First off, as directors, we have to have great relationships with our students. We need to be the ones they want to tell exciting news to or the ones to comfort them when they are having a rough time. Seeing your students as human beings first is the most important part to getting that strong bond going. Getting students involved in these extracurricular ensembles early gives them the opportunity to see other people sticking with their instruments well after high school.
Anderson: I am always making sure that any of my students that want to pursue music at the next level have the opportunity to. I try to put the bug in their ear junior year so they can start preparing for what would be necessary for a collegiate audition. Most times students don't even realize that there is a lot of money to be handed out in scholarships just for playing their instruments. I have also found recently that students are just coming to figure out the other side of music, and that is the music industry as a business. Students can earn music business degrees and work in studios as managers or live sound engineers, and I think that opens up doors that most didn't know existed.
Carter: Ultimately, my goal is to create people who had a great experience in band and who want to actively support those activities later on in life.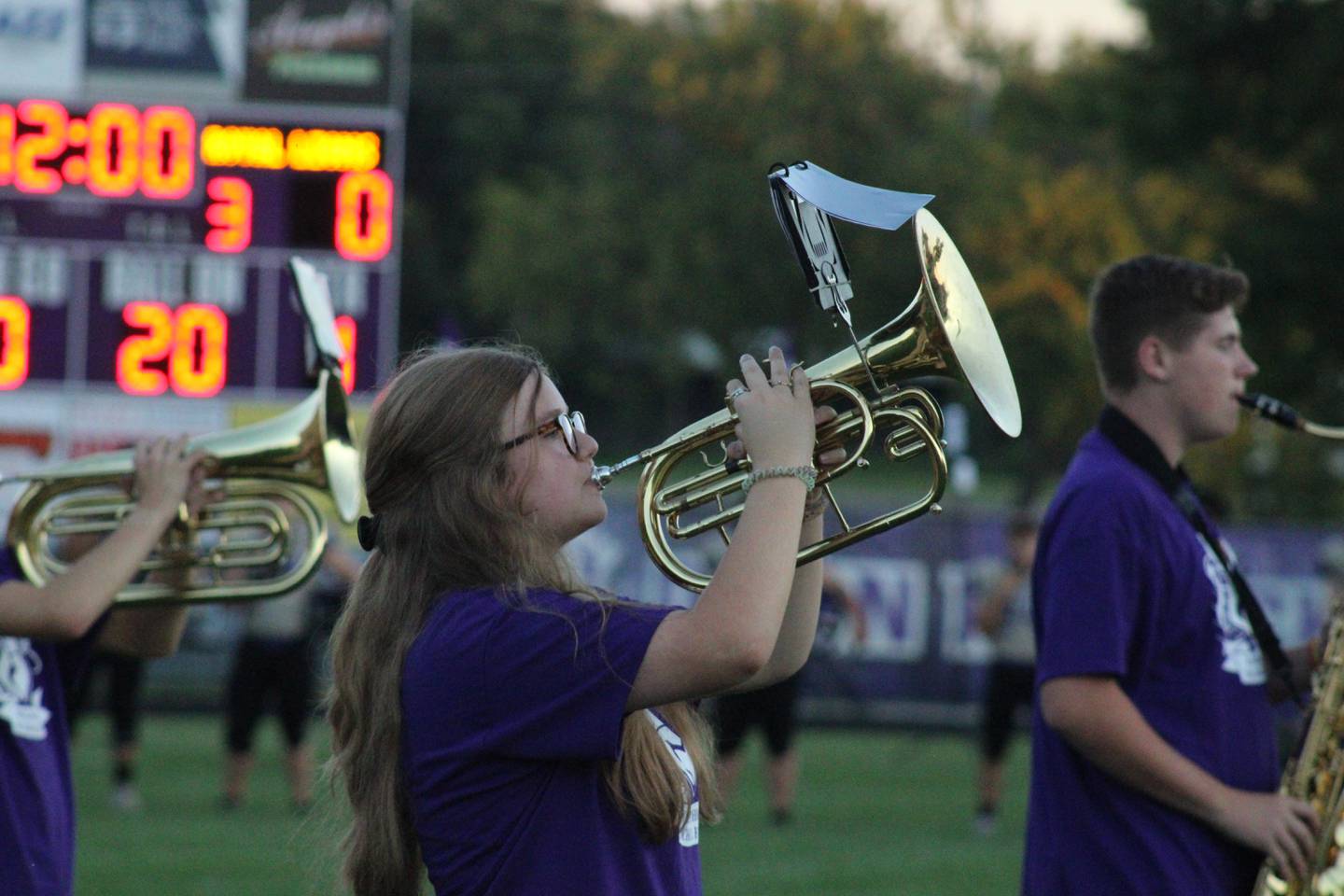 Q: Any additional thoughts?
O'Donnell: All aspects of the music department are important. Band is simply a small piece. I have performed in so many different groups over the years, and I can't think of a single one that didn't add to me as a musician. Many band kids are reluctant to do choir. I'm so glad I joined choir my senior year of high school. It made me listen and approach music differently. Support your local music programs. Support the people involved. Support comes in more forms than money. Come to performances. We want you there.
Anderson: I think it is very important to remember just how similar music and athletics are. Even though they are sometimes pinned against each other, they are mirror images of each other. My students roll their eyes sometimes at the amount of sports analogies that I use, but think about it. Michael Jordan didn't get to be as good at basketball without practice. Derek Jeter wasn't the best Yankee of our lifetime without practice. Tom Brady doesn't win all those Super Bowls without practice. Practice and commitment to a craft. The music department is a truly special place where you can get a large group of kids all working together to achieve the same goal.
Carter: Although marching band is generally the avenue that most people know our programs for, they go into so much more depth. We have performances within the areas of concert band, jazz band, pep band, pit orchestra, solo and ensemble. Just because the marching season is over doesn't mean the music stops.