OREGON — Autumn on Parade was back with a smashing success last weekend after the COVID-19 pandemic forced the 2020 event's cancellation.
The theme of the two-day festival which was spread across much of downtown Oregon was "Rockin' 50 Years" in honor of its 50th anniversary.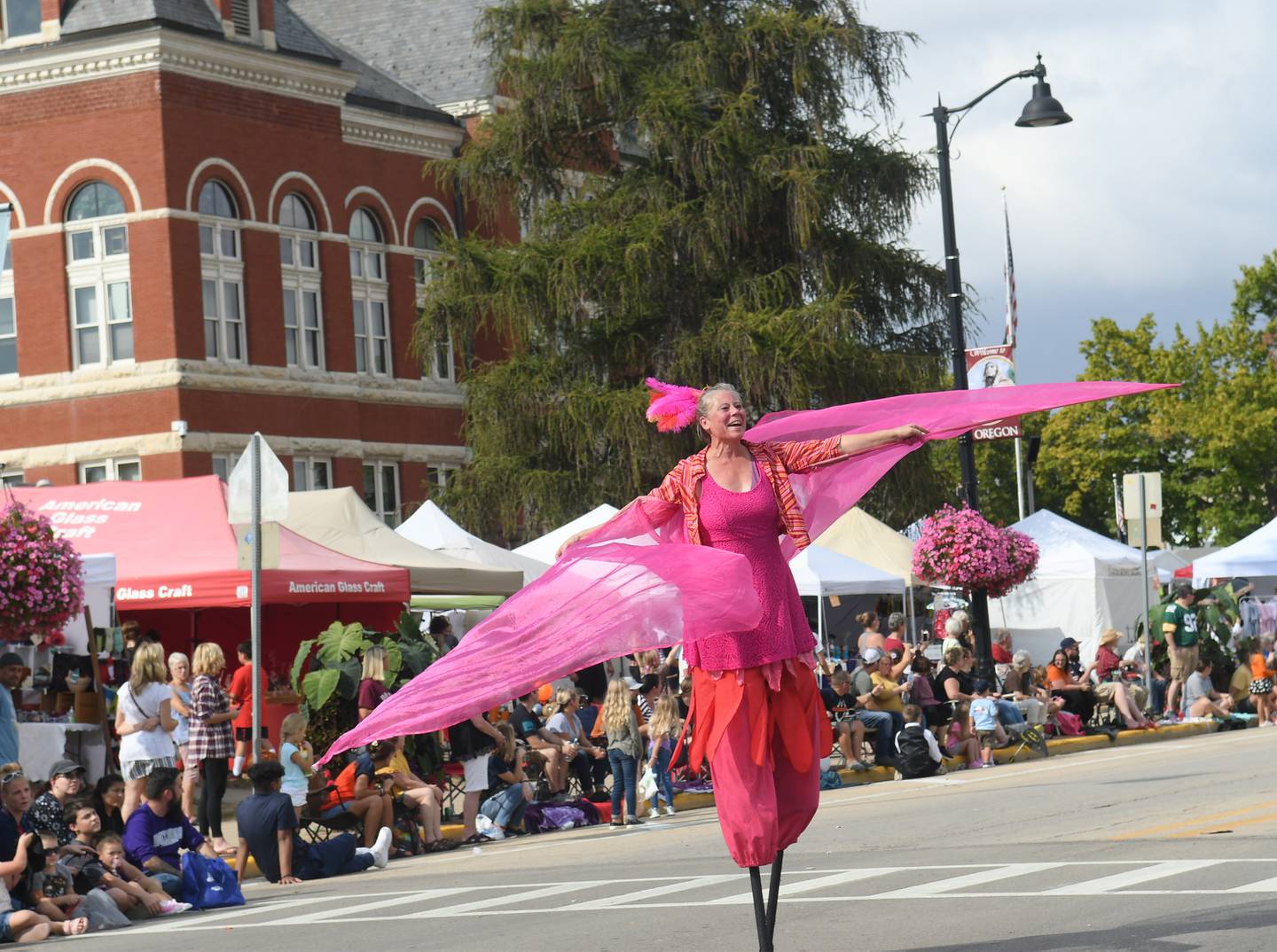 "I think it went very well overall," Autumn on Parade Board President Marseyne Snow said. "We had a tremendous crowd both days. The weather was actually perfect."
There was a ton of positive feedback, particularly about the new food court setup, the Harvest Time Parade and the beer garden, she said. People just loved being able to do things again, Snow said.
This year was the first time Autumn on Parade featured a beer garden, and attendees seemed to enjoy the music from the live band that spilled over into the food court, Snow said. The food court was expanded from its previous confines of Jefferson Street to include the parking lot of the former Ogle County Jail.
"There was a lot more room to put tables for people to sit and for people to be in line and stuff," she said. "Before, it got congested and [this year] it was just really, really nice."
When it comes to figuring out how many people attended Autumn on Parade, there's no real way to do that, Snow said. There is no gated entrance the festival's main events are free. Snow said attendance appeared to be at least equal to previous years.
"All I can say is, it was wall-to-wall people Sunday during the parade," she said.
With just more than 100 entries, the Harvest Time Parade lasted nearly two hours. Paid entertainment acts for 2021 included The Jesse White Tumblers and South Shore Chicago Drill Team. Local marching bands, queens, Scout groups, and local floats also took part in this year's parade.
Another big attraction was two Atlantic giant pumpkins, raised by Theresa and Keith Miller, of Stillman Valley, weighing 871.5 and 701.6 pounds.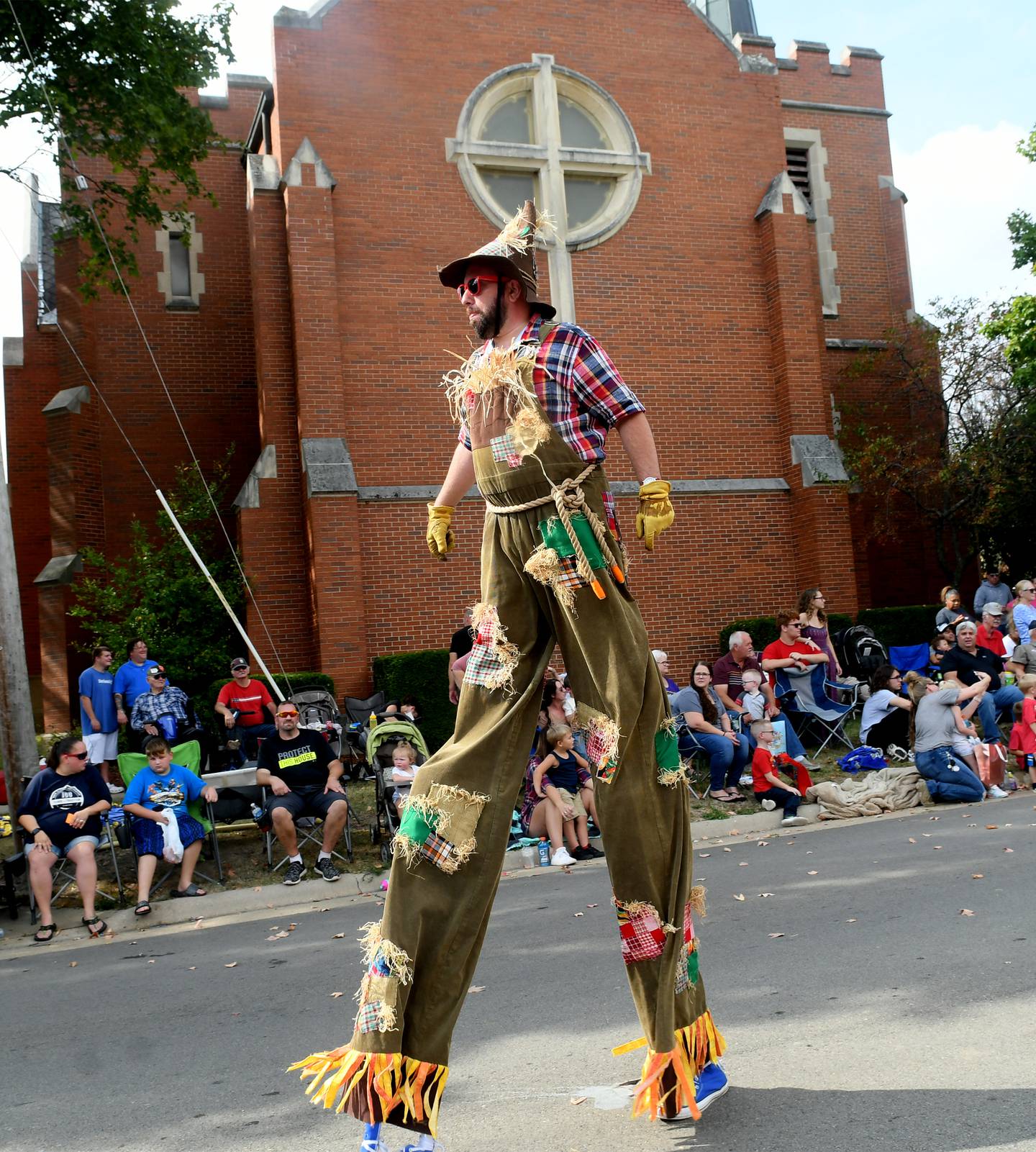 Adults and children really enjoyed taking pictures with the pumpkins which were displayed on the courthouse square, Snow said.
Children also enjoyed the Fun Zone by the Coliseum, which was free to all this year and included a petting zoo, bouncy inflatables on both days, and a magic show on Saturday.
"They actually let the kids go right in and let them pet them [the animals]," Snow said. "These kids were in there and just having a ball with the animals."
The Focus House Car Show on Saturday had 120 vehicles on display and the tractor classic had around 50 antique tractors attend.
"I grew up in the Mt. Morris and Oregon area and I try and come back each year for Autumn on Parade," said Fred Dunivan, of Paragold, Arkansas, as he visited the car show at Oregon Park East. "This is great."
Preparing for all the activities Autumn on Parade offers went a little slow at the start, but it all worked out, Snow said.
The festival is organized and conducted by an all-volunteer committee which meets year-round to plan everything.
Vendors, who pay a fee to be part of the festival, were eager to reserve a space for this year's farmers market and the food court, Snow said.
"I think we started out a little slow, because we were a little skeptical if we would be able to have it," Snow said. "Once we got to see the path that we would be able to have it, everybody started pitching in and made it work."
The winner of the 60/40 raffle was Chris Mueller, of Dixon. He won $12,078 before taxes.
Next year's event is scheduled for Saturday and Sunday, Oct. 1-2.
Anyone interested in doing the AOP committee or volunteering is encouraged to email info@autumnonparade.org or call 815-732-3465.