Jojo Tyrcha was like most kids her age. She liked school well enough. She did what was required of her.
Then one day her attitude took a big turn.
What happened?
Jojo met Zoki Russo, a third grade teacher with a 14-year track record of getting kids excited, really excited, about coming to school and learning.
Russo teaches at Sleepy Hollow Elementary School where she was recently named Educator of the Year for Algonquin-based Community School District 300.
"Mrs. Russo really turned Jojo around. She tells me in the morning, 'I can't wait to go to school. I love school,'" said Amy Tyrcha, Jojo's mother. "It was such a huge thing for us to hear her be excited to go to school. She's never ever said that. We're just very lucky that we've gotten to experience school with [Mrs. Russo]."
The "experience" comes from the time when Russo was in second grade.
I learn a lot from my students. They are making me better. They're giving me opportunities. They're allowing me to utilize different outlets.

—  Teacher Zoki Russo
"I still remember that we read 'Charlie and the Chocolate Factory,'" Russo said. "And Miss Lubowitz (now Mrs. Cohen) made it into math, and she made it into science, she had us research, and she had us do this whole big thing."
Russo said Lubowitz's teaching style was something that motivated and intrigued her because it helped uncover her own learning style.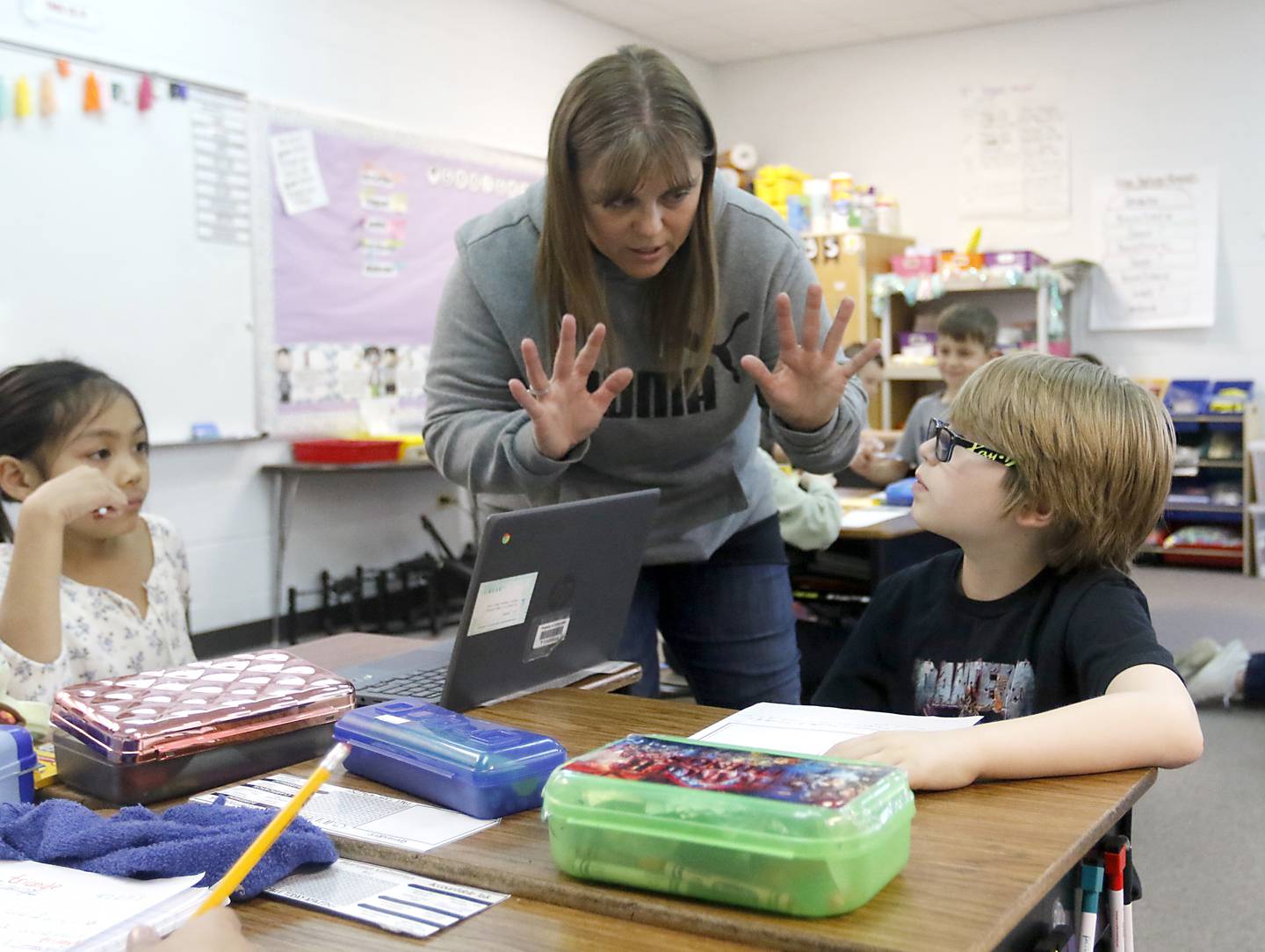 "And that was something that always stuck out in the back of my mind, and it's always something I try to think about when I try to do my lessons and my activities," Russo said. "That one book led to so many opportunities for us as a class. It was really neat. It opened up different venues for me to see how things can be done."
Kids "are kind of risk takers," when it comes to their education, she said.
"The one thing I have noticed over the last couple of years is that they are just wanting to absorb information. They want to take in everything. They want to be able to be a part of things socially and academically," Russo said.
The curriculum has to adapt to them and their needs, she said.
"As they're evolving, so are we, " Russo said. "I learn a lot from my students. They are making me better. They're giving me opportunities. They're allowing me to utilize different outlets."
Sleepy Hollow Elementary School Principal Angela Reincke said Russo is always thinking of different ways to make learning connect with the students in her classroom.
"During COVID, we couldn't have people come into the building, so Zoki came up with ways to bring the school to the people," Reincke said.
"We did a story walk outside the building where we painted all the windows on the outside of the building," Reincke said. "Parents were able to log into stories on their phone so they would listen with their child, walk around on the outside and see these different scenes we painted on the windows."
Reincke said Russo's innovative spirit doesn't wait to be given resources to create engaging learning experiences.
Russo has applied for several grants and won four, which helped fund new furniture in her classroom, board games that can be turned into learning opportunities, and toys that can be used to create engineering lessons.
The furniture helped Russo create a room with seating and zones that help her students embrace their individual learning styles.
How do parents respond to such an innovative learning environment?
"At Sleepy Hollow, the parents are very receptive. They are wonderful," Russo said.
One parent told her that her room reminded him of a Starbucks.
"He said, 'You have high chairs, you have low chairs, you have high tables, you have low tables, you have the nook where people can talk, and you have the area where people need to be more quiet and independent,'" she said.
The furniture allows her to channel into what the kids need and change the environment of the classroom to provide them with more accessibility to their individual learning styles, Russo said.
"I think her way of teaching, treating these students as people, they are little people that are growing and learning, that they are much more capable of more than they think, it's really, really cool," Tyrcha said. "I love it. I love her so much. I'm so happy that my daughter got her because it really changed her."