Turning recyclables into carnival games, building robots and making coffee creamer explode: These are some of the lessons Ally Egert, a teacher at Montini Catholic School in McHenry, uses to help her students learn concepts within her engineering and STEM classes.
"She always finds a way to make what she's teaching to kids joyful," Principal Julie Stark said.
For Egert, the lessons are fun, she said, but the goal is to teach students communication, problem-solving skills and that failing doesn't mean the end of the road.
"We want them to not be afraid to think for themselves," Egert said.
I think that shows just her love for her job."

—  Montini Catholic School Principal Julie Stark on teacher Ally Egert
Egert's path to teaching is one that "is not very usual," Stark said.
She was hoping to go into forestry and pursue a love of science, but there was a big push at the time to get another degree, Egert said. At a crossroads, Egert said she decided to go for education for her master's degree.
The decision was made clearer when her mother, a teacher, was confronted with a family emergency and needed a substitute for her class. The catch was that the class was in rural Alabama, where there weren't many substitute options.
Egert taught her mother's class for two weeks while in between contracts at the forestry service, and she fell in love with it. It was after that that she knew she wanted to teach – and teach science more specifically.
"I think that shows just her love for her job," Stark said. "She had this plan for her life but found that love of being with these kids and giving them knowledge."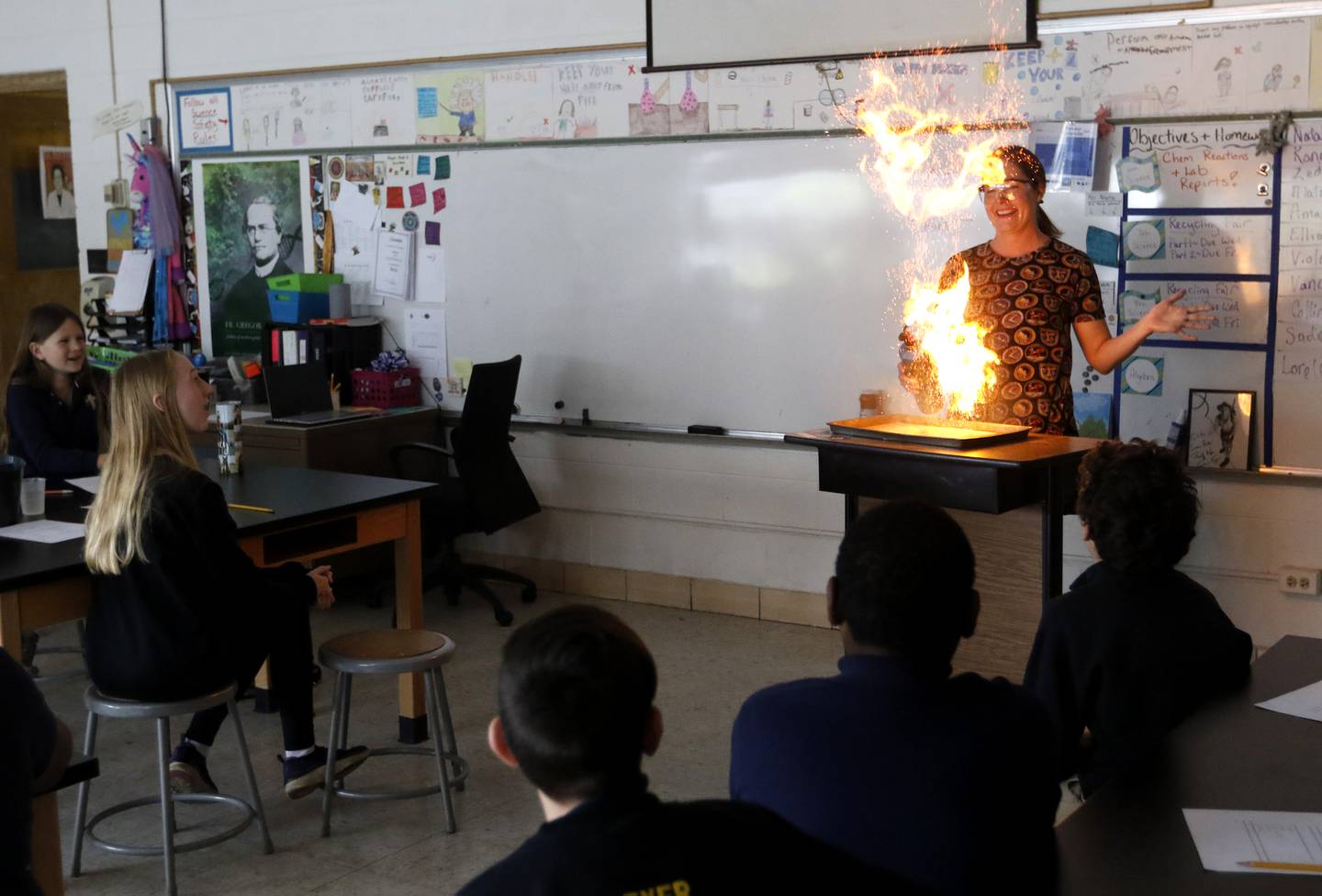 Fast forward more than a decade later, and Egert, who by this point had spent many years at Montini, was a key player in starting the school's engineering program, Stark said.
When she was approached for it, Egert said, she saw it as an opportunity to dig deeper into certain concepts with her seventh- and eighth-grade students.
Today, those concepts have included a variety of things, such as electricity, pneumatics and robotics, Egert said. Projects have included creating electronic board games, making drawbridges and participating in a national challenge to build mechanical arms.
Although the school had been looking into creating an engineering program, Stark said she credits Egert for bringing it to life. She created the curriculum for it and developed it into what it is today.
For Stark, one thing Egert started that stands out is a yearly carnival put on by the engineering students for the rest of the school. The students take all sorts of recyclables and turn them into carnival games in the school's gymnasium.
Students can bring coins to play the games, and then the engineering students decide what charity to donate the proceeds to, Stark said.
"She'll make garbage into the coolest scientific experiment," Stark said.
Egert also teaches science, technology, engineering and math, also known as STEM, for fifth and sixth grade. Chemistry is "the most fun," she said.
One lesson that comes to Egert's mind is taking powdered coffee creamer, throwing it up in the air and torching it. Because the coffee creamer's surface area is increased, it can make a little explosion.
"You have to teach kids about kinetics," she said. "It's about chemical reactions and the different ways to speed up or slow down a reaction."
Egert said she loves using "crazy lessons" to get the students' attention. While the curriculum doesn't change much, each year in the lab is a different experience, as she's always coming up with different things, she said.
"I like to have variety," Egert said.
Although the experiments separate Egert's classroom, it's her personality, too, that Stark said makes her special. With a laugh that is "110% contagious," Egert brings joy into the room and cares about everyone she works with, Stark said.
"You can see how much she loves people and see how much she enjoys what she does," Stark said.