Kathleen Choi knows what to say to bring her students alive: "It's instrument time."
Since becoming the kindergarten through fourth grade music teacher at Algonquin Road Elementary School in Fox River Grove this year, Choi has made it her mission to get as many instruments as possible into the hands of her students.
And, so far, she's done just that.
"From day one, she was like, 'I know what I need to do,' " Algonquin Road Elementary School Principal Scott Walton said. "Her goal has just been to immerse kids in music through instruments. Her passion and energy are second to none."
Through determination and creativity, Choi has found ways to fill her classroom with more instruments on a limited budget. In all, she has funded about $1,600 worth of new instruments this year through grants and donations.
And she's not done yet.
"I'm not stopping until I get my kids what they should have in order to have the program I want to run here," said Choi, who taught for eight years in McHenry, took a break from teaching to raise her children and returned to teaching this year. "They deserve to have quality instruments in their hands."
When she came to Algonquin Road Elementary School, the music classroom didn't have enough instruments for all of her students to actively play. There were no hand drums or bells, only a few Boomwhackers – lightweight, hollow plastic tubes tuned to music pitch – and a limited amount of Orff instruments.
I want to find other avenues for my bigger dreams that I have. I'm committed to making this room come alive and be fun and grow the program.

—  Teacher Kathleen Choi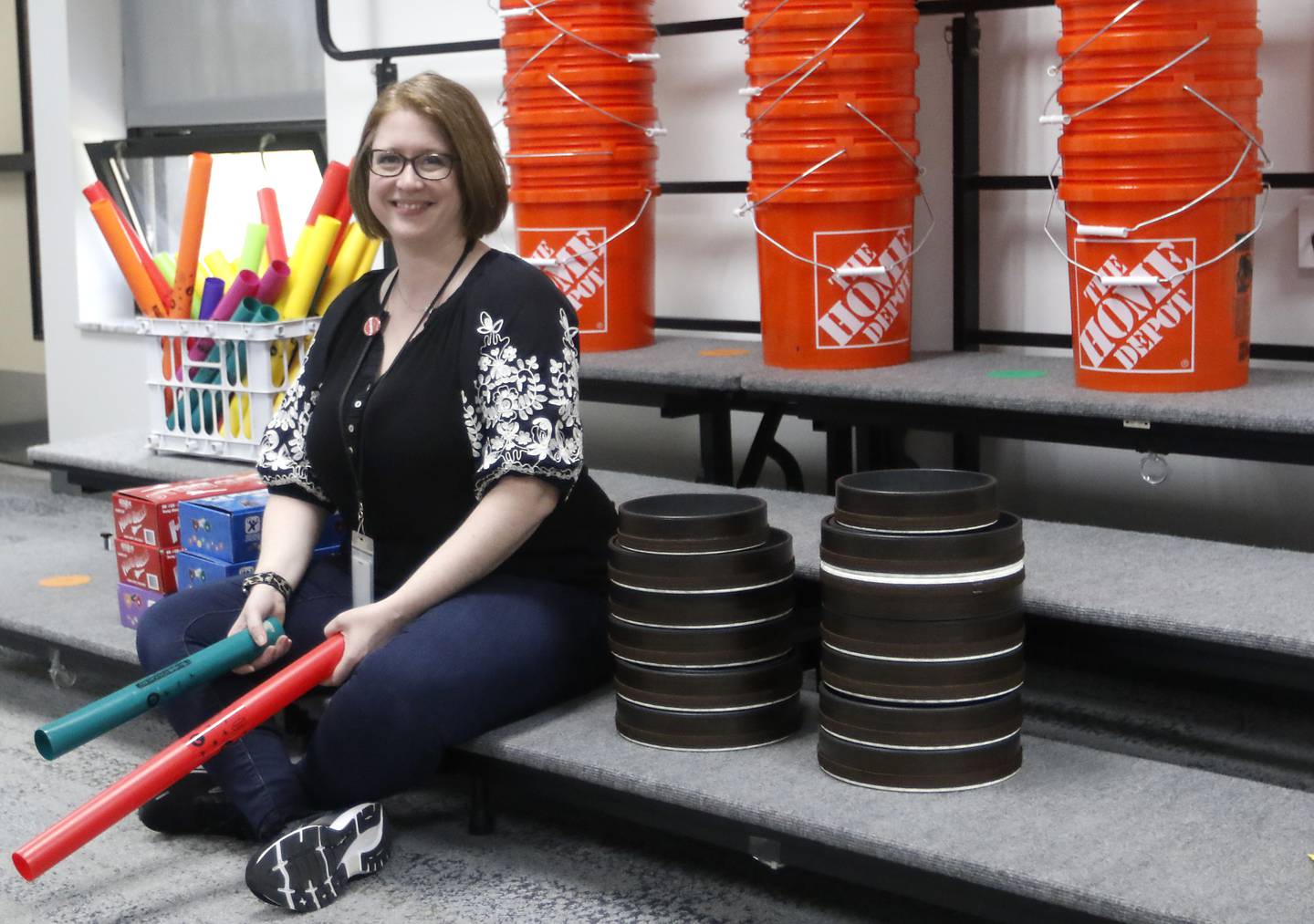 Named after a specific approach to music education developed by Carl Orff during the 1920s, Orff instruments combine music, speech, movement and drama into music lessons that are very similar to the way a child plays naturally.
Choi's classroom budget is $445, which is less than the cost of most Orff instruments, including xylophones, glockenspiels, marimbas and metallophones.
"That's OK," she said of the limited funding, "we'll make it work."
She started out by seeking donations of big orange buckets from a Home Depot in Lake Zurich to use as drums. The business came through with 30 buckets to help Choi begin a bucket drumming unit.
She then sought donations through Donorschoose.org, a website used by teachers across the country to post requests for classroom resources. That resulted in about $400 worth of instruments, including new Boomwhackers, hand bells and maracas.
An Excellence in Education grant Choi sought through the McHenry County Retired Teachers Association brought in another $1,000 that she used to buy Orff instruments through a sort of resale. She was able to buy three of the instruments at a reduced price because they'd been used as test instruments at trade shows.
And the Fox River Grove School District 3 PTO helped out with an additional $250 for more hand drums and bells.
Choi eventually would like to build an entire class set of Orff instruments, so she continues to seek grants and donations.
"I want to find other avenues for my bigger dreams that I have," she said. "I'm committed to making this room come alive and be fun and grow the program."
To her, music can't be taught unless her students can play along. Learning music enriches students in numerous ways, she said, and helps them learn other subjects, such as math.
"They don't even know they're learning," she said. "They're just having fun, and music becomes their favorite place."
That's the case for first grader Addison Hall, who loves playing the drums in class. Her mother, Alexis Hall, is a special education paraeducator at Algonquin Road Elementary School and often gets to sit in on Choi's classes.
Like her classmates, Addison rotates between STEM – science, technology, engineering and math – art and music classes.
"She's always so excited when it's time for music," her mother said. "It's her favorite part. … The creativity and dedication [Choi] puts into the class is truly awesome. It really ignites all different areas of learning. It's so important when we're going to a shift with technology to still have those hands-on experiences and to use parts of our brain we may not be using otherwise."
Choi hopes to spark future singers and musicians and perhaps even help grow the band program, which starts in fifth grade.
"I'm just so excited to see where she takes this," Walton said.