Together with his surrogate "big" brother, Chase downed his first ballpark hot dog. And standing side by side with her "big" sister in the kitchen, Myia tried a new recipe for the first time.
In Big Brothers Big Sisters, it's about forging lasting relationships between an adult mentor and a child — "bigs" and "littles" in the parlance of the organization – and the sharing that comes in such moments.
Yet it takes persistence to help those pairings reach fruition. Moreover, there is a waiting list of 30 kids hoping more adults will step forward.
So the McHenry County chapter of the organization has a new initiative called Big Futures intended to help teens thrive in the path to adulthood.
Myia, now a high school junior, considers her "big" Jessica a part of her family. (Last names are withheld for privacy.)
"When we first got matched together, I was pretty young, 8 years old," Myia said. "They try to pair you with someone with similar interests, but I wasn't thinking about it that much. I was like, 'OK she likes to color, she's crafty.'"
Now they go to Starbucks for hot chocolate or coffee or spend time at Jessica's house, cooking up a new recipe for dinner.
"I cherish Jessica," Myia said.
Having grown into a strong relationship, Jessica and Myia are looking at life after high school graduation.
Big Brothers Big Sisters of McHenry County, headquartered in Crystal Lake off Route 31, just launched its Big Futures program, which caters to ages 14 to 24 and focuses on getting young adults ready for college and/or a career path, Executive Director Leslie Blake said.
"So many kids would benefit from having extra help through this critical young adult time period," Blake said. "The program will help them with different aspects of what it is to be an adult in this modern world, whether it's relationships, college readiness or financial health – how to sign their first lease, all the different pieces of going out on your own."
The latter was made possible through grants and contributions from the United Way of McHenry County and Advance McHenry County, Blake said.
BBBS always has had children on the waitlist, Blake said, but the issue has been exacerbated by the COVID-19 pandemic, when kids are back in school but not everything has completely returned to normal.
Nationally, the Big Brothers Big Sisters of America program embraces children who come from difficult backgrounds. The McHenry County chapter's website considers situations such as living in single-parent households, growing up in poverty or dealing with parental incarceration as some of the challenges it tries to address when pairing them with a "big."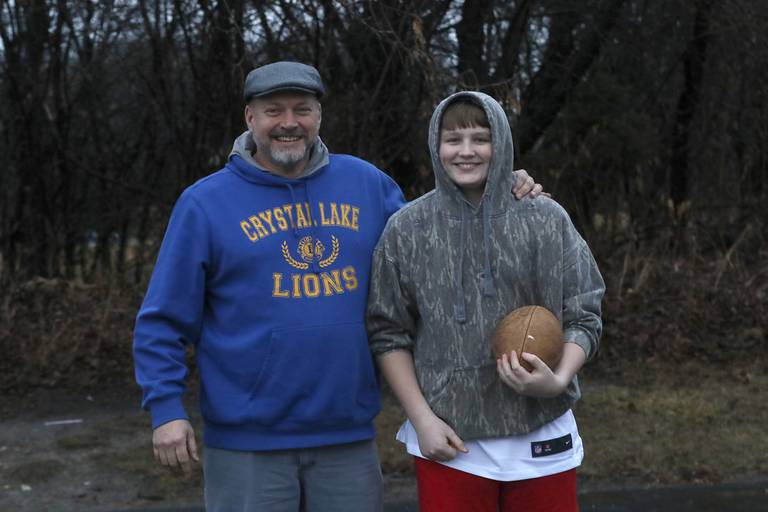 "In a post-COVID world, getting mentors and volunteers is a challenge," Blake said. "People have their own things they're working through. But recruiting volunteers is a focus of ours, making sure people realize what our program is about."
In addition, the effects of the pandemic have led to an environment where, between learning loss, prolonged isolation and heightened anxiety, children are facing more challenges than ever before, particularly with having positive human connections, Blake said.
The organization traditionally has used word of mouth to find mentors for the program, Blake said.
Dave got interested in being a mentor when he saw a Facebook post about mentees fishing with "big brothers." Seven years ago, he was paired with Chase.
In the beginning, Dave and Chase built forts in the woods during the summer.
These days, Dave said, he attends any sporting events Chase takes part in, and they also have been to pro games – BBBS provides the tickets.
Chase said chowing down on Chicago dogs at Wrigley Field "was just the best," even if he is a White Sox fan.
The pairings of Jessica and Myia and Dave and Chase both won community-based match of the year in 2022, marketing manager Haley Draper said.
Pairings are coordinated by match support specialists, Draper said, who check in often during the initial pairing process, as well as the kids' families, to make sure everything is going well.
"I did get into this to try to make a difference," Jessica said. "But now, I feel like I'm the one who was impacted by the program. We've had a great relationship. Myia has greatly impacted my life."
Similarly, Myia fondly recalls a trip with Jessica to Chicago for "The Office Experience," an event based on the popular TV show, which she said was "really cool."
Myia also is an athlete, and Jessica comes to all of her softball games, and in other events, has gotten close with Myia's family, who is equally appreciative of her role in helping Myia grow up, Myia said.
The "big" mentors also can be an invaluable source of more general life advice, Jessica said. She and Myia often discuss academic progress and different subjects.
Dave said he tries to talk to Chase, who is in middle school, about issues such as bullying and being a good teammate; that includes tips on fishing, and how to improve at basketball.
"Dave kind of became this male figure in my life that I can rely on," Chase said. "My family loves him. He's kind of a good person."
Both pairs said, at this point in their relationship, the biggest challenge is coordinating schedules and making sure they still make time for meeting up and taking part in their activities.
As the kids get older and more involved in activities, that can become tricky, Dave said.
Often, the positive impact of the "big" comes full circle, and former "littles" become "bigs" themselves; sometimes the "littles," when adults, will come to the office to let them know that their "big" attended their wedding, Blake said.
"They want to give back to the next generation," Blake said of former "littles." "That is the coolest thing ever."
Hearing the stories about how the big/little pairs have formed such lasting relationships more than outweighs some of the tragic situations that make the program necessary in the first place, Blake said.
Overall, Jessica said, the organization does a tremendous job pairing matches and feels grateful to have been "along for the ride" watching Myia grow up.
The next challenge for the latter is to start visiting colleges. Myia said she wants to do something in the medical profession and possibly attend school in Chicago, although she hasn't narrowed it down beyond that. Myia will be the first person in her family to attend college, she said.
"She's such an amazing person," Jessica said of Myia, "so incredibly smart and talented. We've both had things come up in life, I've had job changes, Myia's had sports, and now her first job. It's added up over the years. But it's inspiring to see how she handles it all. I'm just so excited about her future!"
Those interested in learning about the program or to become mentors can go to bbbsmchenry.org or call 815-385-3855.