In his three sports at Richmond-Burton, Brock Wood came out on the losing end only nine times in his senior season.
Wood was on the winning side in football, wrestling and baseball 62 times.
Wood was the focal point on offense and defense for a 12-1 football team that lost to Joliet Catholic, 35-18, in the Class 4A playoffs semifinals. The Hilltoppers rolled to the state championship a week later.
In wrestling, Wood returned from a broken thumb in time to go 18-2 and reach the Class 1A State Tournament at 220 pounds and finished fourth. He was forced to injury default in the third-place match.
To finish his career, Wood played first base for the Rockets' 32-6 baseball team that lost to Joliet Catholic, 12-3, in the Class 2A State Tournament championship.
Wood repeats as the Northwest Herald Male Athlete of the Year in a close vote with a stacked field of competition. He received 11 points from the sports staff, with Burlington Central's Gavin Sarvis at nine and Crystal Lake South's Shane Moran at seven. Burlington's Yusuf Baig, Cary-Grove's Zach Petko and McHenry's Kyle Kaempf each had one point.
Each year, the Northwest Herald Male and Female Athlete of the Year winners earn $2,500 for their school from Dr. Steven Rochell, a Crystal Lake orthopedic surgeon. The Rochell Foundation began donating for the Male and Female Athlete of the Year winners in 1993, bringing the total donations after this year to $150,000.
[ Related: 2022 Northwest Herald Female Athlete of the Year: Huntley's Jori Heard ]
Wood joins Cary-Grove's Tyler Pennington (2016, 2017) as the only repeat winners. The rules were changed in 2016 to allow underclassmen to be eligible for the honor.
Wood rushed for 1,636 yards and 26 touchdowns and led another strong defense with 126 tackles as R-B ran its state-best winning streak to 32 games before falling to Joliet Catholic. Wood suffered a broken thumb in the first quarter of that semifinal game and continued playing. R-B was able to keep it to a one-score game until the fourth quarter.
Wood was the Northwest Herald Football Player of the Year, joining his brother Dalton, who won the award in 2019. They will play together this fall at NCAA Division III Dubuque.
Wood earned Northwest Herald All-Area first-team honors in wrestling and was an All-Area honorable-mention selection in baseball, where he hit .402 and drove in 28 runs for the Rockets' best team in school history.
Wood answered some questions from Northwest Herald sports writer Joe Stevenson about his season, his favorite Disney character and if fictitious NASCAR driver Ricky Bobby's sons were good kids or not.
What are your best memories of your year in athletics?
Wood: Obviously, this year has been a good year for all sports at R-B, not just in the sports I play. Baseball taking the playoffs by the horn and making it to the state finals, playing in the big stadiums, and with your best friends was great. The football season was awesome, playing on our home field with the biggest crowd ever at the R-B stadium in the state semifinals. Wrestling had its ups and downs with injuries, but I was just thankful to have had the opportunity. It was hard ramming a season of practice into three weeks.
What is must-see TV for you?
Wood: For must-see TV it has to be a comedy or some type of sporting event.
What was it like tackling Joliet Catholic running back Jordan Anderson (6-3, 230) in the Class 4A semifinal game?
Wood: Jordan Anderson is one the toughest people I've had to tackle. Hurting my hand tackling him early in the game set me back, but it was a great game going back and forth the whole time.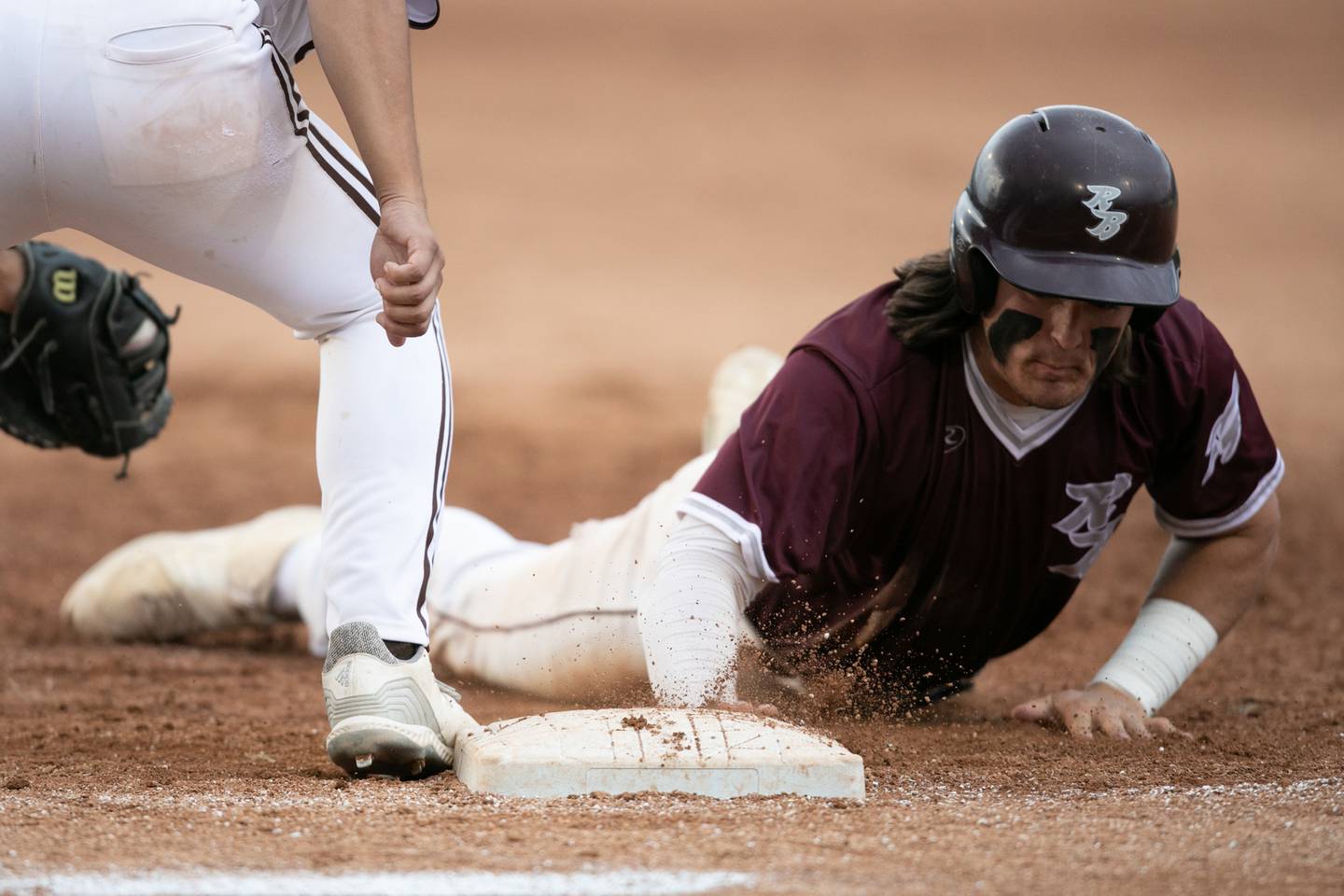 Did you struggle with the glasses you had for baseball and what difference did they make when you wore them?
Wood: Early in the year for baseball I was struggling hitting the ball, my mom and dad had been telling me to just try wearing my glasses and if they didn't help then I could stop. But I tried them and I saw a difference right away. It was weird wearing them at first and my teammates made some jokes, but it's better to be able to see and hit the ball.
What is the last really good book you read?
Wood: Books don't mix well with me, I really don't enjoy reading.
What is the most weight you ever bench pressed?
Wood: The most I have ever been benched pressed was 315. That was before my injury to my hand in football. I am pretty close to that now.
What is something about which you are very finicky, where it has to be just right?
Wood: When I sleep I have to sleep in a cold room. It has to be between 66 and 68 degrees or I have a hard time sleeping.
What do you envision it being like when you are playing with your brother Dalton again this fall?
Wood: I am ready to be back with my brother at the University of Dubuque. The UD staff has done a really good job making me feel like UD is going to be a good home for me over the next four years. I know Dalton and I are both ready to tear it up on the field this fall.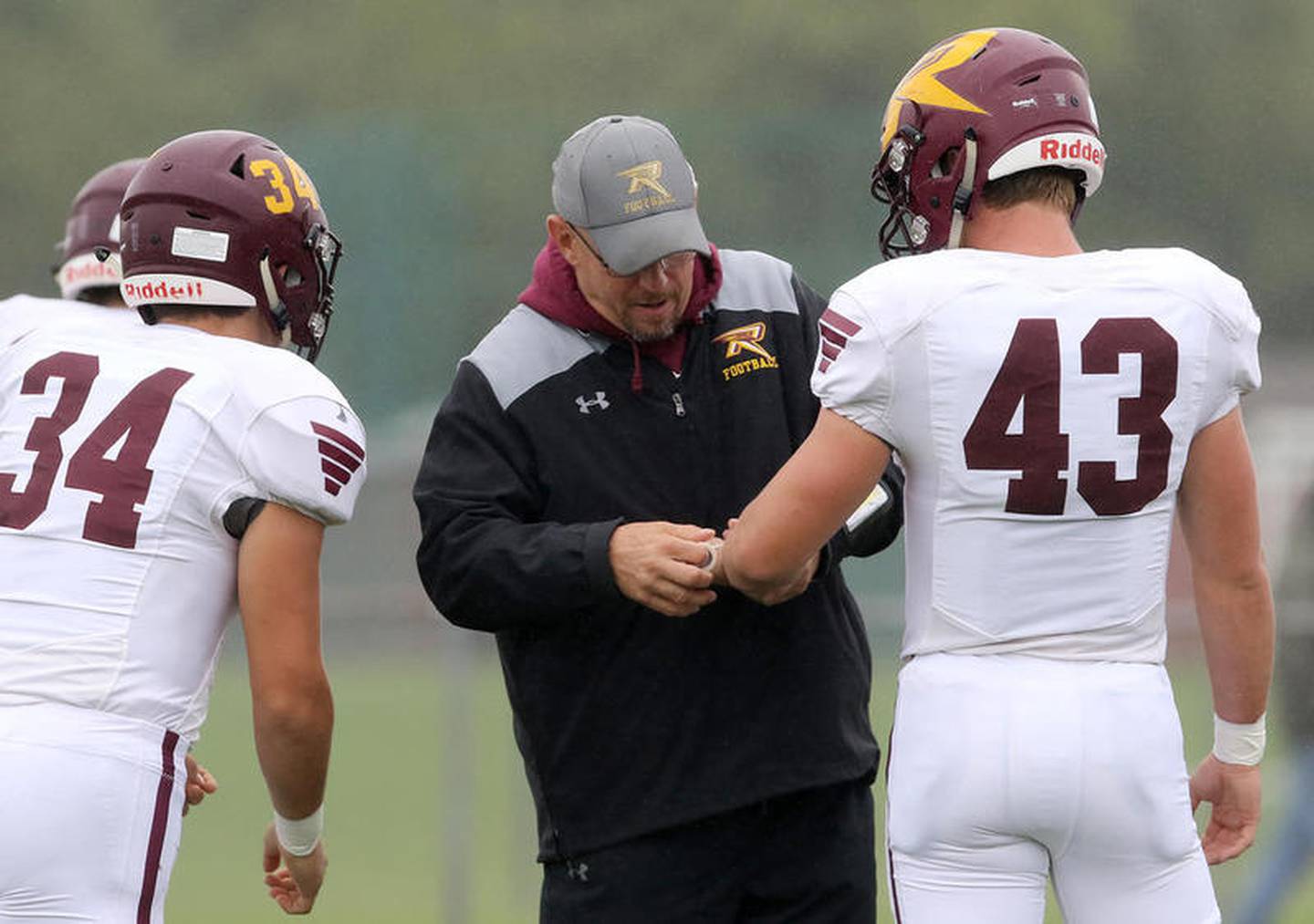 What was your favorite class?
Wood: It was creative cuisine class. My teacher (Suzanne Johnson) really made that class fun by letting us cook food from all over the world that we normally would not be able to try.
What kind of kids were Walker and Texas Ranger Bobby in "Talladegha Nights: The Legend of Ricky Bobby"?
Wood: "They were terrible boys." – Grandpa Chip.
What musical act would you most like to see this summer?
Wood: I am looking forward to seeing Morgan Wallen this year at Country Thunder. My parents have never let me go to Country Thunder in the past, so I am really looking forward to it.
What do you hope people say about you when you're not around?
Wood: I hope people will talk about how hard I work at my sports and how dedicated I have been. Also, how much I care about my family and teammates.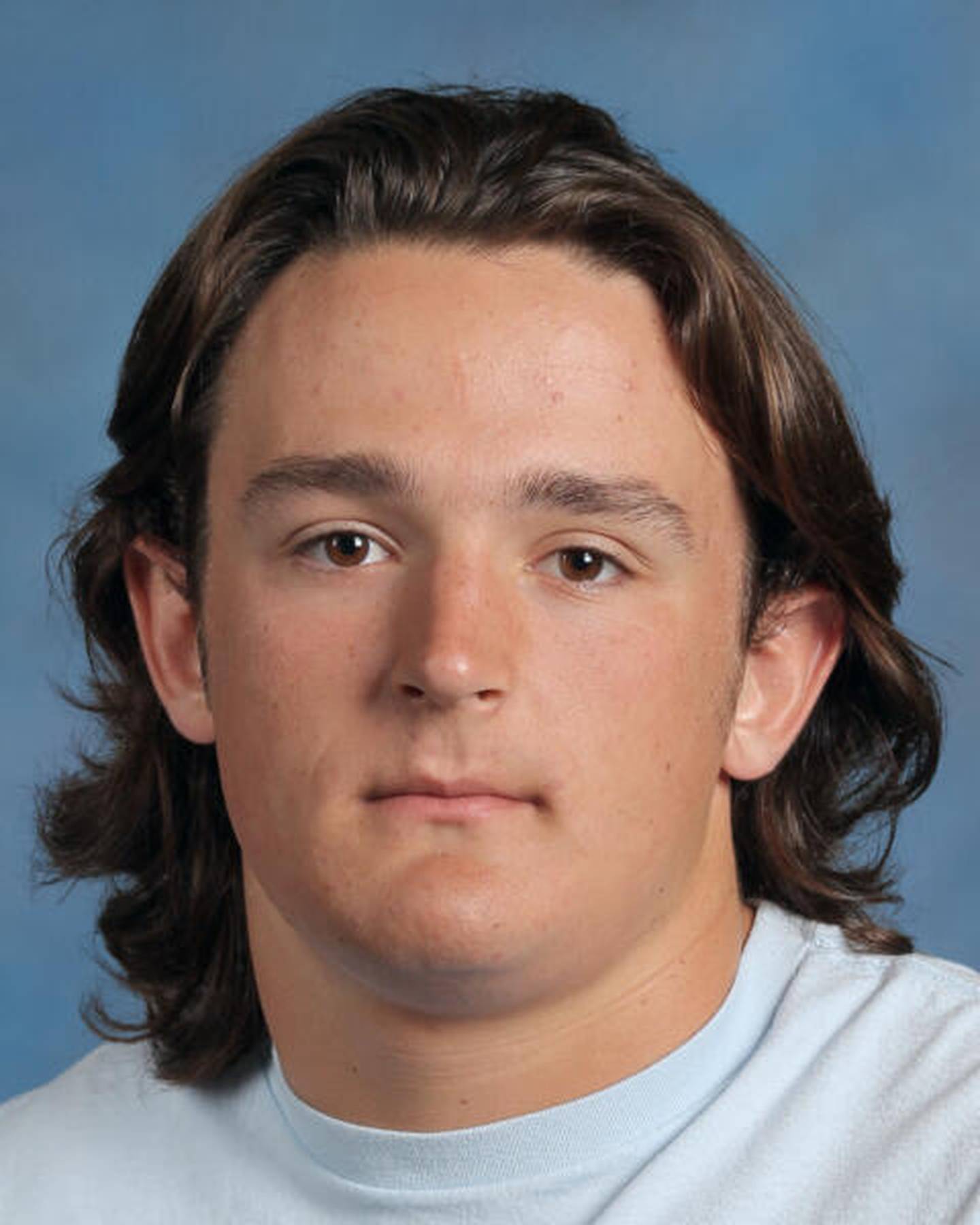 If you could hop into a time machine and go see any sporting event, what would you see?
Wood: I would want to go back to the 1985 Chicago Bears in Super Bowl XX when they beat the Patriots.
What sports personality would you most like to hang with for a day?
Wood: I would choose Joe Burrow. He seems like a cool guy to just chill and go out and play some football with.
Who was your favorite Disney character when you were growing up?
Wood: My favorite Disney movie character is Simba from "The Lion King." It was a great movie and the way he fought his way back into the kingdom shows the fight he has.
Male Athlete of the Year Winners
2022: Brock Wood, RIchmond-Burton, jr.
2021: Brock Wood, RIchmond-Burton, jr.
2020: Kyle Koelblinger, Prairie Ridge, sr.
2019: Quinn Priester, Cary-Grove, sr.
2018: Eric Mooney, Huntley, sr.
2017: Tyler Pennington, Cary-Grove, Junior
2016: Tyler Pennington, Cary-Grove, Junior
2015: Jesse Reiser, McHenry
2014: Collin Ridout, Johnsburg
2013: Tyler Crater, Hampshire
2012: Jack Dechow, Richmond-Burton
2011: Michael Vilardo, Cary-Grove
2010: C.J. Fiedorowicz, Johnsburg
2009: Jordan Neukirch, Huntley
2008: Paul Rands, Cary-Grove
2007: Evan Jager, Jacobs
2006: Jake Goebbert, Hampshire
2005: Dan Haeflinger, Harvard
2004: Brad Kalsow, Huntley
2003: Donovan Moore, Richmond-Burton
2002: Justin Duhai, Woodstock
2001: Brady Noll, McHenry
2000: Steve Nulle, Harvard
1999: Kevin Kaplan, Cary-Grove
1998: Matt Huebner, Woodstock
1997: Joe Rockers, Marian Central
1996: Jason Liska, Marian Central
1995: Brian Gosnell, Crystal Lake Central
1994: Paul Vandeven, Cary-Grove
1993: Scott Fischer, Marengo
1992: Steve Beard, Woodstock
1991: Mike Leyden, Harvard
1990: John Hartlieb, Marian Central
1989: Chris Steadman, Richmond-Burton
1988: Jim Hartleib, Marian Central
1987: Rich Powers, Marian Central