In a year of dominant individual performances at Huntley, it was hard to miss the impact of Jori Heard.
The 2022 Northwest Herald Softball Player of the Year was intimidating and devastating in the circle, where she blew away the competition with 416 strikeouts and led the area in wins (26) and ERA (0.67). At the plate, she had 23 doubles and drove in 32 runs for the area's winningest team.
On the basketball court, the 5-foot-11 forward was one of the area's toughest players to match up against, finishing second on the team in scoring (9.1 points a game), first in rebounding (8.3) and earning All-Area honorable mention recognition.
With Heard playing a significant role and putting up big numbers, the Raiders finished as Fox Valley Conference and Class 4A regional champions in both softball and basketball. Combined, Heard's two teams lost only one FVC game with an overall record of 35-1.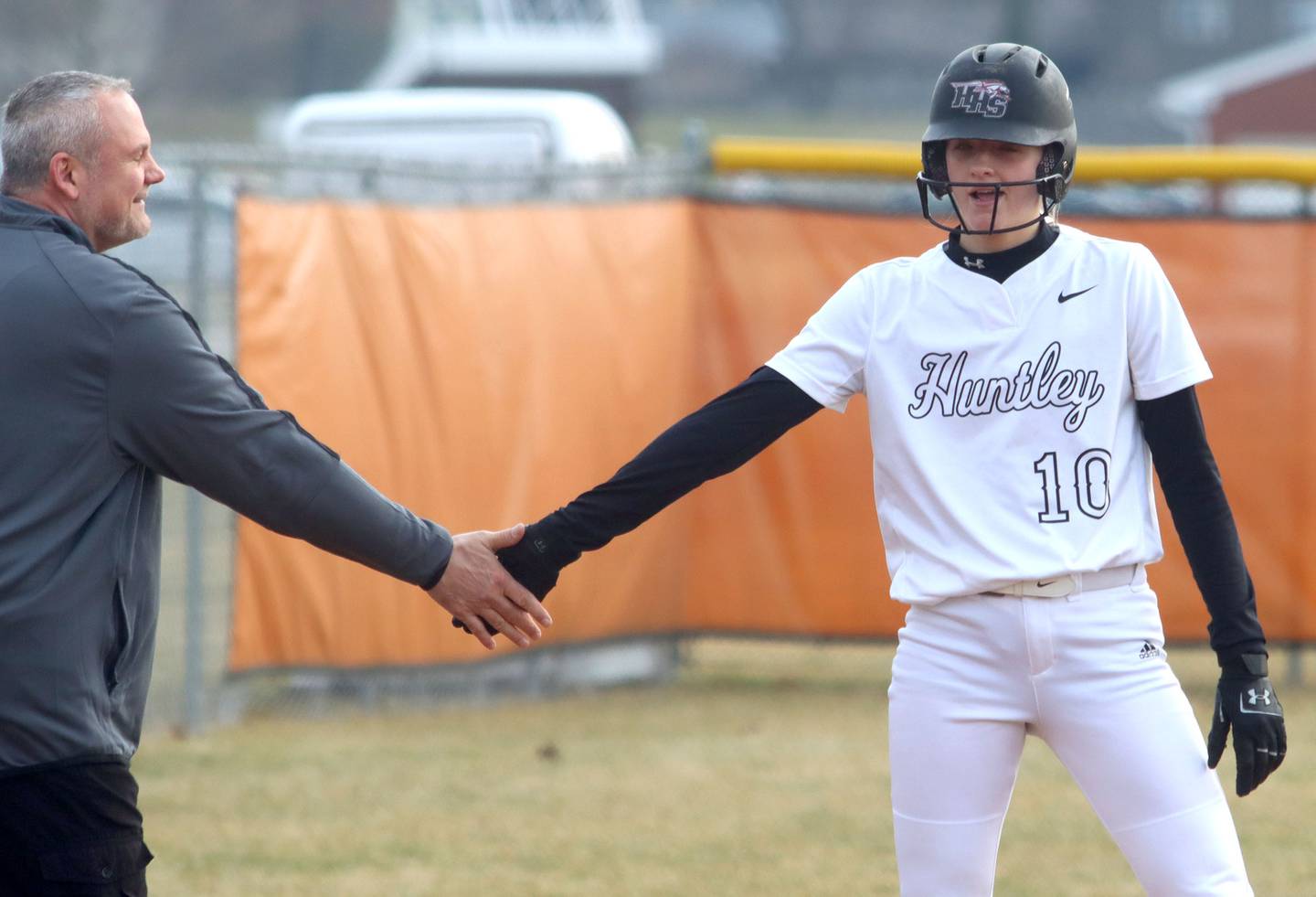 For her standout performance, Heard was voted the 2022 Northwest Herald Female Athlete of the Year by the sports staff in a narrow margin over Huntley junior Jessie Ozzauto, Heard's good friend and basketball teammate. Ozzauto was Huntley's top scorer in basketball and was a valuable and versatile sprinter for one of the best track and field teams in the state.
Also considered were Burlington Central's Taylor Charles, Cary-Grove's Avery Nielsen, Crystal Lake Central's Courtney Schober, Dundee-Crown's Berkley Mensik and Woodstock North's Kate Ward.
The Athlete of the Year winners earn $2,500 for their school from Dr. Steven Rochell, a Crystal Lake orthopedic surgeon. The Rochell Foundation started donating for the Male and Female Athlete of the Year winners in 1993, bringing the total donations after this year to $150,000.
Heard, who will continue playing softball at Valparaiso, talked to sports writer Alex Kantecki about her hidden talents, what she likes to do when she's not playing sports, her dream vehicle and more.
What actress would play you in a movie about your life?
Heard: Geena Davis from "A League of Their Own."
What advice would you give to girls who want to become a softball pitcher?
Heard: To not give up and keep working hard to achieve their dreams of becoming a softball pitcher.
What are you planning on studying in college?
Heard: I'm planning on studying business at Valpo.
What sport that you don't play would you be good at?
Heard: A sport I would be good at that I don't play would be volleyball because I'm tall.
If you could have any vehicle, what would it be?
Heard: A Jeep Wrangler.
What's something that people outside your family or team wouldn't know about you?
Heard: A ton of people don't know that I have a twin brother (Gavin).
Do you have any hidden talents?
Heard: I would say one of my hidden talents is that I can bake.
If you could invite three people to dinner, who would you invite?
Heard: Kevin Hart, Morgan Wallen and Taylor Swift.
What is the best birthday present you've ever received?
Heard: A trip to Hawaii.
Which sporting event would you want to go back in time and see?
Heard: The Cubs winning the World Series in 2016.
What do you like to do when you have some free time?
Heard: I enjoy working out and hanging out with friends in my free time.
What was your favorite book as a kid?
Heard: "Pinkalicious" by Victoria Kann and Elizabeth Kann.
What is the last good movie you saw in a theater?
Heard: "Top Gun: Maverick."
What superpower would you like to have, and what would be your superhero name?
Heard: I would want to read minds, and my super hero name would be "Supergirl."
What musical act would you most like to see this summer?
Heard: I would love to see Morgan Wallen.
Northwest Herald Female Athlete of the Year Winners
2022: Jori Heard, Huntley, sr.
2021: Kate Larry, Cary-Grove, sr.
2020: Peyton Bannon, Richmond-Burton, sr.
2019: Hannah Ritter, Marengo, sr.
2018: Valerie Tarazi, Prairie Ridge. sr.
2017: Annika Sevcik, Crystal Lake South, sr.
2016: Ali Andrews, Huntley, sr.
2015: Lauren Van Vlierbergen, Jacobs
2014: Evelyn Youel, Crystal Lake Central
2013: Jenny Dumoulin, Hampshire
2012: Paige Lincicum, Cary-Grove
2011: Kayla Beattie, Woodstock
2010: Cassie Dumoulin, Hampshire
2009: Taryn Stricker, Harvard
2008: Michelle McDonald, Johnsburg
2007: Paige Fiedorowicz, Johnsburg
2006: Jen Nichols, Woodstock
2005: Amanda Walker, Hampshire
2004: Sammi Mader, Huntley
2003: Jory Bodi, Richmond-Burton
2002: Amy Kaplan, Cary-Grove
2001: Nicole Marzano, McHenry
2000: Katie Hartmann, Woodstock
1999: Kristan Knake, Marengo
1998: Billee Russell, Dundee-Crown
1997: Sara Ettner, Marengo
1996: Alice Melhuish, Crystal Lake South
1995: Leigh Hadick, Marian Central
1994: Natalie Gambit, Richmond-Burton
1993: Megan DePuy, Cary-Grove
1992: Amy Reinhard, Woodstock and Traci Tisch, Crystal Lake South
1991: Pam Scherschel, Cary-Grove
1990: Laura Demke, Cary-Grove
1989: Tracy Leyden, Harvard
1988: Jenni Stark, Crystal Lake South
1987: Mary Jo Firnbach, Woodstock