CRYSTAL LAKE – Crystal Lake South coach Annie Moore knows she can always count on freshmen Bobbi Wire and Logan Georgy to go all out.
"They're never going to take it easy," Moore said of the first-year starters. "They're going to put their best foot forward. It may end up in the back wall, it may end up in, but they're always being aggressive, and that's what we always look for."
Wire and Georgy were at the forefront of a comeback win over crosstown rival Prairie Ridge on Tuesday at South's Gator Alley.
After dropping the first set, South rallied to beat Prairie Ridge 23-25, 25-12, 25-21 in their Fox Valley Conference match, moving the Gators (17-6, 7-4 FVC) into a tie with the Wolves (10-8, 7-4) for second place in the conference standings.
Wire recently made a position switch from outside hitter to libero and had a match-high 20 digs for South. Georgy, a middle blocker, posted a strong all-around performance with five kills, four aces and two blocks.
Wire, whose older sister Gabby is a four-year varsity player, said she has quickly gotten over her first-year jitters.
"It was scary at first, but I think the girls have really helped me develop more as a player," Bobbi Wire said. "When it's game day, I'm not worried anymore, I'm more excited now. Knowing you're playing at this level, it makes me have more confidence in myself."
Bobbi Wire played some libero over the weekend at the Prospect Invitational as the Gators looked to improve their passing. Wire almost had a perfect night in serve receive Tuesday.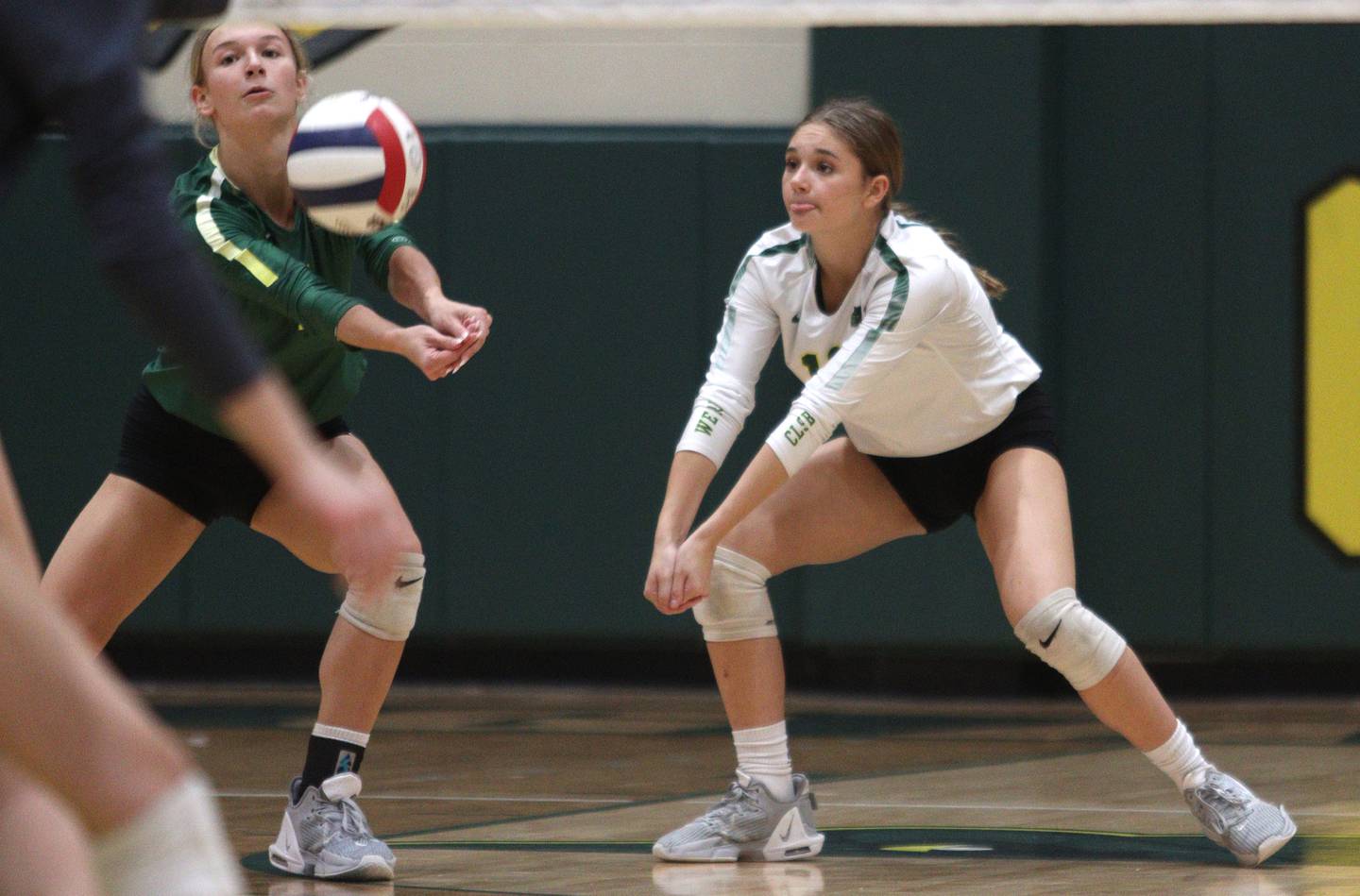 "It's a little bit different, that's for sure," Wire said of making the switch to libero. "If we need our serve receive better, I'll step up for the team. Even though I like being in an outside position more, I want to do what's best for the team."
Georgy made a big impact as a hitter, blocker and at the service line. She said serving is an area that she has really worked on improving.
"It's kind of been a struggle for me," Georgy said. "I think it's a big change from club to here, just with the older girls. It's that game mentality you need. I think that really motivated me to be better and do the things that we work on in practice."
"It was scary at first, but I think the girls have really helped me develop more as a player. When it's game day, I'm not worried anymore, I'm more excited now."

—  Bobbi Wire, Crystal Lake South freshman
Moore said Georgy's confidence has been improving every day.
"She's becoming more confident in herself," Moore said. "She's getting more opportunities to serve and stuff with this new lineup, and I think that boosted her confidence. It's helped her in the front row, as well. I'm super proud of her."
For South, Gabby Wire led all players with 17 kills, 10 digs and two aces. Morgan Johnson had eight kills, eight digs and two blocks; and Grace Meyer added 18 assists. Olivia Apt had three aces, 15 assists and six digs; and Bella Toniolo had three kills.
The Gators turned around a 7-3 deficit in the third set with an 11-3 run to take a 14-10 lead. After Prairie Ridge tied the set at 15, South went on a 7-2 run to take a 22-17 lead, with Georgy recording three of those seven points.
Gabby Wire had eight of her 17 kills in the third set, including the match-winner after a 50-second rally.
Prairie Ridge was led by Adeline Grider with seven kills, while Maizy Agnello, Ashley Stiefer (four blocks) and Addison Gertz had five kills apiece. Alli Rogers had 13 digs, Mackenzie Schmidt had four blocks, and Grace Jansen added 20 assists.
The Wolves made 10 service errors, with six in the second set.
Prairie Ridge coach Stefanie Otto said her team lacked the same aggression as South.
"[South] had a lot of heart," Otto said. "They were aggressive, and they were getting after it. We were timid tonight. We did not swing aggressive, and we had some struggles defensively. We've got to bring more energy, and you have to be confident in what you're doing."