A long list of infrastructure and other projects across Kane, Kendall, Lake, McHenry and Will counties is closer to receiving federal funding courtesy of U.S. Rep. Lauren Underwood, D-Naperville.
The congresswoman promoted her efforts to secure money for the projects at a news conference Friday at Knights Park in Sandwich. Supported by local officials and community members across the 14th Congressional District, Underwood said the funding will "help our local governments rebuild roads, replace and fix failing water infrastructure and expand access to higher education."
"Since Day 1 in Congress, it's been my priority to bring federal resources to the 14th District," Underwood said. "This is incredibly important for the communities in my district that may not get federal funding through the competitive grant process or other funding sources that require significant resources like grant rites or lobbyists."
The $30 million is split across across 19 projects. Some of those include:
$150,000 – DeKalb County Regional Office of Education's kindergarten readiness program
$825,000 – McHenry County College for expanding its dual-credit and dual-degree program
$200,000 – CASA of Kendall County for purchasing and developing a multi-use clubhouse in Yorkville for family court-ordered visitations
$600,000 – Main Street reconstruction from Randall Road to Van Nortwick Avenue in Batavia
$3,500,000 – City of Joliet for replacing aging water mains as the city prepares to move its water supply to Chicago
$3,500,000 – Village of Pingree Grove for constructing a new water treatment facility and production well
$1,342,500 – Lake County Stormwater Management Commission for updating the Sylvan Lake Dam
Speakers on Friday highlighted many of the other projects benefiting from the funding, such as the use of $570,000 for a new centrally controlled traffic control system in DeKalb. DeKalb Fire Chief Jeff McMaster said current traffic control devices are obsolete and the new system will "have a great effect for every resident and visitor in the DeKalb-Sycamore area."
"This system is incapable of providing efficient traffic management or operations for the community in the modern traffic environment," McMaster said.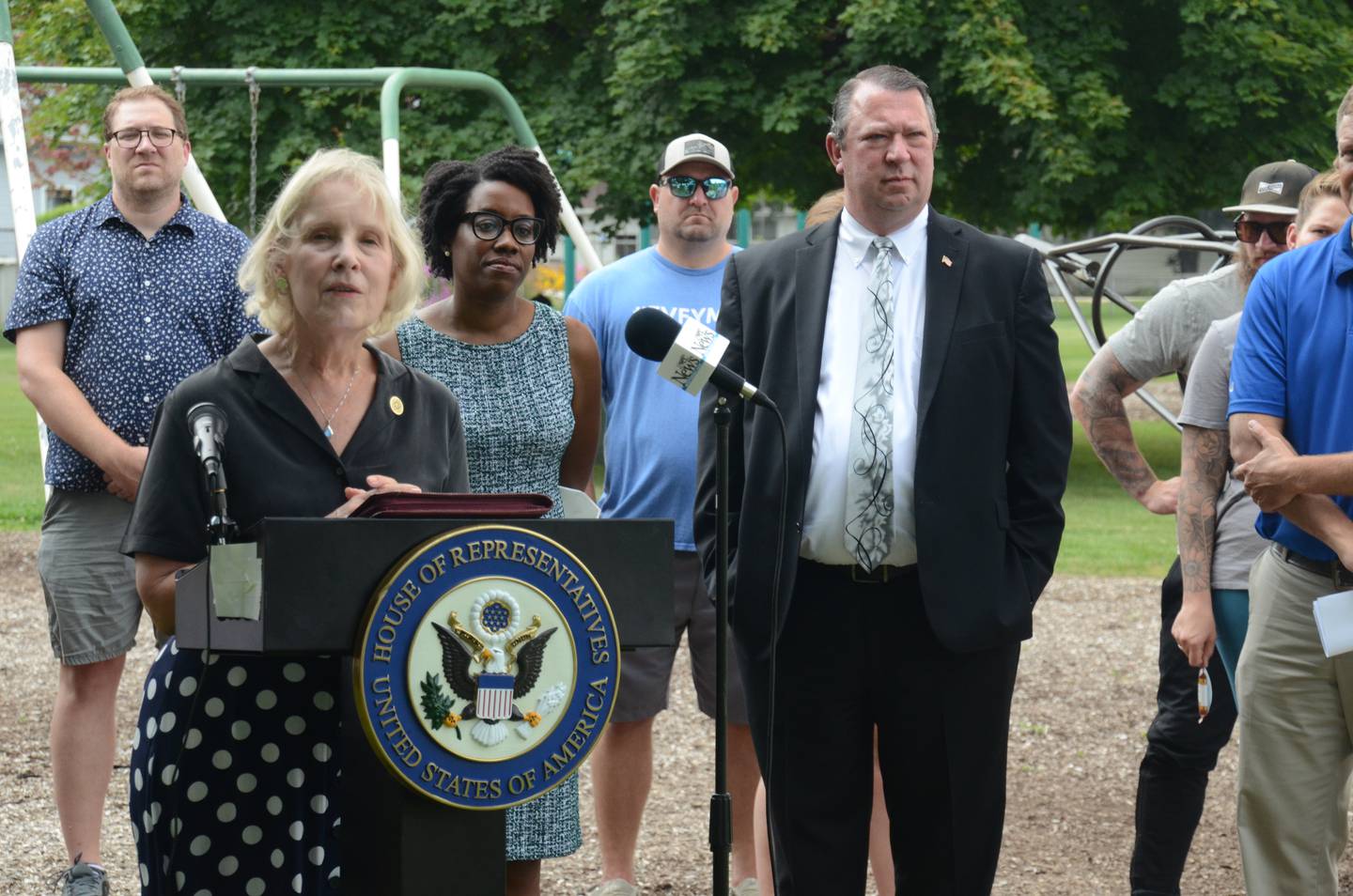 Another project targeted for funding is $7 million for a roundabout at Bliss Road and Fabyan Parkway in Geneva.
"This roundabout will provide less delay, will calm the traffic and improve site distance for the travelers," Kane County Board Chairwoman Corinne Pierog said.
Other projects in the package include $4 million for a Metra railyard site in Woodstock, $240,000 for Kendall County Forest Preserve multi-use trails and $1,205,000 for expanding Wolfs Crossing Road in Oswego.
Underwood said most of the projects previewed will be part of an appropriations bill set for a vote next week in the House of Representatives. Others were included in an infrastructure bill approved by the House last month. However, the future of federal infrastructure funding is uncertain given continued negotiations in the Senate.
"I think that they're all really impactful," Underwood said of the projects. "What's so special about these projects is, one, these are things that touch the lives of hundreds of thousands of residents in our community. And two, they're projects that people understand."