Adrianne Espinoza-Zamora said knew she wanted to be a teacher when she was 5 years old.
Her father set up her own classroom in their basement when she was in kindergarten so she could play school. He got her a picnic table and a board for her to play with her siblings.
When her siblings got bored of playing school, Espinoza-Zamora would "grade" papers or play by herself in the classroom.
"I always wanted to be a teacher. It was my childhood dream," Espinoza-Zamora said. "I can't see myself doing anything other than teaching."
She just feels like a friend and a teacher. Like someone I can trust."

—  Olivia Eddy, Mendota High School student
Espinoza-Zamora teaches Spanish II through Spanish IV classes at Mendota High School. She is an MHS graduate and Golden Apple Scholar. She's the bilingual director at MHS and brought classes, such as AP Spanish Language and Culture to the school. She also helped support the State Seal and Commendation of Biliteracy Program and is the sponsor of Spanish Club and Spanish National Honor Society.
Espinoza-Zamora grew up in Mendota speaking English and Spanish at home and said her parents worked hard to provide a better life for her and her siblings.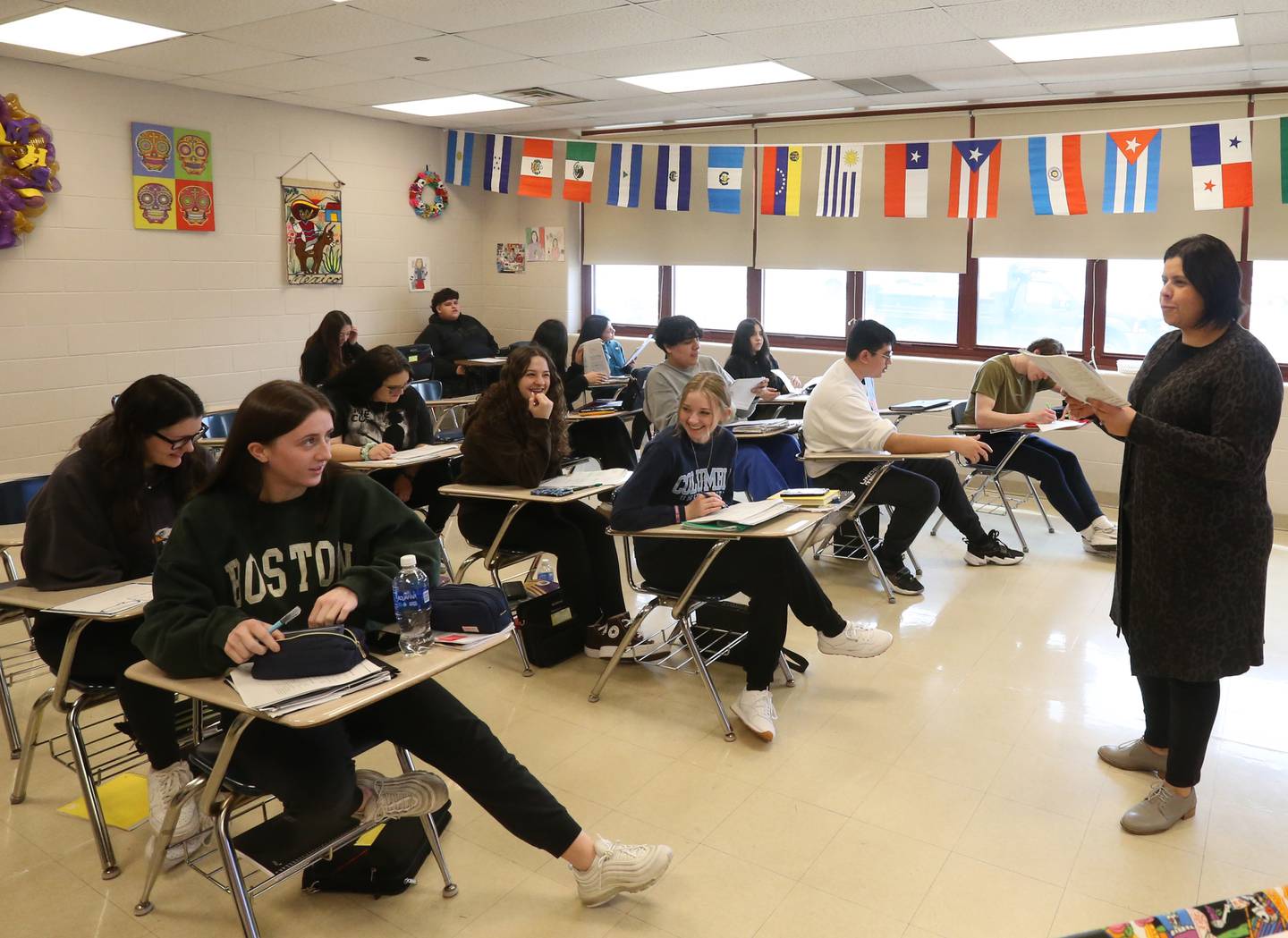 "To be home and provide us the education, my mom sacrificed working third shift," Espinoza-Zamora, "so she'd be home during the day and my dad second shift so they'd take turns being home taking care of us."
She said her parents were loving, caring and always supported her dream of becoming a teacher.
"They pushed us because they wanted a better education and better way of life for us so we wouldn't be tired like them working long hours," Espinoza-Zamora said. "That's what they wanted for us, a better life."
Espinoza-Zamora has been Junior Olivia Eddy's Spanish teacher for the past two years. Eddy said she feels safe in Espinoza-Zamora's classroom, and said she's helped her be more comfortable in asking teachers questions when she needs help.
"She made me a lot less shy, I think," Eddy said. "I was very shy my freshman year and beginning of my sophomore year and she helped me come out of my shell more. So, that has helped me a lot, not just in Spanish but my other classes, too."
"She just feels like a friend and a teacher, like someone I can trust," Eddy said.
One of the biggest challenges for Espinoza-Zamora to become a teacher was "taking a leap of faith" to leave home and pursue a teaching degree at the University of Illinois-Chicago. Espinoza-Zamora said it was hard to be the first to leave her house, and said it was a challenge to leave her family and learn a new city.
Espinoza-Zamora also worked a part-time job in college to support herself and help her parents help her get through college. After she graduated, she worked in DePue her first year and then in Chicago Public Schools for four years before returning home to Mendota.
"I'm such a determined person, I set my goals and I want to meet them," Espinoza-Zamora said. "It's nice to see how far I've come and it brings me joy to see that I wanted to do this and I was able to accomplish it. I wanted to become a teacher, and I did it."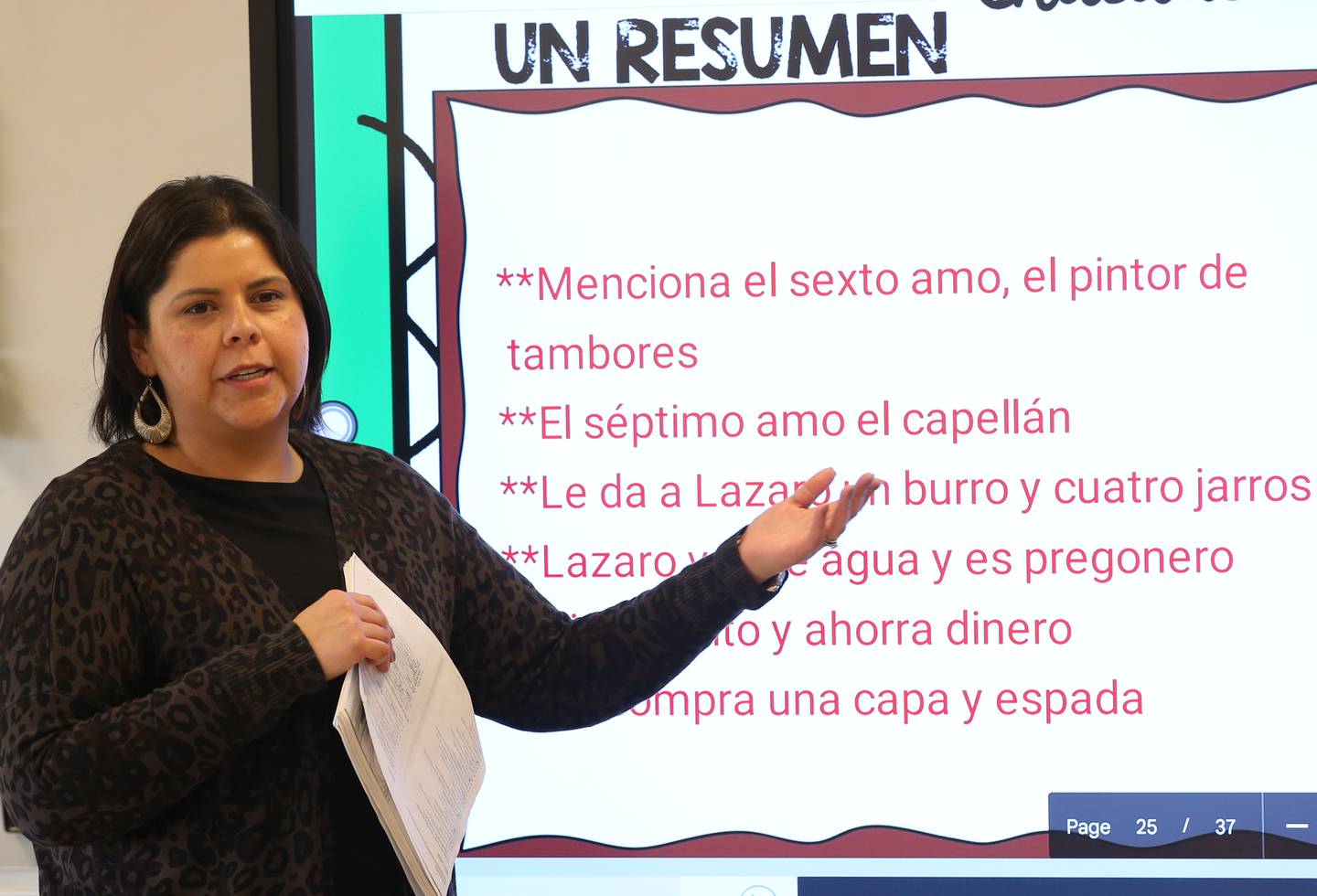 Espinoza-Zamora said she also teaches culture in her Spanish classes. She does units on Argentina and immigration, two new units Espinoza-Zamora brought to the class.
She said she chose Argentina specifically because she can teach it through articles, movies and music and it has cross-curricular connections to English and history classes. She teaches about immigration because it's timely and affects many people.
"It's something that you hear in the news or you're exposed to it, either because you knew someone or just your own family member," Espinoza-Zamora said. "So it's nice to see the sacrifice those people have done and it's an eye-opener for a lot of them."
Espinoza-Zamora said it's important for students to be exposed to new cultures and have a background in foreign language.
"To have that cultural awareness of languages and different cultures (is important) because when you travel or meet different people, there's something you can make a connection with," she said.
Espinoza-Zamora said one of the most rewarding things about teaching is seeing how well the students do with the language. Many enter high school with no background in Spanish, and after four years, they're able to pass a test to get a seal of biliteracy on their diploma.
"That's what makes me proud, after just four years of having them, what they're able to produce to get to that point," Espinoza-Zamora said.
Junior Ryleigh Sondgeroth said Espinoza-Zamora is interactive, funny and helps everyone, including non-native speakers like herself who don't speak Spanish at home. Sondgeroth said she likes learning Spanish and is planning on taking the test to get her seal of biliteracy.
"Her class is my favorite because she's very helpful, and I feel like I could rely on her for literally anything," Sondgeroth said. "She's compassionate in what she does and makes sure everyone is on track."
History and English Teacher Matthew Gehm taught Espinoza-Zamora when she was in high school and now works with her as a colleague. He said he sees the high expectations she had for herself as a student now transferring over to her expectations of her students as a teacher.
Gehm said she's helpful, easy to work with and "a great professional." He said her classes are very active, citing when she took her Spanish IV students to work with bilingual kids at a nearby elementary school.
"It shows commitment to the community, and her taking her students to the elementary school, for example, shows that same commitment to the Mendota community," Gehm said.