PEORIA — The Newark softball team trailed Forreston by a run heading to the bottom of the sixth inning during Saturday morning's IHSA Class 1A State third-place game, but pushed across the tying run that eventually sent the game to an extra frame.
However, the Cardinals were able to score twice in the eight before senior left-hander Kara Erdmann closed out a complete-game effort by retiring the Norsemen side in order to earn a hard-fought 4-2 victory at the Louisville Slugger Sports Complex.
Newark finishes a fantastic season with a 31-5-1 record, while Forreston closed out the year at 23-5.
Illini Bluffs, which defeated Newark on Friday, won its second straight 1A title with a walk-off 1-0 win over Casey-Westfield.
"I think we were all a little more relaxed coming in here today," Newark coach Tim Schofield said. "We had some nerves on Friday with playing the returning state champions and a first time in this position in the state finals. I feel today (Forreston) was able to get a couple more key hits than we did, and we had a couple of hit balls they could have easily been hits if not for great defensive plays by them.
"It was really just two pretty good teams battling."
In the Forreston eighth, Erdmann beat out an one-out infield single off Newark pitcher Kodi Rizzo and advance to second on an error. Rylee Broshous then stepped in and lined the first pitch she saw to left to score Erdmann and moved to second on the throw home to make it 3-2.
"It was a good pitch, but an inside pitch that I knew I had to be quick on," said Broshous, who ended a 12-inning sectional semifinal win over Pearl City with a walk-off homer earlier in this postseason. "My mentality in that situation was to hit the first good pitch I saw and not get behind in the count. I had a little bit of our Pearl City game going through my mind ... I didn't want this game to go that far."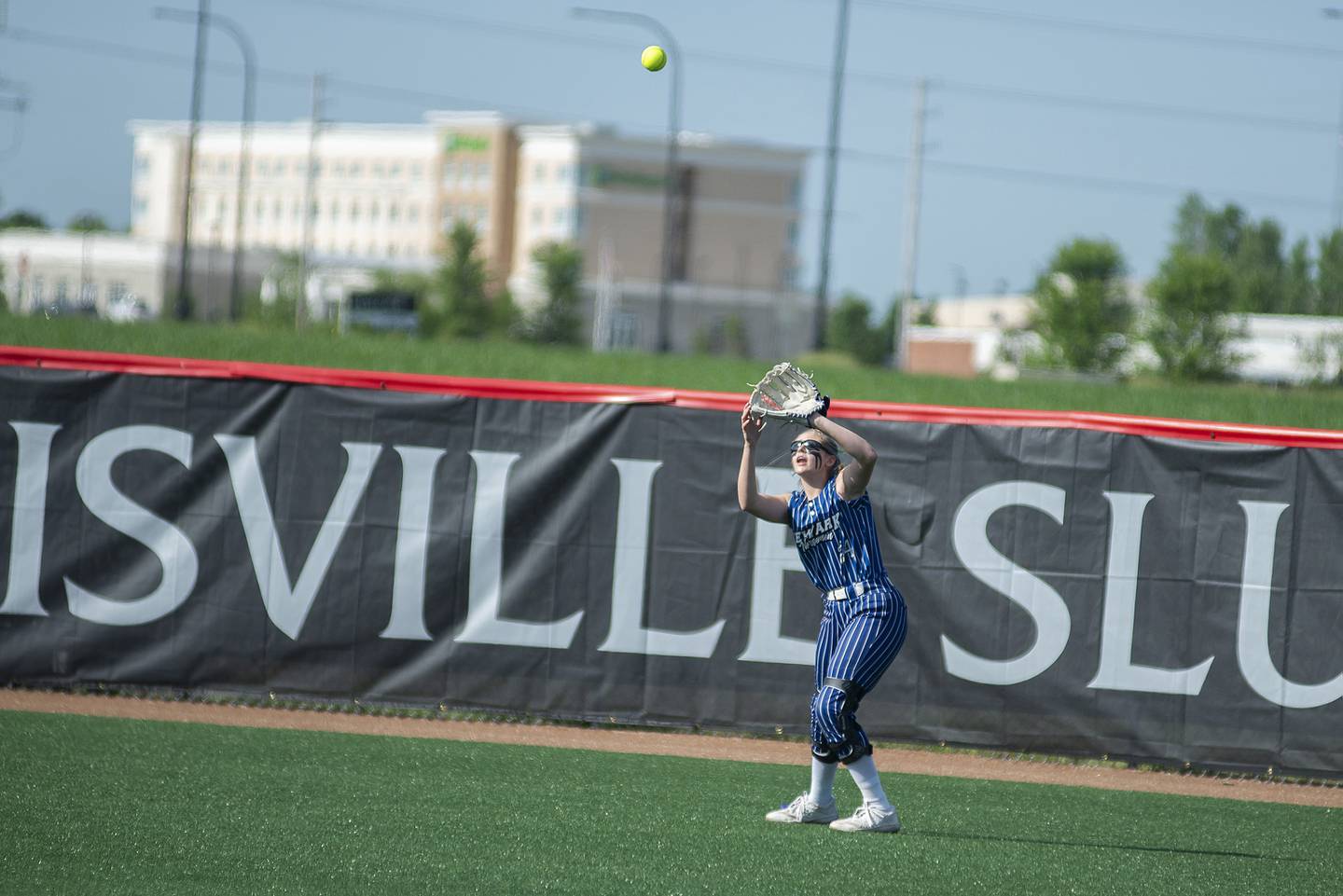 Rizzo was able to strikeout the next hitter, but Hailey Greenfield grounded a two-out single to center to plate Broshous.
Erdmann picked up her 15th strikeout of the game to start the eighth before inducing a lineout and flyout. She finished allowing just five hits, two earned runs and did not walk a batter.
"When you get down here every team's lineup 1-9 are good and Newark's is no exception," Forreston coach Kim Snider said. "Tara loves working the ball in and out. Her bread-and-butter is her curveball running in on the right-handed hitters, especially with two strikes and that's what we went with a lot today.
"She was pretty special today, all season and her whole career for us. It was great to see her end her high-school career here at state with a win."
Newark grabbed a 1-0 lead in the fourth when lefty Ryan Williams sliced the first of her two triples in the contest into the left field corner and scored on a two-out base hit by Peyton Wohead.
"My first at-bat I saw three straight spinners with good movement and I was a little thrown off," Williams said. "My hitting coach, who is also my dad, told me to move up on the plate and in the box and try and catch the pitch before it moves. My mindset those last two at-bats was to just put the ball in play with a solid swing and fortunately I did, and the hits found open space."
The Cardinals rallied in the sixth to take a 2-1 lead, starting with Broshous and Brooke Boettner poking one-out singles off Norsemen starter Kaitlyn Scholfield. Hailey Greenfield then greeted reliever Rizzo with an RBI single on the first pitch, with the go-ahead run scoring after a throwing error.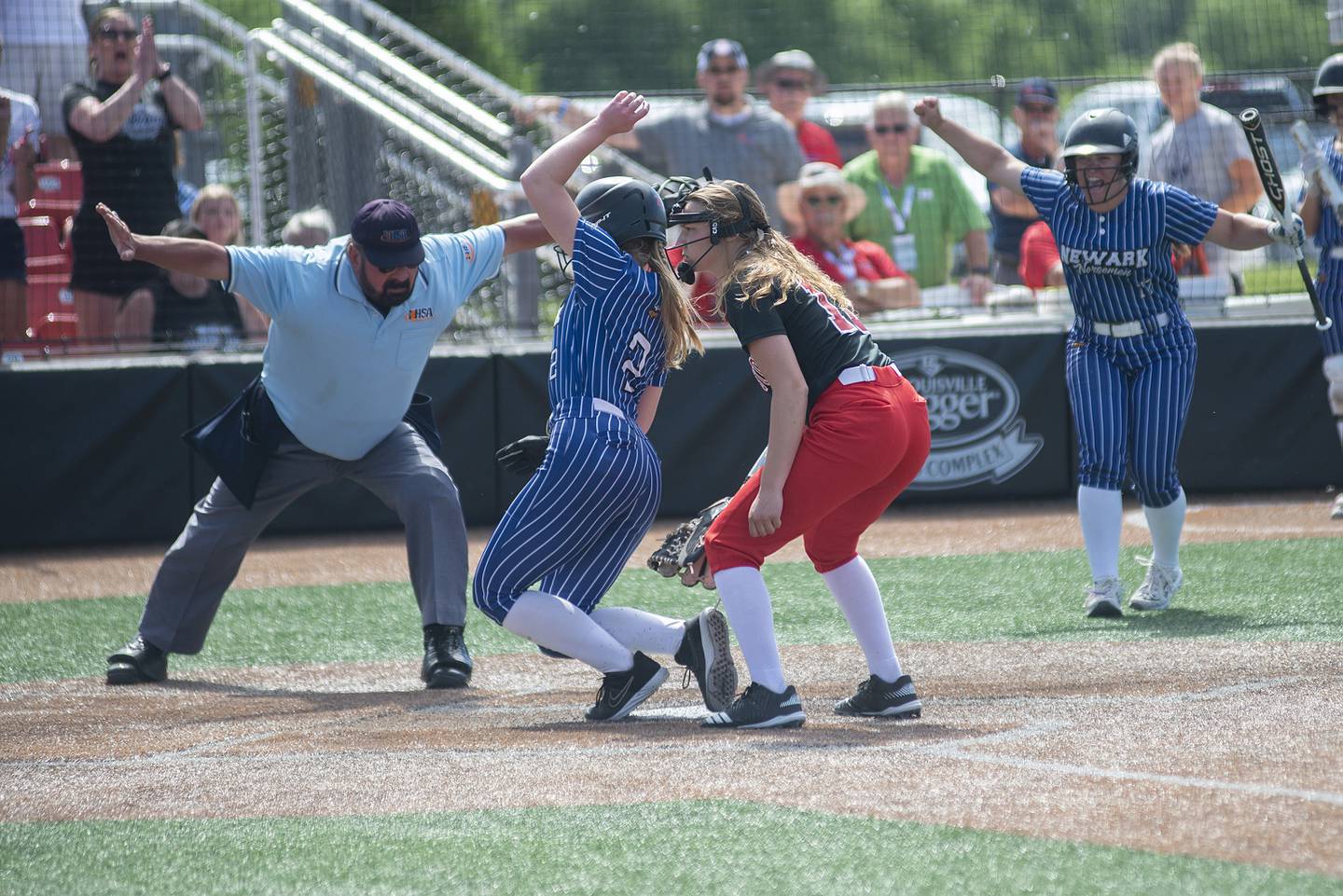 In the Newark half, Williams ripped a two-out triple to right-center before scoring on a 0-2 pitch to Danica Peshia that bounced to the backstop.
Schofield finished going 5 1/3 innings, giving up three hits, no earned runs or walks and nine strikeouts, while Rizzo went 2 1/3 allowing four hits, two earned runs, no walks and four strikeouts.
"I thought we had really good energy both games this weekend, but things just didn't work out," Wohead said. "We all tried to play these two games like any other game and our coaches told us just to have fun. It's a little disappointing to not get a win, but we made it here when so many other teams didn't have the chance to.
"They were all season, but the bus rides have been so fun. Jamming to music and singing together, it's had a different feel. I think over the season we have become closer as a group, but even more so these last few days."