Katie Hurckes wants her students to easily grasp math concepts. But for the Indian Trail Elementary School interventionist, it's just as important they know it's OK if they don't.
"I think that often when kids are pulled out of the classroom to get extra help there's a stigma related to that," Hurckes said. "But I want to make it normal to make mistakes because they help us grow. It's not something to be ashamed of."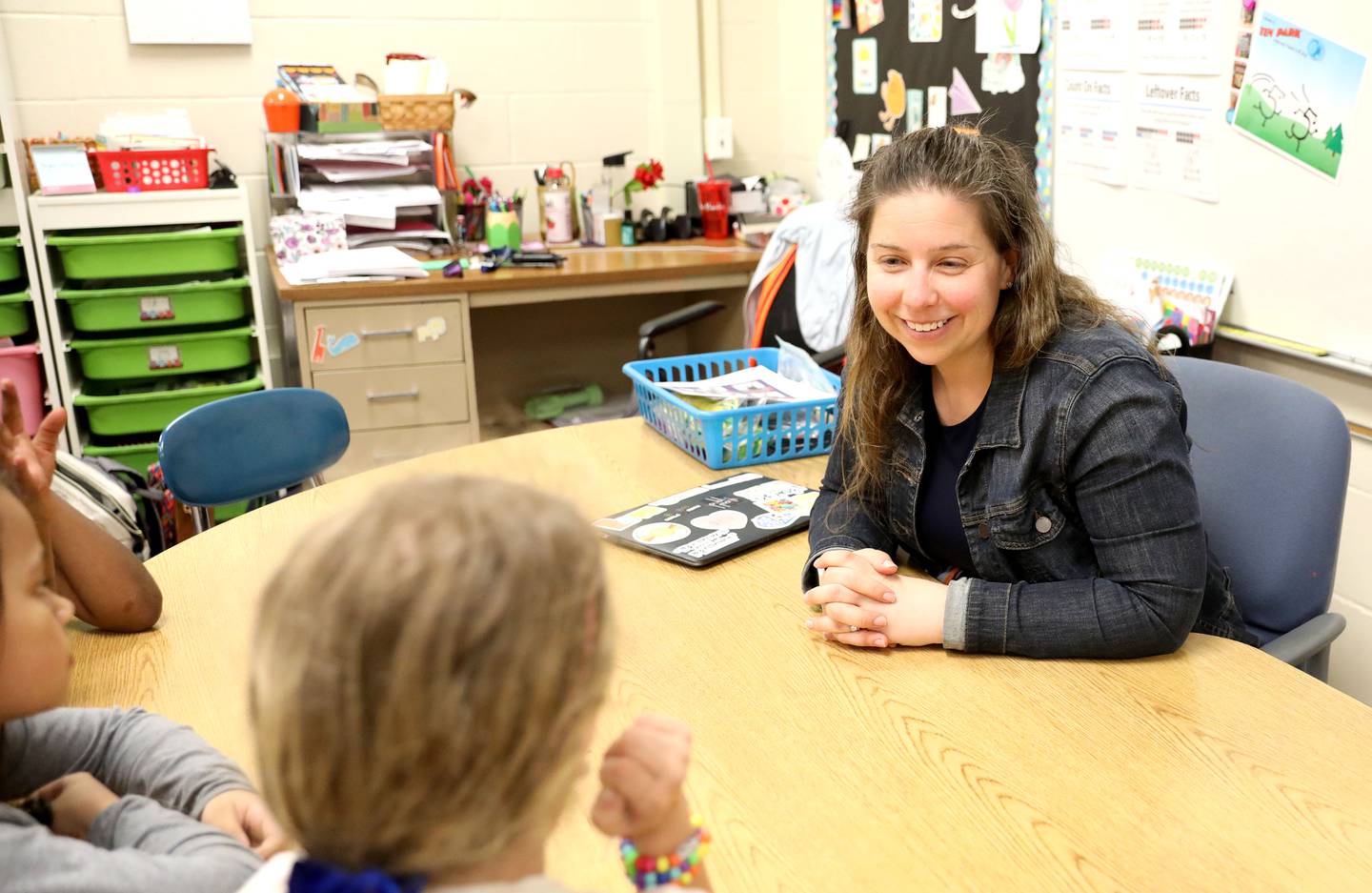 That's why it matters to her that she offers a supportive environment for Indian Trail students at the Downers Grove school.
"Not every child learns the same way," Hurckes said. "So I try to make my space really inviting. For a long time, it seemed like with math it was very much 'Here's your lecture' or 'Do your worksheet.' In my room, there's always something out like an extra table with blocks and magnet tiles for students to play with because a lot of kids are really spatial and can build like you wouldn't believe."
Math, Hurckes said, is everywhere and much more than just numbers.
"Math is about patterns, problem-solving and making sense of the world around you. Understanding physical properties of pattern blocks, magna tiles and tessellating shapes allows children to picture shapes in their minds and think about how they can be changed and manipulated," she said. "This is a bridge to more complex math skills."
Hurckes has been with Downers Grove Grade School District 58 for more than 15 years. The mother of two also taught for 10 years at Henry Puffer Elementary School in Downers Grove.
"I quickly found there was such a focus on reading but not math," Hurckes said. "Initially, my passion was to make math equal to reading. So if there was a family reading night, I thought we should have a family math night. And if there's a reading specialist, you should have a math specialist."
Hurckes pursued a math specialist degree and about five years ago, she said, District 58 created an interventionist role that focused on math.
"I was hired for that position and now I work primarily with students in kindergarten through sixth grade who are struggling with their math," she said. "My aim is to share and spread a general love for math. Or at least take away peoples' dislike for math across the school."
Outside of the school day, Hurckes can be found hosting family math nights at both Indian Trail and her children's school, Estimation Stations at the Fair Game store in Downers Grove, and running the Downers Grove Math Community Facebook page. The group consists of "local teachers and Downers Grove residents who are looking to encourage mathematical play and positive engagement in our community," according to the page.
Hurckes also hosts events at the Downers Grove Public Library that include projects incorporating both art and math. She attends the Downers Grove Farmers Market to put on math events for the community. Her next event is set for 8 a.m. to noon Saturday, May 27, at the market.
Indian Trail Principal Tracey Ratner lauds the environment Hurckes has created for the students.
"Her space includes games, activities and comfortable space," Ratner said. "She also takes time to talk to students about what is going on if they seem sad, upset, etc., and students know they can share with her. She is warm, welcoming and students trust her. Because of that, she is able to work closely with students on their areas of challenge and they are able to make progress."
For Hurckes, it's important that students feel comfortable and empowered to learn.
"I try to make my space so anyone would want to visit," she said.
Ratner said Hurckes "is definitely a building-wide presence."
"She jumps in to help with anything and everything, whether it is arrival and dismissal, professional development, student behavior, testing, etc.," she said. "And she does it all with a smile."