Glenbard East High School students are exploring entrepreneurship in a real-world "Shark Tank" opportunity brought to them by Career and Technical Education Instructor of the Year Don Prochilo, who has taught business at the school for 25 years.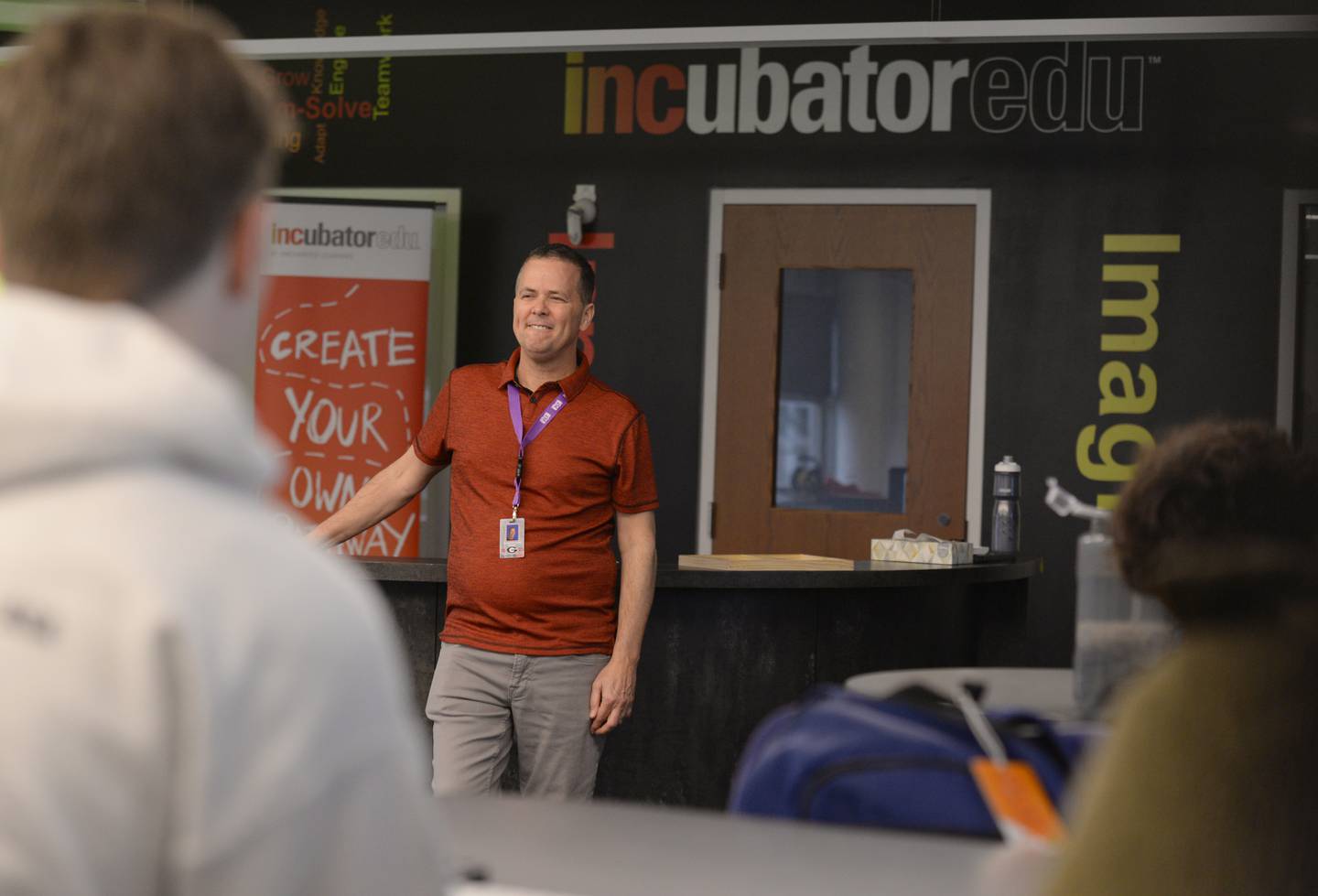 Prochilo began his career in business after graduating from the University of Illinois. He kept teaching in the back of his mind at all times. After six years in business, Prochilo decided to make the switch to teaching and started at Glenbard East, where he brought in the INCubator program.
INCubator is a national program that models learning through doing and provides students with an opportunity to develop and pitch their products to community "sharks" after doing market research and creating prototypes. The class consists of 30 lessons, of which Prochilo said he teaches about half, with the rest of the lessons coming from community experts he gathers to be part of the program.
"The class is extremely time-consuming and hard to teach, but it's also the most rewarding class," Prochilo said. "I've got a lot of help, too, and I'm lucky to be a business teacher where I have an opportunity to teach concepts that can be applied to career pursuits."
Throughout the year, students develop business and communication skills. At the end of the course, students have a chance to be awarded money to fund continued development of their projects. Leila Nehra, a junior at Glenbard East, is one of those students.
Nehra has been in two of Prochilo's classes. Last year, her team in the INCubator class developed the Bag Buddy, a patch for athletic bags that works to kill bacteria and odors and replace them with a fresh scent. Narha worked to understand the profit margin of her team's product, and the group was able to partner with Downers Grove business Orchidia Fragrances to develop a prototype of the product.
The Bag Buddy was sold to student-athletes at Glenbard East and went on to win that year's "Shark Tank" competition. The team advanced to the quarterfinals of the national INCubator program, and Nehra said they would not have had the success and opportunities they did without Prochilo's passion and dedication.
"There is no class I have ever benefited from more in terms of real-world skill than this one," Nehra said. "I've never thought of myself as an entrepreneur or business person, but Mr. Prochilo, he would bring in speakers – CEOs and marketing experts – and I got to talk to so many people in the real world who encouraged me to move toward entrepreneurship and be confident in myself."
Prochilo's work is not lost on his students or colleagues, and the INCubator program is what he credits as being the reason the DuPage Area Occupational Education System and College of DuPage recognized him with the CTE Instructor of the Year award this year.
Prochilo plans to retire in two years. Marti Shirley, business department chair at Glenbard East, said the district plans to continue the INCubator program but absolutely will feel the loss of Prochilo's personality and dedication to the program. Shirley said she hopes to honor all that Prochilo has done by expanding the program's philosophy of bringing in community experts to other classes throughout the school.
"It's amazing what he has done, and it has really given our students an opportunity they otherwise wouldn't have to see how business works from the ground up," Shirley said. "He has given our students the empowerment to pursue these things and find their passion earlier in life."